**These posts often contain affiliate links. Please see our disclosure policy for details.**
Embroidery is a fantastic craft hobby; an affordable, portable one that gives you the ability to make statement pieces for your home like this Minnesota Embroidery Art I created. (It's still proudly hanging on the wall in my living room!)
We're on Day 17 of The 30 Days of Ornaments Project, where we are making 30 handmade ornaments in 30 days.
Today, we are putting burlap into a mini 3″ embroidery hoop, and using a satin stitch and embroidery floss in a gradient of colors to make a DIY Ombre Christmas Tree Embroidery Hoop Ornament!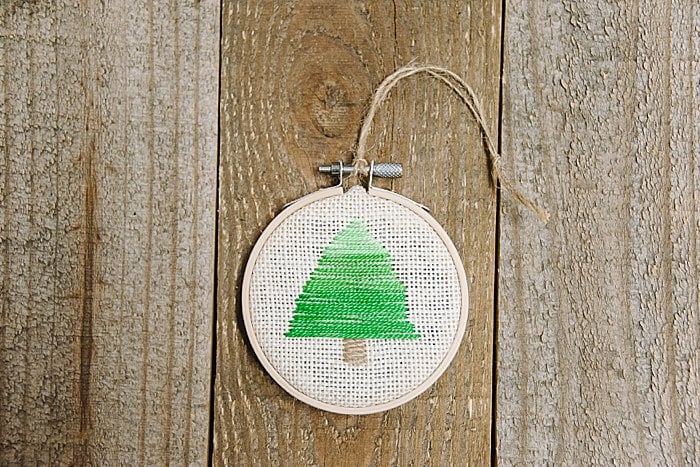 Let's make it!
Day 17: How to Make an Ombre Christmas Tree Embroidery Hoop Ornament
DIY Ombre Christmas Tree Ornament
Step 1. Gather supplies.
Supplies needed: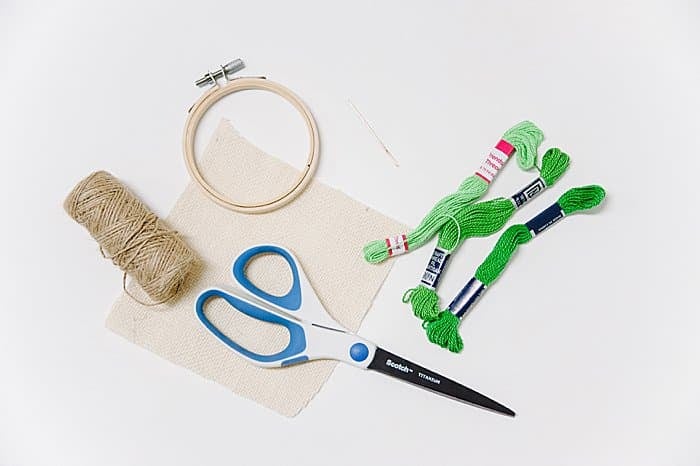 Step 2. Cut 12″ of twine for a hanging string. Set aside.
Step 3. Cut and prepare a section of burlap to insert into your embroidery hoop.
Step 4. Separate the outer and inner embroidery hoops by loosening the screw. Set aside the outer hoop.
Step 5. Place burlap over inner hoop, and smooth it out.
Step 6. Push outer hoop on top of inner hoop and burlap. It should pull the burlap taut as you do this.
Step 7. Once outer hoop is on top of inner hoop and burlap is taut, tighten the top screw to secure everything in place.
Step 8. Thread the first color of embroidery floss into embroidery needle. Embroidery a basic Christmas tree using a satin stitch (simple long, straight stitches), knotting the floss at the back of your fabric/hoop, and changing colors of floss when desired.
Step 9. Embroidery a small tree trunk. Knot and cut all excess embroidery floss from the back.
Step 10. Cut excess burlap off from the outside of the hoop, leaving 1/2″ of burlap around the edge. Put hot glue on the inside back of the hoop, and wrap excess burlap around and into the glue to finish it off.
Step 11. Attach hanging twine, inspect your ombre ornament and hang!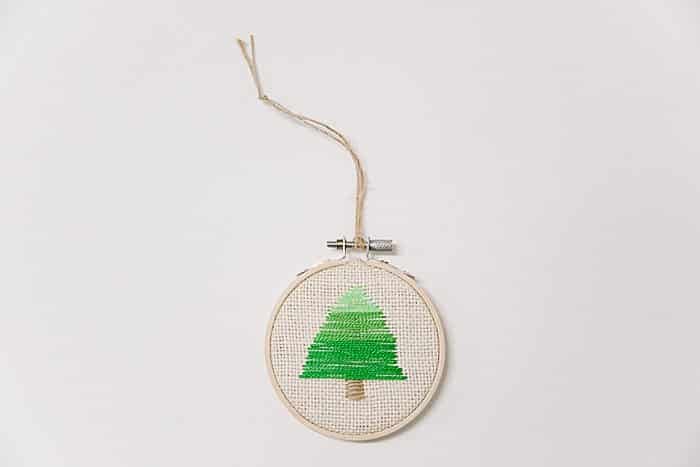 I have loved every ornament from The 30 Days of Ornaments Project, but this one is in my top 3!
I love the burlap stretched tight in the mini embroidery hoop.
I love the simple, sweet Christmas tree, and the ombre colors.
I love the teeny little twine tree trunk.
I love this ombre Christmas tree ornament so much.
This same ornament could be made with different colored embroidery floss, or even with a different picture.
I chose a Christmas tree because I figured it would be about as simple as they come. However, a present would be easy to do too, and so cute!
How many more can I make??
Save the idea for later by pinning the photo below to Pinterest!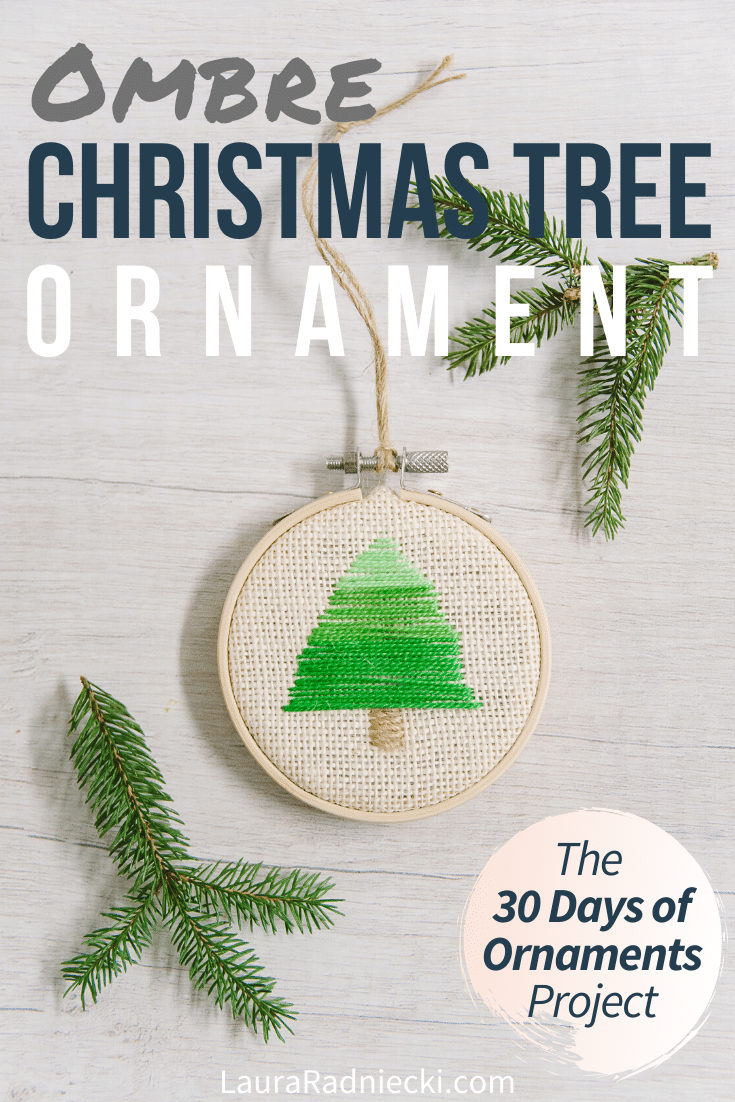 . . . . . . .