**These posts often contain affiliate links. Please see our disclosure policy for details.**
A note to you, heartbroken one:
It's likely you found this post because you've lost your grandmother too. If that's true, I am so sorry for your loss. If you are looking for comfort in your grief, the book Appointments With Heaven is by far the most comforting book regarding death and the veil between Earth and Heaven that I have ever read. If you are suffering, I believe this book can bring you comfort and help ease your pain as you cope with the death of a loved one. My prayers are with you. xoxo, Laura
---
A few days after Christmas, my beloved grandmother passed away peacefully in her sleep after a long struggle with a lung disease.
Her beautiful obituary can be found here.
She was 88 years old and my last living grandparent. Her death wasn't a shock to us; we knew it was coming. And in many ways, it was welcomed after she endured so much suffering for so long.
And yet, it hurts.
My heart is raw.
Life as I know it is permanently different now that she is gone.
– – – – –
Tuesday, January 3rd, 2017
Dear Grandma Pettit,
I know I said the same thing when I wrote a letter to Grandpa after he died, but the truth remains.
I can't believe you are gone.
It's been three and a half years since Grandpa passed away, and I still don't think it has truly sunk in that he is gone. And now you too…
Will it ever feel real to live in a world without you and Grandpa in it?
Finally though, you can breathe easy again. Finally, Grandma, you can breathe without struggle. Finally, you are reunited with Grandpa. Finally, you are home.
I find it remarkable that despite all of the physical struggles these last few years held for you, you still weren't quite ready to go. Despite having to struggle to breathe, as if you were breathing through a coffee straw, you were content to be here just a little longer.
Erica put it best when she said, "She's on the verge of going to Heaven. If she wants to stay here with us a little longer, that just shows how much she loves us."
You loved us all deeply, and we felt it. I hope you were able to feel our love pouring right back at you. Because we love you so much. Then, now, and forever.
Thank you, Grandma, for demonstrating how to handle motherhood with grace and ease. You had 3 babies in less than 2 years, as well as two more within the next few years. And you exuded a level-headed competence and grace that amazes me to this day. As I look at my journey into motherhood with Raleigh, I am even more in awe of how you not only managed but thrived in your role as a mother.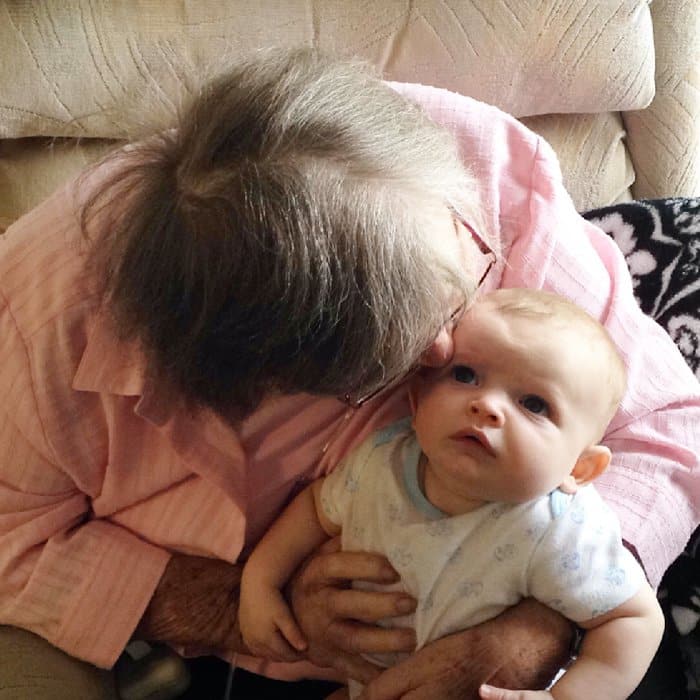 Thank you for highlighting the vow of marriage. You and Grandpa shared 58 years of marriage together, and it was an honor to witness both your love and friendship with each other. It helped ease the sadness of your death to know that Grandpa was waiting for you on the other side.
Thank you for modeling for all of us what it meant to be a fearless maverick. You left your small town and headed to the big city to go to the U of M in an era when many women didn't go to college. You led your sorority, and later traveled around Europe with a happy, adventurous spirit that was with you until the very end. You were brave and courageous, smart and funny.
I am going to miss everything about you, Grandma.
I am going to miss your text messages. Most 88 year olds don't text but you did and loved it. I am going to miss sending you pictures of Raleigh, especially now that he is getting into more mischief every day.
I am going to miss our conversations. How we could cover such a broad range of topics in a single conversation is beyond me.
I am going to miss watching Remy race into your apartment and jump on your lap, licking you all over. You were so patient with the little fur ball. I am also going to miss watching you with Raleigh. Each photo and video that I have of you two together is an immeasurable treasure to me. You were the very best Great Nana there is.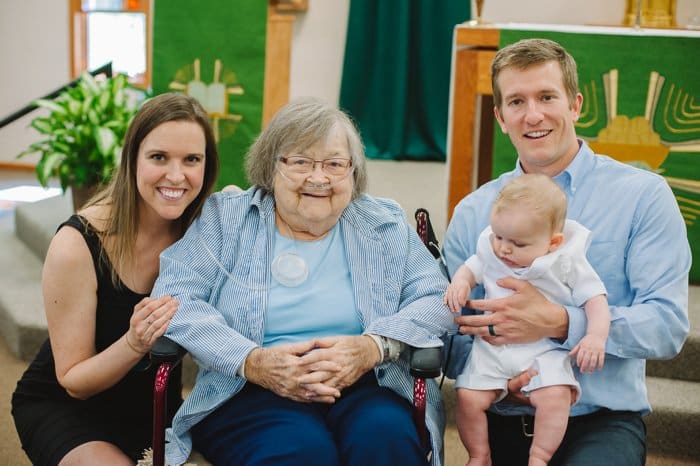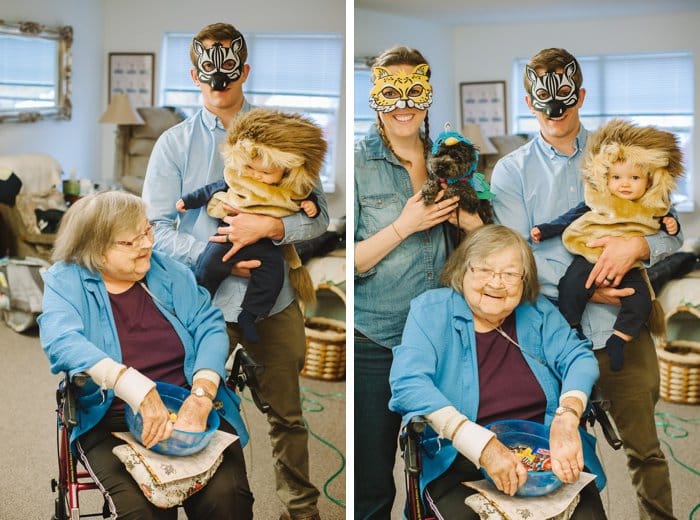 Most of all, I am going to miss hearing your voice and seeing your face.
But like I wrote in my letter to Grandpa, I know this is not the end. You are now free, and at peace. You aren't bound by the confines of your failing lungs anymore, and you are free to laugh, move, dance, and play in ways you haven't been able to in years. You are now reunited with Grandpa and spending your days with the Lord. You are Home.
And I can't wait to join you there.
Please send some comfort and love down to us, especially during these next few weeks, Grandma.
You are so very loved and deeply missed.
Give Grandpa Pettit, and Grandma and Grandpa Hensel a hug from me. Tell them I miss them too.
I love you, Grandma.
Until we meet again,
Laura