**These posts often contain affiliate links. Please see our disclosure policy for details.**
A note to you, heartbroken one:
I'm guessing you're here because you've lost your grandfather too. If so, I am so sorry for your loss. If you are looking for comfort as you grieve, the book Appointments With Heaven is by far the most comforting book regarding death and the veil between Earth and Heaven that I have ever read. I believe this book can bring you comfort and help ease your pain as you cope with the death of a loved one. My prayers are with you. xoxo, Laura
---
Today, we say our Earthly goodbyes to one of the most incredible men I have ever met in my entire life.
My family is grieving the loss of my grandfather; we feel the empty void very clearly. The head of the family is no longer here with us, and we feel his absence sharply.
But we know that he is no longer in pain, and is now in a place that is more amazing than the best possible day here on Earth. We also know that this is just a temporary goodbye. We know we will see him again. We are counting on it.
I wrote Grandpa a letter a couple of days ago. I process things and express myself best in writing, so this was my way of saying goodbye to him. I never want to forget this letter.
I love you, Grandpa.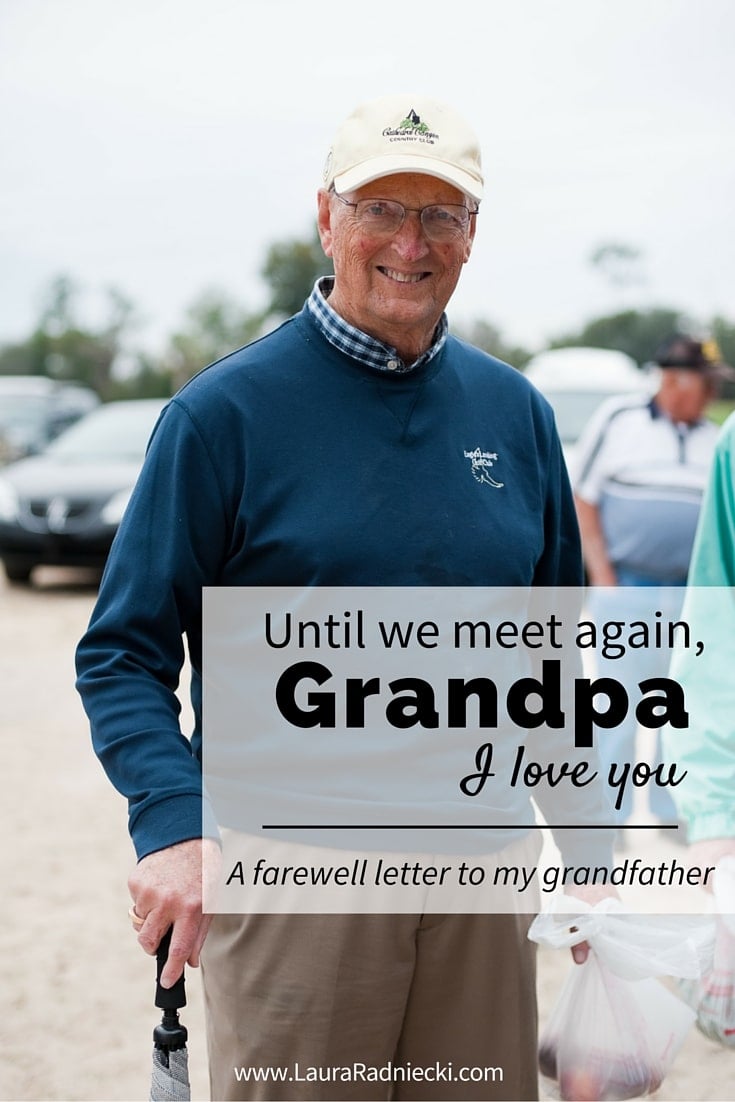 —
Wednesday, July 17th, 2013
Dear Grandpa Pettit,
I can't believe I'm writing this letter to you.
I guess I never thought about what it would be like when you would no longer be here. You have always been such a key part of my life, and such a steadfast and healthy part; I never let myself consider what it might be like once you were no longer here with us.
And now that you are no longer on Earth with us anymore, I'm struggling to accept it.
I spent the last several hours looking through old photo albums and making the Laura/Erica photo board for your funeral. As I paged through 12 or 13 jam packed photo albums, it was amazing to see how many photos have you and Grandma in them. So many. Dozens. You and Grandma were a part of every important part of my life so far, and many mundane, everyday parts too.
I feel incredibly blessed that you and Grandma are my grandparents. I am so thankful that you were my Grandpa. And I'm even more thankful that I was able to live so close to you and to be able to do so many things with you and Grandma throughout the years, creating the awesome relationship that I have had with you two. Not everyone gets that. But I did. I had the best Grandpa ever.
When you were in the hospital, I decided to make a list of memories, or things that I love about you. I don't want to forget a single thing. Ever.
So many of my favorite memories have you in them, Grandpa.
Singing out loud with Erica to Rainbow Bright while cruising in the candy car. I'm sure you and Grandma wished that tape would somehow find it's way to the garbage because you were probably so sick of listening to it on repeat. Man, we loved that tape.
Coming down every spring break from 2nd grade on, to visit you and Grandma in Carefree. Driving the golf cart around the streets and getting hollered at by the cranky old man. I credit you with my good driving skills today. 🙂
Playing game after game of Hand and Foot, Dominos, Golf and the occasional Shoot the Moon round. Erica and I hardly ever won, and I know we gave you the major guilt trip when you wanted to go out and we weren't even close to being ready. We aren't the best losers, and you graciously put up with our pouting. You taught me how to play cribbage up in Canada too. I also remember playing solitaire next to you, to pass the time while it rained.
As I flipped through the pages of photos from every year of my life, there you were, smiling back at me. You were always smiling. Always laughing. Always happy.
That is how I will always remember you.
We are grieving the loss of you – the most amazing man. A devoted husband, a deeply loved and respected father, and an adored grandfather. The world seems a little less vibrant without you in it, Grandpa.
But thankfully, this isn't the final goodbye.
Thankfully, we share the same faith that this isn't the end. I know will see you again someday.
Someday, you and Grandma will get to take a spin on the dance floor again, while you laugh and hold each other close like you did at the casino when we were there for New Years. Someday, you and Grandma will challenge Matt and I to another battle of Hand and Foot, and we'll probably lose to you two again. Like usual. I promise I won't pout if you want to go out this time.
Someday, I will see your smiling face again, and I will hear your big, deep laugh again. I will feel your tight bear hug squeeze again. I know it.
Until then, we will wrap Grandma in all the love and comfort that you provided for her in the 58 years you were married. We will continue to look at photos and remember the amazing times we had with you. We will talk to you and seek your guidance when we need it, and look for you in nature when we miss you terribly. We will keep your memory alive and never, ever forget you.
You were the most amazing grandfather I could have ever asked for. You loved Grandma with your whole heart and you cherished your kids – every one of them. You adored each of us grandkids, no matter how old we were, where we lived or what we were doing with our lives. You loved each of us unconditionally, and without holding back.
And boy, do we love you. We love you so much.
Hug your parents and your siblings up there, Grandpa. Say Hi to Grandma and Grandpa Hensel for me, and tell them I miss them. Have fun fishing and playing poker in Heaven, and know that I'll be joining you with my pole, ready to spit in the water when I get up to Heaven too. We can catch some fish together and then play another game of cards after. Maybe we can share a candy bar while we fish too.
I love you so much and I will miss you every day.
Until we meet again,
Laura "Hepsaba Pinchen Hensel" Radniecki
P.S. The book Appointments With Heaven will wrap you in peace and the sure feeling that this is not the end; that there's more out there after our time in this world is done. I found the book incredibly healing and comforting when my grandpa died, and I hope it does the same for you too.