The majority of this page is a bunch of legal text that's required when you're a blogger.
However, chances are good you're here because you're curious about blogging and how people can make money with a blog.
Does that sound right?
If so, I've got another website dedicated just to blogging advice and tips, and it has answers to all the blogging questions you might have.
If your curiosity about blogging led you here, I invite you to take a look around Up North Parent.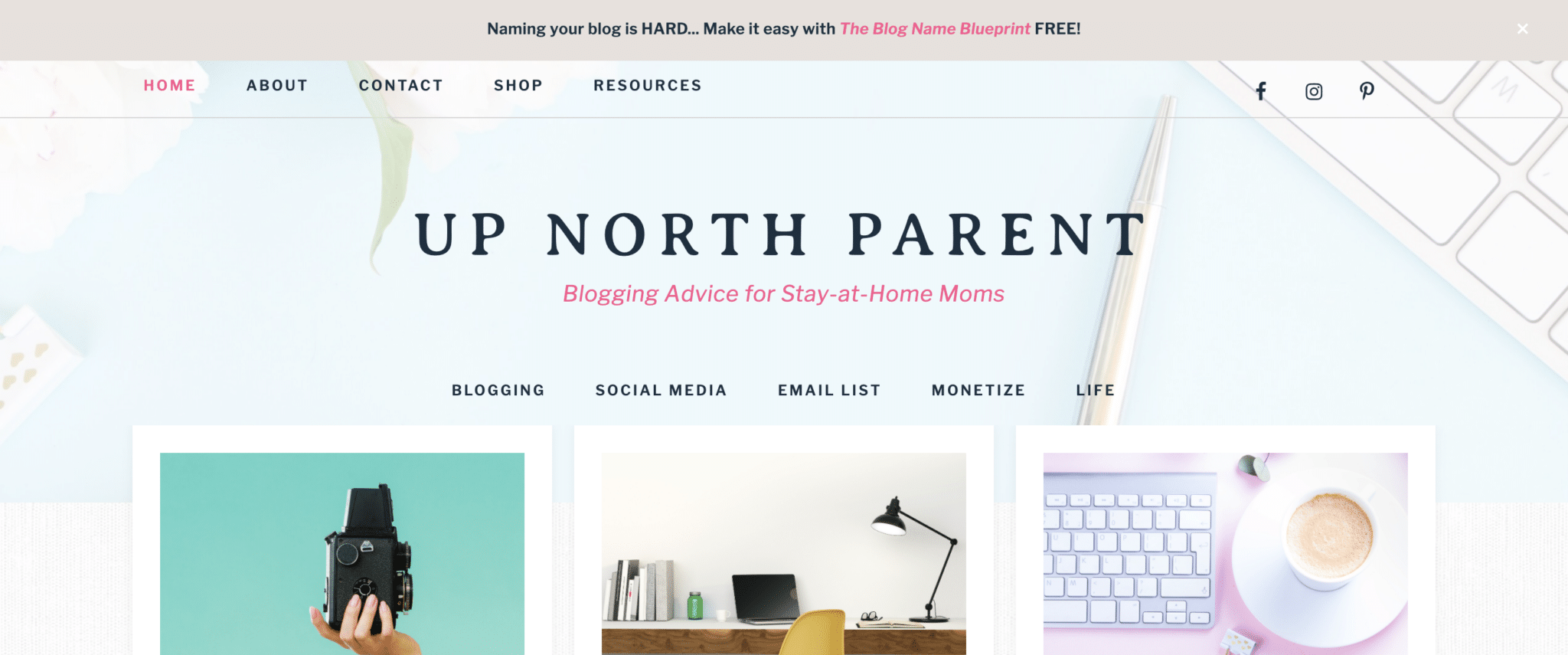 Privacy Policy:
Privacy Policy for lauraradniecki.com
The privacy of readers at lauraradniecki.com is important to me.
At lauraradniecki.com, I recognize that privacy of your personal information is important. Here are details about what type of personal information we receive and collect when you use and visit lauraradniecki.com, and how I safeguard your information. I never sell your personal information to third parties.
Log Files
As with most other websites, I collect and use the data contained in log files. The information in the log files include your IP (internet protocol) address, your ISP (internet service provider, such as AOL or Shaw Cable), the browser you used to visit my site (such as Internet Explorer or Safari), the time you visited my site and which pages you visited throughout the site.
Cookies and Web Beacons
I do use cookies to store information, such as your personal preferences when you visit our site. This might include only showing you a popup once in your visit.
I also use third party advertisements on lauraradniecki.com to support my site. Some of these advertisers may use technology such as cookies and web beacons when they advertise on our site, which will also send these advertisers (such as Google through the Google AdSense program) information including your IP address, your ISP , the browser you used to visit our site, and in some cases, whether you have Flash installed. This is generally used for geotargeting purposes (showing Minnesota real estate ads to someone in Minnesota, for example) or showing certain ads based on specific sites visited (such as showing camera ads to someone who frequents photography sites).
You can chose to disable or selectively turn off our cookies or third-party cookies in your browser settings, or by managing preferences in programs such as Norton Internet Security. However, this can affect how you are able to interact with my site as well as other websites. This could include the inability to login to services or programs, such as logging into forums or accounts.
---
Disclosure:
Per the FTC regulations, this is a full explanation of how and when I am compensated on lauraradniecki.com.
Lauraradniecki.com began as a way to document our life in Hawaii, and as we transitioned out of the Marine Corps and into life as civilians. Over time, as I got more involved, I moved from occasional blogger to full time photographer and online entrepreneur.
In order to keep the majority of the content of my blog free but still be able to pay all the costs associated with running a business, including hosting fees, blog design and my own time, there are ways in which I am compensated. This allows me to continue to do what I love.
My Opinion and Integrity
My integrity is important to me. I will never promote something if I don't feel it is worth your time or money; even if I'm offered great compensation for it.
If I tell you I think something is great, I mean it. I will never intentionally lie or mislead you just because I might make some money.
Free Stuff and Product Reviews
I sometimes receive free products and services from companies or marketers. If I try the products and enjoy them, I may share them with you. I will disclose that I received a the product or service for free or a discounted rate.
Underwritten Posts
Occasionally companies will offer to underwrite a post in order to expose the lauraradniecki.com audience to their brand. These posts are written by solely by me on a subject or topic selected by me, but agreed upon by the company I am working with. These posts represent my own true opinion and are not reviewed or edited by the company prior to publication. Please know I will only work with companies whose values align with those represented on this blog, and I will only write content that I think would be of interest to you. Underwritten posts will always be disclosed as such.
Advertisements
There are occasional advertisements placed throughout the blog. These are primarily provided by Google Adsense and are targeted based on your internet and search habits.
The affiliate revenue earned from visitors clicking on these ads aids in helping me keep this blog running.
Affiliate Marketing
Another source of revenue for lauraradniecki.com are commissions I make from sales or leads generated through affiliate linking.
The following are some, but not all, of the companies I might link to using affiliate links:
Just to be clear, clicking on an affiliate link and ordering a product will earn me a commission & helping me keep this blog going. But it does NOT cause you to pay anything more than you otherwise would for the product.
If you have any concerns about this policy, please contact me!
---
Disclaimer:
The views expressed in this blog are solely my own, and don't reflect the views of anyone else or any of the products or companies I may reference or work with.
---
If you're a user or visitor in the European Economic Area the following also applies to you:
For the purposes of applicable EU data protection law (including the General Data Protection Regulation 2016/679 (the "GDPR"), this site is a 'data controller' of your personal information.
---
—
Mediavine Programmatic Advertising (Ver 1.1)
The Website works with Mediavine to manage third-party interest-based advertising appearing on the Website. Mediavine serves content and advertisements when you visit the Website, which may use first and third-party cookies. A cookie is a small text file which is sent to your computer or mobile device (referred to in this policy as a "device") by the web server so that a website can remember some information about your browsing activity on the Website.
First party cookies are created by the website that you are visiting. A third-party cookie is frequently used in behavioral advertising and analytics and is created by a domain other than the website you are visiting. Third-party cookies, tags, pixels, beacons and other similar technologies (collectively, "Tags") may be placed on the Website to monitor interaction with advertising content and to target and optimize advertising. Each internet browser has functionality so that you can block both first and third-party cookies and clear your browser's cache. The "help" feature of the menu bar on most browsers will tell you how to stop accepting new cookies, how to receive notification of new cookies, how to disable existing cookies and how to clear your browser's cache. For more information about cookies and how to disable them, you can consult the information at All About Cookies.
Without cookies you may not be able to take full advantage of the Website content and features. Please note that rejecting cookies does not mean that you will no longer see ads when you visit our Site. In the event you opt-out, you will still see non-personalized advertisements on the Website.
The Website collects the following data using a cookie when serving personalized ads:
IP Address
Operating System type
Operating System version
Device Type
Language of the website
Web browser type
Email (in hashed form)
Mediavine Partners (companies listed below with whom Mediavine shares data) may also use this data to link to other end user information the partner has independently collected to deliver targeted advertisements. Mediavine Partners may also separately collect data about end users from other sources, such as advertising IDs or pixels, and link that data to data collected from Mediavine publishers in order to provide interest-based advertising across your online experience, including devices, browsers and apps. This data includes usage data, cookie information, device information, information about interactions between users and advertisements and websites, geolocation data, traffic data, and information about a visitor's referral source to a particular website. Mediavine Partners may also create unique IDs to create audience segments, which are used to provide targeted advertising.
If you would like more information about this practice and to know your choices to opt-in or opt-out of this data collection, please visit National Advertising Initiative opt out page. You may also visit Digital Advertising Alliance website and Network Advertising Initiative website to learn more information about interest-based advertising. You may download the AppChoices app at Digital Advertising Alliance's AppChoices app to opt out in connection with mobile apps, or use the platform controls on your mobile device to opt out.
For specific information about Mediavine Partners, the data each collects and their data collection and privacy policies, please visit Mediavine Partners.