**These posts often contain affiliate links. Please see our disclosure policy for details.**
This week, I'm Thankful for:
1. Focused Work Days
In the middle of a busy shooting season, I know how important it is to my work, my clients and my mental health to schedule days where I have no meetings, no shoots and no errands to run. On these days, I buckle down and work at my desk all day long.
This week, I had two focused work days, and my completed task list reaped the benefit of them.
2. Financial Planning
This week, Matt and I met with our financial planner to evaluate our investments and see how we were doing in that area of our lives. It was so fun to talk and get to know him better and it was also inspiring to hear his praises of what we've done so far and where we're headed.
I'm grateful for the financial teachings and example of our parents as we were growing up and for the encouragement we've gotten the last few years from Dave Ramsey.
3. Amazon.com
Matt and I are recent Amazon Prime members. The free 2-day shipping is what convinced us to give it a try.
Earlier this week, there were items on my Target shopping list. I decided to check out Amazon and see if I could get the same things there, and save me a trip to the store. Ten minutes later, my items were bought and within hours, were on their way to my doorstep. Seriously – amazing.
While I'm still a diehard Target fan, nothing beats the convenience of Amazon, especially when I'm working hard and can't disrupt my workday with a 2 hour trip to Target. Plus, the Target Dollar Spot always gets me. Every time.
[*The irony of #3 being about shopping while #2 is about financial responsibility and investing isn't lost on me haha! It is possible to balance being financially responsible with normal living, which is what Matt and I are always working toward.]
4. My new Reading Light
One of the things I needed to buy this week was a new reading light. I read books in bed and I use a clip on reading light so I can have light to read but not disrupt Matt. I've had the same reading light since I was probably 12 and it stopped working last week.
After a little review-reading on Amazon, I added this to my cart. It arrived a few days ago and I've used it every night since. I love it!

It's the simple pleasures in life, right?
– – –
In the midst of my gratitude this week, I'm having a little bit of a hard time accepting the hints of Fall that I've been seeing lately.
The increasingly cooler days we're having, the crisp morning chill that hints at cooler days ahead, the photo Matt sent me of a maple tree beginning to change on his way home from work, and then this little guy that I saw in my yard this morning…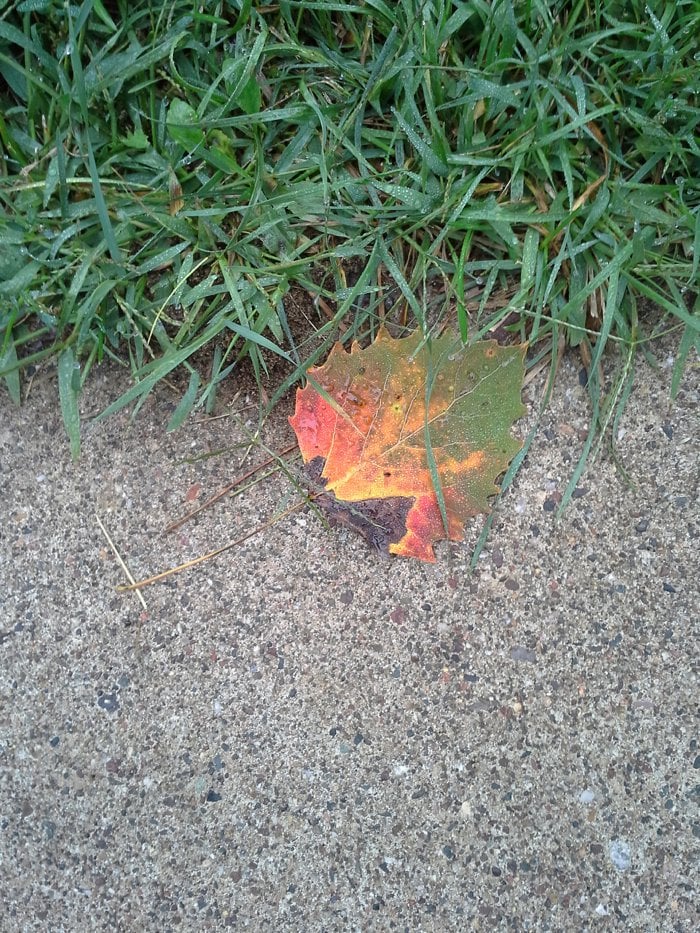 Fall is around the corner.
Like it or not, it's coming.
I'm working on appreciating the coming of Fall, because truly, I love it. I just have to not think too far ahead about what comes after Fall.
In the mean time, it's still August and it's still warm enough for tank tops, shorts and flip flops.
Summer, I'm holding on to you as long as I can!!
Happy Friday!
xo,
Laura