**These posts often contain affiliate links. Please see our disclosure policy for details.**
The other day, I was looking back at old blog posts and I looked at the nursery tour I did before Raleigh was born.
I photographed and wrote about the nursery we set up, and the organization I did in preparation for Baby Radniecki to arrive.
When I wrote that post, I have no idea who our son would be.
I didn't know what my labor and delivery would look like, or what motherhood would be like.
Everything was unknown and nothing was certain.
A Different Perspective
Now, more than 10 months later, I look at the pictures I took and the words I wrote with an entirely different perspective.
Here I am, nearing my son's first birthday.
I endured labor, ended up with a c-section, brought our baby boy home, and muddled through the hardest transition of our lives as we learned how to be parents.
I've been a mama for almost 11 months now, and I have been home with our boy, taking care of him from day one.
Looking at the photos of his nursery before he was born, I didn't know what our boy's name would be when I wrote it. I didn't know how much time we would spend in that room, nursing in the middle of the night. I didn't know what clothes he would wear, or what blankets I would prefer using for him. I didn't know which books would be my favorite, or what storage was needed for all of the baby things we would accumulate, even after he was born.
I knew none of this when I photographed and wrote that blog post.
All I knew was anticipation. Excitement. Nerves and quite a bit of fear.
All I knew was that unknowns lie ahead.
Now the Nursery Belongs to Him
Now, his nursery looks much different.
Sure, the same bunting and picture hang above his crib.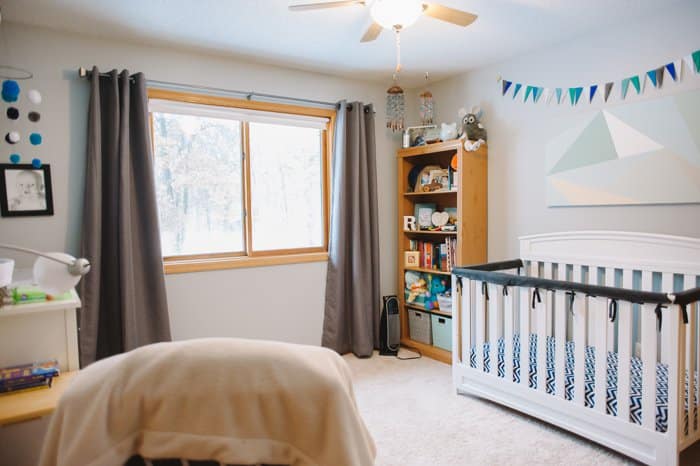 The same lamp and dresser line one wall and the same homemade mobile hangs above his diaper changing station.
But the room is different; both on the surface and down deep.
The rocking chair is different. Deciding to order a glider with an ottoman on Amazon turned out to be one of the best decisions we made as far as baby paraphernalia go. The number of hours we have spent sitting in that chair nursing are worth far more than the price we paid for it.
There is literally a butt imprint from the hours and hours I've spent in that chair.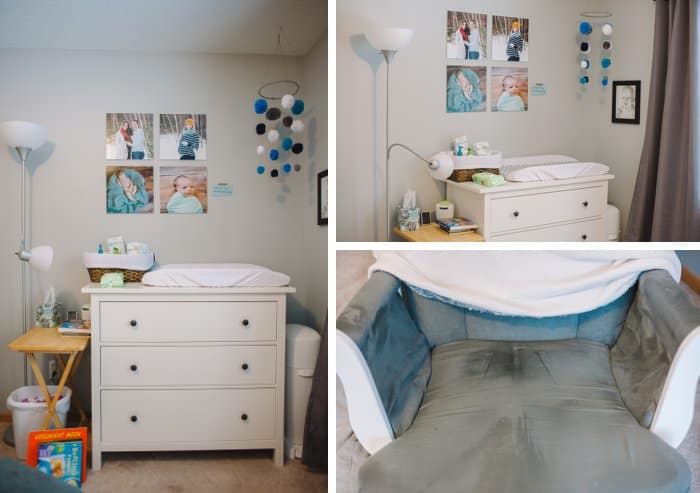 The photos on the wall are different. When I photographed the room, the face of our baby was a mystery. We didn't know what his name would be or what he would look like.
Now, we know.
Now, photographs of his round face, blue eyes, dimples and ears that stick out are plastered all around the room in nearly a dozen places.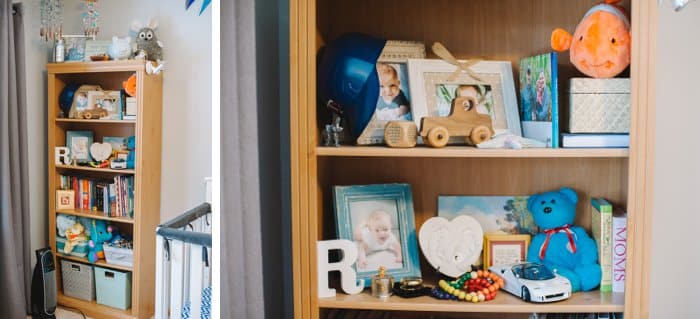 His book shelf used to have unread baby books, empty picture frames, and toys from Matt and my childhood on it.
Now, it is filled with stuffed animals bought specifically for Raleigh, gifts from his baptism and Christmas, books with little teeth marks and drool stains, and my personal favorite: a hilarious failed attempt at baby foot prints in plaster that someone suggested we keep anyway. I am SO GLAD I listened.
His crib is largely the same, except for the lowered mattress level. The crib railings are also now covered with homemade covers to hide the gouges made from Raleigh the beaver, and to protect them from further teeth damage.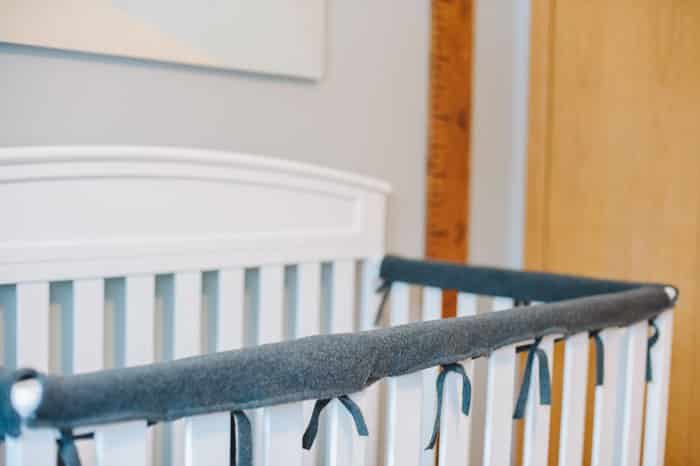 A gorgeous, heirloom growth ruler made by my insanely talented dad hangs next to the crib now, and Raleigh's first height measurement is marked near the bottom.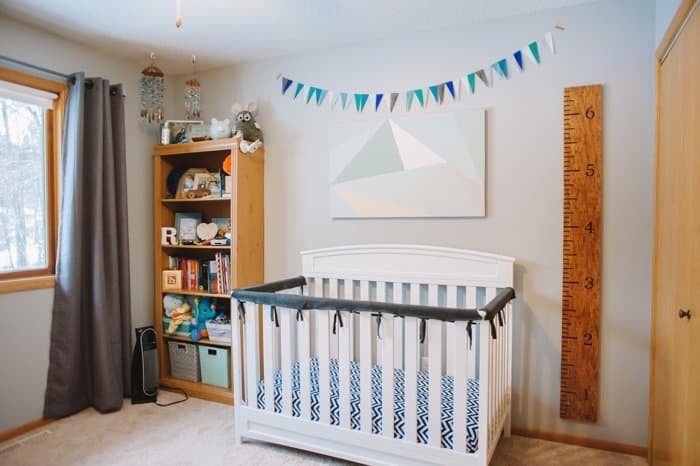 The closet looks a lot different these days too.
I spent hours trying to organize baby clothes before Raleigh was born, but I wasn't familiar with what we owned. I didn't know what he would wear, and I didn't know what I liked yet. It was all new and unfamiliar.
Now, when I look back at those photos, I see a lot of clothes he never even wore. Raleigh wore jammies for 90% of his early life so a lot of the clothes in the closet were outgrown before they were ever worn.
All of the diapers from the diaper raffle are long gone. 
Today, Raleigh's closet still has diapers on the top shelf, but they are now a size 4. [He just switched up from the size 3's that are pictured.] His closet is full of 12+ month clothes, and there are still a bunch of things he hasn't worn and likely won't before they're too small. Who knew you'd have favorite pieces for your baby too, just like we all do in our own closets?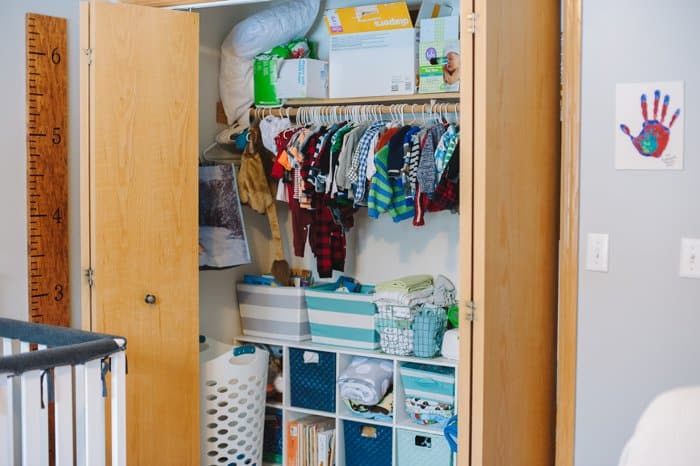 Now, We Know
Looking around the room today, Raleigh's nursery is no longer a foreign place filled with anticipation and uncertainty. I no longer feel intimidated when I look at all the baby stuff, wondering how it all works.
Instead, when I look around the room today, I see a room that is deeply infused with our precious baby boy.
I see memories already, and we are only a year into this parenting gig.
Raleigh's room is filled with HIM and I could not be more happy or thankful.
I had no idea what was ahead when I photographed and posted about his nursery.
My transition to motherhood was an extremely rough one, but the other side of that transition has been overwhelmingly sweet. Not perfect; not by a long shot. Messy, dirty, frustrated and tired… Oh so tired.
But that baby boy… Who knew how much you could love a little human?
At one point in time, I worried that Raleigh and I weren't bonding properly. I wondered if our bonding would ever happen.
I used to wonder, before having Raleigh and even in those real early days, why people always kissed their baby's heads. I kind of thought babies smelled bad and I didn't understand the urge to kiss and smell them.
And then Raleigh came, and we made it to the other side of those first tough weeks.
Now, I smother that poor kid with so many kisses, he can barely breathe sometimes. I smell his head and hug him so tightly, all while repeating, "Mama loves you, baby boy" in his ear over and over.
Now, I get it.
It's hard to imagine that not long ago, we didn't even know who Raleigh was.
We didn't have any idea who our baby would be.
But now we know.
Now we know, and life is vastly better because of it.