**These posts often contain affiliate links. Please see our disclosure policy for details.**
For most of 2012, 2013 and half of 2014, I blogged about the books I was reading each month.
I set reading goals and charted my progress. I love looking back at the end of the year to see how many books I've read.
Somewhere around mid 2014 though, life got super busy and I stopped blogging about my reading lists.
At the end of 2014, I started using Goodreads, and I've been keeping track of all the books I've read ever since on that site. [If you're on Goodreads, add me!]
I know that not everyone is on Goodreads though, so I thought I'd do a recap post and take a look at my favorite books from the last year and a half. This is by no means an exhaustive list, but here are some of the highlights: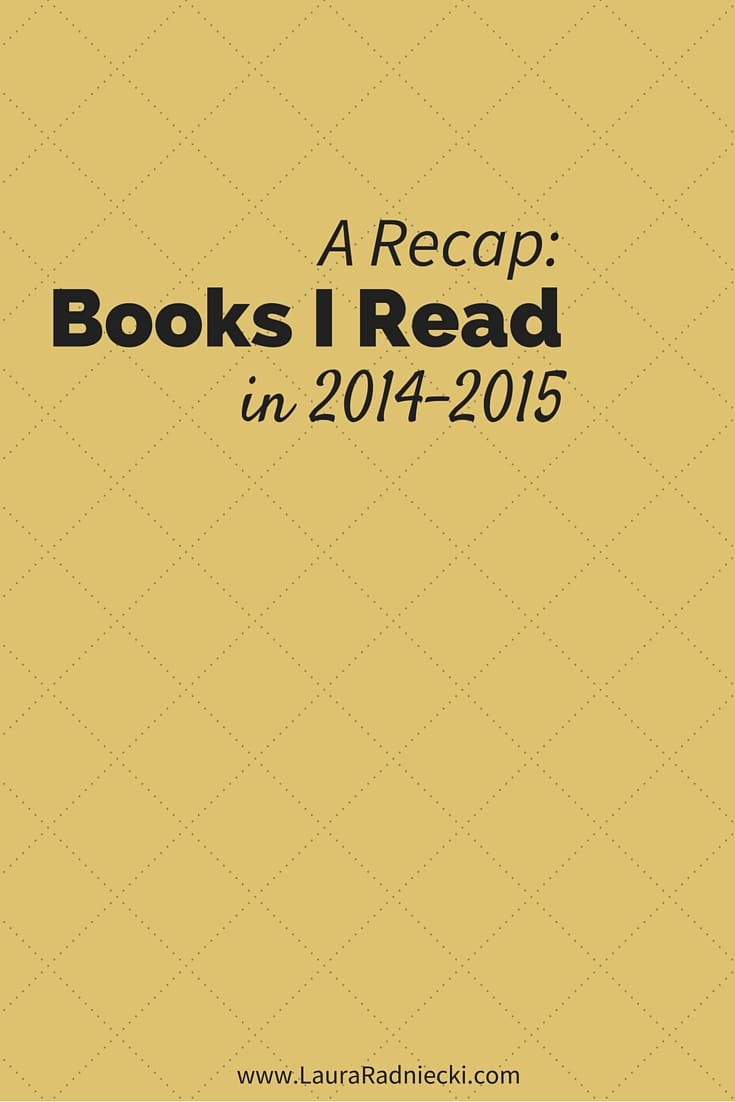 Best of 2014-2015 Book Recap
I've written and raved about this book before in many of my introvert posts. It's a non-fiction book about introverts and the importance they have in our modern society. It discusses the "extrovert ideal" that's part of our culture today, and digs into why introverts are equally key to the success of our world, even though we're often made to feel inferior.
If you're an introvert, I can't recommend this book highly enough. READ IT. But even if you're not, every extrovert has introverts in their life. Chances are, if they're married, their spouse might even be one. Or maybe one of their children is an introvert. There's so much insight and value in this book, I honestly think everyone should read it.
The Pillars of the Earth by Ken Follett
This book is officially the biggest and longest book I've ever read in my life. It is a 900+ fiction book about the construction of a Catholic cathedral in Europe.
It came highly recommended to me by a fellow reader friend of mine, and I decided to give it a go. She said she'd never read a book before where the characters came more alive.
She was right – I was captivated and interested right away. The sheer volume of the book was the only hindrance to me. I got to page 250 maybe, and when I saw I was just a little over 1/4 of the way through, I had second thoughts about being able to finish it. I figured I'd be reading it for months.
But I kept at it and I was so glad I did. I never reread books but I might have to make an exception for this one in a few years.
This is an easy to read allegory that I heard about when Paulo Coelho was on Oprah's Super Soul Sunday. I didn't really know what to expect but I had heard that many people think The Alchemist is one of the best books they've ever read.
It is a surprisingly deep and powerful book that I really enjoyed. It's another that I might even read again, just because there are so many good lessons in the book.
What We Talk About When We Talk About God by Rob Bell
This is another book I heard about from Super Soul Sunday. Rob Bell was on with Oprah and I wrote the title down and checked it out from the library.
I didn't know what to expect, and I was really blown away. I finished reading feeling so connected to God, and like I could really see and feel Him everywhere.
I don't think it matters how spiritual you are, you can gain something great from this book.
Fly a Little Higher by Laura Sobiech
This is the memoir written by the mother of Zach Sobiech; the Minnesota teen who lived with and eventually died of cancer a few years ago. I remember hearing about Zach just after his death, when his song "Clouds" was climbing the charts of iTunes.
The book was heartbreaking and deeply moving. I cried and cried, but really felt like there was hope woven throughout the book too. You can't help but be changed by the end of the book.
Appointments with Heaven by Reggie Anderson
This is a memoir written by a doctor. He writes about his experiences where he gets a glimpse of Heaven; usually as he's sitting with someone who is dying. There's really no way to do the book justice by talking about it. I've never had an experience even close to what Reggie talks about, and yet I felt so hopeful and encouraged while reading.
He even discusses the tragedy that rocked Steven Curtis Chapman's family, which Reggie was part of because he is a longtime family friend of the Chapmans.
It's a story of faith, hope and happiness. Very, very powerful.
Orphan Train by Christina Baker Kline
This book is a fiction story that is probably one of the best I've read in a long, long time. It captivated me from the beginning and kept me flipping the pages, long after I should have been doing something else.
While the book is fiction, the subject matter is true.
The "orphan train" was a real thing that brought poor, homeless or orphaned children from the East Coast to the midwest from the 1850's-1920's. Records show that 200,000+ children were relocated during those years.
I don't know why but I never remember learning about that part of American history. It was horrifying and fascinating to read about what went on back then.
I really loved this book.
One Thousand Gifts by Ann Voskamp
This is another book that had been on my list to read for years. I had heard wonderful things, and couldn't wait to read it.
Ann's writing style took me a few chapters to get used to, but once I did, I was sucked so deep into the book. She writes about how she set out to record 1000 gifts; blessings that were part of her daily life, in a notebook. Things like her children's laughter, sunlight slanting in through the window, or the way the soap bubbles shimmer and pop while she washes dishes. She talks about how the simple act of seeking out these gifts changed everything for her.
I don't think it's any secret the power of gratitude, and this book reinforces that. I bought this book, and it's going to stay on my bookshelf.
Wherever You Go, There You Are by Jon Kabat-Zinn
I heard of this book on Super Soul Sunday as well, when Jon Kabat-Zinn came on to talk about mindfulness. I've been in the middle of a quest to live with intention and to be present in my daily life for the last two years, and everything he talked about when he was referring to "mindfulness" was exactly what I was looking for and trying to cultivate. I immediately reserved this book from the library.
If you're new to the whole mindfulness idea, this book is the perfect place to start. Even if you've had some exposure to it, it's a great building block to take you to the next level.
I honestly feel like I should read this one again. [I know I said I don't reread books, but I think that's probably just fiction books. I think I need to reread some of these non-fiction books to get their full worth out of them!]
I am going to write more about mindfulness and will reference this book again. But just know if you're looking to learn more about mindfulness and the quest to be fully present, this is a great starting point.
The Glass Castle by Jeannette Walls
This is yet another memoir that I read just recently actually. It was loaned to me by a friend who said it's one of her top favorite books.
She prefaced giving me the book with the fact that the story was sad, weird and heartbreaking in parts. But that it was so good too.
I think that's a pretty accurate description of the book. I couldn't stop reading. I was horrified throughout almost the whole book. Like – how could people live like that? But the way Walls writes about her life without any apology or self-pity, it's amazing. She's just plainly telling her story and sharing where she came from.
Wow is all I can say. It's a best-selling book for a reason.
– – – – –
I'm not sure whether I'll continue to do recap blog posts like this; maybe I will quarterly or every 6 months or so.
I'm not sure how many books I'll be reading come spring when our baby is born, but then again – I will probably be spending a lot of time on the couch nursing, so I might read more than I anticipate. I've got dozens of books on my shelves from 2 visits to the local book sale, so I'm well stocked up.
If you're an avid reader and you're on Goodreads already, find me! And if you're a reader but you're not on Goodreads yet, you should sign up.
I was so hesitant for while. Do we really need one more social media site to join? But really, it's such a great way to keep track of what you've read. Not only that, but you can add books to your "want to read" list, which I love for keeping track of where I am in a series. I often forget which book I've read last, so when new ones come out, I'm left to try to figure out if I've read the most recent or if I need to check it out from the library still. By keeping track of what I've read and what I want to read, I can easily tell where I'm at in each series.
Have you read any amazing books lately? Even though my bookshelves are full, I'm always adding to my "want to read" list. If you've got any titles that have really stuck with you, let me know!