**These posts often contain affiliate links. Please see our disclosure policy for details.**
You guys, I am SO EXCITED!
Finally, after much brainstorming, many back and forth emails with my fantastic design duo from Typeset Design, and lots and lots of googling tutorials on my part, my brand new blog is here!
One of my goals for my 28th year, from my list of 28 things I want to do before I turn 29, was to revamp my blog and create a space where all of my endeavors could happily coexist. I wanted a place that felt like home – that felt happy, cozy, and genuinely like me. A place I can write freely, and share bits and pieces of my life and my work with you lovely people who stop by from time to time.
I'd say that we succeeded in accomplishing my goal!

I expect this space to grow as I settle in. There will likely be more topics covered, and more added around the site. A little Shop might even be in the foreseeable future! My newfound sewing obsession might be resulting in some pieces that need to find new homes… If there's something you'd like to see added, reach out and let me know! I'd love to hear from you!

So, welcome to my new blog! Let's take a tour of this new space.
The blog's Home Page is where all of the blog posts can be found. We successfully moved all of my old blog posts over from my old blog, which is a huge relief for me! I realize that the formatting of the posts is funny in some of them – some are centered, some aren't, some are single spaced and lumped together, some aren't. I'm limited in what I can do and let's be honest – I don't have the desire or time to go through 900+ old posts from 2009-now. So! I'm going to let those be. And start fresh from here on out.
You'll notice a pretty sidebar to the right of this post. You'll find a short bio of me there, as well as all of the social media sites I can be found on.
You'll also see a "Follow My Blog By Email!" space in the sidebar. For those of you who enjoy visiting and reading my blog, this is for you. If you enter your email address there, you'll be emailed every time a new post goes live. I know lots of you get here via Facebook and that's great, but we all know Facebook has a tendency to hide posts and choose what you see. So, if you want to know whenever there's a new post, email is the best way to make sure nothing gets missed.
Below that, you'll find some inspirational messages, as well as links to my other homes on the web. Laura Radniecki Images, Love Your Camera – DSLR Workshops, Dear Pretty and Love Nourished. You can easily and quickly get to the different sites with those buttons.
Then, there's a list of the different blog post Categories you can find around here. Those are useful for grouping particular posts together. Want to browse through wedding blog posts? Simple – just click the Weddings link!
Below that is a Search bar; another convenient way to look for something specific.
Finally, there's a little snippet of my life via Instagram at the bottom of the sidebar.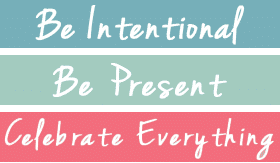 Then, up along the top right of the whole site, there is the Main Menu. There, you can visit the About and Contact pages. You'll also find drop down menus for Photography and Other Websites. The Photography menu houses all the photography-related posts I've written about. Tips + Tutorials as well as all of my weddings and sessions can be found there. The Other Websites menu includes easy links to my other businesses and sites.
There you have it! I am SO happy to have this new blog finished and ready to share!
I'll be sharing more in the days ahead about the newfound focus of this site. You can read about it in the About section if you are interested before then.

I have to give a huge shout out to my design duo, Eric and Hannah at Typeset Design. They are truly gifted people, and during the process of designing this blog, they found out that their first baby, whom Hannah is carrying right now, is a GIRL! They are going to be fantastic parents.
If you have any design or web work that you need done, I can't recommend Typeset Design enough. They helped me create the Laura Radniecki Images logo this past summer, as well as many integral pieces of the Love Nourished products. They helped my friend Kelley redo her photography website and blog, and I know she's just as pleased with them as I am. I love seeing remarkable people succeed, so seeing Eric and Hannah living their dream makes me extra happy!
Hannah and Eric, thank you. You know we'll be working together again soon – I need more stamps in my life!
Happy Monday, and Happy Last Week of February!
xo,
Laura