**These posts often contain affiliate links. Please see our disclosure policy for details.**
Have you ever gone to a website, only to leave moments later because you couldn't find what you were looking for?
Me, too. I think we all have.
In business today, almost every business has a website. And if they don't, they SHOULD. People don't look through the phone book to find a plumber anymore. They use Google.
I'm convinced that every single business today could benefit from having a website. But simply having a website isn't enough. It needs to be a good website. It needs to be easy to navigate, full of the information that your potential clients and customers are looking for. It needs to be easy to read, and it doesn't hurt if it's nice to look at.
Having a bad website can portray your business in a poor and unprofessional light, without the potential client so much as stepping foot into your business's doors, or interacting with you in person on any level.
The online image you portray with your website has never been more important than it is today.
That's why I want to talk about my top three website pet peeves today. These mistakes drive people away quickly, and often leave a lasting impression, making them not want to come back to do business ever again.
[I hope to do this as graciously and as tactfully as possible. I realize that like most things design/creative related, some parts of website design are subjective. But there are general lessons to learn that cross all industries, genres and demographics.]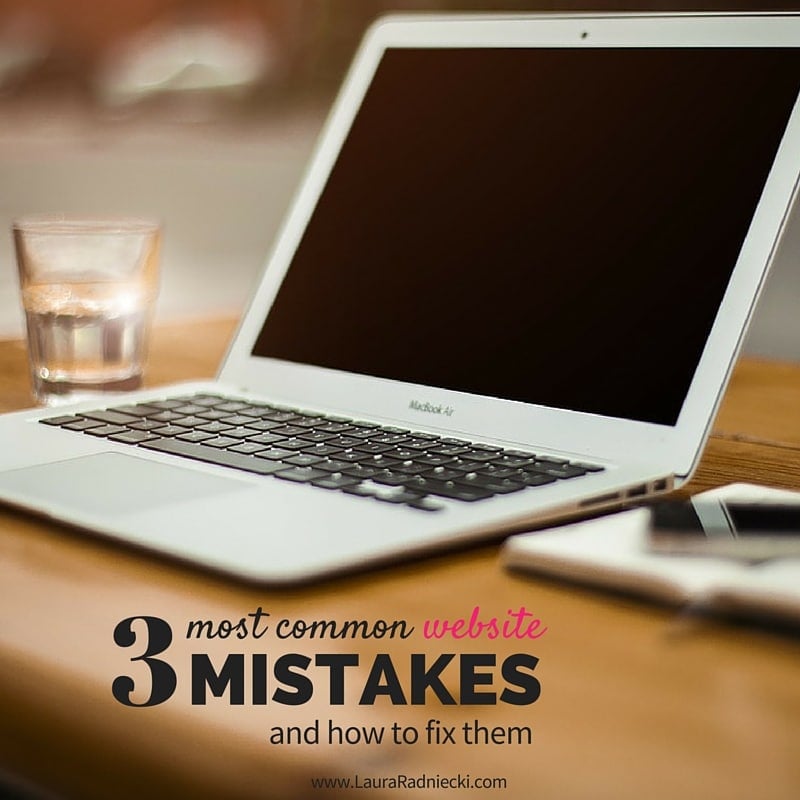 The Top 3 Common Mistakes that Websites Make:
Website Mistake #1 – Bad web design
This applies to things like the navigation menu, the layout of the website, the colors and fonts used, the size of the text, the number of photos and words, among many other things.
A good website has a simple, clear, easy to find navigation menu. Usually located up at the top, bottom or one of the sides, the navigation menu helps you navigate through the website's pages, and find whatever specific information you are looking for.
This is the navigation menu from my photography website. It includes all the main sections of my website and remains at the top of my site the entire time someone is there, offering a quick and easy way to get to each section.

Here are more great, easy to read and understand navigation menus. These make it simple to hop from section to section.
Example 1 below:

Example 2 below:

With your web design, beware of:
Too much text, especially on your home page. Keep the text short and to the point, and have images for people to look at. Showcase whatever you are selling.
Fonts that are difficult to read, or too small. Script fonts are pretty but can be very difficult for people to read.
Poor color choices. Some people like black websites with white text. I find this VERY difficult to read, and it causes me to leave the website almost immediately, or get a headache. Keep in mind that even if you love your website, you need to think about your clientele as well, and they might not have the great eyesight you do.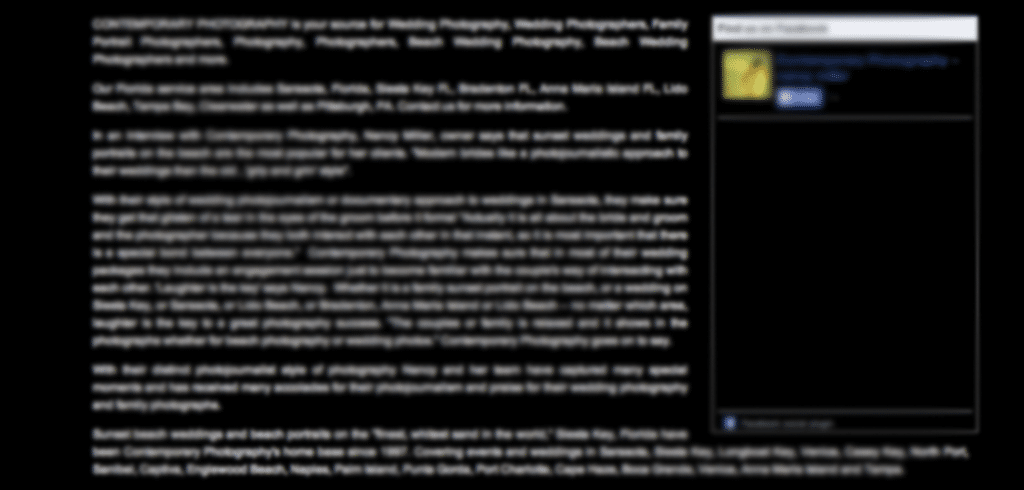 Also, keep an eye out for broken links. This is where your site indicates someone should click something to go to a new page, but nothing happens. Or they are taken to the wrong page.
The navigation of your page should be seamless and work every single time.
Website Mistake #2 – No Contact Information
It is crucial that you give your potential customers a way to contact you with questions before doing business with you, and a way to get in touch if they have problems or questions after working with you.
Options of specific contact information to include:
Email address
Phone number
Address
Contact form for easy completion without leaving your site.
The best type of contact information for you to provide depends on your type of business and the preferences of your customers.
For most things, I personally prefer emailing over calling, so I very much appreciate when there is an email address listed, or at the very least, a contact form to fill out on the site.
Some businesses [like mine] might choose to withhold their phone numbers at first. My goal is to receive email inquiries that I can reply to with my PDF pricing information, and from there, we can talk on the phone if need be.
The most important thing is that you give your potential customers SOME way to reach you if they need or want to.
Along with that, is the importance of getting back to them in a timely manner. It doesn't matter that you have a contact form on your website if you never check it and never reply to the inquiries. Or if your voice mail inbox is full and you don't listen or return calls. Your contact information is only as good as your follow through, so please, don't leave your potential clients hanging!
Lastly, please make your contact information easy to find. 
Many businesses will have it as part of their main navigation menu, like the examples above. This makes it very easy to find, no matter what page you are on.
At the very least, have some information at the bottom of the site like I do on the Love Nourished website:

Website Mistake #3 – Incomplete or Missing About Sections
The whole goal of your website is to showcase your business in the best possible light, and convince people to do business with you.
Am I right?
You want people to trust you.
How do you build trust?
One of the best ways to build trust online is to show people who you are. Show them the person behind the business. Make your business relatable. Ultimately, you want to make them like you and want to do business with you.
If there are four different landscaping companies to choose from that are all relatively equal, how do you pick one to work with?
Price is a big factor, understandably. But I'd be willing to argue that if you had a great website that showcased the human side behind your landscaping business, you could make people trust you and want to support your business. This might even be a bigger factor in their decision than price.
What should you include in your About section?
Who are you?
What does your business do?
Why are you in this business? What is your business's WHY?
A photo!
I understand that at huge companies, their About sections might look a lot different than mine as a solo photographer. Fair enough. They can still showcase their Why and do it in a way that resonates with their potential clients and doesn't sound like some automatic recitation from a book.
But, for all of the smaller companies out there, I am a FIRM believer in the power of a photo. Put your picture in your About section!
For people who will be working one on one with people, and whose industries require a lot of trust [photographers, florists, bakers, coaches, instructors, therapists, artists, chiropractors etc] it is imperative that you include your photo.
Why?
Your potential customers are deciding whether they want to do business with you. Whether they trust you enough, or could have a strong enough connection with you in order to buy your services. Whether you will take care of them or not.
Being able to see your face and feel like they know you, at least a little bit, is a HUGE part of that.
It literally blows my mind when I see photographer's websites and they don't have a photo of themselves on their site. Really?? You are a photographer – how can you possibly not have a photo there to show your clients what you look like? What it might be like to talk with you and work with you? You are missing out on a huge opportunity to build a relationship with someone who could be a future client.
In the About sections below, they do a great job of including at least one photo, humanizing their companies and building trust with those who are looking at their sites:
It can be uncomfortable to put a photo of yourself out there for the whole world to see.
I get that. I really do.
But you do yourself a huge disservice by not having a photo to show clients who you are. You can handle the potential embarrassment. It's worth it!
Bonus: Website Mistake #4 – Music on the website
This issue is highly debated and is a very subjective one. Kind of like PC vs Apple – there will never be total agreement on both sides.
However, some things to consider:
People often browse websites at work, and don't want music to start blasting in the middle of their quiet office.
Other people might be listening to music of their own already [me!] and I hate when a website starts playing music and it mixes with mine.
Sudden music scares people.
The music you like might not be what everyone else likes.
I realize that the decision to have music on your website is a personal decision, and in certain cases, people feel like it adds to the experience and increases the emotional impact of the site.
But I also know many people, myself included, who have been known to immediately close a site when music starts to play, and go find a new one.
My view is that the possible benefit of adding music to your site is majorly outweighed by the possible negative effects, so I don't have music on any of my sites. I did once upon a time, but haven't since 2010.
At the VERY least, please have the Pause or Stop button easily visible so the music can be turned off asap.
—  —  —
Having a well designed, easy to navigate website has become an integral part of a successful business plan.
Your website needs to be easy and fun for people to spend time on. Otherwise, they'll leave. 
It's a simple as that.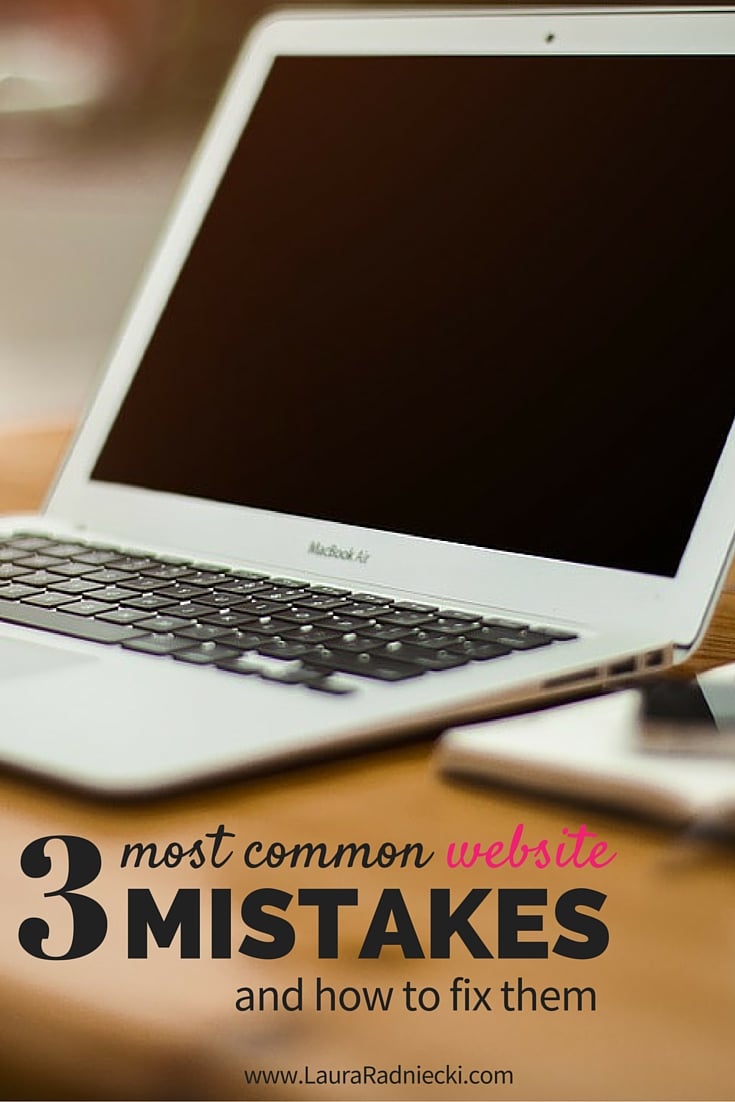 What are your website pet peeves? What makes you so mad when you're surfing the web?
Looking for more business + life tips and advice? Check out our video series on YouTube for more!