**These posts often contain affiliate links. Please see our disclosure policy for details.**
Going to Chicago and looking for travel tips? Here are the Top 5 Things To Do in Chicago, Illinois, including Willis Tower, Navy Pier, The Bean, an Architecture Boat Tour and the Riverwalk.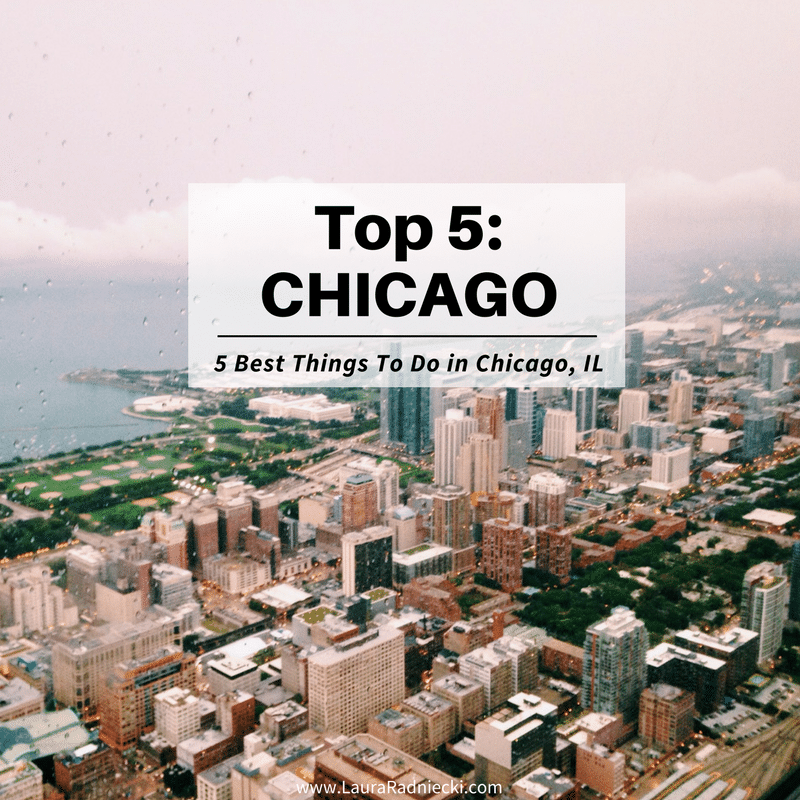 One google search or quick look on Pinterest for "what to do in Chicago" will give you approximately ten zillion search results.
I know because when we were planning our trip, I tried the same thing.
The overwhelming amount of information was too much for me to dive too fully into, and we were in the middle of a busy summer so we didn't make many advanced plans for our trip to Chicago.
We were in Chicago for 4 full days, but 2 of them were taken up by triathlon race events for Matt.
This is by no means an exhaustive list, and let's be honest, my one trip to Chicago doesn't qualify me as an expert on the city.
But we did have a great time and saw some of the iconic Chicago sites. Matt ate some of the iconic Chicago food as well.
Here is our list of the Top 5 Things To Do In Chicago, according to the Radniecki's.
#1 – Buckingham Fountain, the Riverwalk and the Lakefront
All of the triathlon festivities for the World Triathlon Championships [the reason we were in Chicago] were centered around Buckingham Fountain.
The race took place in Lake Michigan and on the street right in front of the fountain, and ended with people running around the fountain, through the finish line.
This fountain is HUGE.
We didn't get to really experience it's magnificence because we were always rushing somewhere during those two race days, but if you stop to look at it, the fountain is very impressive.
I have heard it's even more amazing at night, but I can't speak from experience because we didn't get the chance to see it at night.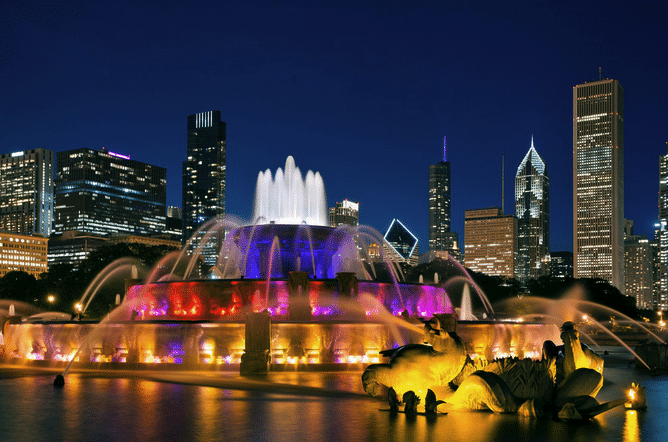 Photo via Google
There are over 20 miles of Riverwalk and lakefront bike and walking paths that run along Lake Michigan and the Chicago River.
We rented Divvy bikes and explored a little bit of this beautiful feature of Chicago. We could have spent much more time doing this.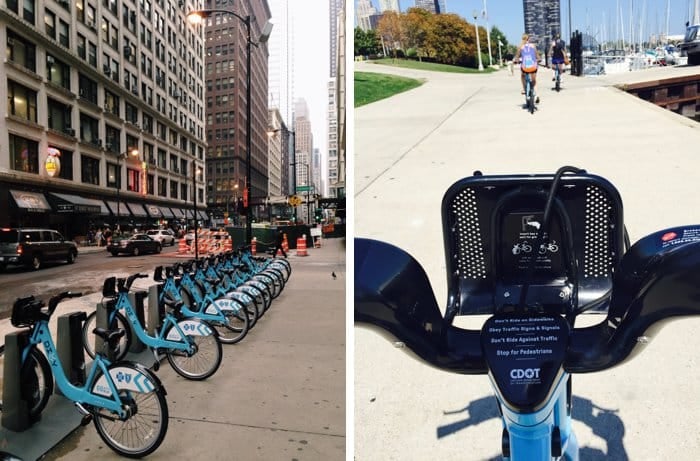 #2 – Visit the Navy Pier
Right now, I just finished looking at a list of Chicago attractions from Pinterest, and I laughed because Navy Pier was on their list of things NOT to do.
I get that some people don't want to do the iconic, touristy things. To each their own.
But for us, we wanted to do the classic things that Chicago is known for. We weren't interested in finding secret hole in the wall places that make Chicago unique.
The Navy Pier is a pier over Lake Michigan that has shops, restaurants, an indoor mall, a small amusement park, an indoor garden, and plenty of places to take photos along the perimeter walkway.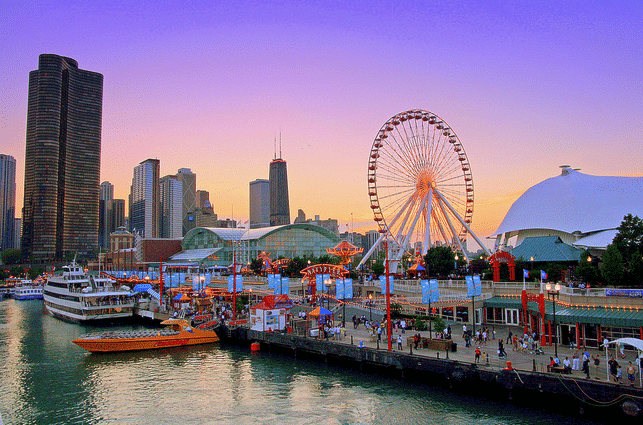 Photo via Google
We actually ended up exploring it twice; once on a rainy, drizzly day which wasn't great for views of the city but was great because there were hardly any other people around. And another time the next day when the sun was out and the skies were blue. We shared the pier with a lot of other people that day but really, what do you expect in a big city? Of course it's going to be busy and crowded.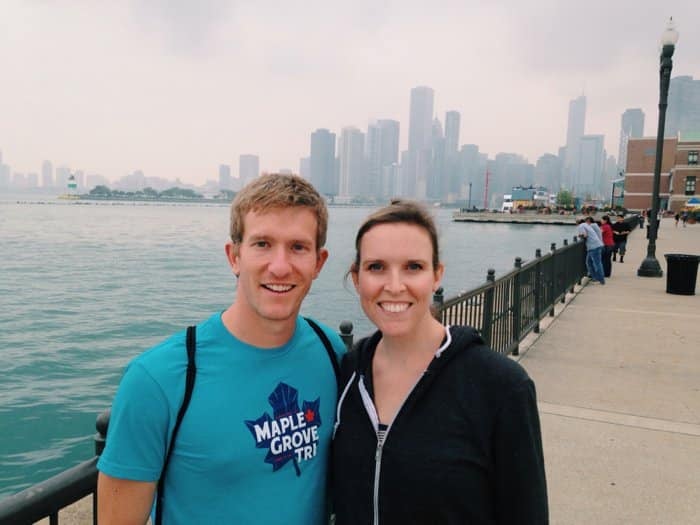 There was a really nice stained glass museum inside the pier's mall which was an unexpected gem. I could have spent a lot of time in that little section, admiring the stained glass creations.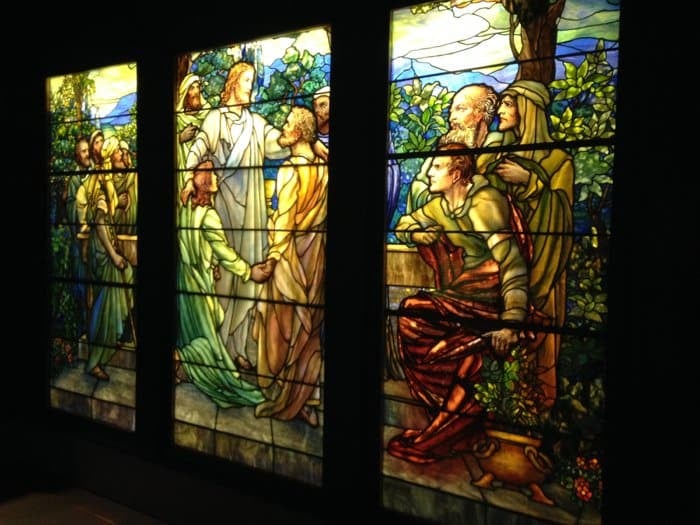 We shopped, ate, and looked at the lake and the views of the city from the pier.
#3 – Millennium Park and The Bean
The next attraction is about a iconically Chicago as you can get – the famous Chicago Bean.
Like expected, the bean was very busy but we knew it would be.
It was crazy to look at and stand under.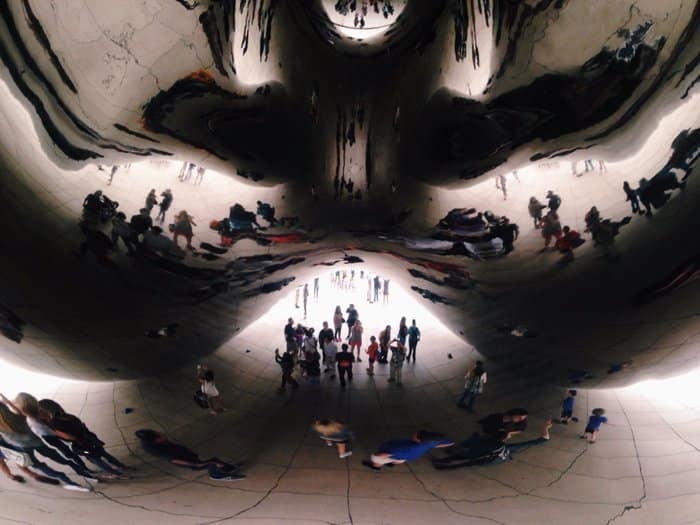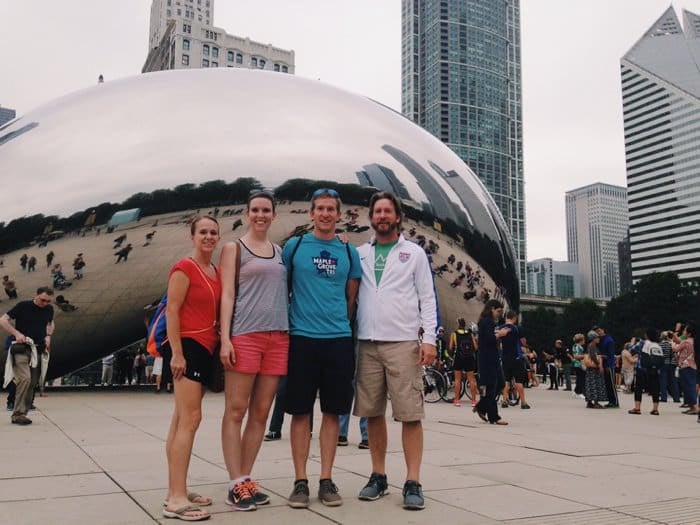 There was a big orchestra warming up in an auditorium next to the Bean. There was going to be a free orchestra concert in the park that evening, which would have been incredible to hear.
The weather wasn't great and I know it was raining during that time, so I'm not sure if the concert was postponed or cancelled.
Either way, I felt like I was getting a glimpse of something magical, watching those musicians warm up in the big, open air auditorium.
#4 – Willis Tower
Willis Tower is the new name for what used to be known as the Sears Tower.
The list I mentioned previously that told you what not to do in Chicago listed the Willis Tower as something to skip. It said it's overrated and overpriced, and you can see similar views from the bar at the top of the John Handcock building for free [although it's not free once you buy your $15 cocktail.]
Yes, the Willis Tower is iconic and it's usually very busy with long lines.
But if you're only going to be in Chicago once, I think it's well worth the trip up.
We went up on a foggy and rainy day, and were warned that the visibility was zero before buying our tickets.
We decided to take a chance and go up anyway.
That elevator ride up to the 103rd floor was the longest of my life; the number indicator counts in ten's [10, 20, 30] rather than every floor because there are so many!
When we got to the top of the Willis Tower, we couldn't see a thing outside. It was literally solid white – we were looking into the clouds of a thunderstorm.
There were maybe only 10 or 15 of us up there at this time, because most people were probably saving their money after hearing about the 0% visibility.
I was disappointed at first. I wandered around all four sides and couldn't see a thing, except white clouds and raindrops on the windows.
And then, lights appeared wayyyyy down on the ground.
Soon, we could see the clouds being blown by below us, and the outlines of the buildings began to appear.
And soon, the clouds disappeared all together and we could see for miles.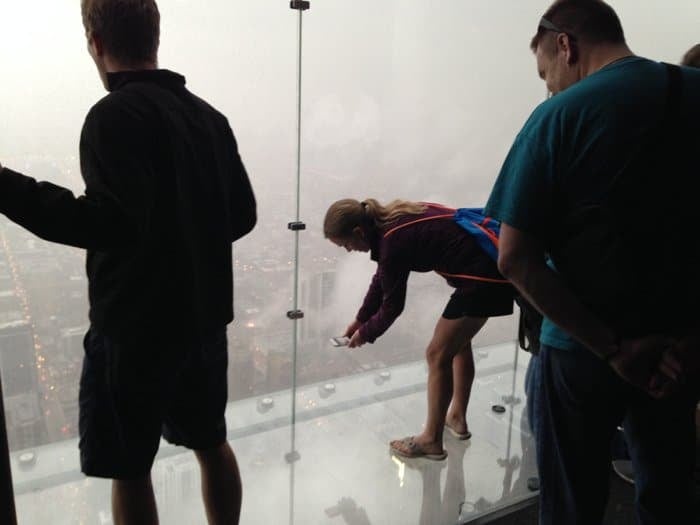 It was still overcast and rainy above us, but we could see down clearly. [Aside from the raindrops on the glass of the windows.]
Almost immediately, more and more people started coming up to the Skydeck.
One of the famous features of the Willis Tower are the glass-floored observation boxes that stick out of the side of the building. You can stand out over the city and look 103 stories down to the buildings and streets below.
At first, I could only tap one of my feet out on the glass and then seek refuge backwards to safety.
I watched as Matt and his mom tentatively walked out on it, and then got more comfortable as they took photos of themselves out in the box.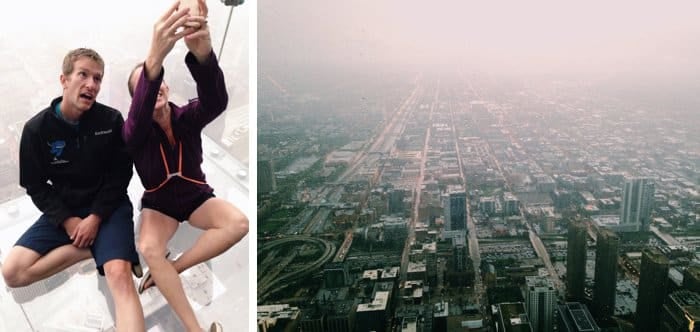 After wandering around the Skydeck for a while, watching brave souls step into the box like it was no big deal, I decided that I wanted to have a good photo of Matt and I with the city below before we left. Who knows if/when we'll be back again.
I couldn't go out if I looked down though. I looked up at the ceiling as I stepped out into the box, we knelt down as I continued to look up and then we smiled for the camera. I looked up again then I crawled out of the box.
So impressive, right? 🙂
I was actually really proud of myself for even going in there, even if I didn't look down while I was in it.
Now I've got the photo to prove I was out in the box!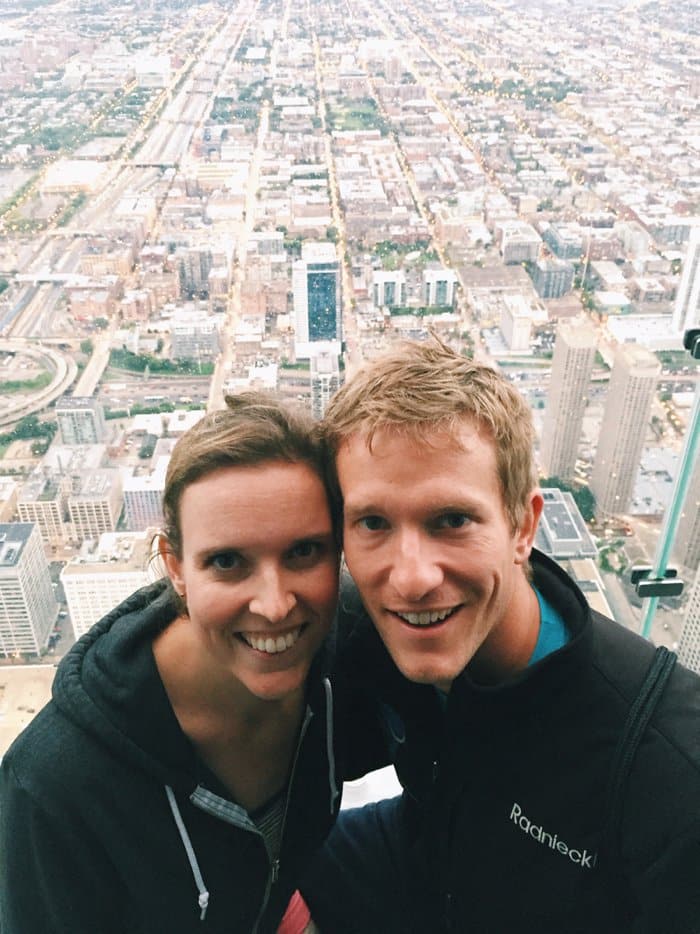 All in all, I think the trip to the top of Willis Tower is well worth the time, money and patience required.
I found it fascinating to look at all of the different buildings in the 360 degree view from the top.
Perspective is an amazing thing.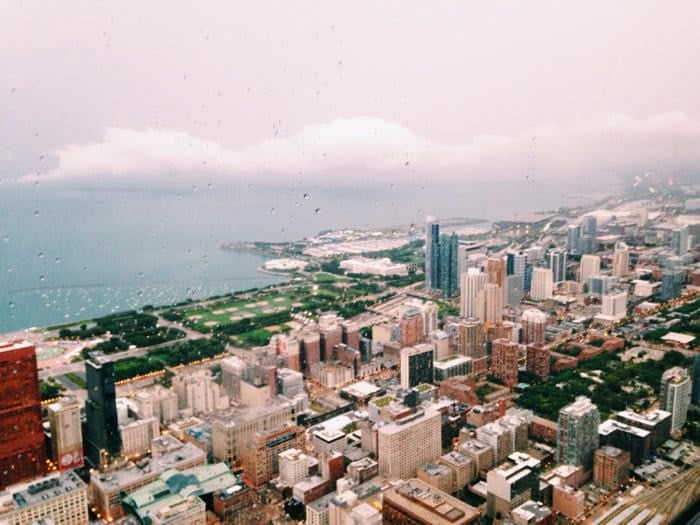 iPhone photo through the raindrop-covered glass.
#5 – Architecture Boat Tour
We didn't actually have time to do this one, but I really wish we had.
I'd heard from several people that it was their favorite thing they did while visiting Chicago.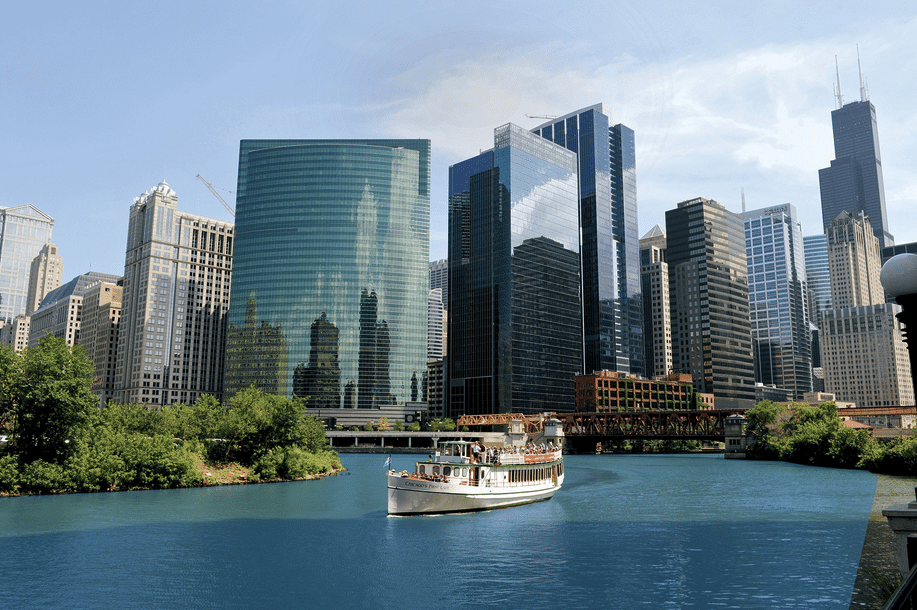 Photo via Google
Unfortunately, we ran out of time and didn't get to do it. But we saw lots of people boarding boat tours and I can tell just from the view of the city skyline from the Navy Pier that it would have been spectacular to see it from the water.
If we visit Chicago again, we will most definitely be taking one of the many Architecture Boat Tours.
Bonus #6 – Eat Chicago Pizza and a Chicago Dog
I'm pregnant and still feeling the wrath of morning sickness, so I didn't participate in the Chicago deep dish pizza frenzy that Matt did [pizza every day we were there!] or try one of the iconic Chicago Hotdogs.
But Matt did and he loved it all.
Places to get Chicago deep dish pizza are endless and so are the opportunities for a Chicago Hotdog. Apparently it's a sin to put ketchup on your hotdog, and they do not offer that there.
I stuck to whatever sounded appealing from the menu, mainly pasta.
Matt ate enough pizza for the two [three!] of us.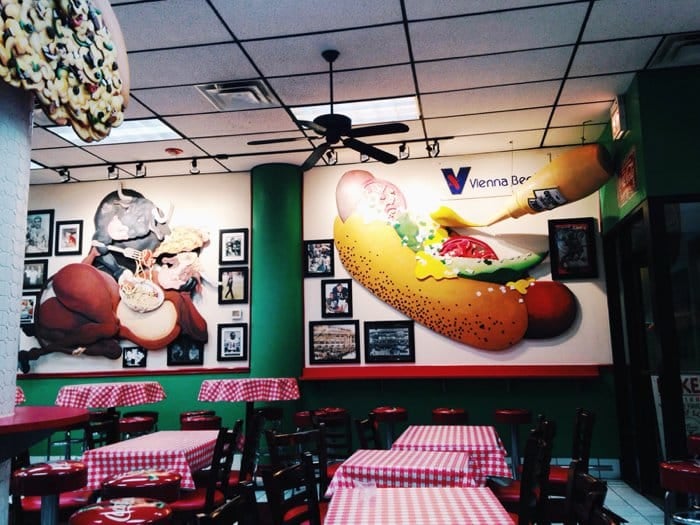 ---
When I think of big American cities, I think of Los Angeles and New York City.
I often forget that Chicago is actually really huge too, and it's the home to many iconic people and important pillars of our society.
Even though it's only 9 hours from my hometown, I had never been there before our trip a few weeks ago.
We spent our 2 open days exploring the city as unashamed tourists, taking in the sights of the Buckingham Fountain, the River and Lakefront, the Navy Pier, Millenium Park and the Bean and Willis Tower.
We never got used to the traffic or the city noise, but we loved exploring the city and photographing our adventures. I biked in Chicago traffic [and thought I was going to die], and rode my first Uber!
And when the time came to head home, we were ready.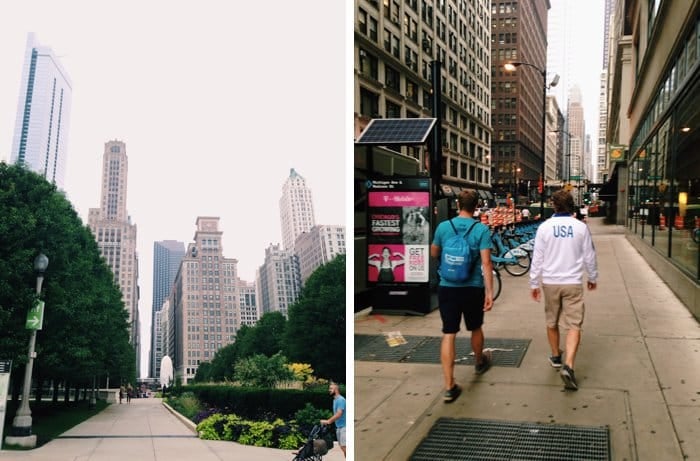 If you are planning a trip to Chicago, I can't recommend a good Chicago guide book enough! There's a zillion resources online (like this post haha!) but nothing beats a good guide book that has literally everything in it that you could ever want to know!
Here's a good one from Frommer's: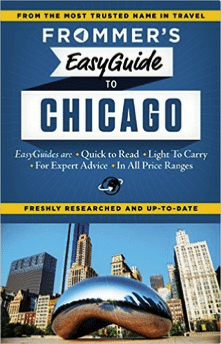 Have you been to Chicago before? What were your favorite things to see or do?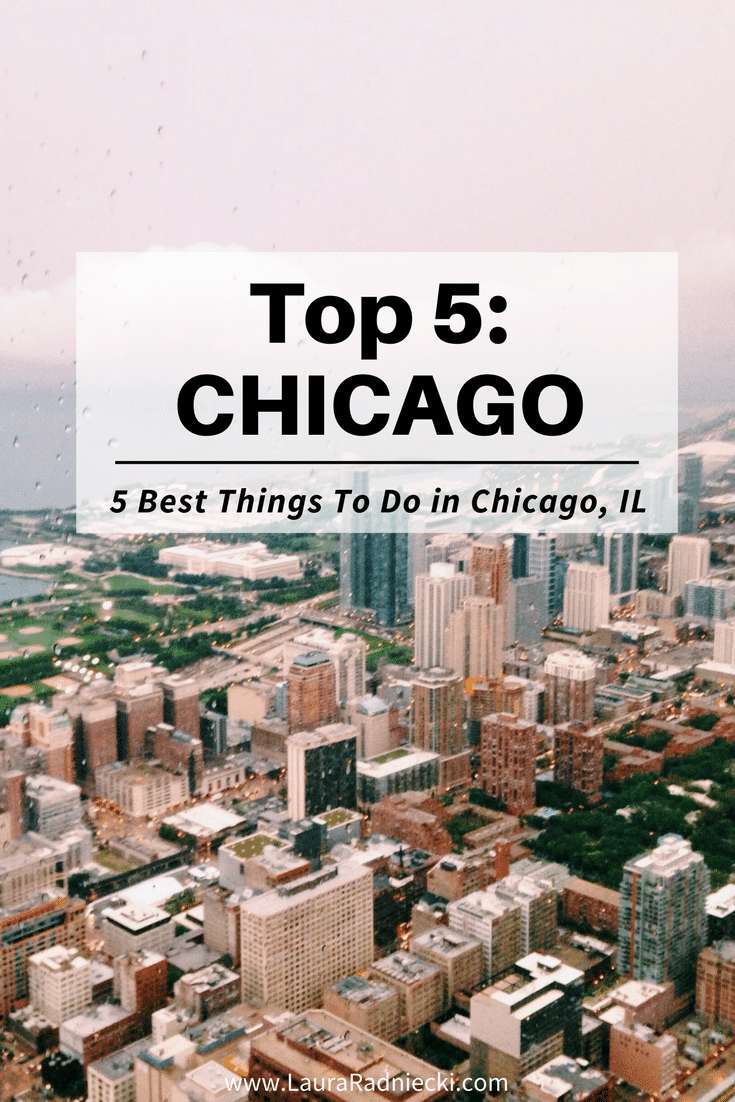 – If you liked this post, I would love if you would share it on Pinterest or Facebook. Thanks & xo! –