**These posts often contain affiliate links. Please see our disclosure policy for details.**
One of the pivotal points so far in Raleigh's childhood, where he suddenly seemed less like a baby and more like a big boy, was the first time I saw him drinking from a sippy cup.
It was on Thanksgiving, and he LOVED it. He caught on quickly and pretty soon, that became one of his favorite parts of meal time.
That started our quest for the perfect sippy cup, and now our cupboards are overflowing with options.
I know there are dozens and dozens of options to choose from. I want to share a few of those choices, and my thoughts on each one. We have tested and used all of these options, so my thoughts are based on personal experience.
A note before we begin: 
Before I gave Raleigh these sippy cups, I tested them out myself. I wanted to see how they felt.
Aside from the free flow versions, I found the leak-proof options required a ton of suction in order to get any water out. I thought there was something defective with them because I didn't think babies should have to work that hard to get liquid out.
But then I watched Raleigh drink out of them and I saw the water spilling out of his mouth and down onto his bib. Clearly, he gets water out of them. He's got the post-meal soaked bib and shirts to prove it.
When I was testing them out, I forgot to consider that babies are used to nursing or drinking from a bottle with a single slow stream. Our pediatrician recommended that we use bottles with a drip rate of one drop a second in the early weeks. That is SLOW. As adults, we are used to filling up our mouths quickly and drinking several ounces in a matter of seconds. Babies obviously can't do this and their cups shouldn't allow them to.
So it makes sense that their cups would require a lot of work to get a mouthful of water. The cups are not defective; that's how they are meant to work.
It took me seeing the water leaking out of Raleigh's mouth to realize that he was indeed drawing water out of all of the cups, and they were working just fine.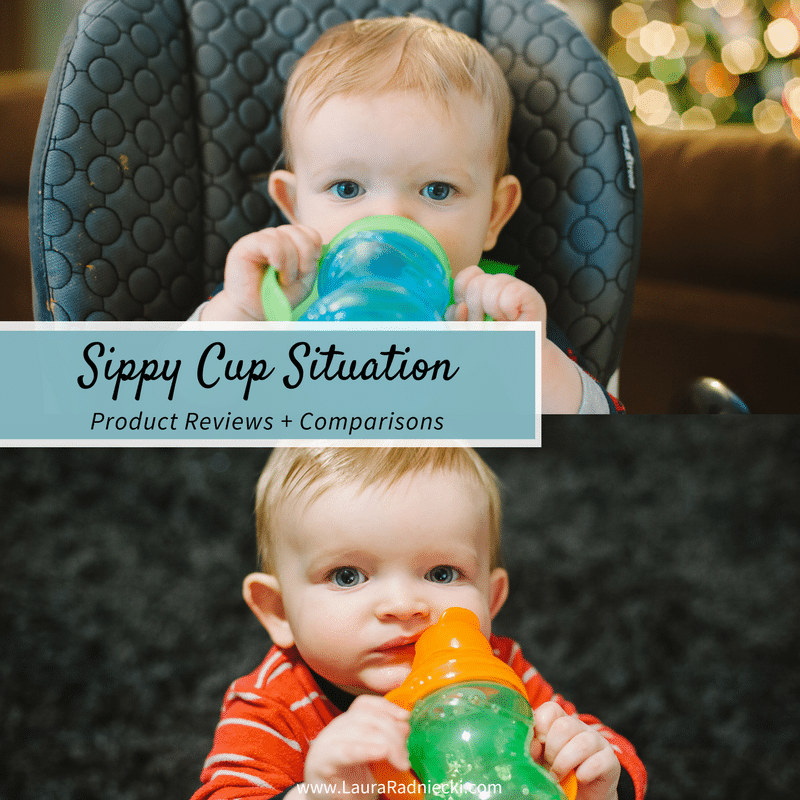 Sippy Cup Options:
The First Years Take & Toss Sippy Cups
These were the very first sippy cups we bought for Raleigh to try. They were Take & Toss Sippy Cups by The First Years, and we bought them because they were cheap and came in a multi pack.
Item Pros:
Brightly colored and cheap

BPA Free
Dishwasher safe
Reusable if you want or affordable enough to be disposable
No valve, so drink comes out easily with little effort
Comes with a bonus travel cap
Item Cons:
Water comes out fast so spills and wet shirts are more likely
It's a free flowing spout with no valve, so they leak like crazy when tipped upside down
Caps snap on but can easily pop off if cups are dropped on the floor
I like these sippy cups because they're easy to clean [no places for water and grime to hide in the spout or cap], cheap, and the water comes out easily of the spout with little effort. This was a good thing early on because Raleigh hadn't really learned how to suck on the spout to get water out, so if we tipped it back for him, the water would run into his mouth with little effort from him.
The downsides of these cups are the fact that they leak so much because of the free flow spout, and given how often Raleigh throws his sippies off his high chair tray, they are a little too flimsy and result often in a big puddle of water all over the floor when the caps pop off.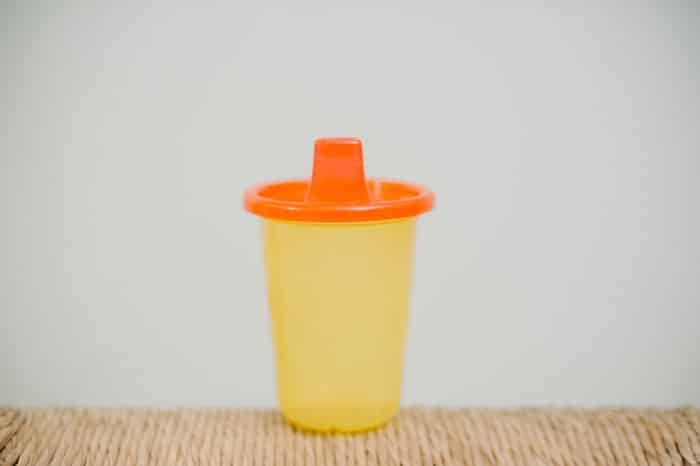 Nuby Free Flow Grip N' Sip
This is one of the sippy cups we were given as part of the Nuby Parent Blogger program to test out and review: the Nuby Free Flow Grip N' Sip.
Item Pros:
Free flow spout lets the liquid flow out easily with minimal effort. Good for baby's first sippy cup experiences.
Hard plastic spout is bite resistant and durable
Spout can be folded down to minimize spills when not in use
Handles for easy holding
BPA free
Dishwasher safe
Item Cons:
Free flow spout results in leaking if the cup is tipped upside down
This is a good option for introducing a baby to a sippy cup. It has the perk of the free flow spout which is great for beginners, but becajse the cap screws onto the bottom, it's much more sturdy than the take and toss option. It can withstand being thrown from a high chair and the cap stays firmly in place.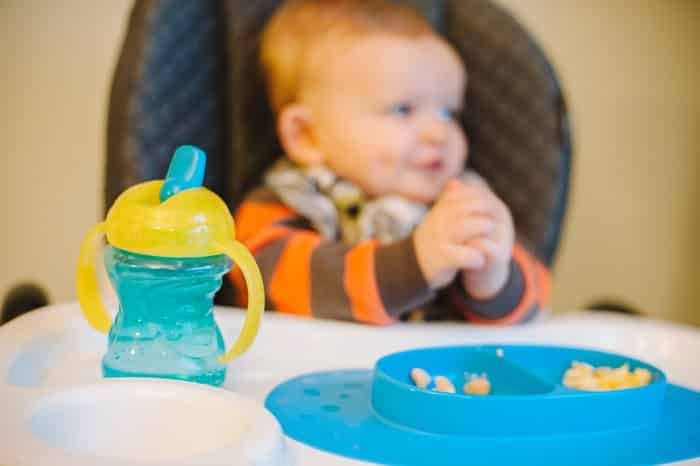 Nuby Clik-it No Spill Grip N' Sip
Another option from Nuby, the Nuby Clik-it No Spill Grip N' Sip.
Item Pros:
Comes in a two pack with interchangeable lids and cups.

Handles for easy holding
Clik-it leak proof technology; when you screw the cap onto the base, you will hear an audible "click" when it's screwed on properly and tightly.
Clear, soft, silicone spout is all one piece
Touch-Flo technology: the spout's holes open up when it's compressed by a baby's mouth or teeth when drinking. This allows the water to come out. If the spout is not compressed, it is leak-proof, even when tipped upside down.
BPA Free
Dishwasher safe
Item Cons:
If the spout is compressed when the cup is upside down, it WILL leak. This isn't really a con because it's not a flaw in the design. It's simply the touch-flo technology being activated by the compression of the spout. But it's something to note because if it upside down in a diaper bag etc and the spout gets pressed, it will leak even though it's "No Spill."
These are some of our favorite sippy cups. They are easy to clean, easy to use, and Raleigh likes to bite on the soft spout.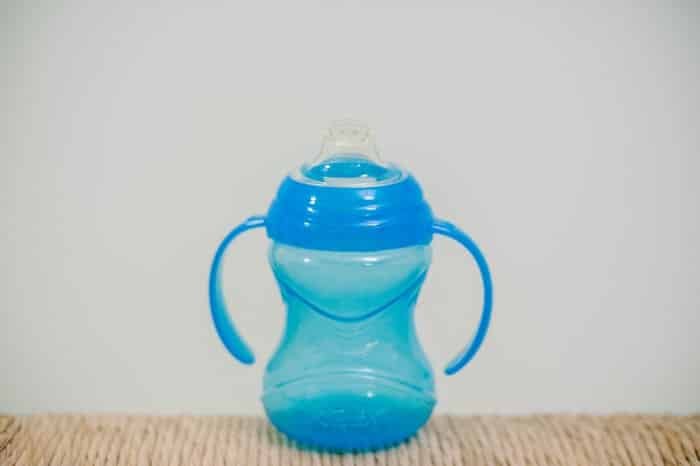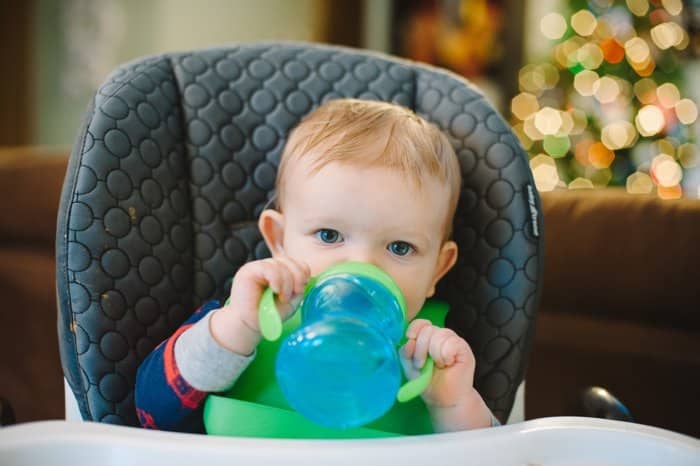 Nuby Flip N' Sip Cup with 360 Weighted Straw
This cup from Nuby is a sippy cup with a straw instead of a traditional sippy spout. The Nuby Flip N' Sip Cup with 360 Weighted Straw.
Item Pros:
Handles for easy holding

Flip top keeps the straw clean and germ free
Touch-Flo valve helps minimize leaks when the cup is tipped upside down and the straw is not compressed. When the straw is compressed, the slit in the straw opens and water comes out.
360 weighted straw allows for the straw to stay at the level of the liquid, no matter how the cup is being held. This lets your baby drink from any angle.
BPA free
Dishwasher safe
Item Cons:
Water stays trapped in the straw after using or washing unless it's forced out.
At the age and development stage my son is at right now, he hasn't learned how to use a straw yet. I don't doubt he could learn, but I think that switching back and forth between a regular sippy spout and the straw spout at this age [almost 10 months] would be a little confusing to him. [To be fair, Nuby has an age rating of 12+ months on this cup, so Raleigh is a little young for it based on their recommendations too.]
This is a cup that we might like and use more as Raleigh gets older. Right now, it isn't the best one to meet our needs.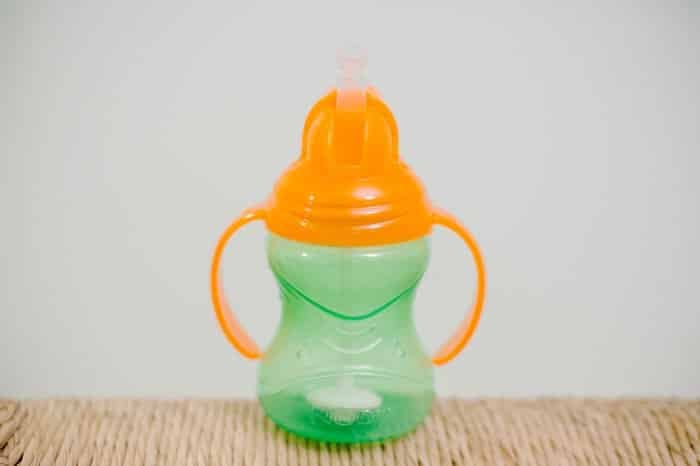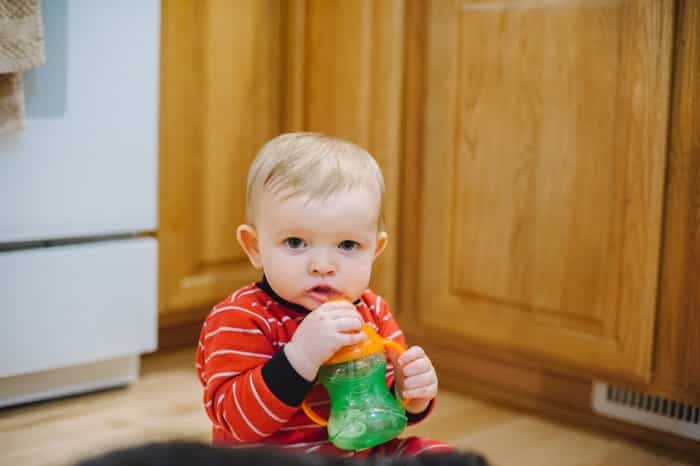 Nuby Comfort 360 Plus+ 6 Stage Bottle to Cup Kit
Last week, I wrote a comprehensive review about the whole Nuby Comfort 360 Plus+ 6 Stage Bottle to Cup Kit. One of the spouts that comes with the kit is a sippy cup spout, so this is another option when researching and comparing sippy cup options.
Item Pros:
All in one system goes from bottle to cup

Handles for easy holding
Sippy spout can be used with the 360 weighted straw to allow for drinking from any angle.
360 weighted straw can be removed and the cup used as a traditional sippy cup.
BPA Free
Dishwasher safe
Kit also includes a straw top as well as a wonder cup lid and bottle nipple to round out the complete kit from bottle to cup.
Item Cons:
Lots of different parts to keep track of and store.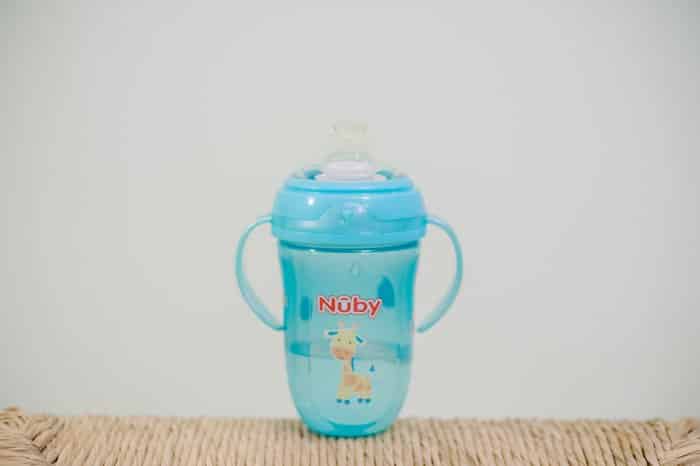 – – – – –
If you're looking for a versatile system, the Nuby Comfort 360 Plus+ 6 Stage Bottle to Cup Kit which includes a sippy cup option is a winner. I not only love the sippy cup, but the ability to test out new variations and grow with Raleigh's skill level, all without needing to buy any new products is a huge bonus.
After extensive use of the rest of the options I discussed above, my favorite stand alone sippy cup is the Nuby Clik-it No Spill Grip n' Sip.
Out of all of the options we have, I find myself reaching for these cups more often than any others.
*Nuby provided me with some of these products for free in exchange for an honest review. All opinions are my own.*
You can find Nuby on social media at — Facebook / Twitter / Instagram / Pinterest