**These posts often contain affiliate links. Please see our disclosure policy for details.**
When Raleigh moved from purees to eating small pieces of table foods, we started to use a plate to serve his food on.
It made it easy to put him in the high chair, put some food on a plate near the fridge, and then put the plate on his high chair and let him learn to feed himself.
No plate is really necessary, but I had to carry the food over to him somehow anyway.
We used small plastic plates at first, but they ended up on the floor in 5 seconds.
Then Nuby sent us one of their Sure Grip Miracle Mats to try which is a non-stick plate and placemat in one.
I loved and used our first Miracle Mat so much, I chose two more from Nuby in my next batch of products to review.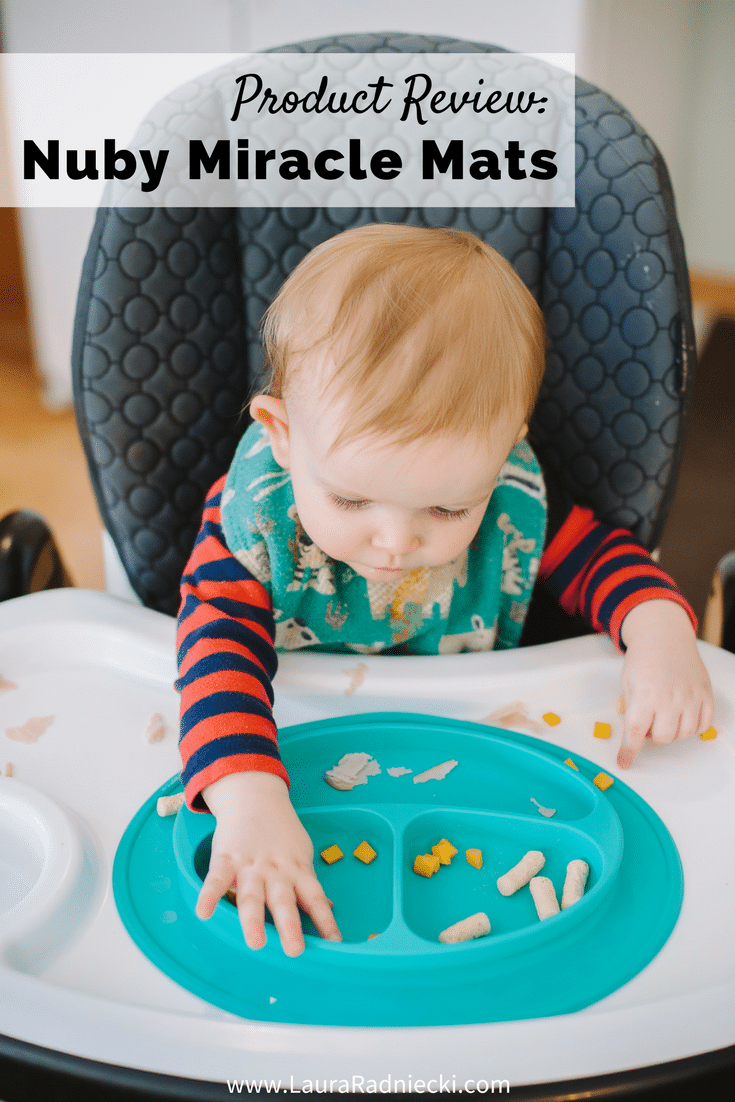 Features of All Nuby Miracle Mats:
Integrated section plate and placemat
Non-slip base that sticks to most flat surfaces
100% silicone
BPA Free
Easily wipes clean
Dishwasher safe
Gender neutral colors
Sure Grip Nuby Miracle Mat
This was the first Nuby mat we got. That was several months ago and we have been using it continuously since then. 
Pros:
Small size and kidney bean shape fits easily on most high chair trays.
Cons:
Won't stick to tables or counters with texture or grooves. This is true for all of the miracle mats.

Only has two compartments for food. This wasn't a problem at first when Raleigh was new to solids. It gave me space to put two different foods per meal. But now that he eats more, I like having more space to put a variety of foods, which is why I find only having two compartments to be a con now.
This kidney bean shaped mat can be found on Amazon and Babies R Us.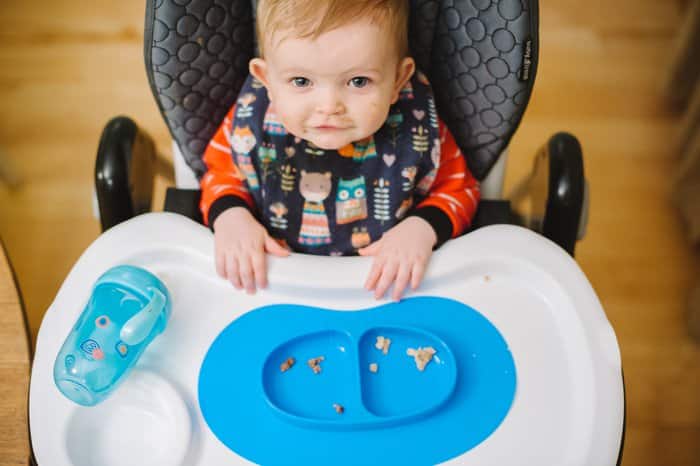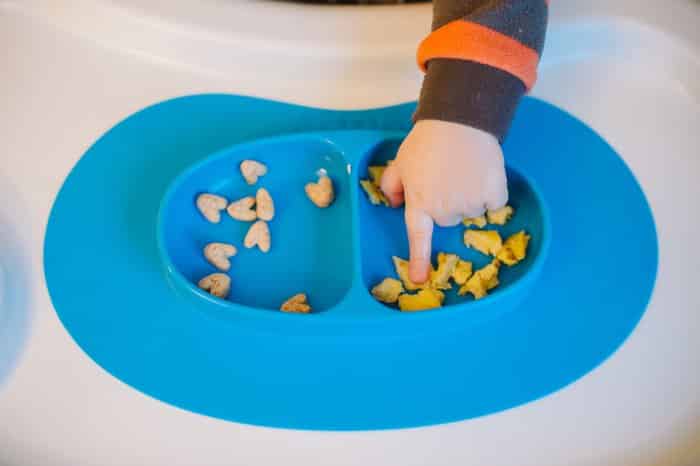 Nuby Sure Grip Miracle Mat Rectangle Feeding Placemat
Pros:
Large placemat area helps contain dropped and smeared food.
Three sections for food to encourage variety
Cons:
Won't stick to tables or counters with texture or grooves.
Too big for Raleigh's high chair tray.
This will be a perfect mat for Raleigh to use once he's in a booster seat, as long as we put it on the part of our table without any grooves. 
This feeding placemat can be found at Babies R Us. It's currently out of stock so I can't link to it, but they should be getting more in soon.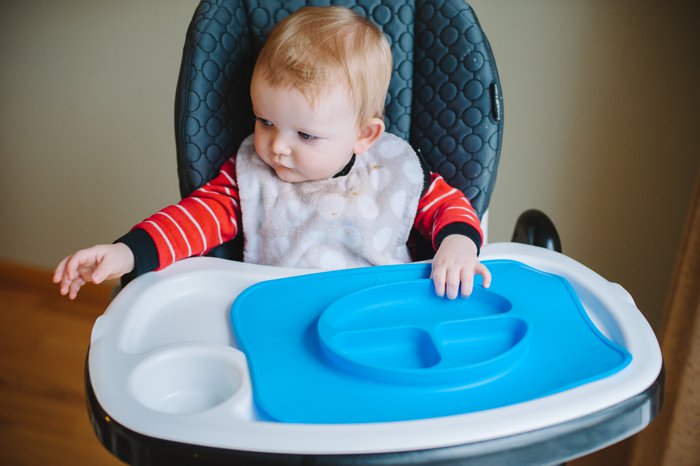 In the lower left photo, you can see the grooves in our kitchen table caused by the extra leaf we have in the middle. The placemat does not stick to the table if it's positioned over those grooves.
But in the lower right photo, it's on a section of the table without any grooves and the suction is perfect and strong. This is a point to consider, depending on the type of table you have.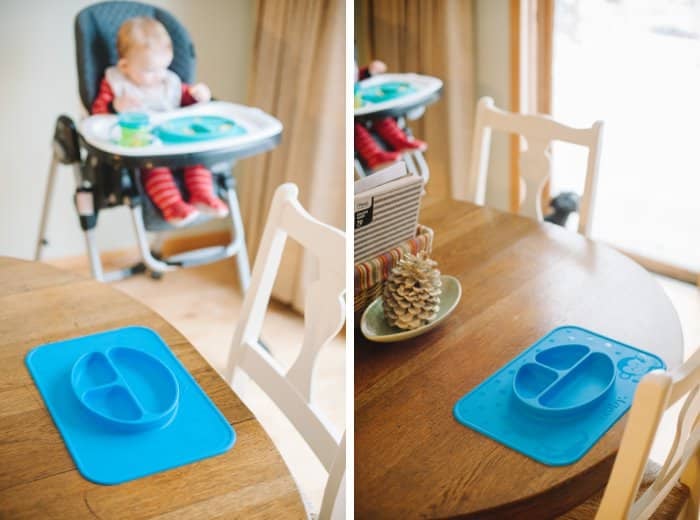 Nuby Sure Grip Miracle Mat Oval Feeding Placemat
Pros:
Three sections for food to encourage variety

Small enough to fit on most high chair trays
Cons:
Because of the kidney bean shape of our high chair tray, and the built-in cup holder, there isn't much surface area for a plate. This mat is ALMOST too big to fit properly. But even though the very bottom doesn't quite fit, it still creates a strong suction to keep the plate in place.
This oval Miracle Mat is available at Babies R Us.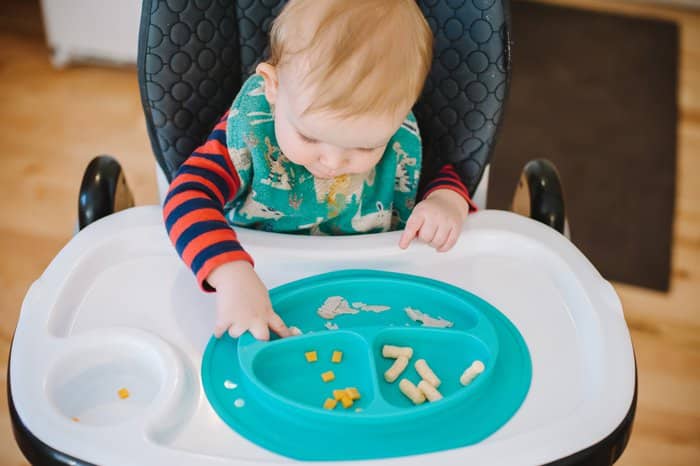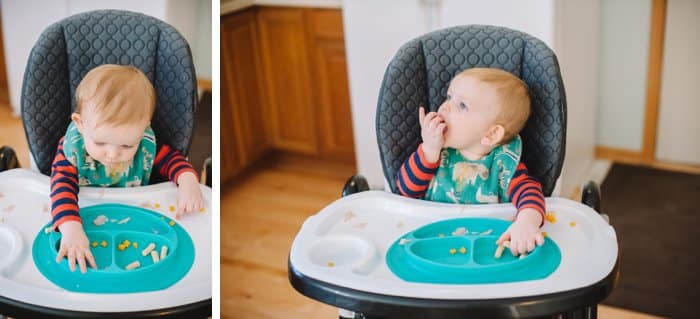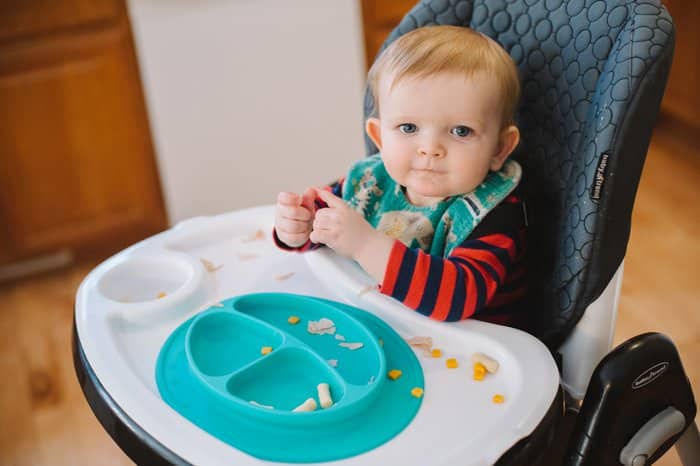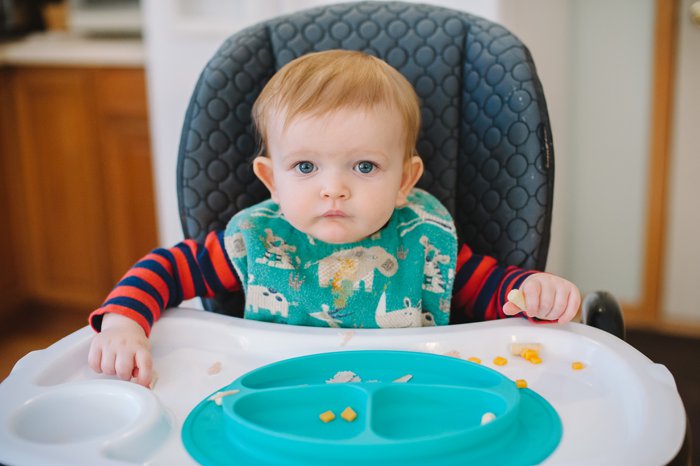 The Nuby Sure Grip Oval Miracle Mat is currently my favorite mat of the three.
I love the size, shape, color, and most of all, the three compartments for different food. It helps me offer Raleigh three choices for each meal, as opposed to only two like the kidney bean shaped mat does.
One thing to note with these mats is that if you peel them up from the edge, they lift up easily. This is how they are designed to work.
Raleigh hasn't tried or figured that out yet, but he very well could soon. If he does, there will likely be Miracle Mats sailing to the floor, just like half of his meal does.
But until he discovers how to release the suction and lift the plate, or once I can tell him "No" and have him obey if he does learn how, these Miracle Mats are all we use as plates for baby meals in our house.