**These posts often contain affiliate links. Please see our disclosure policy for details.**
In college, I lived on "cheese tacos" – shredded cheese on a tortilla shell, microwaved until the cheese was melted.
I am not exaggerating when I say I ate them almost every single day for three full years. If I was feeling fancy, I would cook myself a Pasta Side, but those were reserved for special occasions.
It's a wonder I made it out alive.
At least once a year for the last decade, I have tried to implement some type of meal plan for Matt and I. I always had the best of intentions going in but a few days would go by and it would all fall apart. We would always end up scrambling last minute, eating way more than our fair share of pasta and grilled cheese.
We are in a busy season of life right now; likely the busiest season yet. Matt works full time and is enrolled in an accelerated MBA program which he squeezes in at night and on weekends. We have a spunky baby boy who is quickly becoming a toddler, and a feisty toy poodle.
Extra time is scarce.
I knew I needed to figure out a way to meal plan that would actually work for our family.
There had to be a way!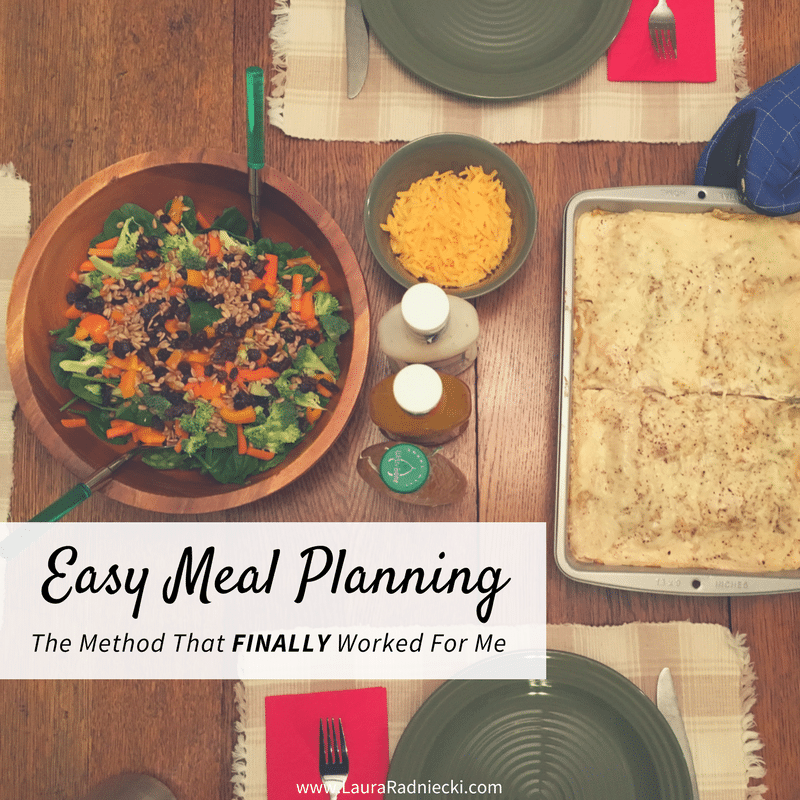 In the past, I made a list of 10-15 of our core meals and tried to rotate through them each month. That's basically how my parents cooked for my sister and I as kids and it worked well for us.
However, I always had a hard time assigning meals so far ahead of time and then sticking to them. I would forget to prepare or move them around and pretty soon, we were eating grilled cheese or pasta with white sauce yet again.
Then, I had an idea.
The Easy Meal Planning System
I looked at our list of 10-15 meals and I started to see patterns in my recipes. I have a couple favorite soups. There are two hotdishes that have carried over from my childhood. I have two variations of lasagna, and a few other recipes that I love.
So, armed with that information, I decided to assign a different category of food to each day of the week.
My weekly breakdown looked like this:
Monday: Hash/Hotdish
Tuesday: Mexican
Wednesday: Soup
Thursday: Italian
Friday: Pizza
Saturday: Extras
Sunday: Breakfast for Dinner
Then, I listed out the recipes I have for each category.
The chart I created is pictured below.
Even with some categories only having four recipes in them, that means we only eat each food at most once per month. Usually less often than that!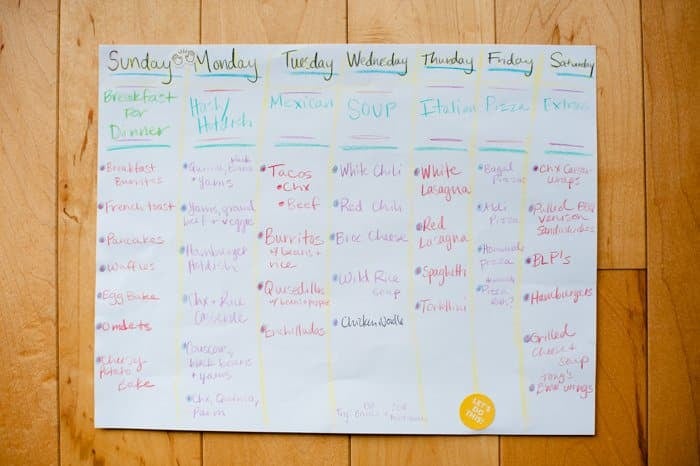 My Preparation Process
Every other week, I sit down on Sunday to spend a few minutes meal planning.
I start by looking at our calendar to see if there are any evening commitments that would affect eating dinner at home. I also take a look in our fridge and pantry to what I currently have.
I have a meal planning note pad similar to this that I use to write out two weeks worth of meals at a time. I go through the chart and select one thing from each column for each day. Sometimes, I plan things like Red Lasagna for Thursday, knowing I will save a little red sauce to make bagel pizzas on Friday. Or we will have a hash with black beans on Monday, knowing that I will save a few of the beans for quesadillas on Tuesday.
Once that's complete, I make my shopping list.
I shop primarily at Aldi these days; buying things for two weeks at a time. I am finding that I sometimes need to make another quick stop after one week to buy a few things like more bananas and spinach.
I still shop at Costco occasionally too; stocking up on staples like frozen chicken breasts and frozen berries for smoothies.
Finally, Meal Planning Success!
We have been using this meal planning system of assigning a food category to each day of the week since the start of 2017, and I am so impressed and proud of how well it has worked for us.
Things sometimes come up and we adjust, but overall, it has been working SO WELL. I honestly can't believe it. I'm so used to failing at meal planning, it feels strange to actually be doing well with it!
My crockpot is my best friend, so I almost always cook the chicken for these recipes in the crock pot and then shred it for whatever I'm making. All of the soups are crockpot soups.
I should also be honest in saying that the Breakfast for Dinner category was kind of an "I don't know what other category to add" afterthought. We haven't actually eaten much from this category at all. We usually end up with leftovers that we are still eating at the end of the week, or we make something easy like sandwiches. I might need to brainstorm and try another category.
I am adding a few recipes here and there to the different categories.  I don't need to have a dozen in each, but after a few months of the same ones, it's nice to add something new to the list.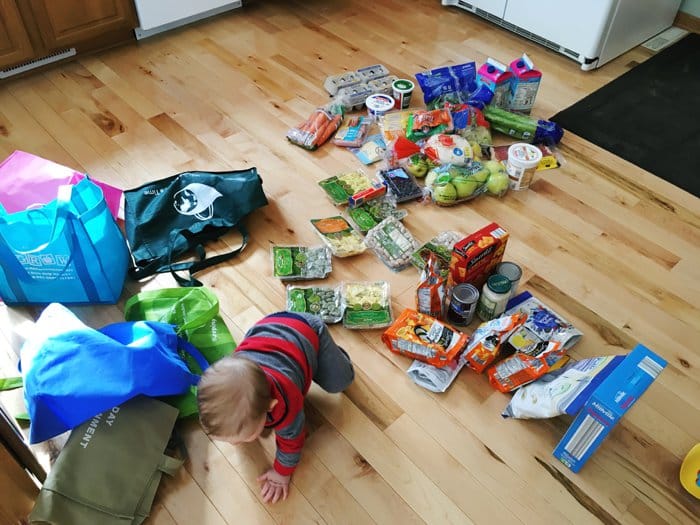 Thanks to this simple meal planning system of assigning a different food category to each day of the week, I don't dread cooking nearly as much as I used to.
I know that my week's meals will follow this plan:
Monday: Hash/Hotdish
Tuesday: Mexican
Wednesday: Soup
Thursday: Italian
Friday: Pizza
Saturday: Extras
Sunday: Breakfast for Dinner
And assigning a meal to each day is simple because I'm picking from a short list of our best and favorite recipes.
In fact, every once in awhile, I actually find myself enjoying the meal planning and cooking process!
Maybe it's the fact that I know what's coming up, I am thoroughly prepared, and my crockpot often does the bulk of the work.
Whatever the reason, I am happy to have found a meal planning method that is actually working for our family!