**These posts often contain affiliate links. Please see our disclosure policy for details.**
This week, I'm thankful for:

1. Doctors, hospitals and the medicine necessary to help heal my Grandma's pneumonia.
Earlier this week, my Grandma who is in her mid-80's was taken to the ER. It turns out she has pneumonia which was exacerbating her existing breathing issues, and it made her severely weak.
Pneumonia is scary no matter what, but when you're in your 80's and you have impaired lungs already… it's terrifying.
I'm thankful for medical facilities that are nearby to offer care and treatment for people who need it. I'm thankful for antibiotics to take care of my Grandma's infection. I'm also thankful for her children being nearby to help care for her, especially since my Grandpa passed away last summer.
Things are improving fast and it looks like she'll be able to go home this weekend. Thank you, Lord!
2. Blooming flowers that remind me of my other Grandma who watches from Heaven.
When we bought our house, there wasn't any formal landscaping. There were some ferns and lilies that grew freely along the front and the side of the house though.
When we decided to landscape the house, we made the decision to try to transplant the ferns and lilies to the sides of the house in order keep them part of the house.
Last spring, my mom and I carefully dig up and transplanted all the ferns and the multiple varieties of lilies one day, in the pouring rain. Thankfully, all of the plants re-rooted and are flourishing in their new spots.
This week, the lilies bloomed on the side of my house.
My other Grandma – my dad's mom – always had Tiger Lilies around her house on the farm. Even though these aren't Tiger Lilies, they still remind me of my Grandma. She's been gone since 2006 so it is a sweet reminder of her and her love of plants and gardening.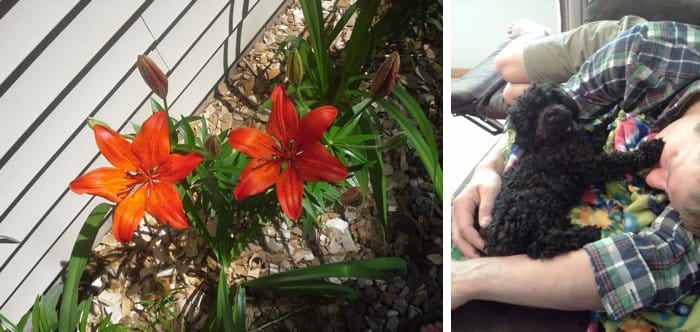 3. Amazing wedding days followed by relaxing days of rest.
I photographed my third wedding of the season last Saturday.
Taylor and Chase's wedding day was incredible! They had the best weather, it was a beautiful, heartfelt ceremony and a fun reception. Plus, they had REALLY delicious cupcakes!
I always spend the day after my weddings resting and recovering. Because of the physical nature of shooting a wedding,  I'm always incredibly sore and tired the next day. When I see photos of myself working, I understand why I'm always so sore. Hello lunges and squats, all day long!
I'm grateful for days with nothing on the calendar, and time to rest and read on the couch with Matt and Remy.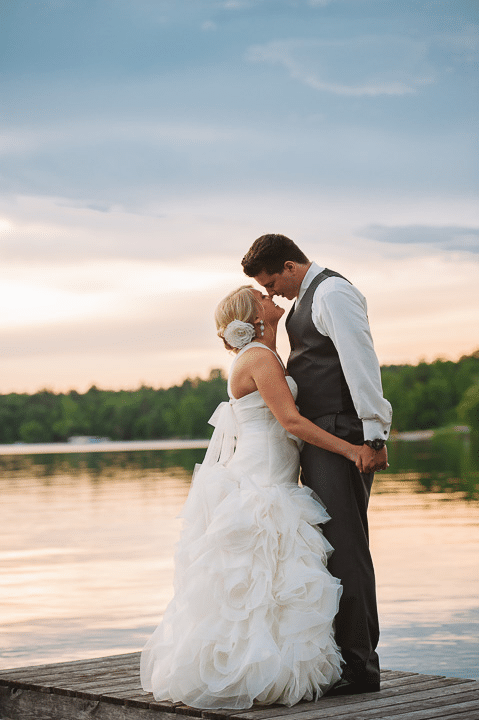 – – –
In a handful of days, it will be July.
My 10 year high school reunion is next weekend. TEN YEARS.
I'm sure many will roll their eyes when I say this, but looking back and realizing that the last 10 years passed in literally a blink of in an eye is earth shattering to me. HOW did that much time pass THAT fast?!?!
I've been feeling quite old lately. 🙂
– – –
Summer is passing quickly. Go make some fun memories this weekend!
Happy Friday!
xo, Laura