**These posts often contain affiliate links. Please see our disclosure policy for details.**
A Tailgate Picnic is the secret weapon when you have busy kids and dogs, but still want to have a family picnic!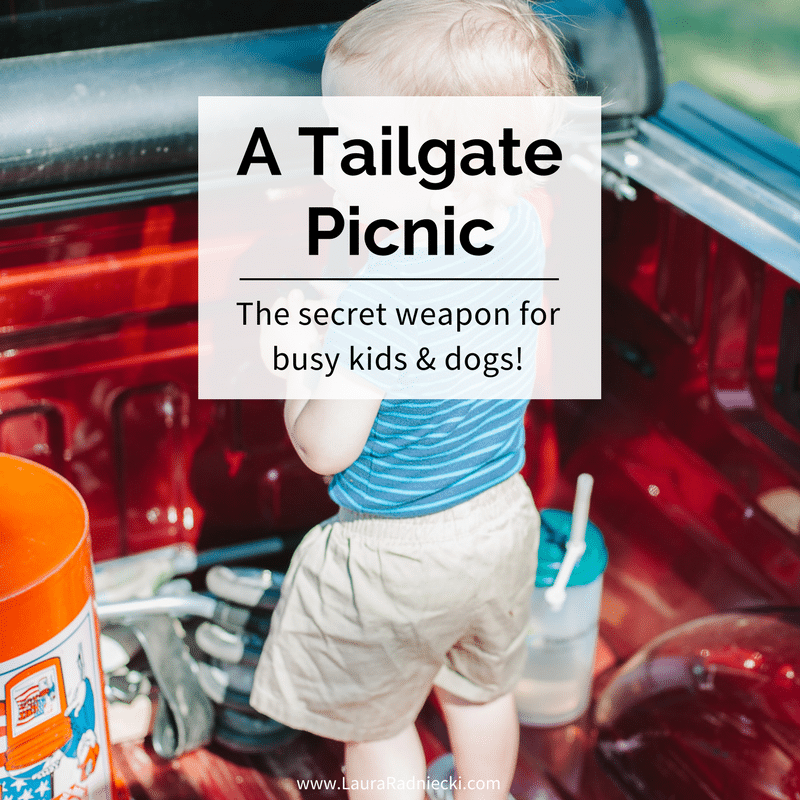 It's easy to expect major milestones like epic vacations to be among your favorite summer memories.
For me, some of the key memories from my childhood are fishing trips to Canada, family camping trips both in and out-of-state, and the occasional summer church camp. The memories I have from those vacations are priceless.
Parenthood and No Trips
However, since Raleigh was born, we haven't taken any trips at all.
The last time I left the state was in 2015 when I went finishing in Canada with my parents; I was 6.5 weeks pregnant at the time. Other than that, the furthest we've driven is 2 hours to my sister's house.
I'm not complaining! This season of parenting (and this season of having a husband in an MBA program on top of working full-time) is busy. Our lives are better suited to being lived at home right now. And I am 100% ok with that.
So, when I think about summer memories these last two seasons, it's not major trips that I remember (because there haven't been any.) Instead, it's the little things.
Family walks when it's not too hot or buggy outside. Family bonfires at my parent's house, once the babies (Raleigh and the cousins) are in bed. Eating outside at our favorite on-the-water restaurants.
Those are the memories that fill my soul when I picture this season of life and parenthood during the summertime.
Last year, we started a new family tradition. It has become one of my most treasured memories of last summer (our first summer as parents, when Raleigh was tiny baby), and this summer as well.
The tradition is having a Tailgate Picnic.
What is a Tailgate Picnic?
Matt bought a truck when Raleigh was a newborn. Shortly after that, I wanted to get out of the house one evening, so I packed up some sandwiches and we parked in a random parking lot to have a picnic in the tailgate of the pickup. It started raining, so we ate inside the truck instead.
A few weeks later, we tried again. This time, thunder rumbled nearby but we were able to have our first official tailgate picnic. We sat in the back of the truck and ate our supper. Raleigh was a young infant at the time, so he was content to observe from his car seat.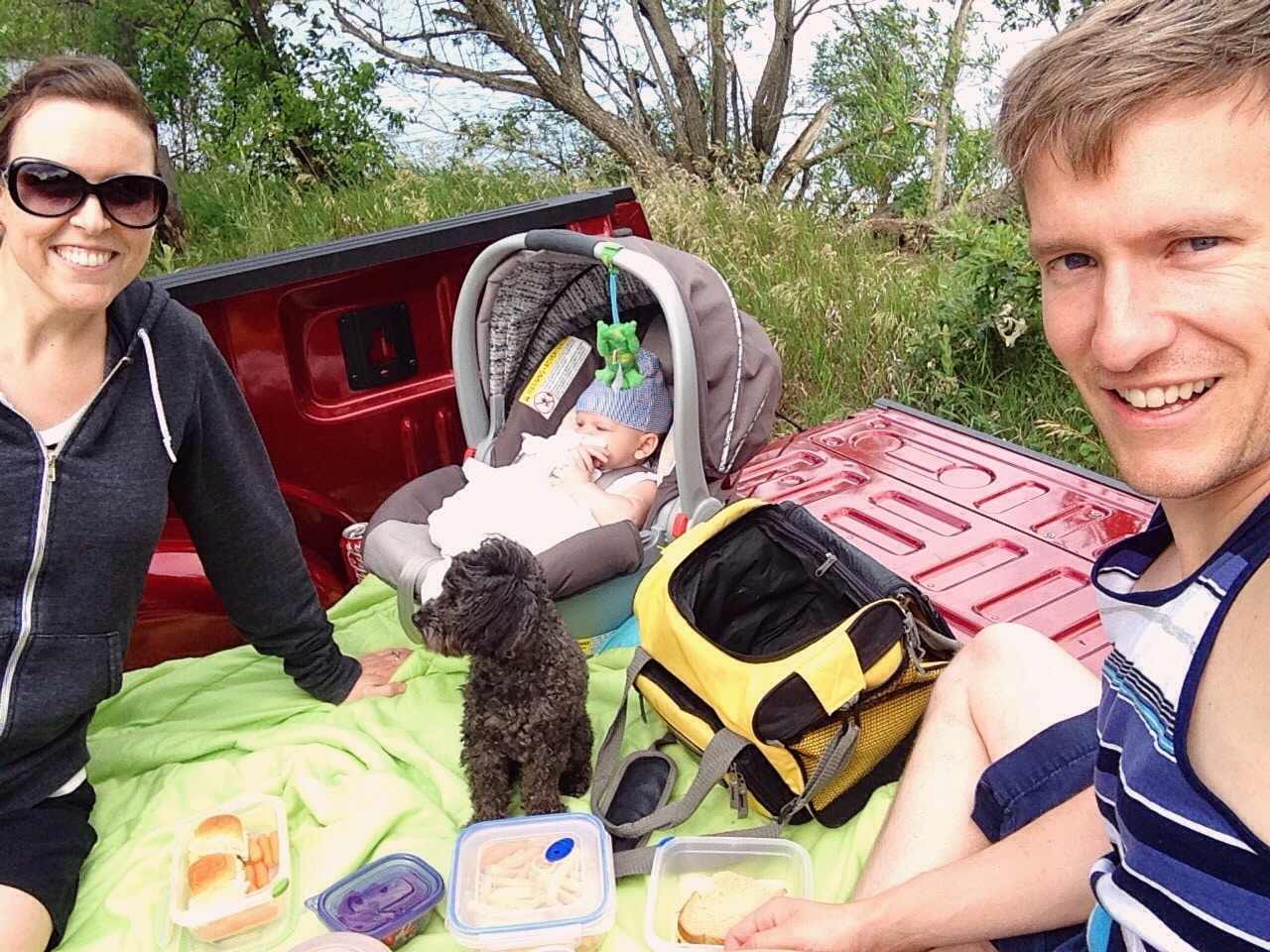 This year, Raleigh is a toddler, so keeping him contained is a whole different ball game. For obvious reasons, a traditional picnic on a blanket would not be relaxing right now. It would involve very little eating and a lot of chasing after a toddler. Closing the tailgate of the truck during a tailgate picnic now gives us the means to contain him while we eat.
Tailgate Picnic Ideas
Tailgate picnics are simple, fun and budget friendly. They are a way to get out of the house, do something out of the ordinary, and keep dogs and busy kids contained while you're at it!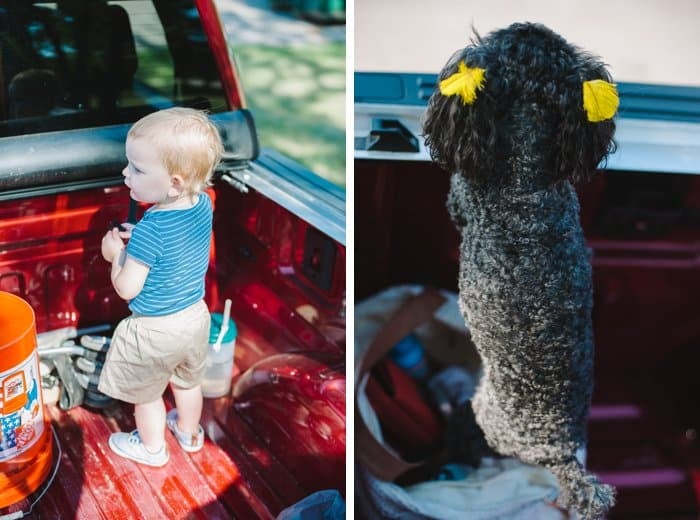 A big thank you to Nuby and their Parent Blogger program for providing us with the plates and cups necessary to make these tailgate picnics happen.
The Nuby Wash or Toss Square Section plates are a favorite of ours. We love them because they encourage feeding a variety of foods with the three compartments, and they are easy to use, wash, and store.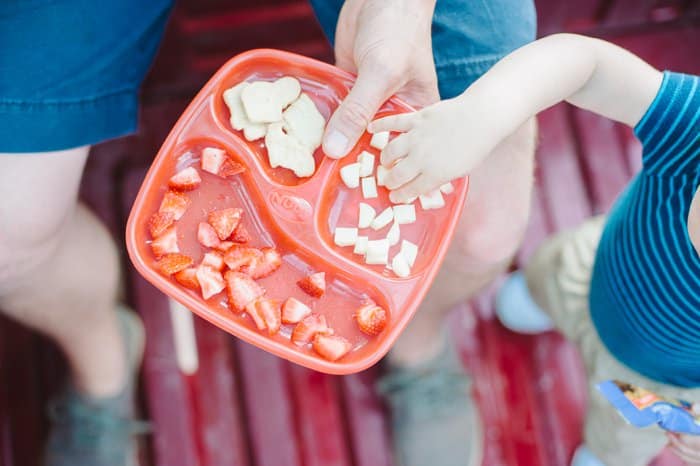 We also love the Wash or Toss Straw Cups. Drinking from a cup with a straw is an easy way to encourage Raleigh to drink more liquid during hot summer days.
We have Wash or Toss Cups with the sippy spout too and they are also great. I use them often at home, but when I want to make sure Raleigh drinks as much as possible, straws are my secret weapon.

One other Nuby product that has been a staple of our summer (not just during tailgate picnics) is the Insulated Stainless Steel No-Spill Flip-it water bottle. It's perfect for the beach or any outing during a hot day, because the insulation keeps the water inside cold for hours. The lid has a button that when pressed, flips the lid up, and there's a straw inside. (Because straws encourage hydration!) The cup is extremely durable too. It's been thrown on the ground too many times to count, and hasn't been harmed yet.
My only gripe with this water bottle is the contoured shape makes the bottom too big to fit in the cup holders of our strollers or car seats. I think it's an unfortunately design flaw; a non-contoured cup with a smaller bottom would have been way better.
But other than that, I love it and we take it everywhere with us. Since we can't use our cup holders for it, we usually tuck it next to Raleigh in the stroller or car seat.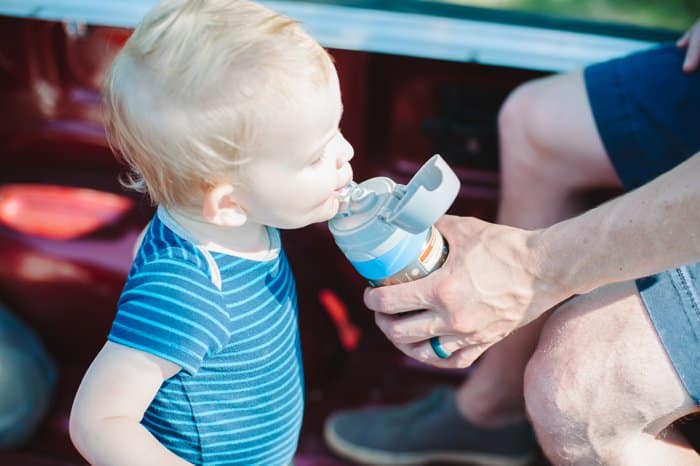 – – – – –
A tailgate picnic is a fun twist on a traditional picnic, and as an added bonus, it makes it easy to keep busy toddlers and rowdy dogs contained.
If you don't have a truck, a picnic at a park or even in your car with the AC on or the windows rolled down is still a fun alternative to the standard meal at home. (If you picnic at the park, just be ready for some toddler-chasing haha!)
Sometimes it's nice to spice up your regular routine, and do small, new things that don't require a lot of planning or extra money.
And surprisingly, those small things are often the ones that make the biggest impact and create the best memories!
*Thank you to Nuby for providing the plates and cups for this post. All opinions are my own. You can find Nuby on social media at — Facebook / Twitter / Instagram / Pinterest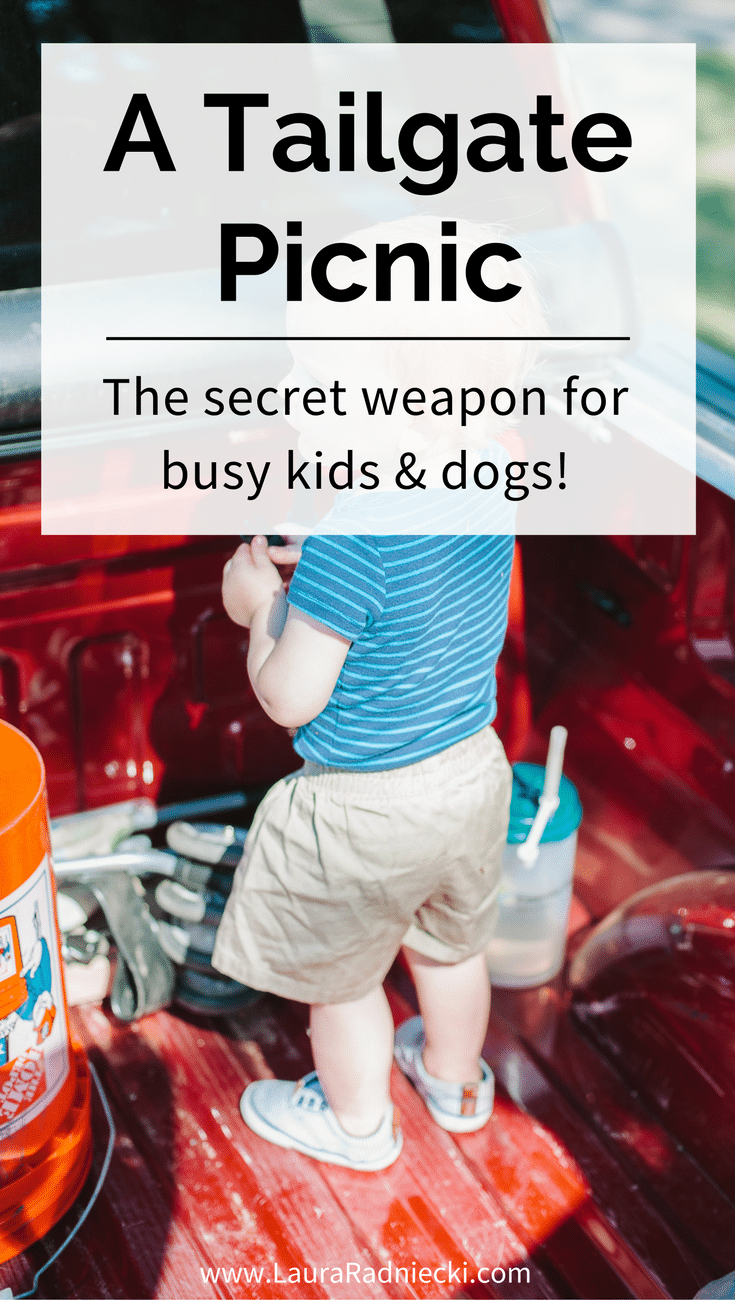 – If you liked this post, I would love if you would share it on Pinterest or Facebook. Thanks & xo! –