**These posts often contain affiliate links. Please see our disclosure policy for details.**
I participate in a blogging collaboration with the Christian publishing company B&H Publishing that allows me to receive a complimentary book each month in return for an honest review on it.
Since I LOVE to read, this has been such a fun blessing to me since I began it last year.
This month, I chose to read Steadfast Love by Lauren Chandler.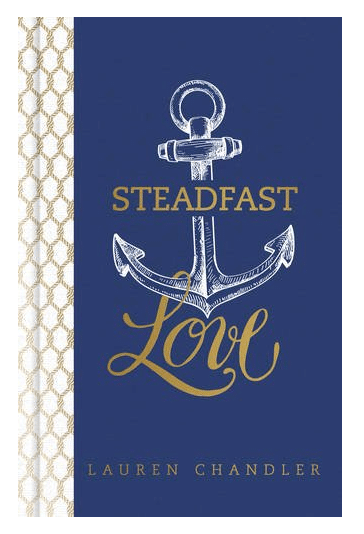 It's possible I might have been mistaken in what I thought this book was about. After reading Kayla Aimee's memoir last month and loving it, I thought it was a memoir first and foremost, with Lauren's faith and scripture woven in.
Having heard about her husband's sudden brain cancer diagnosis, I wanted to read about her family's trials and how they overcame them and kept their faith alive.
Instead, I felt the book was the opposite – a scripture book with a little of her story woven in. Because of this, it was a hard book for me to get engaged with and was at times hard for me to continue reading.
My favorite parts were her personal stories, and that's when I felt the scripture messages driven home the most. I think that for someone like me, who is a Christian but not a bible scholar by any means, I would have found it helpful to read more of her story to see the scripture play out in real life.
That's where I see how I can apply it to my own life.
That said, I did enjoy the scripture spread throughout the book. I read the bible in a year last year, so it was a good refresher to revisit some of the most poignant and moving parts of the bible again.
I loved the cover artwork, and part of my disappointment with the book may have been due to believing it was more of a memoir and less of a book solely about scripture and faith, with only bits of her story woven in.
I have someone in mind who might love this book and get even more out of it than I did, so I plan to pass it on to her.
If you're interested in Steadfast Love by Lauren Chandler, it can also be found here on Amazon.
*Disclosure: I was given a complimentary copy of this book from B&H Publishing as part of their blogger program, in return for an honest review. All thoughts are my own.*