**These posts often contain affiliate links. Please see our disclosure policy for details.**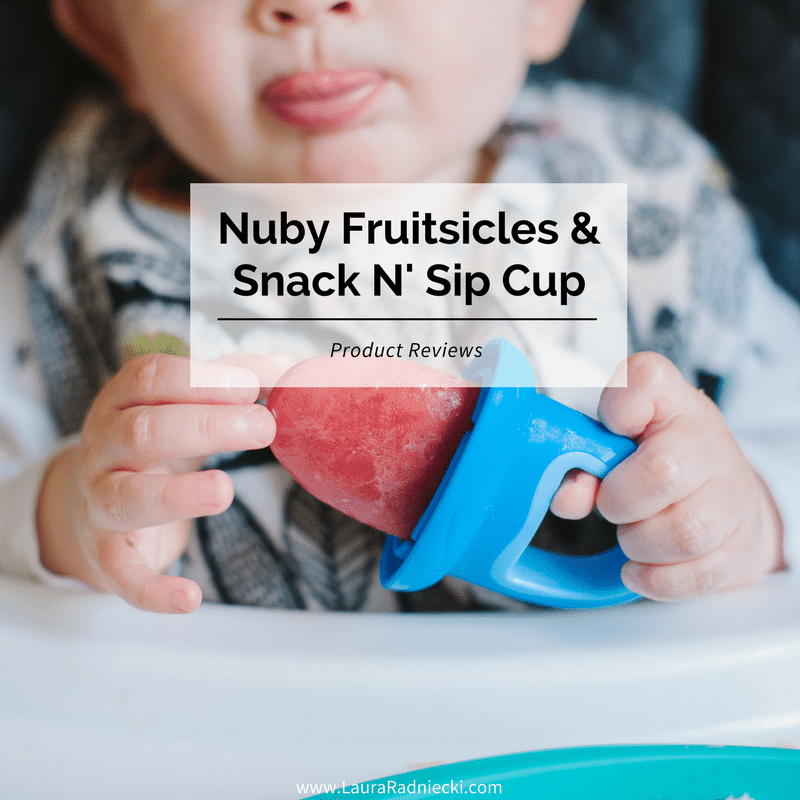 Spring is here and we are loving it!
In honor of spring, we are partnering with Nuby to review and report on two new products for summertime.
I'm looking forward to going on walks outside, playing at the park, taking Raleigh to the zoo, going to the beach, and just soaking up the warm weather and sunshine in general. We've been waiting for MONTHS for this.
Nuby sent us their new Snack N' Sip Cup and the Garden Fresh Fruitsicles to test and review for you.
Nuby Snack N' Sip Cup
I've seen this type of cup around, so I was thrilled to try one out.
It's a snack container and a drink cup in one. A brilliant concept!
The cup screws off and you can fill it with whatever drink you want.
Then, the lid opens up and you can put dry snacks in the container on top. The snack and drink are kept separate all in one compact cup.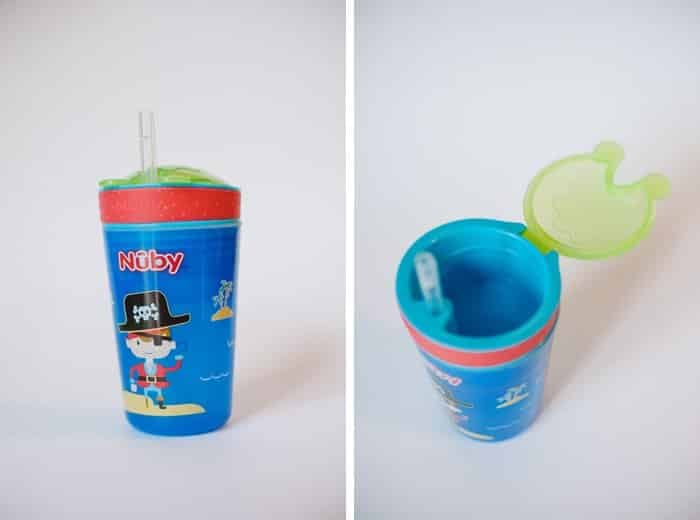 I'm really excited about being able to take this cup with us on walks with the stroller.
Space is limited in the stroller, so having a snack cup and drink cup in one is ideal.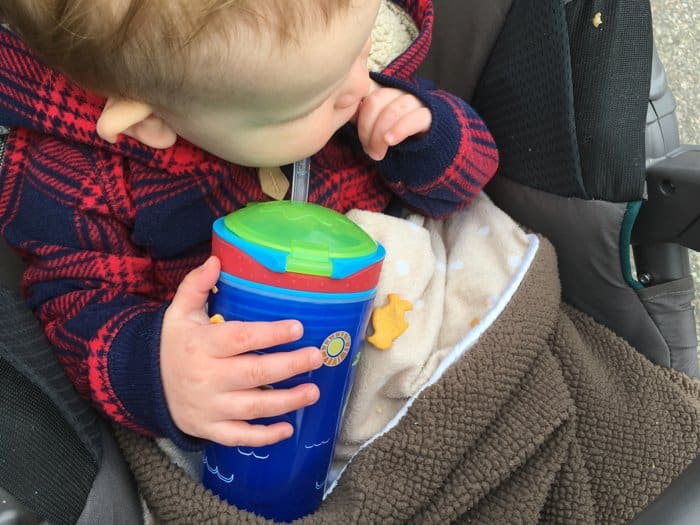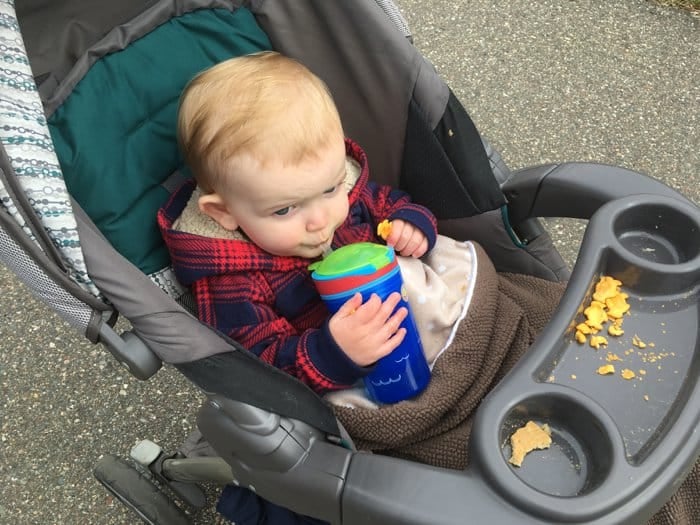 Nuby Snack N' Sip Pros:
Compact snack and drink cup in one
Snack compartment is 4.5 ounces which holds a large amount of dry snacks like goldfish and cheerios. The drink cup holds 9 ounces of liquid.
Silicone straw is designed to prevent leaks and drips
BPA Free and Dishwasher safe
The cup is durable and made of break-resistant plastic
Fun, colorful design on the cup
Nuby Snack N' Sip Cons:
I find the top section of the cup a little hard to clean thoroughly because it has so many parts. The straw comes out easily but is a pain to get back in. Matt discovered it goes in easier if you twist it as you push it back into place.
The other gripe I have about the design is that the green lid does not latch securely. This might be intentional because it's made for kids. A young child probably wouldn't be able to get the lid open to reach their snacks if the latch was too firm. But one slight bump and the green lid opens up. I sometimes carry the cup in the end pocket of my diaper bag and more than once, I've accidentally bumped it and popped the lid open, and started scattering cheerios around like rose petals at a wedding. When I carry it in my diaper bag now, I typically have the top snack portion empty to prevent spills like this. I'll fill it up when we are going out for a walk.
A follow up to the lid not latching tightly means that anytime the cup is dropped with snacks in the top, the lid pops open and the snacks fall out. If you have a kid who loves throwing their cups, this gets old fast.
The Nuby Snack N' Sip Cup is sold at Babies "R" Us.
Nuby Garden Fresh Fruitsicles
I can already tell the Nuby Garden Fresh Fruitsicles are going to be something we use a lot as the weather warms up.
They are specifically designed for making fresh puree popsicles at home. They come with a small popsicle mold and four colorful handles.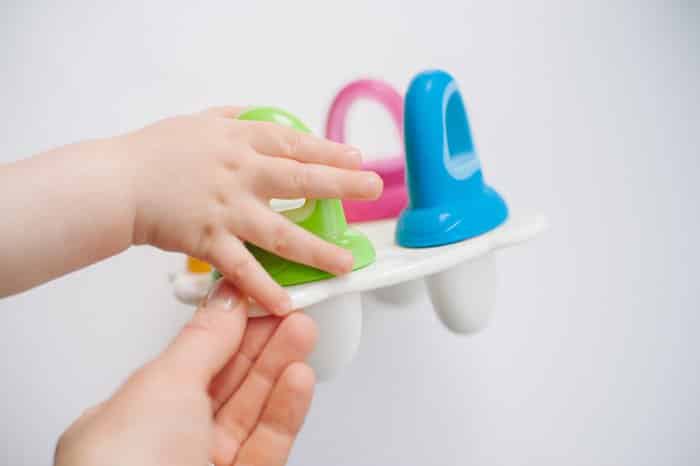 You simply pour in your puree or liquid of choice, let it freeze and pop the handles out of the tray.
Homemade popsicles!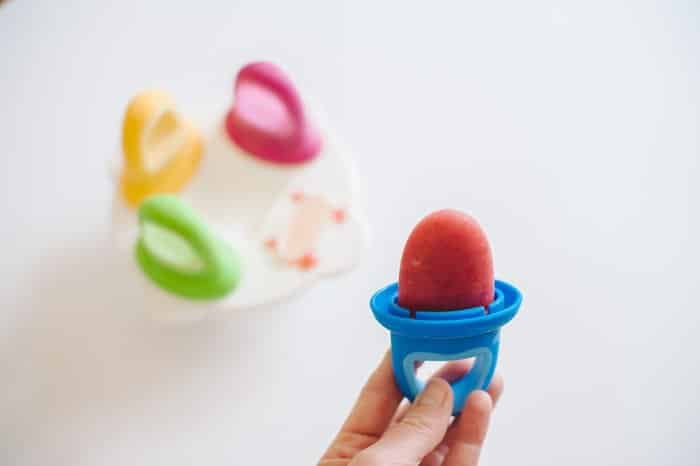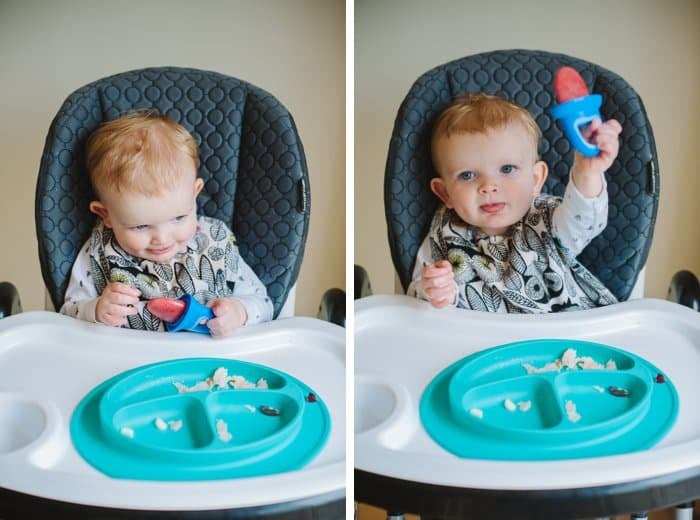 To test them out the first time, I filled the tray with a leftover smoothie from Raleigh and my breakfast one morning.
That worked perfectly, and made delicious strawberry fruitsicles that were also full of protein from the protein powder in the smoothie! Double win!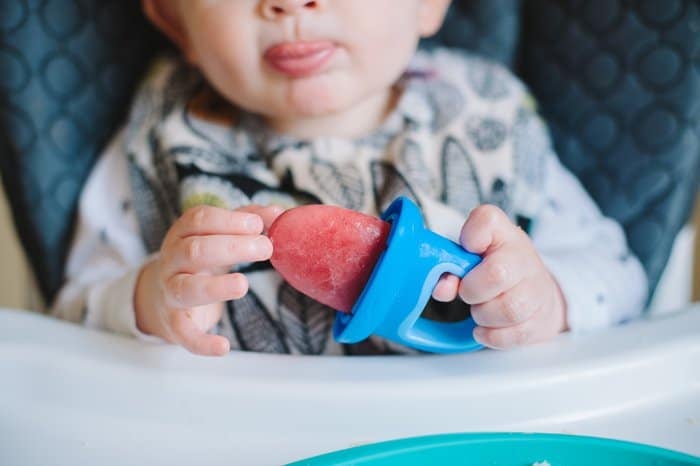 The next time, I mashed up a little bit of banana and scooped that into the mold.


That made a great popsicle too, with no need for a blender or food processor.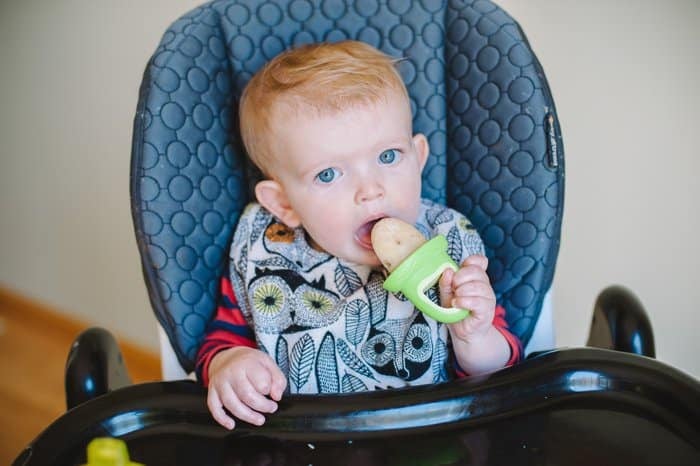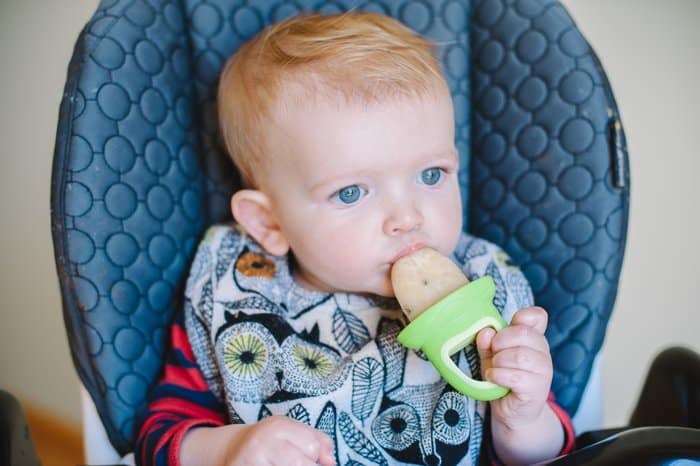 The sky is the limit as far as recipes go with the fruitsicles. The directions that came with the tray have a cantaloupe recipe and an apple variation on the back. Any baby food puree could be poured into the tray, and frozen into a popsicle.
Fruit juice, breastmilk, or even water could be used as a cool treat for the hot days that are coming, and to make staying hydrated more fun. I imagine these feel great on sore teething gums too.
Fruitsicle Pros:
BPA Free
Dishwasher Safe
Colorful, small handles, perfect for little hands
The handles have a unique base designed to catch drips as the fruitsicles melt
Fruitsicles pop out easily when the tray is run under cool water from the bottom prior to removing the pops.
Easy to use, and the recipe options are endless.
Fruitsicle Cons:
When I took the tray out of the dishwasher, there was still banana residue left inside the popsicle molds. It must have dried and hardened in there, and the dishwasher water couldn't reach up and clean it out too well. I had to let it soak and scrubbed into each popsicle mold with the little nipple brush that came with my bottle brush. So even though it says it's dishwasher safe, unless I rinse the residue out before it has a chance to harden, I will probably have to hand wash it to make sure it gets clean deep into the molds.
The Nuby Garden Fresh Fruitsicles are sold on Amazon.
– – – – –
As I look toward summertime and think of things I would like to do with Raleigh, images of stroller walks and long days playing in the yard come to mind.
I am excited to top off a long, hot, sweaty day with a homemade popsicle, and then head to the bath with a dirty, sticky, happy little boy.
Summer, we are ready for you!
Win Nuby Fruitsicles on Instagram
Thanks to the generosity of Nuby, one set of Nuby Fruitsicles is up for grabs on my Instagram account!
Come on over and enter to win!
A big thanks again, to Nuby for sponsoring this post and the giveaway. You can find Nuby on social media at — Facebook / Twitter / Instagram / Pinterest