**These posts often contain affiliate links. Please see our disclosure policy for details.**
Matt and I are introverts, so hosting parties is not something we do very often. We had our families over for our gender reveal, and later, we celebrated Raleigh's baptism with a family get-together.
I appreciate and admire people who love to entertain and throw extravagant parties. Being a creative person, I sometimes dream about throwing a detailed, beautiful party.
But then I remember that my energy bucket can only handle so much. Large parties aren't in line with my personality or skill set.
On the other hand, the Pinterest movement toward extravagant kids birthday parties is one that I am aware of and frankly often annoyed by. Especially when kids are young, the intricate parties are really for the parents. It's so easy to browse Pinterest and immediately feel inadequate or embarrassed compared to the over the top parties that abound.  Give a kid a couple balloons, a cupcake, and some presents and they're happy. No need for a fancy dessert table or themed party decorations.
As Raleigh's first birthday approached, I found myself caught in the middle of the two extremes. I wanted to make his first birthday celebration special, even though I knew he wouldn't remember it. But we would. And the photos would be a part of his baby book forever. Plus, I like being creative, so I wanted to put some effort into the plans.
I also knew my personality limits, and the limits to our home's available space and party planning budget.
A Blue Themed Birthday Party
After some contemplation, I decided on a party theme based around the color blue. His nursery has a casual, classic beach theme, so I wanted to carry that into the party plans too.
Using a mixture of dollar store products, handmade banners, Target balloons, and other items from the kitchens of friends, my mom and myself, we threw Raleigh a blue themed birthday party that was beautiful, low key, budget friendly, and focused on celebrating our baby boy turn one.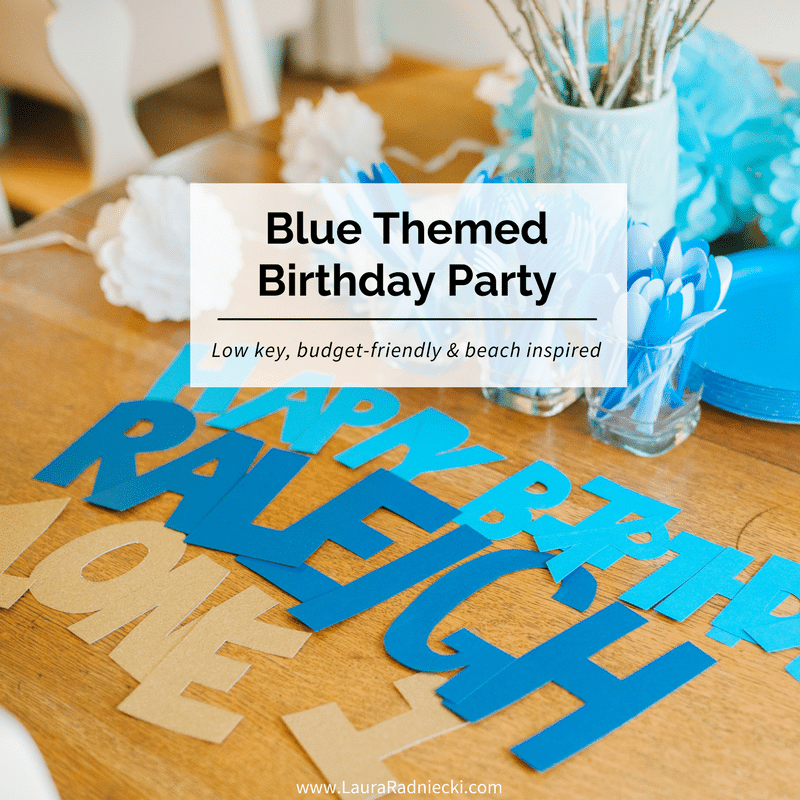 Party Supplies and Decorations
For the paper plates, napkins and plastic silverware, I visited our local Dollar Tree and picked up sets in two different shades of blue.
While I was browsing their party aisle, I also spotted paper pompoms. I bought a white garland with six small poms on it, and a pack of two larger blue poms that I planned to hang from the ceiling.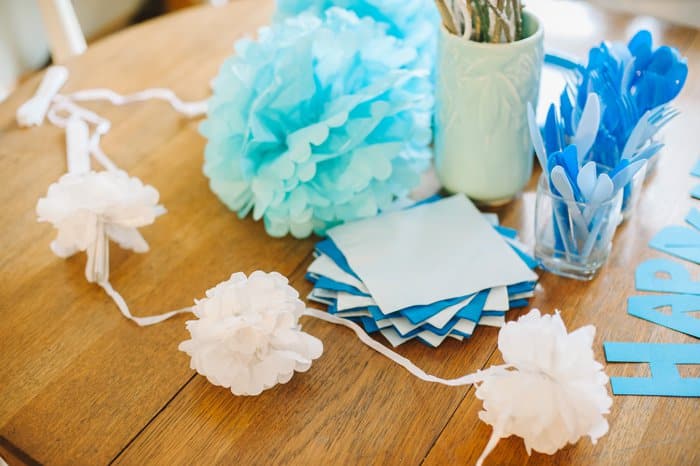 After considering my options for birthday banners, I decided to make my own.
I bought cardstock from JoAnn Fabrics in a variety of colors, traced block letters, and cut them out with scissors.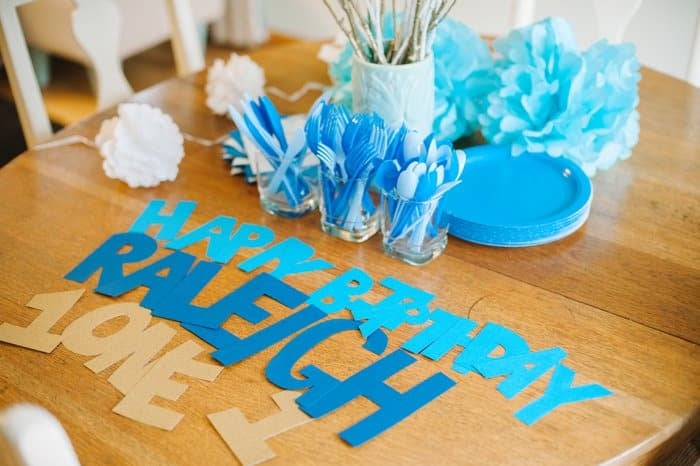 Then, using black and white bakers twine and a darning needle, I threaded the twine through the tops of the letters, creating the banners I needed.
Matt had the idea to print out and hang up a few of Raleigh's baby photos, along with a couple each of us as babies. It was fun to compare our features with Raleigh's. He has my face shape and Matt's ears, and a combination of our eyes.
As a center piece on the table, we bought blue and gold wrapped candy and put them in mason jars we had at home.
I taped the number one I cut out to a chopstick and stuck it in the jar.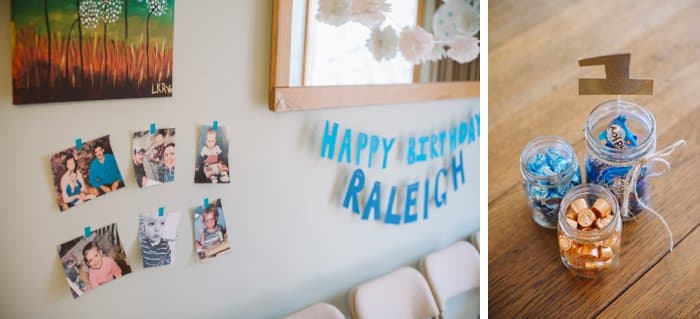 Matt decided he wanted to buy some balloons for Raleigh to play with, and when he came home with them, the pack included some white ones with blue polka dots. Perfect!
I hung them up in the other corner of our dining room to balance the large pompoms I hung from the ceiling.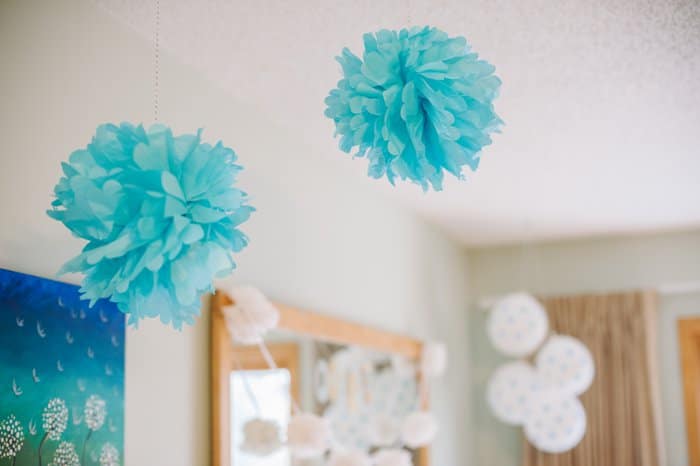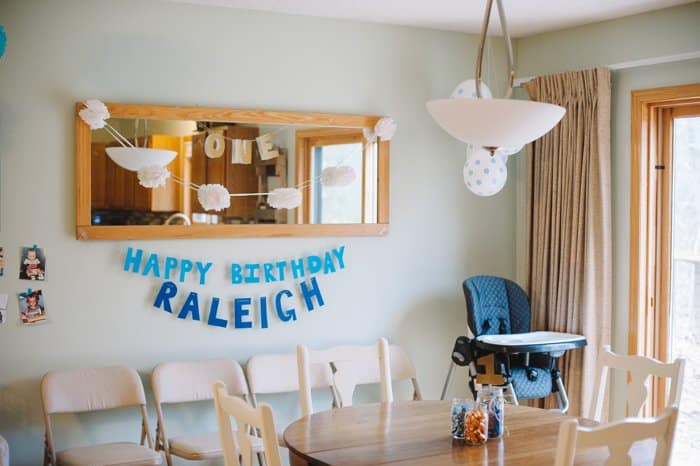 The Dessert of Choice — Cupcakes
For dessert, I decided to make yellow cupcakes with chocolate frosting. I thought about making them from scratch but opted for a boxed mix and store-bought frosting.
I read a suggestion online to use milk in place of water, and butter in place of oil in the boxed cake mix. I used almond milk instead of water, and 50% butter, 50% oil. The chocolate icing was straight out of the tub.
For cupcake toppers, I made little flags out of washi tape and toothpicks. They took a bit of time to make but were fun, cute and free because I already had the supplies on hand.
I don't own a cupcake, cake or dessert stand, so I borrowed a couple. I know what's on my Christmas list!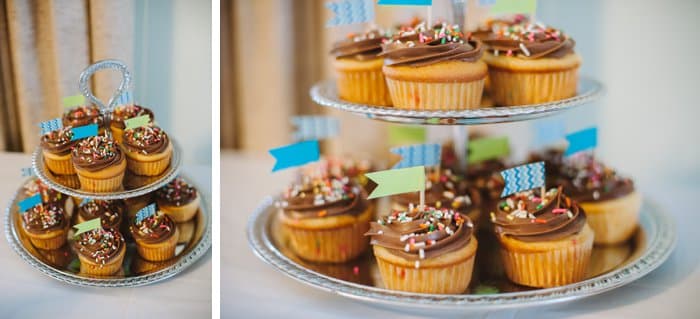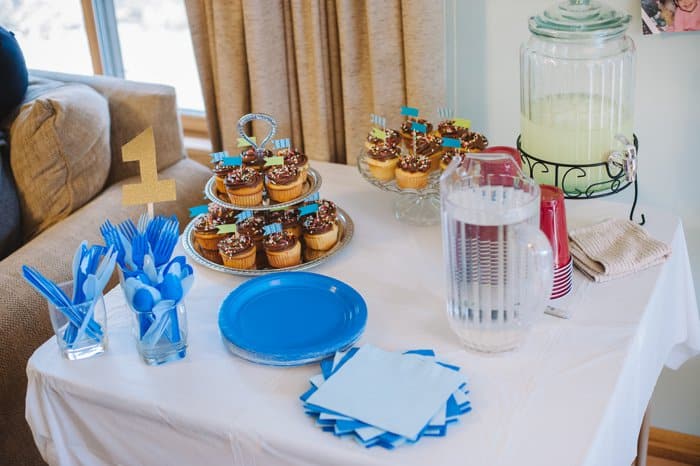 The Attack of Pinterest Anxiety
Once I had everything made, decorated and set out, I could feel myself start to get obsessive.
My goal was to create a fun, cute party on the cheap, but I did not want to go nuts with it. I didn't want to get so finicky about things that I stopped having fun with it.
Half an hour before our families arrived, I stood in front of the dessert table, trying to fine tune the placement of everything.
Should the plates go here, or 3 centimeters to the right?
How about the cups; one stack or two?
After several minutes of pushing things around and feeling my pulse quicken, I reminded myself of several important truths:
This was a family party, and our family would not care or likely even notice the details I was obsessing over.
Raleigh would not remember this party, aside from the photos he sees later.
The purpose of the party is to gather with our family, enjoy each other's company, and celebrate our well-loved baby boy on his first birthday. That purpose is the same whether there are 50 perfectly placed decorations or none.
I felt better after that reality check.
Pre-Party Family Photos
Before our family arrived, we went outside with my DSLR, tripod and remote camera trigger to take some fast family photos.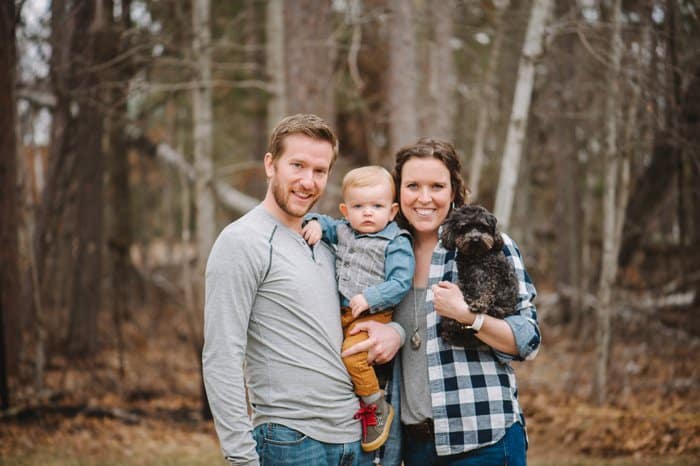 The days might be long but the years are short, indeed.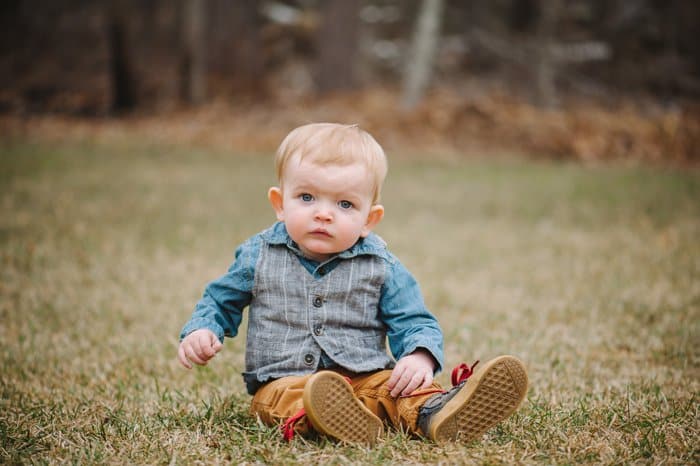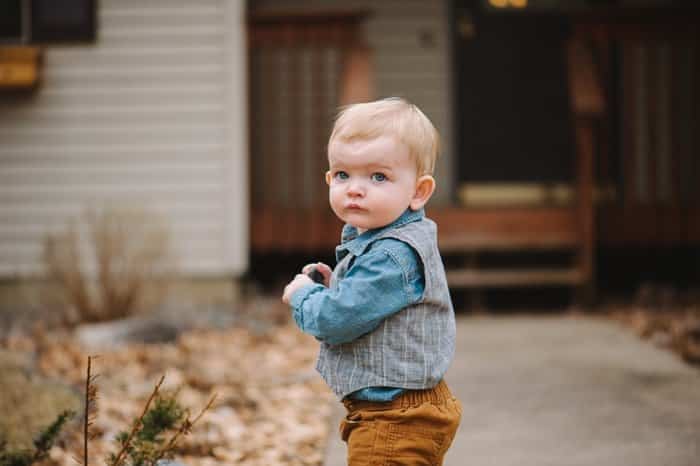 Happy Birthday, Raleigh!
Then, our family began to arrive.
It's amazing how a handful of people, a couple of kids and one noisy dog can turn a room into a lively circus!
We ate lunch [sandwiches and fruit from Costco], and mingled.
After lunch, it was cupcake time! We sang "Happy Birthday" to Raleigh for the first time.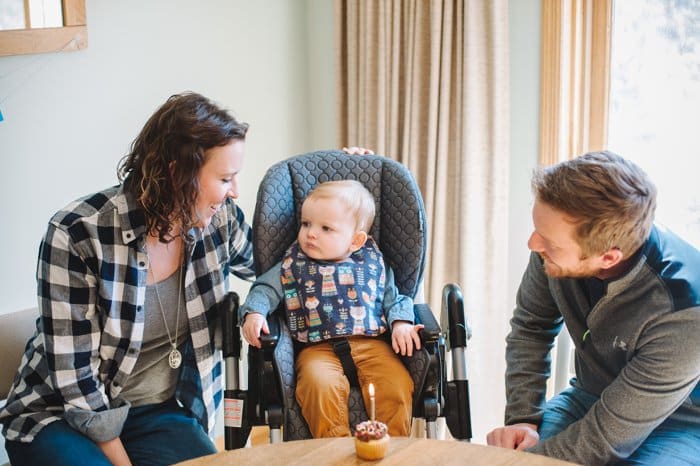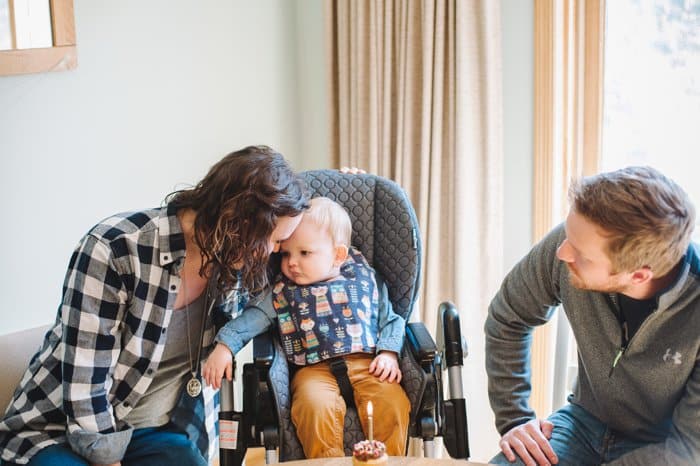 Then, he got to eat his special birthday cupcake.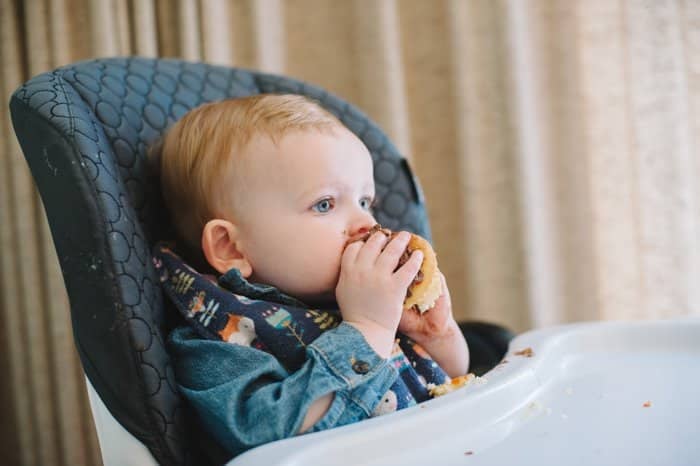 It's safe to say he enjoyed it.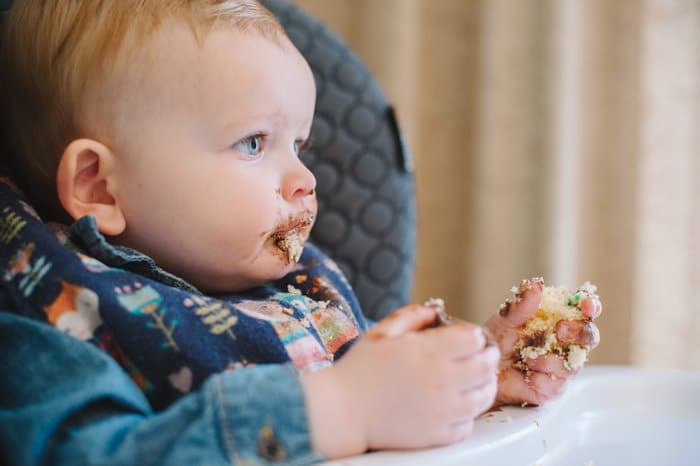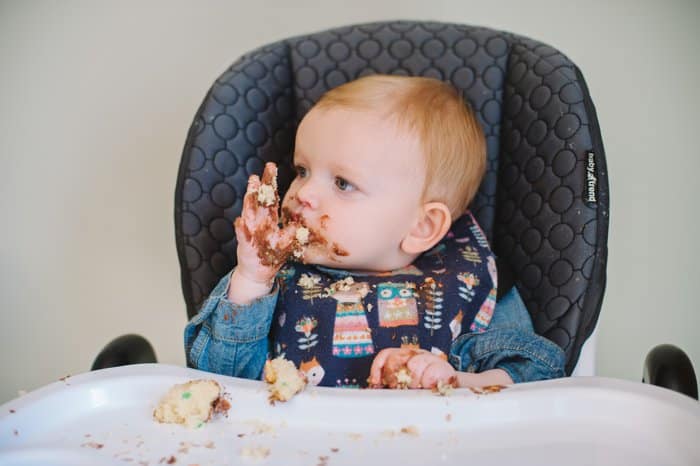 We opened presents after dessert. Raleigh isn't too interested in opening presents yet, so his cousin Leighton helped me open them.
Family started to head home after that, and pretty soon it was time for Raleigh to take a long afternoon nap.
It was a successful first birthday party, indeed!
– – – – –
As far as first birthday parties go, I am happy with how things turned out.
The party theme I chose: the color blue, made it easy to find affordable party supplies. I was also able to create handmade banners using supplies I had at home combined with very affordable cardstock in my preferred colors for very little money.
The result was a cute, fun, relaxed birthday party that was memorable and pretty. I'll take that as a Pinterest Win!