**These posts often contain affiliate links. Please see our disclosure policy for details.**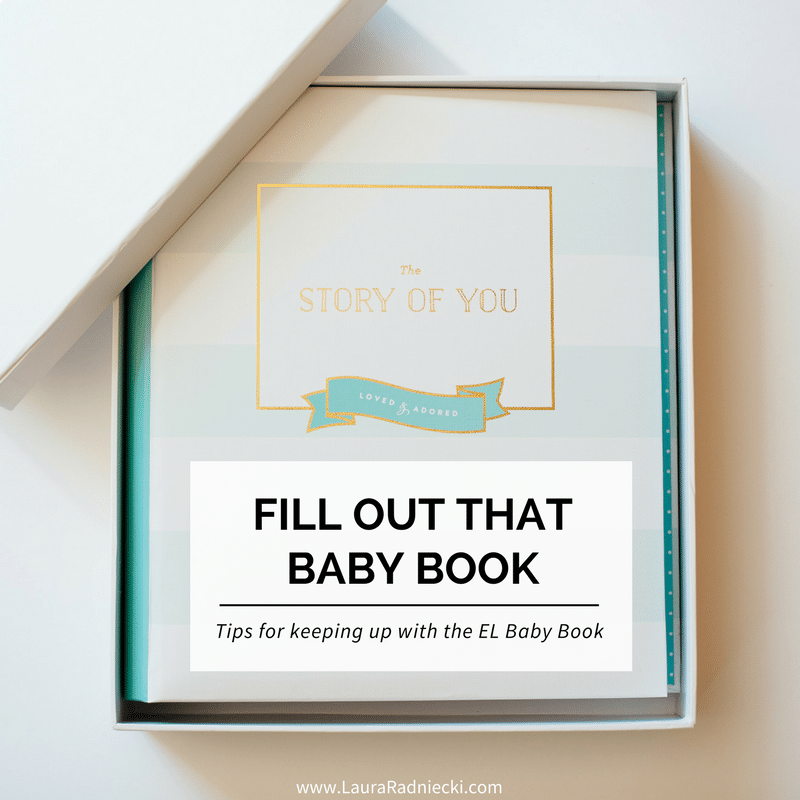 I've been a crafter and a memory-keeper all my life. I've got dozens of photo albums and scrapbooks in my basement, full of memories from all seasons of my life so far. In addition to the photos and scrapbooks, I've also got several large plastic tubs which I call my "Special Boxes", and they too are full of memorabilia.
Needless to say, memories are important to me, and record-keeping is a crucial part of my life.
When we first found out we were pregnant, I knew I wanted to buy a baby book right away, and keep up with it throughout the pregnancy and beyond. I know it's all too common for people to be diligent right away and then to fall behind and stop filling out the baby book altogether as life gets busy.
I've followed Emily Ley on Instagram for a few years, and ever since she released her EL Baby Book, I've kept it in mind as a possible option for a baby book when the time came.
Once we found out we were expecting and it was time for me to choose a baby book, I decided to buy the EL Baby Book, and get started. I liked the three ring binder style of the book, because I figured I could add additional pages by using a three hole punch and scrapbook paper. Emily's entire brand revolves around classic, simple, pretty design and that's exactly the style of the baby book I was looking for.
So, I bought the EL Baby Book and it arrived shortly after. I was nearing the end of my first trimester when I got started on the book.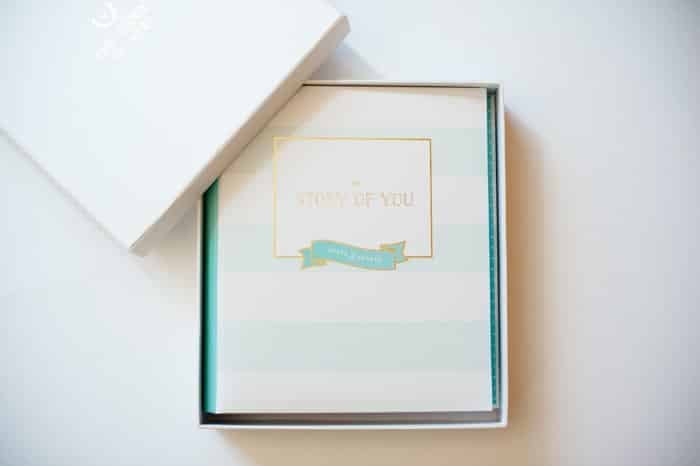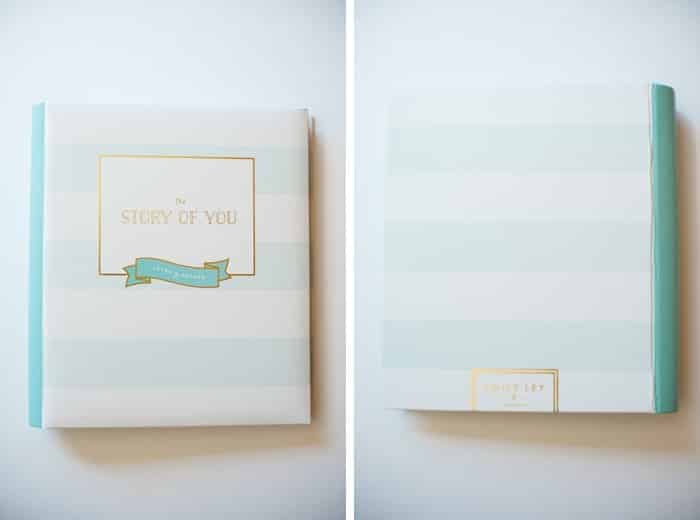 The Emily Ley Baby Book is full of simple, easy to follow prompts to help you fill in the written sections. It also includes photo prompts to make choosing photos simple too.
I added to the book little by little throughout my pregnancy.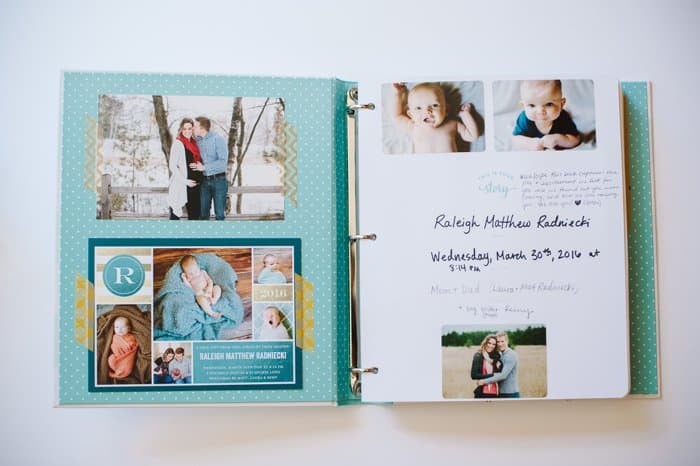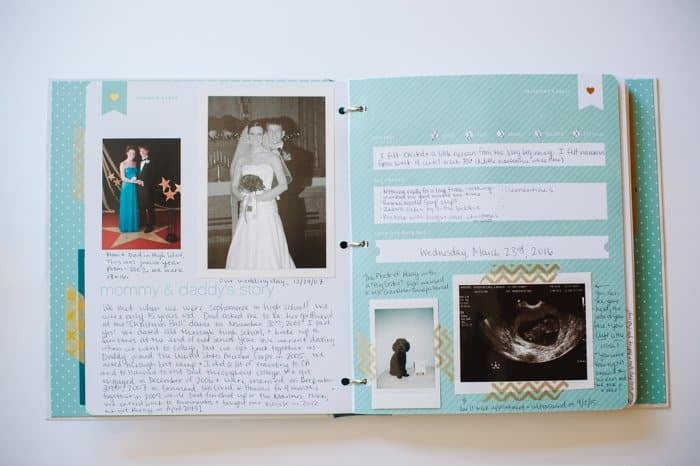 Emily's design often called for 4×6 or 5×7 photos, but because I have a hard time narrowing down my choices and I take so many photos, I often opted for wallet-sized photos so I could include more. This makes the book a little more cluttered and a less minimalistic, but I prefer it because I am able to include more. To each their own!
Soon, I had completed every part of the book I could before delivery, and we were just waiting for Baby Boy to arrive.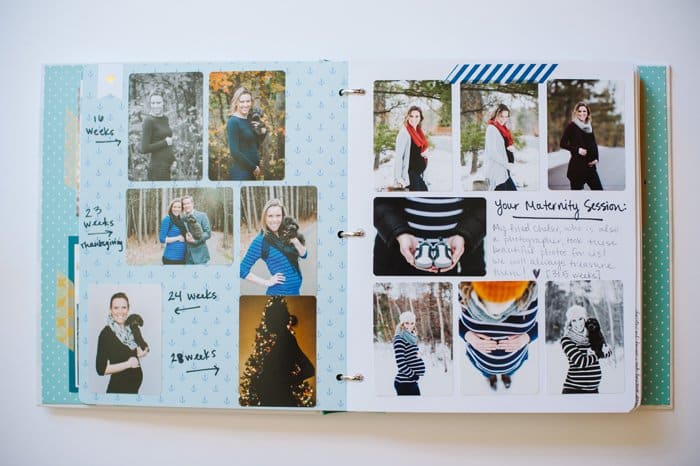 After Raleigh's birth, I continued to fill out the book. I added his footprints and handprints, his hospital bracelet and lots of photos from his birth.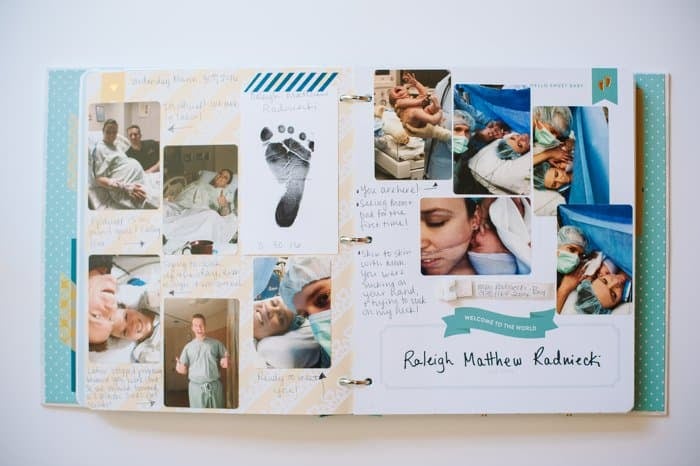 The book has separate pages for each of the first 12 months, as well as sections for milestones, firsts and favorites. I added additional pages in several places to be able to add more photos.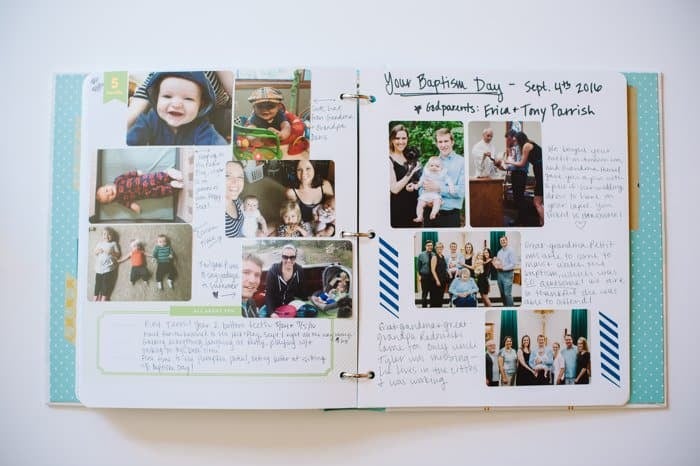 Every month, as I back up the previous month's photos from our phones onto an external hard drive, I print out photos and add them to the baby book. Each time I did this, I would spend time flipping through the whole book, gawking at how HUGE my stomach got at the end, and how different Raleigh looked the day he was born.
Now that Raleigh's first birthday has come and gone, the book slows down. There are only single pages for each of the first 5 years, because the growth from age 1 on isn't as rapid as the first twelve months. I plan to add additional scrapbook paper pages to allow me more room for these early years though, because I don't think one is quite enough.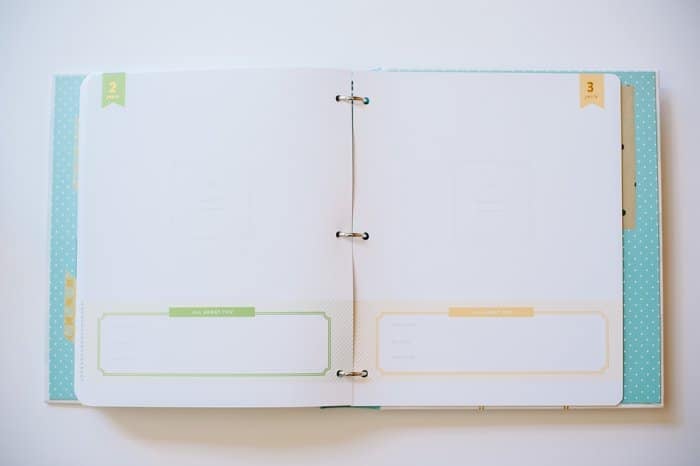 I am so thrilled with how Raleigh's baby book has turned out so far, and I can't wait to continue working on it. It's something that I cherish, and I hope he will too.
How to Keep Up With a Baby Book
Keeping up with a baby book during the exhausting stages of pregnancy, and the whirlwind of life with a new baby is often the last thing on your mind. It can be just plain hard to do.
But it's one of those tasks that is not only so worth the effort, but once you fall behind, it's often hard to catch up.
Here are 3 Tips for Keeping Up with a Baby Book
Become familiar with the book. Know what to pay attention to and what to take pictures of. Know what's coming up ahead so you're ready.
Set reminders and work on it little by little, regularly. I did this monthly throughout the first year, as I printed our personal photos.
Done is better than perfect. Don't get paralyzed by trying to make it perfect. Having a completed baby book is much more important than having a perfect baby book. If you want for perfection, you'll never do it. Instead, just do it.
– – – – –
I'm so pleased with the EL Baby Book. I know there are so many choices out there, and it doesn't really matter what baby book you choose. The important thing is that you keep up with it and actually fill it out.
But if a simple, classic, pretty baby book is what you want, the EL Baby Book might be just what you're looking for!