**These posts often contain affiliate links. Please see our disclosure policy for details.**
As of two days ago, I am now the mother of a one year old baby boy.
Actually, according to what I read on the internet, many people consider turning one to be the beginning of toddlerhood.
So, I guess I am now the mother of a one year old TODDLER.
Raleigh at One Year Old: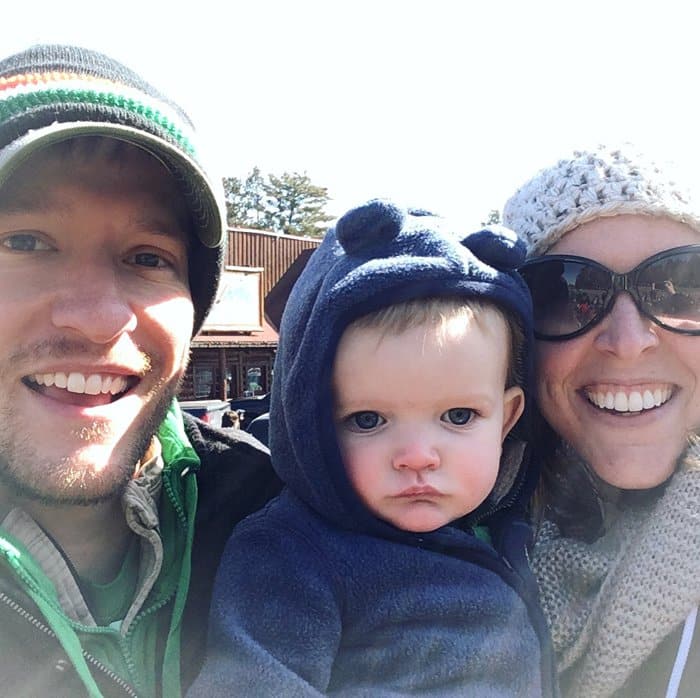 The latest milestones, for our record books:
WALKING – Raleigh is officially walking! He was talking a couple steps here and there, but wasn't too interested in walking because crawling was quicker. Then, we went to a friend's house and there were three young kids there who were all walking/running around. It's like he realized, "Oh! That's actually faster. I want to do that." And then he did! He's been a walking machine ever since.
Saying lots more words – The last recap I wrote, he was saying 4 different words. In the time since then, he has expanded his vocabulary to include: sock, ball, hi, hello, tree, teddy, holy water, and I love you. He doesn't necessarily say the word if you just point to the object. But if you say, "Raleigh, say holy water," he will. 
Officially turned ONE – His official birthday has come and gone, and he is now a one year old. Some people consider this the start of toddlerhood while others think it begins when they start walking. I guess either way, my baby boy is officially a toddler! [Wahhhhh! Where's the bawling emoji when you need it.]
First Times:
First haircut! – His hair was getting way too long and hanging over his ears, so I used my very unprofessional skills and gave him a little trim. And in true Hensel-fashion, I saved all of the hair for his special box. He instantly looked ready for kindergarten after his haircut.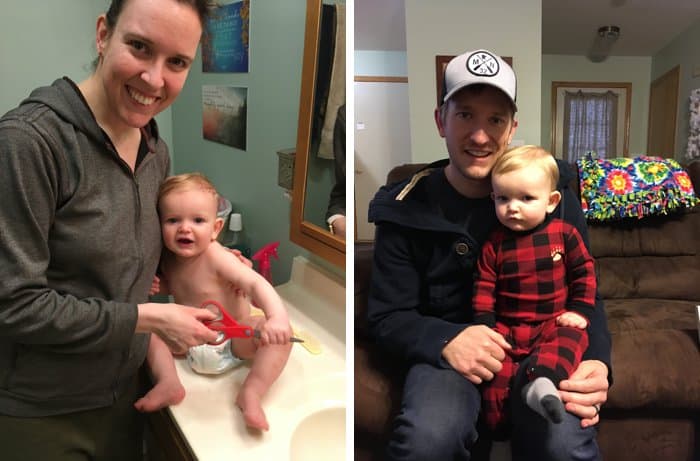 Going to a parade – We went to the St. Patrick's Day parade in Crosslake. It was a surprisingly nice day, and Raleigh had fun during all of it except when the fire trucks and ambulances turned on their sirens. He does not like loud noises like that.
Riding in the burley behind a bike – Just a few days ago, Matt hooked up the burley behind my bike after getting them both ready for the season. He took Raleigh and Remy for a spin down the road, and Raleigh seemed to love it! He didn't fight having his helmet on at all which was great. Remy, on the other hand, despised it.
Having Teddy in his crib – Our pediatrician recommended we not put anything with him in the crib until he was a year old, and then he could have a blanket or stuffed animal if we wanted. Raleigh hadn't really shown much affinity toward any particular thing, but we kind of encouraged him to bond with his teddy bear that my sister got him. On his birthday, I put Teddy into the crib with him for his naps, and bedtime. It's the cutest sight to see Raleigh on the video monitor, sleeping with his arm around Teddy.
Raleigh's Favorite Things:
Smoothies – I make a smoothie for breakfast most days and he LOVES them.
Holy Water – I have a small prescription bottle of holy water on my nightstand. For some reason, it's one of his favorite things. He goes and gets it, and carries it around the house at least once a day.
Being naked after his bath
Chasing Remy
Playing outside
Eating most anything

Raleigh Hates:
Being forced to sit still for diaper or clothing changes
Bath time being over
Having to share toys with other kids at ECFE or playdates
Working on:
Walking steadier and faster – He has come a long way in the last three weeks. I don't think it will be long before he stops falling down so much, and eventually learns to run.
Talking more – He loves to talk. He gets shy in new places or when he's around unfamiliar people, but at home, he talks up a storm. The car rides lately have been him talking to himself in the mirror for the entire drive. I love hearing his voice!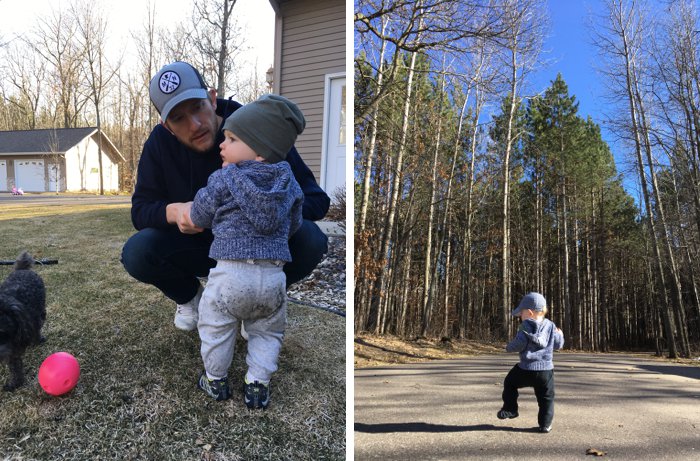 Annoys Mama by:
Whining while hanging on my leg when I'm trying to make our breakfast smoothie – It's hard to move around when there's a whiny deadweight on my leg.
Flipping to his stomach during diaper changes – He does not enjoy sitting still so if the mood strikes, he does everything in his power to make diaper changes as difficult as possible. This includes flipping to his stomach while I'm trying to put a new diaper on. It's like wrangling a wild hog.
– – – – –
Watching Raleigh grow up is a bittersweet experience.
I understand and acknowledge the fact that having him happy and healthy enough to grow up is an immense blessing in itself. Not every mother gets that chance.
But there's a sense of sadness that goes with knowing a lot of 'lasts' are happening all around us. The last time he will crawl to get around. The last time he will use his newborn carseat. The last time he will wear the clothes that have become my favorites before they are packed up into tubs in the basement.
Watching him grow and change from a baby to a toddler is an emotional process. There is letting go involved, and inevitable change.
But on the other side of the bittersweet coin is pure joy. Every day, Raleigh learns new things. Every day he walks better and talks more. Every day he surprises me with what he understands and can do. And it's really only just the beginning.
I can't wait to get to know him more over the upcoming months. I already love him so much, and I can't wait to get to know more about him as a person.
Happy birthday, my sweet baby boy. Even when you are an old man, you will always be my baby boy.
xoxo,
Mama