**These posts often contain affiliate links. Please see our disclosure policy for details.**
Our Raleigh, our first born baby boy, is now officially 6 months old.
One half of a year. 184 days. Roughly 4,420 hours.
The boy who came a week late when he was good and ready, and has carved a hole in our life and hearts that only he can fill has been a part of our family now for 6 whole months.
In some ways, I can't believe it's gone so quickly. And yet, it feels like he's been a part of our lives forever.
Like I've said before, those first 8 weeks were just plain hard. They crept by at an alarmingly slow rate. There wasn't a lot of joy in our days then.
But these last 4 months? Unequivocally the best 4 months of our entire lives.
And it just keeps getting better and better.
Raleigh at 6 Months Old: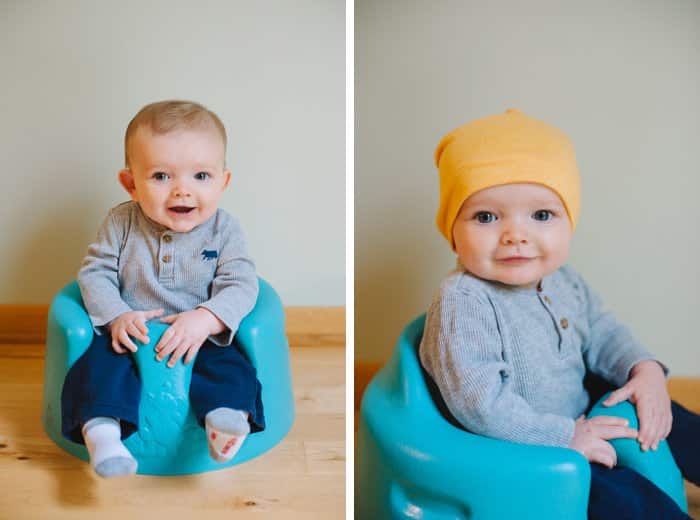 The latest milestones, for our record books:
Rolling from belly to back – This month, Raleigh learned how to roll from his tummy to his back. Before, he had been only able to go from back to belly and would get mad when he couldn't roll back over. We practiced with him a few days and ever since, he's a rolling machine.
Pack and Play – Raleigh had been sleeping in the Rock and Play sleeper [aka "the bassinet"] every night since he was born. But he started using his legs to push himself up and down in it, and then one day, I went in to get him up from a nap and I found him using his arms to hold himself up in a sitting position. After that, we decided to transition him to the crib.
We tried it for one nap but his leg thrashing resulted in head welts from hitting the crib rails so we decided to have him sleep in the soft sided Pack 'n Play for now. It took awhile for him to get used to having room to roll around, and he has gotten in the habit of waking up more during the night again, but overall the transition is going fine.
Reintroducing Solids – Per the recommendation of our pediatrician, we started introducing solids [vegetables] after his 4 month appointment. It went alright except that almost all of the food ended up back on the bib instead of in his mouth. After awhile, we decided to take a break and let him get a little older before we reintroduced solids.
Two weeks ago, we started them again and those few weeks of waiting made a world of difference. He is now interested in eating, opens his mouth without much prompting, and much more makes it into his mouth and into his stomach than before. Soon, he will get his first taste of fruits.
He now has two teeth – the two bottom teeth have broken through the gums and are steadily coming in. His drooling has decreased remarkably and he doesn't seem overly bothered by them aside from wanting to chew on EVERYTHING.
Reaching and grabbing – In the last few weeks, Raleigh's speed at reaching for and grabbing things has increased dramatically. He is very interested in everything from faces [especially noses] and hair to rings and zippers. He loves playing with toys and now gets instantly upset when one is taken away from him or falls out of his reach.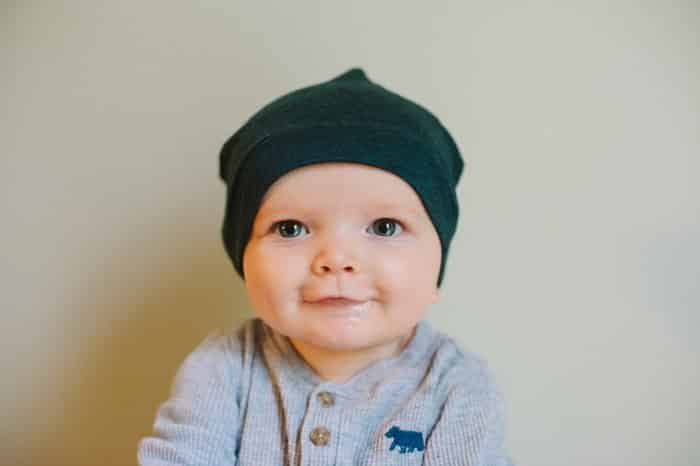 First Times:
Saying "Ma ma and Ba ba" – I don't know what people consider their baby's first words. I feel like it might be when they purposefully say a word, knowing what it means, but maybe I'm wrong. I don't know if it really counts as Raleigh's first words, but he has started babbling in ways that sound an awful lot like "Ma ma ma ma" and then "ba ba ba ba." I love hearing his little voice talking up a storm.
Eating in his high chair – Raleigh can't sit up yet and the last time we tried the high chair, he slumped forward and it didn't work out well. This week though, Matt brought it upstairs again and we gave it a try. No more feeding him in our lap – the high chair is here to stay!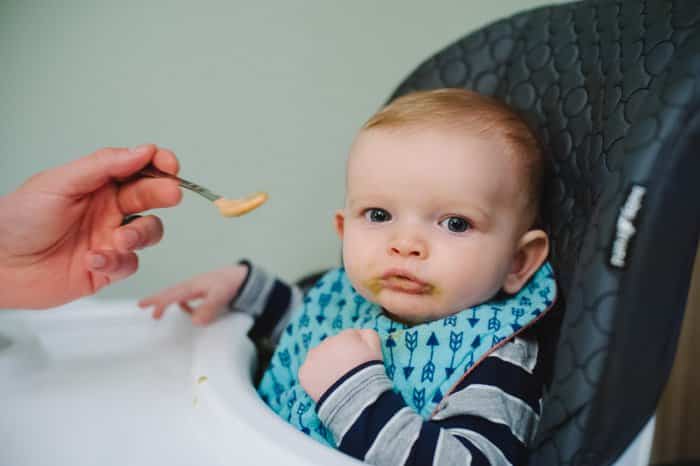 Eating baby food that I made – I'm planning on writing about my experience making baby food soon but this week, I made my own baby food purees for Raleigh to try. So far, so good and it was ridiculously easy.
Trip to the Pumpkin Patch – Last weekend, my sister was up with her family so we all [my parents too] went to a pumpkin patch in Royalton.  I've never been to one before and it was obviously Raleigh's first time going to one too. It rained on and off and Raleigh was a sleepy, grumpy boy but it was so fun to experience a first like that as a family!
First ECFE class – Raleigh and I signed up for an ECFE [Early Child and Family Education] Infant class and it started on Friday. Once a week, we go and do activities, sing songs, play and socialize. We are home bodies so it's good for both of us to have an outing once a week to get us out of the house.
Raleigh's Favorite Things:
Chewing on teething toys
Reaching for and chewing on Remy's toys
Chewing on the bills of hats
Pulling hair and grabbing faces
Looking at everything, everywhere
Laughing at Remy and pulling her fur
Trying to sit up when he's in his bouncer chair [aka, "the poop chair"]
Reaching for and pulling on toys in his jumperoo and car seat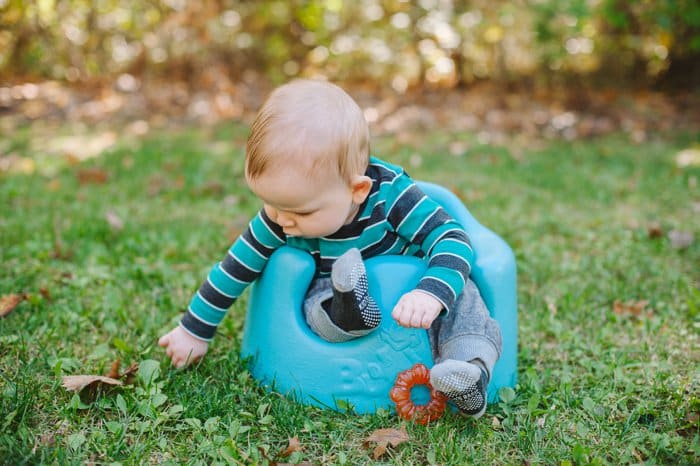 Working on:
Sitting up – He hasn't quite mastered sitting yet. He is doing better but he takes a lot of face plants and falls to the side when he tries. We are working on it!
How to reach toys that are out of his grasp – So far, Raleigh can only pivot side to side when he's on his belly, but he can't go forward or backward yet. When a toy is out of his grasp, he reaaaaaachhhes as far as he can reach, and when the toy is just beyond his fingertips, he gets MAD. I'm guessing he will figure out how to army crawl or scoot soon.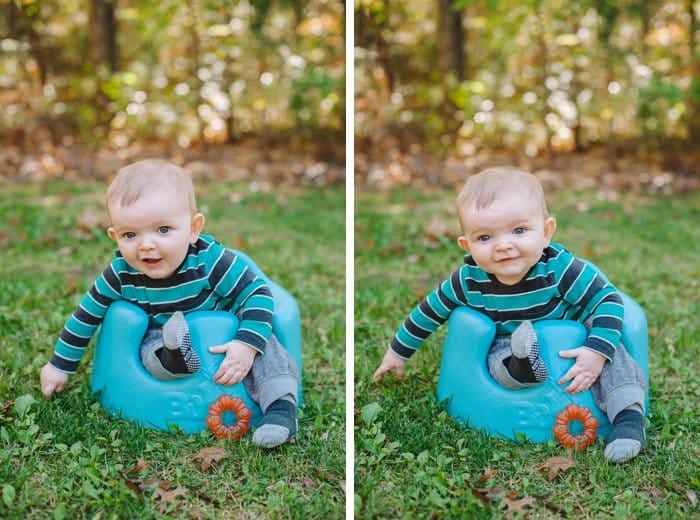 Annoys Mama by:
Pulling hair – I've worn my hair down 2 times in the last 6 months. Those little fists are surprisingly fast and strong, and can yank out bundles of hair in no time flat.
Fake coughing – This is likely a phase as he discovers how to make new sounds, but a few weeks ago, he learned how to make a fake cough/gag noise when he was mad. That has thankfully morphed to just a fake cough, but still… that can pass any time haha.
Taking short naps – Raleigh is the king of cat naps. At least every other day, he takes a nap that is 42 minutes long. He rarely naps longer than that and sometimes naps even shorter. A handful of times each week, his naps are exactly 42 minutes long. Just enough time for me to eat and sit down to work on something before he wakes up again. It's a good thing he's so dang cute.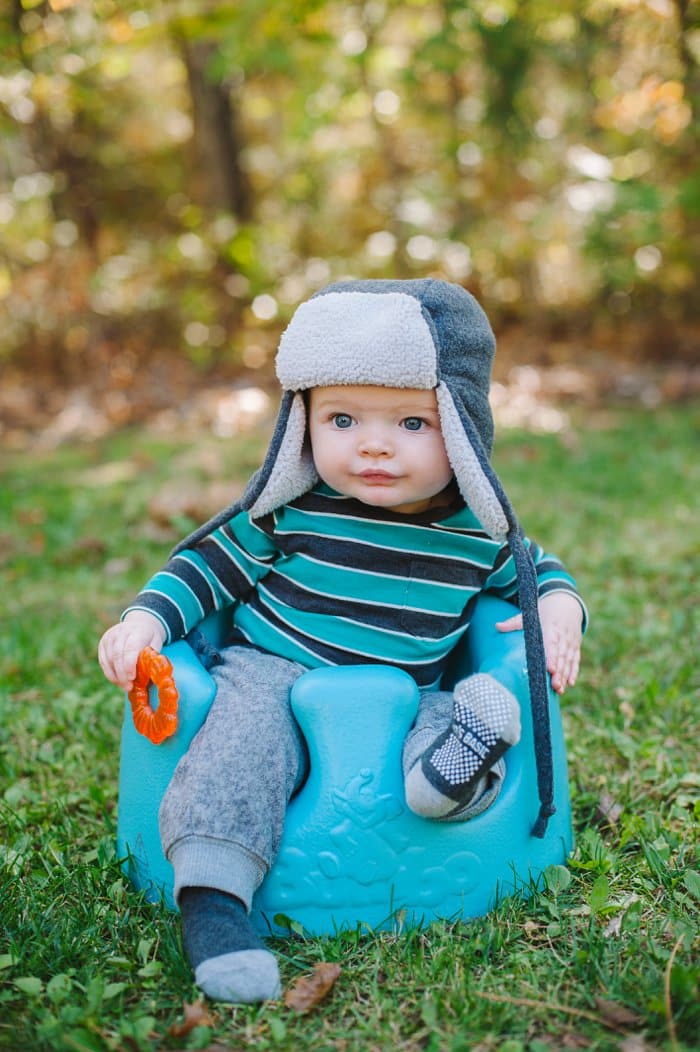 What an adventure this parenting thing is!
I've heard from many people that their favorite ages are 6-18 months so that makes me even more excited. I've loved these last four months so much, and knowing it's only going to get better fills me with so much joy and anticipation.
There are lots of hard moments and I take a lot of deep breaths during the day. But life looks so different than what it did in those early days that I just can't help but thank God often during the day. I couldn't imagine ever feeling settled and "normal" again in those early weeks but now, this IS normal and this is good.
We really are blessed.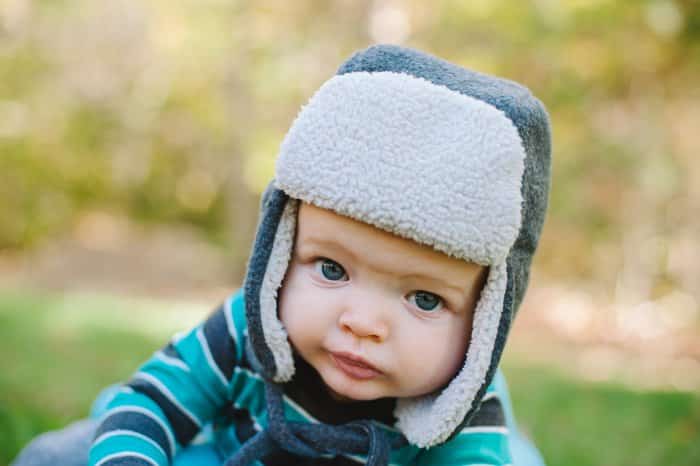 He is so cute, I can hardly stand it.