**These posts often contain affiliate links. Please see our disclosure policy for details.**
I feel like every time I talk about Raleigh reaching another milestone, I start it with, "And just like that…"
And just like that, Raleigh is 7 months old.
Because really, time is flying by. The old saying is so true: "The days are long, but the years are short."
Like, "pain in my chest, can't catch my breath" short. And equally fast.
Our Raleigh boy is 7 months old today.
Raleigh at 7 Months Old: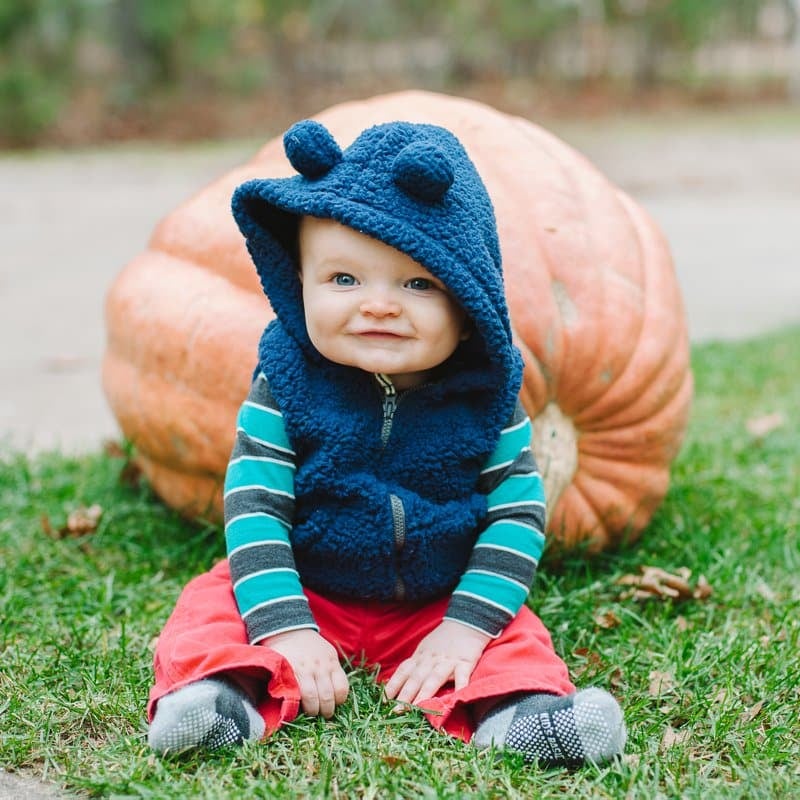 The latest milestones, for our record books:
Sleeping in his crib – The day Raleigh got his 6 months shots, he had a really rough time that night. He had a fever and was nearly inconsolable. Trying to lay him down at the bottom of the Pack n' Play after finally getting him asleep in my arms involved too much movement and would cause him to wake up and start bawling all over again. So instead, I laid him down in his crib which involves less movement because it's not as low. Since that night, he's slept in his crib for every nap and bedtime! Finally, there is no bassinet or Pack n' Play set up in the middle of his room and we can use the floor space for playing! ["There's so much more room for activities!!" <– Name that movie!]
Sitting up by himself – Raleigh mastered how to sit up by himself his month! One day he couldn't do it very well and the next, he was much more stable and hardly tipped over at all. Now, when I pump in the mornings during breakfast, Raleigh sits and plays on a blanket in the living room instead of needing to be strapped into his bouncer chair. Somehow, being able to sit up makes him seem so much older!
Rolling EVERYWHERE – He has been able to roll over for awhile but he is now using it as a purposeful way to get places. He has rolled himself over to the TV stand and started rummaging around in the DVDs several times. I watched him intentionally roll 4 feet across his bedroom floor to reach a toy he wanted the other day.
Getting 3 new teeth at once! – At this moment, Raleigh is in the process of getting 3 top teeth at the same time! He is getting his front 2 teeth and one to the side too.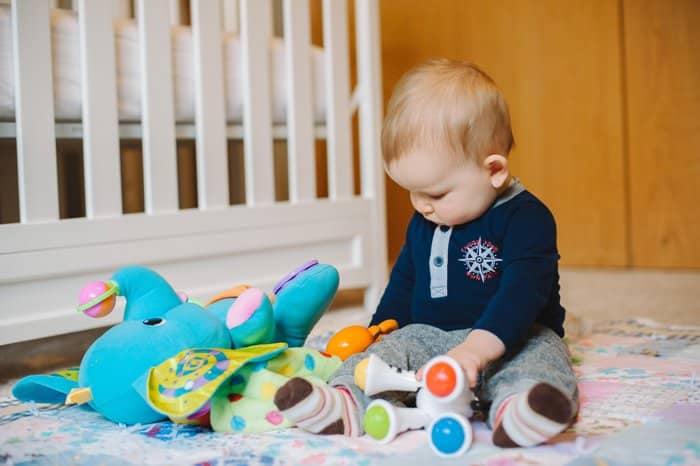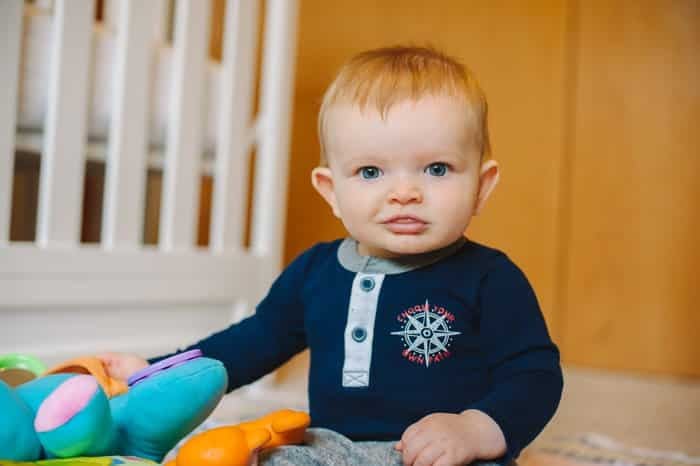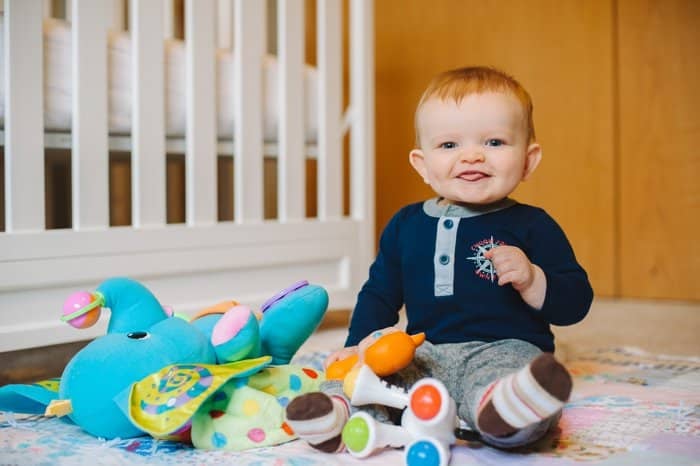 First Times:
Getting up on all fours and rocking – I was watching him on the video monitor a week ago and saw him get up on his hands and knees in his crib. While I was watching, he started rocking back and forth. I've heard this is part of the prerequisite to crawling. He's starting to do it more often now.
Wanting to stand up – Raleigh is definitely interested in standing up these days. He's been able to bear weight on his legs for awhile, but now, if we hold onto his hands, he will pull himself up. He wants to be upright!
Eating fruit! – This month, Raleigh had fruit for the first time! Bananas and pears so far.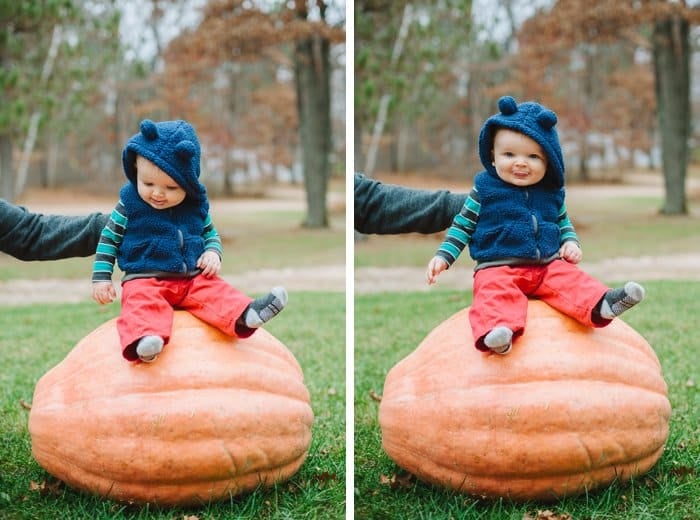 Raleigh's Favorite Things:
Play with ALL THE TOYS. Seriously, now I understand what people mean when they talked about their house looking like a toy store.
"Standing" on our laps while holding onto our fingers
Playing with Remy's toys
Bath time and holding onto/chewing on a toy in each hand
Letting Daddy brush his teeth every night before bed
Sticking his tongue out. I think he is feeling his teeth that are coming in, or maybe it makes his gums feel better.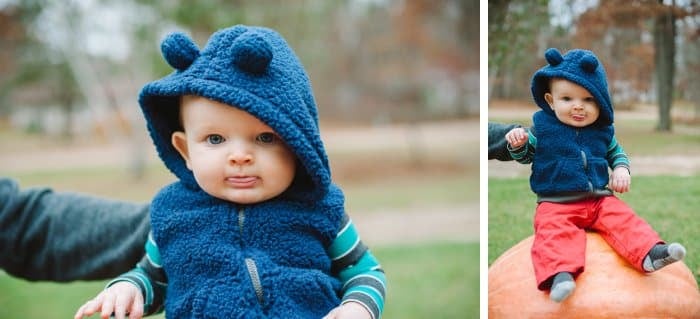 Working on:
Moving forward and backward – He's got how to move side to side down, but he's still working on figuring out how to move forward and backward. He has scooted backwards once or twice, but there hasn't been any forward motion yet.
Feeding less often at night – We are currently working through the Ferber method to decrease night feedings. It's going ok, but it's really hard for me to listen to him fuss in the middle of the night. Especially when I know that I could make him stop fussing and go back to sleep a lot faster by feeding him, rather than letting him fuss and try to put himself back to sleep. He's tenacious in the middle of the night! We have had stretches of fussing that have lasted 45+ minutes over the last few weeks. But we're making progress and I know it's worth it to work through this now.
Eating more fruits – Apples, prunes and apricots are up next in Raleigh's fruit lineup.
Getting 3 more teeth – I can't believe my baby is going to have 5 teeth. Having front teeth is going to change the way his face looks a lot, I think. I feel like the hysterical crying emoji. Wahhh!!!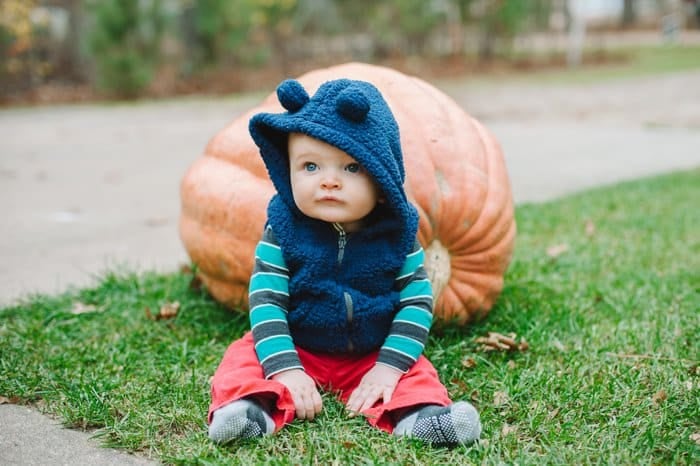 Annoys Mama by:
Being easily distracted while nursing – Raleigh is highly distractible and has incredibly good hearing. One tiny noise while we're trying to feed and he's intently listening to see what it is. Remy will sometimes dig in the carpet while we're nursing and Raleigh will stop, get real still and listen closely to see where the noise is coming from.
Throwing toys on the floor from the high chair when mama is trying to cook – I am loving the fact that Raleigh can be in his high chair now. When I'm making dinner or doing something in the kitchen, I will put him in the high chair so he can be close and watch what I'm doing. I give him a few toys to occupy himself with and it works great until all of the toys end up on the floor. My cooking method looks like this: cook a little, pick up toys off the floor, cook a little more, pick up toys off the floor. At least I'm getting my exercise!
Deciding to boycott a late afternoon nap and then getting ornery by 6pm – Raleigh has moved from 3 naps a day to 2 this month. He takes one about 2 hours after getting up in the morning and then he takes another one after lunchtime. He used to take a short one in the later afternoon hours which would tide him over until 730 or so for bedtime. But lately, he's decided he doesn't need to sleep past 2pm. But that results in a very ornery boy come 5 or 6pm!
– – – – –
But truly, how can I resist this face?!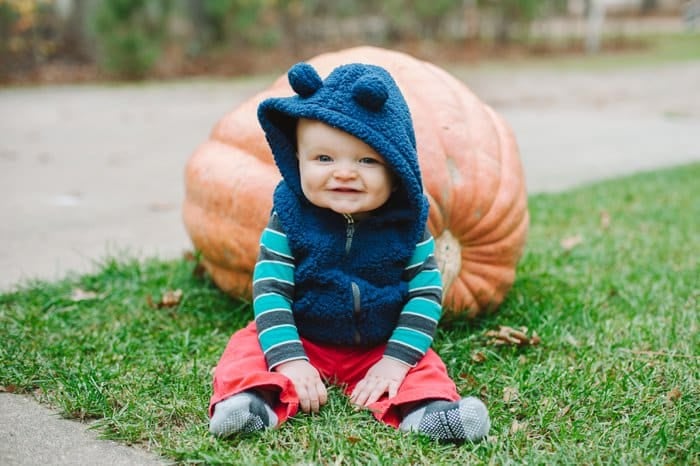 Tomorrow is Halloween; Raleigh's first one!
We are so excited to dress him up and go show him off at the assisted living facility my grandma lives at.
Matt and I were talking tonight as we looked at these most recent photos of Raleigh. He is getting so big and it makes us sad. Like, it physically hurts my heart to realize how fast time is passing.
But at the same time, what a privilege it is to have him grow up and get to raise him. He is alive, healthy and thriving. And we get to spend our days with him, watching him grow.
Thanks, God.
– – – – –
This post contains affiliate links. Please see my disclosure policy for more information.