**These posts often contain affiliate links. Please see our disclosure policy for details.**
Raleigh has a new favorite game during bath time. 
It goes like this:
Stand up. Sit down. Stand up. Sit down. Stand up. Sit down. Repeat 100 more times.
As soon as he discovered how to do this, we knew that the square edges of our faucet posed a safety risk to his head. And at his 9 month pediatrician appointment, his doctor advised that we buy a spout guard to cover the faucet and protect his head.
So I started looking at my options for bathtub spout covers.
Bathtub Faucet Spout Covers: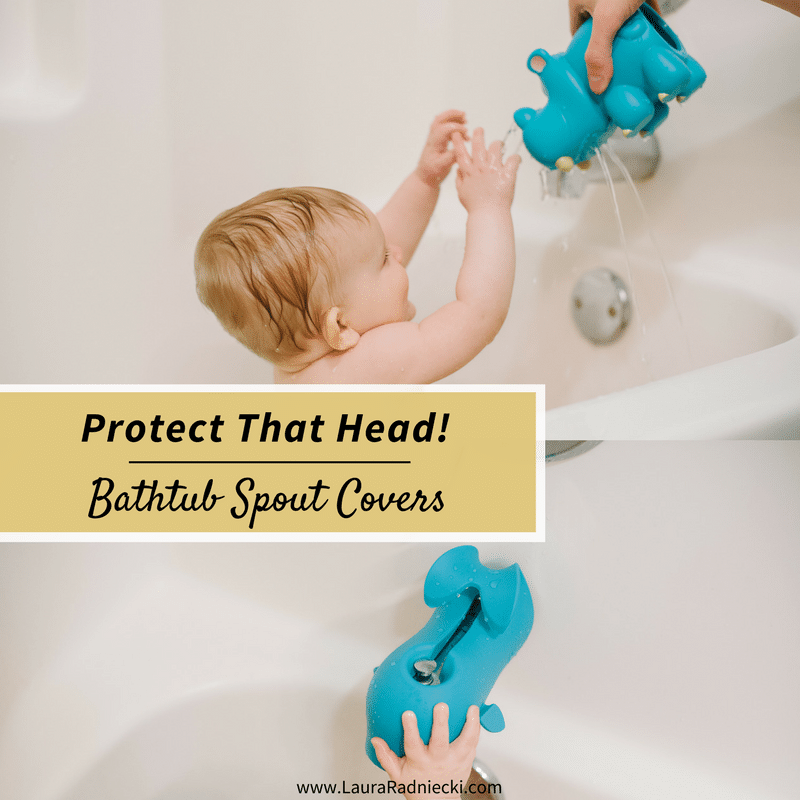 Nuby Hippo Spout Guard
This post contains affiliate links. Please see my disclosure policy for more information.
As part of the Nuby parent blogger program, I chose the Nuby Hippo Spout Guard as one of my products to test and review. 
The timing was perfect and we were excited to use it during bath time the first day it arrived.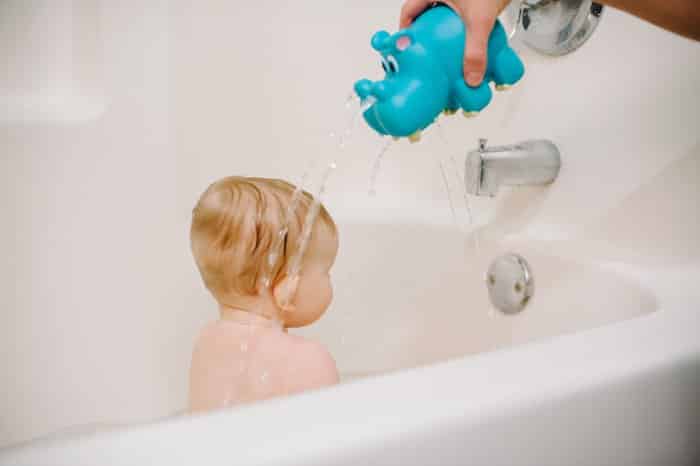 Nuby Hippo Spout Guard Pros:
BPA Free

Rounded edges to protect baby's head from injury on the hard faucet corners
Makes a fun bath toy that squirts water out of the nose
Item Cons:
Did not fit our standard faucet with diverter

With modification, it could be forced on but it was nearly impossible to remove
No hole to raise and lower the shower diverter, so the hippo would need to be taken off in order to use the shower. Since it was almost impossible to remove, this was not a feasible option.
A bit gaudy for daily use
When I looked at the online reviews before the hippo arrived, the reviews were mixed. Some people loved the hippo and others had problems getting it on their faucet. I wasn't sure how it would work with our faucet but I wanted to try. It says it fits most standard faucets with diverters, and that's exactly what ours is like.
Right out of the box, the hippo was impossible to get on. Even following the directions, Matt couldn't make it fit. He soaked it in the warm bath water for a few minutes and that made the plastic a little more pliable and then  he was able to slip it on. But after it was on, it was a huge hassle to get off. Like, I thought he might rip the pipe out of the wall almost. He finally got it off and then proceeded to cut off the plastic lip on the inside of the hippo that was snagging the faucet when he tried to remove it. That made it a little easier to remove, but it was still a very awkward and tight fit.
Because the hippo doesn't have a hole to raise and lower the shower diverter, it needs to be removed in order to use the shower. This is not a good thing, especially when the hippo doesn't fit well to begin with.
So, the hippo spout guard did not work for us. We now use it as another bath toy for Raleigh. It squirts water out of the nose when you fill it up with water which he thinks is funny.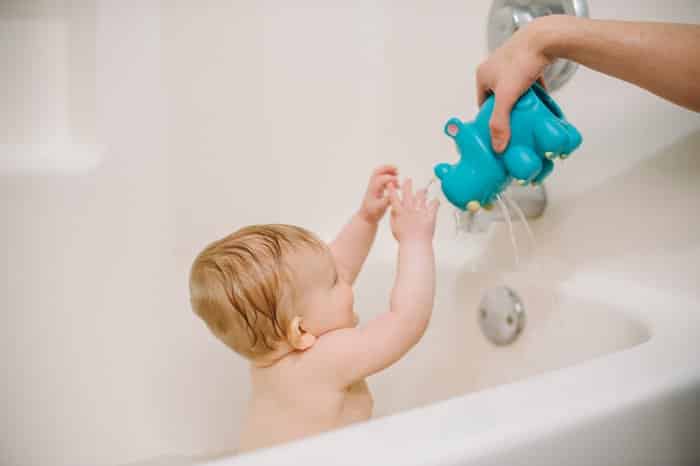 Skip Hop Moby Whale Spout Cover
I was bummed the Nuby Hippo didn't work out, so I started looking around at the other options on Amazon. I came across the Skip Hop Moby Whale Spout Cover and was excited by the reviews so I ordered it.
Item Pros:
Cute, simple color and design

Slips easily onto our standard faucet with diverter
Hole in top to allow for shower diverter to be pulled up or down
Fins allow cover to be tightened so it stays on the faucet
Rounded top protects baby's head
Easy to take off and put in the dishwasher to clean any mildew or mold
BPA Free
Item Cons:
The reviews say it requires a shower diverter to hold it onto the faucet

Our faucet is square so the round whale rotates slightly and doesn't sit quite straight. This probably only bothers type A people like me.
The hole on top to pull up shower diverter is kind of small. Might be a little too small for someone with large fingers.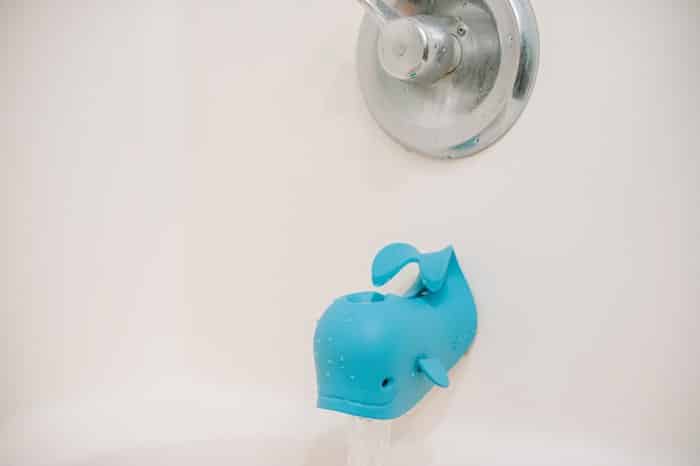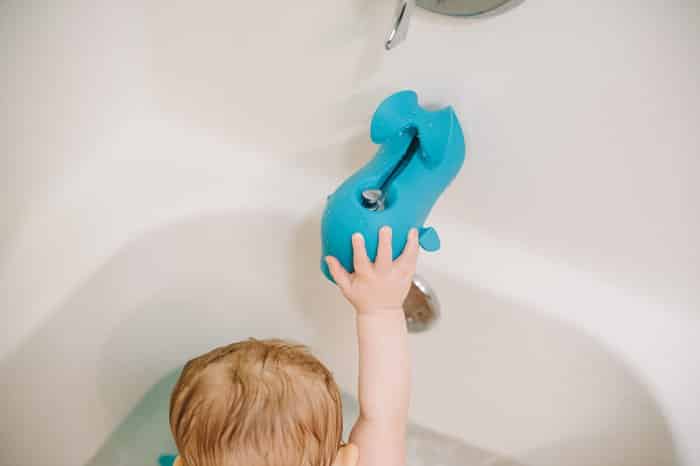 – – – – –
For me, the clear winner between these two spout covers was the Skip Hop Moby Whale. 
It's minimalistic and cute enough for me to be ok with leaving it on all the time, and it does it's job well.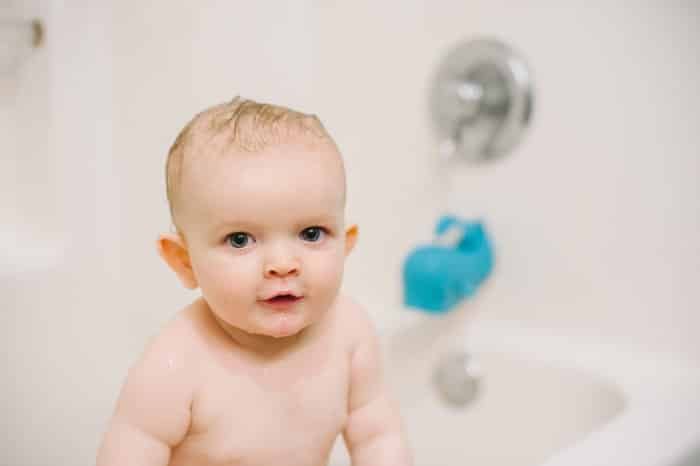 The Nuby Hippo Spout Guard might work for other people depending on the type of faucet they have. But for us, it is now just a fun bath toy.
– – – – –
*Nuby provided me with the hippo spout guard for free in exchange for an honest review. All opinions are my own.*
You can find Nuby on social media at — Facebook / Twitter / Instagram / Pinterest