**These posts often contain affiliate links. Please see our disclosure policy for details.**
Most of you will probably have already seen the video we posted last night of Remy, making a big announcement.
If you haven't seen the video yet, here it is:
We are overwhelmed and blessed by the outpouring of congratulations and love coming at us from all angles.
Your well wishes mean the world to us! All FOUR of us! [Remy and Baby Radniecki included.]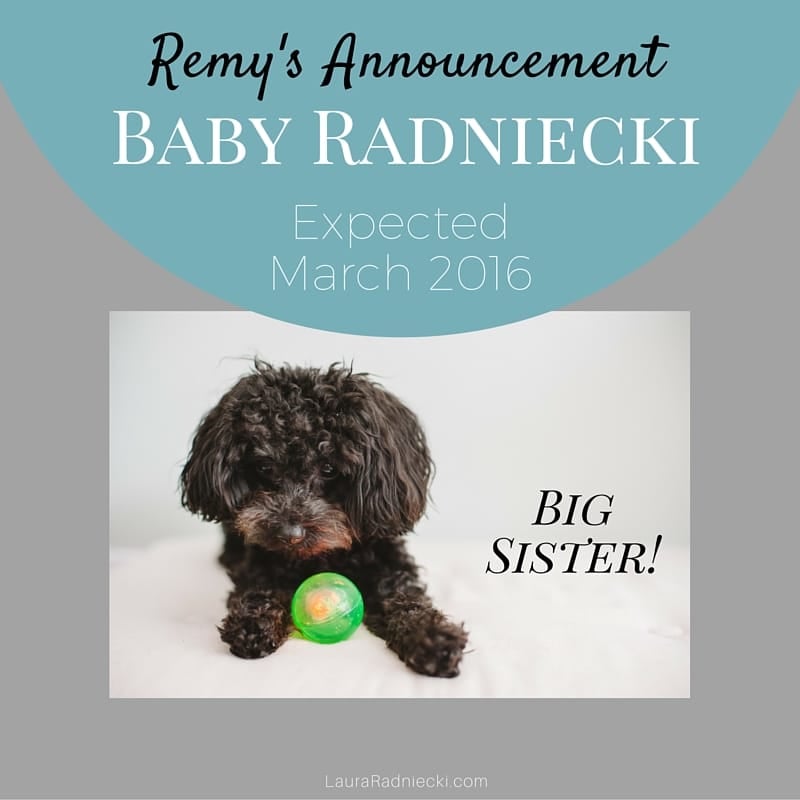 Finding Out:
I'm a blogger and a writer through and through. It's been so hard for me to have this BIG NEWS for so long and not be able to share yet. Or rather, need to wait to share.
We found out we were expecting in mid July. It's been a long 8 weeks to get to today, our official 12 week mark.
The end of the first trimester is right around the corner and I'm looking forward to that milestone.
Symptoms:
Most people want to know how you've been feeling once they find out you're pregnant.
Nausea:
I've been nauseated since finding out [and a little before], which has been trying and tough at times. In a way though, I got so used to constant nausea last winter through my health struggles that I'm almost "used" to it.
I'm well aware though that although functioning through constant nausea is draining and uncomfortable, A] It's a GOOD sign, and B] It could be a whole lot worse.
I'm so thankful that God has spared me from hospital visits and more severe symptoms so far.
Fatigue:
These last few weeks, I've finally realized what people talk about when they say you're going to be so tired during your first trimester.
I didn't really feel very tired earlier; nothing more than normal I don't think.
But the last few weeks, it's been all I can do each day just to eat, maybe take a walk outside [maybe not], and then do the bare minimum of the workload I need to each day.
Maybe part of it is post-launch exhaustion from the months and months of endless work it took to launch my Love Your Camera Course, but the reality of it is that I think my body is just tired.
It's growing a human after all!
Body Changes:
Part of the motivation for Matt and I deciding to share the news yesterday rather than wait another week or two was that I am starting to show a little bit.
I know it's early, and I didn't expect to show so soon. But let's be real – my abs weren't in any form of "good shape" so it's not shocking that they can't keep things hidden.
I've gotten tired of sucking in my stomach when I'm out in public so I decided it was time to tell. Now that the news is out there, there'll be no more sucking in. Probably ever! Haha
It's weird to watch your body start to change. I'm sure every mom out there knows what I mean.
I know I'm in the very early stages of the changes, and while it's bizarre and completely foreign to watch, I'm trying to be intentional and marvel at each change as it comes.
Worry and Anxiety:
I'm a highly anxious person by nature.
I've written about anxiety and worry a lot here, and those who know me well are very familiar with my Type A, high anxiety personality.
If you stop to think about it, pregnancy is a very scary thing for someone like me.
Or, it can be if you're not careful.
That's been a tough part of pregnancy for me so far.
I have a nursing degree and I've been a Now I Lay Me Down To Sleep photographer for years.
I am well aware of the risks of early pregnancy and of the frequency of loss.
The struggle for me lies in being thrilled and excited, all while trying to moderate a side of me that knows well the risks and also knows that the risks don't go away when you reach 12 weeks. All of those sessions I've photographed have been late term babies. Sometimes even after birth.
How do you moderate worry and anxiety about something that's really and truly beyond your control, all while allowing yourself to marvel in the miracle of what's happening and be excited and THANKFUL for what's happening?
Prayer:
I'm so not an expert.
If you could hear my thoughts day in and day out, you'd know I swing from excited to worried, to somewhere in the middle all throughout the day.
A lot of the time, I try not to think too hard about any of it because that's easier than swinging through the extremes.
The way to combat it all though, at least the way I'm trying to, is through prayer.
I firmly, wholeheartedly believe that God brought us to this place, right now.
I'll write more about our journey to baby, but let's just say for now that if you'd have asked us even 4 or 5 months ago, we would NOT have thought we'd be expecting our first baby right now.
Less than a year ago, I was in the middle of the biggest health struggle of my life, and I truly wondered some days if I was dying.
So to think that now, I'm [mostly] healed from my health issues and I'm now 12 weeks pregnant with our first baby is well… incredible and surreal.
God wrote this story.
As my sister and I have been reading the bible this year, we read where it talks about God knowing all the hairs on your head and the days of your life before you were even formed.
I know that God knows this baby right now and He knew them long before we even decided we were ready to try.
The fact that God knows this baby already takes a little of the pressure and worry off, because He's got this.
That doesn't mean the end of the story is always perfect or easy. I know many people who can attest to the fact that sometimes the end of the story is full of messy, terrible grief.
But I'm focusing right now on these things:
Right now, today, things are good.
God knows what's going to happen in the future, and He is going to be there for us no matter what.
This baby matters. No matter if it's here for weeks, months or 100 years.
Every day is a gift. That's true for all of us. Each day we have is a gift, and each day I have with our baby is a gift.
So, with that said, I pray and hope for a safe and healthy future for this pregnancy. I pray for years and years of raising a healthy baby. I pray for decades or even a century of a full and happy life for him/her.
I welcome your prayers too, because that's the most powerful tool we have in situations like this.
But most of all, I know God is in this and with us every single step of the way. And that makes me feel good.
What's Next:
Next week, we go to Chicago so that Matt can race in the Triathlon Sprint World Championships. This is the race he's been working up to for the last year. It will be a fun week of racing and being tourists in Chicago [any must do's or see's while we're in Chicago?], and it will also mark the end of a very long, very busy and very successful racing year for Matt.
Long before we decided to try or found out we were pregnant, Matt and I decided together that next year [2016], he would take a break from triathlon. He's been racing non stop since 2011 and it's time for a break.
And now that we know what's coming our way in March, we welcome a year of focusing on something else besides triathlon.
We're ready for a little different focus for awhile.
I plan to blog throughout my pregnancy. I want to not only chronicle what it's like, but also share some of our journey to baby. I also hope to get some advice on things like baby registries and must haves [and "don't waste your time on this"] to make the transition to motherhood easier for me.
Thank you for sharing in our joy and extending your prayers to us as we continue on in this pregnancy.
The journey continues!
xo, Laura