**These posts often contain affiliate links. Please see our disclosure policy for details.**
In an effort to continue with my 2014 One Word challenge and my desire to be truly Intentional in each part of my life, I am working on incorporating deliberate gratitude into my daily routine.
If you've read my ebook 10 Tips for Living an Intentional Life, you'll know that Gratitude is what Tip #1 is all about.
[Download your free copy by entering your email in the teal box at the end of this post.]
Memorial Day Weekend starts today, and in my area of central Minnesota, this marks the start of Tourist Season. It also marks the start of my busy wedding season, and the start of my most FAVORITE season ever – Summer.
Every year, I feel like these precious days slip by too fast, no matter how hard I try to stay in the moment and hold on tight.
This year will be no different, I'm sure.
– – –
To help me stay in the present and squeeze out every bit of enjoyment I can of these precious summer weeks, I'm going to be listing things I'm grateful for every Friday.
I hope it helps me revel in a feeling of blessing and abundance.
I hope it encourages you to do the same.
Things I'm grateful for this week:

1. My sister-in-law Lynda, visiting us from California. Lynda is here for two weeks to spend some quality time with Matt and I, and to assist me at my first two weddings of the season. Remy LOVES her auntie Lynda!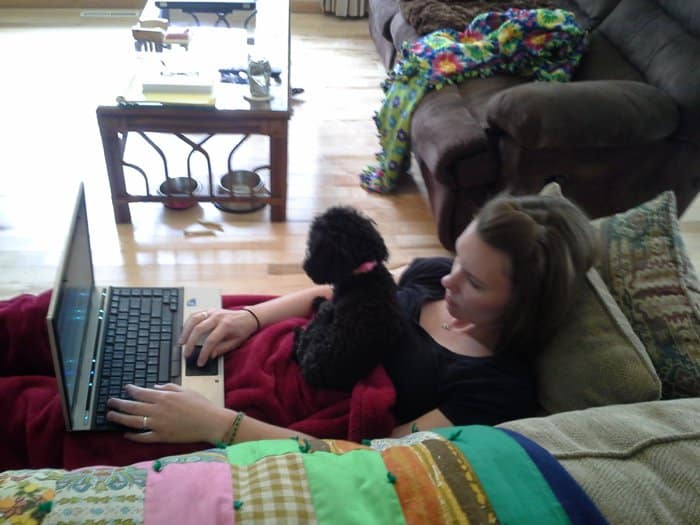 2. The start of wedding season. I'm shooting my first wedding of the season tomorrow. I have been busy prepping my gear, and getting my mind ready. I can't wait to celebrate with Tara and Anthony tomorrow!
3. Warm weather. We had a long, cold winter. We had a chilly, late spring. Finally, FINALLY the weather seems to be warming up, and the sun has come out. My windows have been open, and my plants are beginning to grow again. So are my dandelions. I'm so happy to see green grass and new growth that I'm not even bothered by the weeds
4. Remy. She's so full of personality, I can hardly stand it sometimes. Sometimes, she's belligerent and defiant and others, she is the sweetest cuddle bug ever. She's perfect for us.
5. Books. I recently finished reading an incredible book called Miracles Now. I'm reading a business book right now, and I've got a whole slew of other books on my book shelves, ready to be cracked open! I can't wait.
– – –
What are 2 things you are grateful for this week?  Share with me in the comments below!