**These posts often contain affiliate links. Please see our disclosure policy for details.**
It's crazy how fast you can accumulate baby paraphernalia in your home.
Matt and I have been married over 9 years and it seems like we have accumulated more stuff in the last year than we did in the last decade before that. And this is our first baby!
We have baskets, bins and cupboards full of baby bottles, cups, silverware, kid plates and bowls. Since introducing Raleigh to the sippy cup a few months ago, we have tested and used nearly a half dozen different options, trying to find our favorite. There's just so much stuff!
Because this is our first baby and we are learning as we go, I find it overwhelming sometimes trying to figure out what we need for the next phase of development. What is needed? What is best?
Nuby, being one of the leading baby brands out there, knows this dilemma we face as parents and has designed a solution. As part of their Parent Blogger program, I was given the opportunity to test out their new product: the Nuby Comfort 360 Plus+ 6 Stage Bottle to Cup Kit, available at Babies R' Us in stores and online.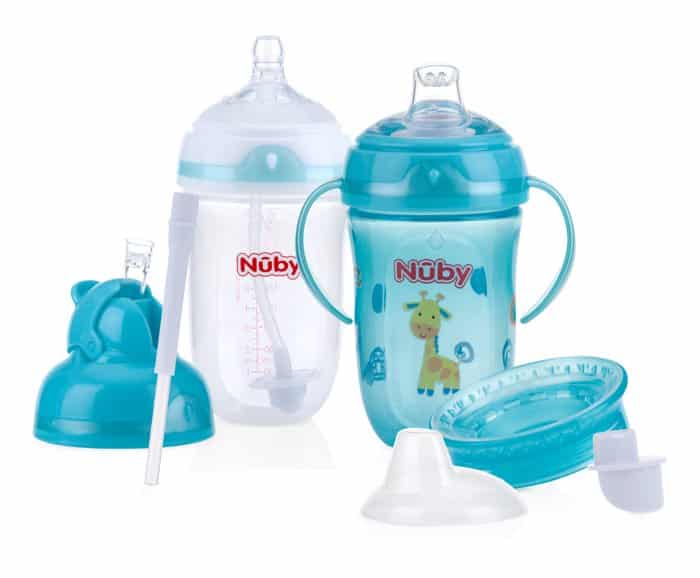 Nuby Comfort 360 Plus+ 6 Stage Bottle to Cup Kit
Nuby has created a complete 6 stage system that takes your baby from bottle to cup, with everything you need all in one box.
It's a one stop shop to take your baby from bottle feeding to drinking from a sippy and then to a straw, and finally a cup, without having to buy a bunch of different products for each stage.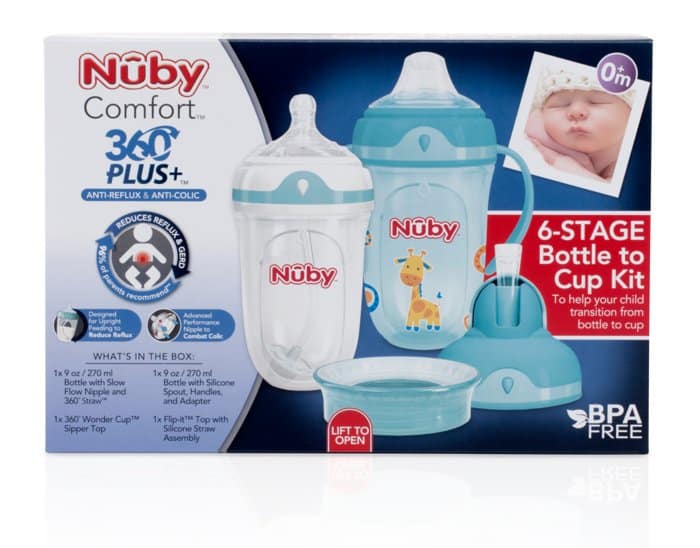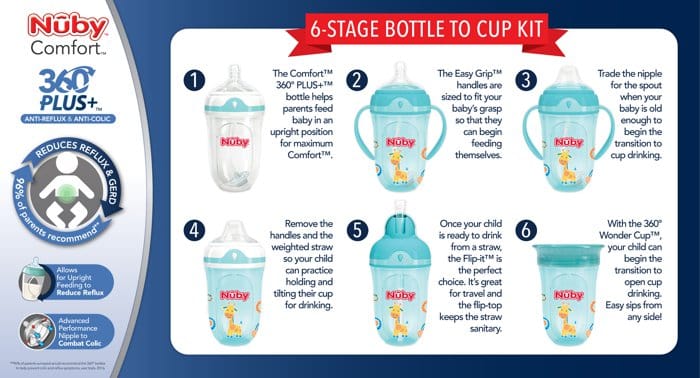 Nuby 6 Stage Bottle to Cup Kit Pros:
All in one system goes from bottle to cup

Gender neutral color and designs
Clear cup with measurement lines for accurate volume measuring
Second cup with giraffe design
Slow flow nipple has technology designed to combat colic
Weighted straw allows for upright feedings to reduce reflux
No spill technology minimizes leaks
Nuby 6 Stage Bottle to Cup Kit Cons:
Lots of different parts to keep track of and store.
The 360 weighted straw is a neat technology that allows babies to be fed in an upright position. This is the recommended feeding position to reduce reflux and spitting up, especially in babies who are prone to these troubles.
With a normal bottle, you have to keep tipping it back in order to get all of the milk out. This makes it impossible to feed upright for an entire feeding. But the weighted straw keeps it at the level of the milk no matter how the bottle is held so true upright feeding can be accomplished.
Babies can transition from the bottle nipple to the sippy top spout, still using the weighted straw until they learn to tip the cup back on their own. Then, once the weighted straw is no longer needed, it can be removed and the rest used as a regular sippy up. This is how we are using it right now – as a regular sippy cup with handles and the soft sippy spout.
Then, once babies get a little older, they can transition from the sippy spout to the straw top. And finally, to the Wonder Cup which teaches them how to drink from a regular cup while minimizing spills and leaks.
– – – – –
In my opinion, the only downside to this system is that you have to keep track of and store a lot of different parts in order to use it for all of it's stages. But that's a small price to pay for being able to get something that grows with your baby from bottle to cup, all in one package. Plus, without a kit like this, I would still have to buy a bunch of different products and find spots to store those too.
I put all of the pieces into a small basket so everything stays together and nothing gets lost.
We are pretty much past the bottle stage but we are smack in the middle of using a sippy cup right now. And Raleigh loves this sippy!
As Raleigh grows, we will introduce him to the straw top and the Wonder Cup, letting him test out and get used to each one.
It makes me happy and relieved knowing that I've already got the pieces needed to be able to let him test these other options and transition when the time is right.
Nuby got it right with this bottle to cup kit! This is truly a system that grows with your baby.
Shop the SALE at Babies R Us from 1/20/2017-2/16/2017:
Reduce reflux, GERD and combat colic with Comfort™ 360° PLUS+™ bottles from Nuby.
The Comfort™ 360° PLUS+™ Bottle Range from Nûby™ is exclusively available at Babies R' Us stores and online: http://bit.ly/2i83spW
Shop the Nûby™ Comfort™ 360° PLUS+™ 6 Stage Bottle to Cup Kit: http://bit.ly/2k1Znsh
The Nûby™ Comfort™ 360° PLUS+™ Bottle Range is Buy 1, Get 1, 40% OFF at Babies R Us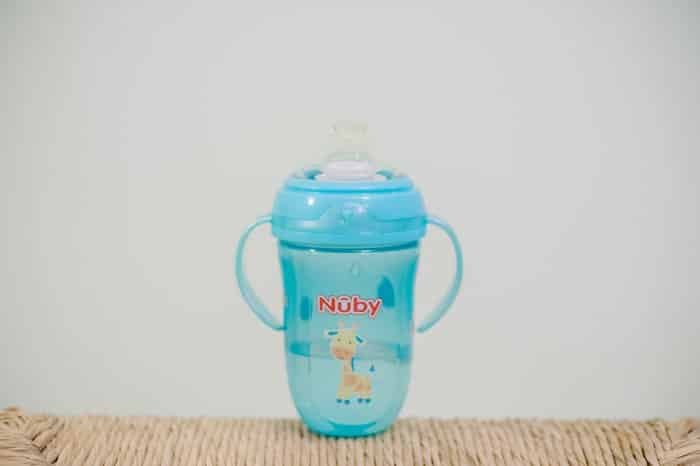 Nuby 6 Stage Bottle System GIVEAWAY!
Nuby has been generous enough to give away a Complete 360 Plus bottle system to one lucky mama! The giveaway is running over on my Instagram page [search for me at @lauraradniecki] and you can find all of the details there! GOOD LUCK!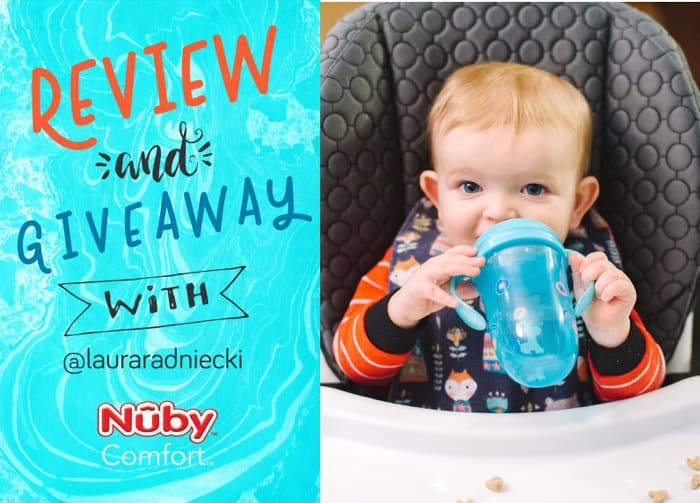 – – – – –
You can find Nuby on social media at — Facebook / Twitter / Instagram / Pinterest
*Nuby provided me with this product for free in exchange for an honest review. All opinions are my own.*