**These posts often contain affiliate links. Please see our disclosure policy for details.**
Raleigh is almost 8 months old now, and saying he is a busy boy feels like the understatement of the year!
I'm planning an 8 Month recap post in a few days so I'll go into more detail there about his latest milestones etc.
In this post though, I wanted to highlight a couple new toys that we received from Nuby this month to test and review.
Nuby NanaNubs Gum Massager
This post contains affiliate links. Please see my disclosure policy for more information.
Raleigh now has 5 teeth with a 6th threatening to break through any day now. He is still putting everything into his mouth and he loves to chew on anything and everything.
My philosophy on teething toys is that you can never have too many. We have one designated for the car seat, two in the diaper bag, two in the nursery, one in the living room, one in my craft room… You get the idea.
My first impression of this NanaNubs Gum Massager from Nuby was how cute it is! I just love the look of it so much.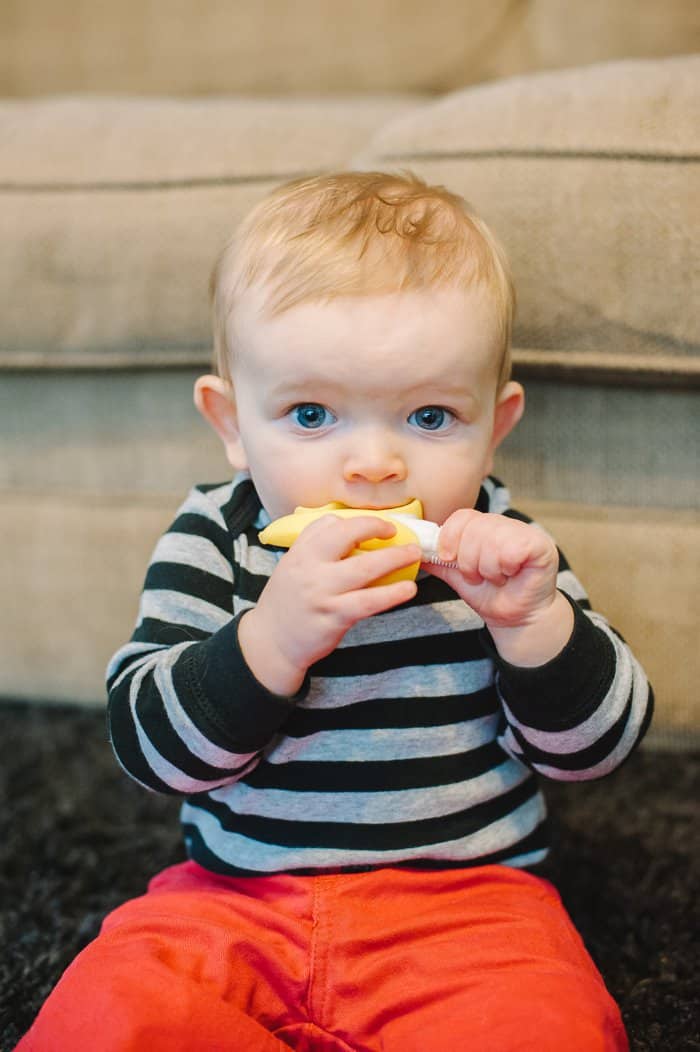 It's 100% soft silicone, in the shape of a small half-peeled banana. The peels form two handles which make the perfect place for little baby fingers to hold on to.
The white banana part has soft massaging bristles on it that act like part-toothbrush, part-teether.

As you can tell from the photos, Raleigh likes to chew on all surfaces of it. He's not picky!
Pros of the NanaNubs:
Cute as can be!
Easy for babies to hold
BPA free and made of 100% soft silicone
Dishwasher safe
Small and portable
Cons of the Nana Nubs:
Bristles pick up hair and fuzz
It's hard for me to find much to complain about with this NanaNubs Gum Massager. The silicone does attract hair and fuzz, and the bristles hold it in. But it's so easy to wash and clean that I can definitely deal with it.
The Nuby NanaNubs Gum Massager can be found on Amazon.

Nuby Stack O' Rings
Stacking rings are one of those iconic toys of childhood. They were popular with I was a baby and they are still popular today.
I was thrilled when I got to pick Nuby's Stack O' Rings as one of the products to test out this month because I've been wanting to get Raleigh a set for a long time.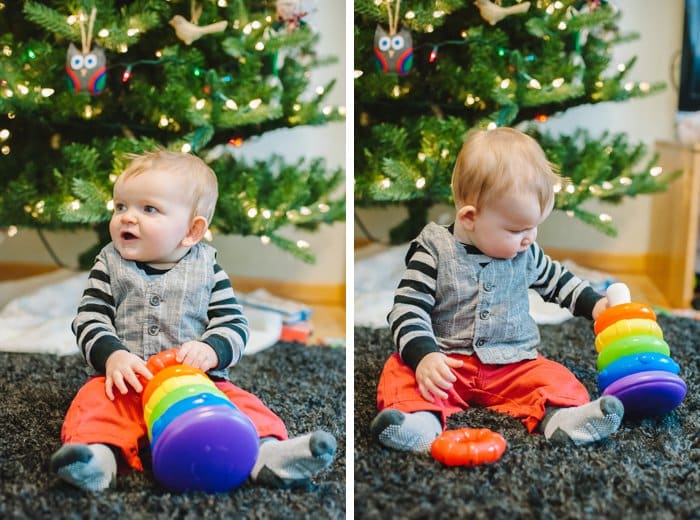 Right off the bat, I love the bright colors.
I also love the different textures on the blue, yellow and red rings, and the fact that they are BPA free. They are safe to double as a teething toy, which they undoubtedly do with Raleigh.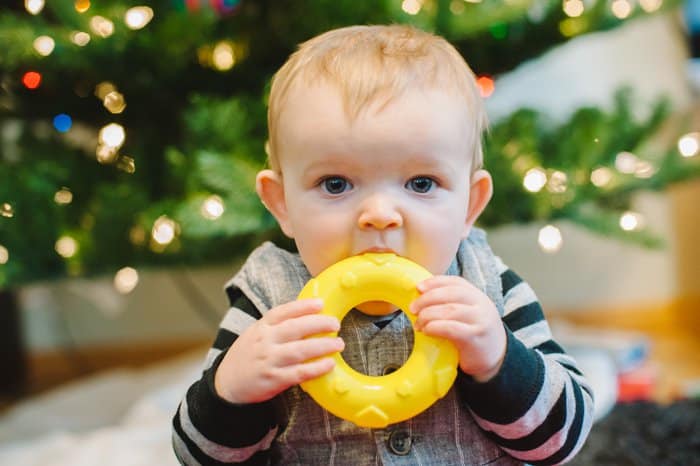 The packaging says that these rings are for babies ages 9 months and up. I think that's pretty accurate because Raleigh doesn't exactly "get" what this toy is supposed to do. He hasn't learned to re-stack the rings yet.
But that doesn't stop him from having fun with the rings right now.
The top red ring is a tight fit, probably to allow the rings to stay in place for easy storage. I pop that red ring off for him, and then let him tip the rest over and pull them off. He pulls them off, tastes them, waves them around, and then moves on to the next one.
I re-stack them and then we repeat the game throughout the day.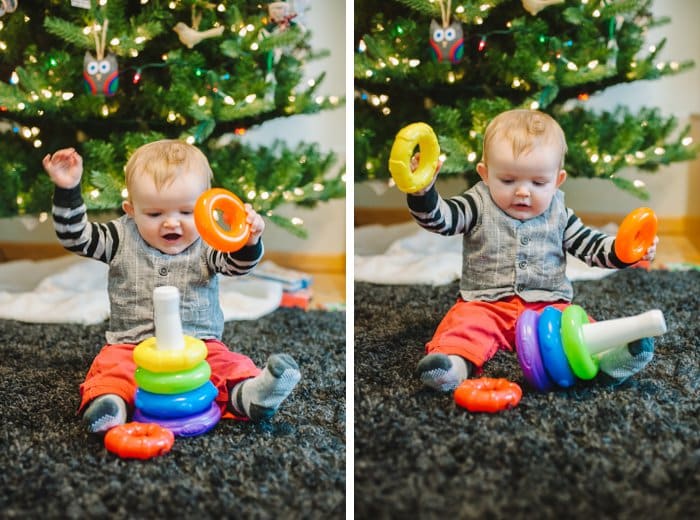 And sometimes, they end up on his arms or legs like in the photos below. I don't know why I find that so funny, but I can't help but laugh when I see those photos!
Like many of the toys we have received from Nuby, I think this will be a toy that he grows to enjoy even more as he gets older. It's great that he can enjoy it now, even if he's not yet understanding the concept of stacking the rings. He will soon! And the rings will also give us the opportunity to learn and practice colors when he gets older too.
Stack O' Rings Pros:
Bright colors
BPA Free
Helps develop hand-eye coordination
Stack easily for easy storage
3 of the rings have textured surfaces.
Stack O' Rings Cons:
The red ring is a tight fit. This is a pro in some ways, because it keeps the rings stacked for storage. But for a young baby like Raleigh, he hasn't mastered being able to remove the red ring himself yet. He tries but he's not quite strong enough.
Nuby's Stack O' Rings are available on Amazon.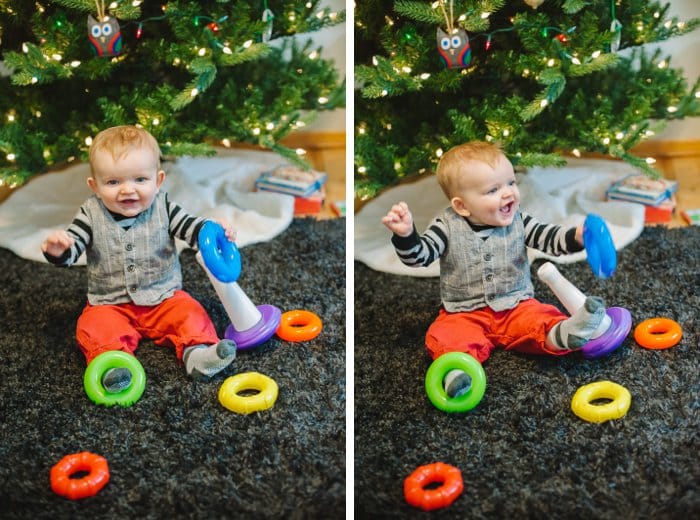 *Nuby provided me with these products for free in exchange for an honest review. All opinions are my own.*
You can find Nuby on social media at — Facebook / Twitter / Instagram / Pinterest