**These posts often contain affiliate links. Please see our disclosure policy for details.**
Prior to this month, my experience with the city of Chicago was limited to a layover in the airport at least a decade ago.
Even though it's only 2 states, or 9 hours away from my hometown in central Minnesota, I'd never really visited the city before.
In August of 2014, Matt raced in the Triathlon National Championships in Milwaukee, WI and qualified for the Triathlon World Championship race; "Worlds", which would take place in September of 2015 in Chicago, IL. So began his 13 months of intense triathlon training.
A few weeks ago, we loaded his bike and triathlon bag into the back of his mom's SUV, along with all of our luggage, and the three of us began the 9 hour drive to Chicago.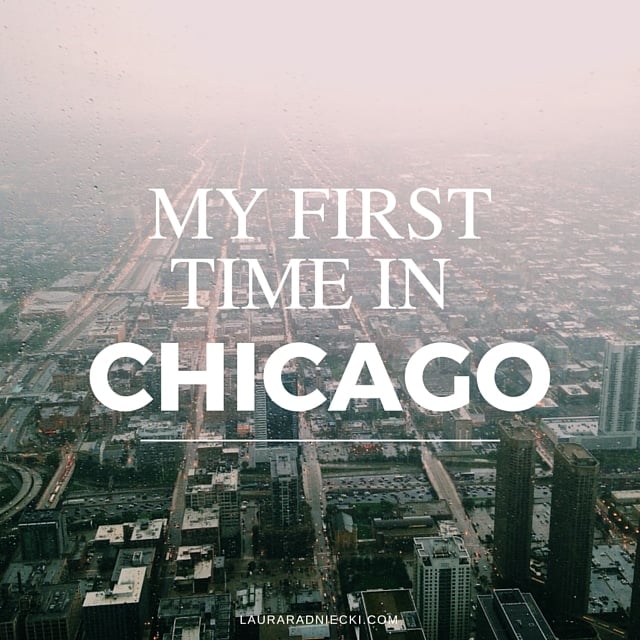 Travel Preparations:
The main purpose of the trip was for Matt to race at Worlds. His mom and I planned to go along to cheer him on, and his dad and stepmom would also join us from Sacramento, CA to cheer Matt on as well.
Because of the schedule of race week and the long drive to and from Chicago, we decided to leave Minnesota on Tuesday and come back Sunday. Wednesday and Thursday would be dedicated to the race, and we would have Friday and Saturday to explore before heading home on Sunday.
This summer was full to the brim with Matt's training and other triathlons he raced. We also found out we were pregnant in mid-July so aside from booking a hotel in Chicago and making a tentative travel itinerary, we didn't make too many concrete plans before heading east.
The trip snuck up on us and before we knew it, it was time to leave. 
Taking three small-town people [one who's a total introvert and pregnant to boot] and throwing them into the mix of the big city is a recipe for hilarity and adventure. This trip proved that to be true.
I'm going to write another post about the main attractions we saw, but here are a couple other memorable parts of our trip.
Noteworthy Events:
1. Our one night stay in the #worsthotelever
Our plan was to leave Minnesota on Tuesday afternoon and drive as far as we could, and then stay in a cheap hotel overnight before finishing the drive Wednesday morning.
Then, Matt found out that his time slot for packet pickup was Wednesday morning from 10:30am-noon, in the heart of downtown Chicago.
So, even though we didn't leave Minnesota until early afternoon, we planned to drive the whole way to Chicago on Tuesday, and if we were lucky, stay in the same hotel as the rest of our stay.
As we got close to Chicago, we called our hotel.
"Do you have any availability for tonight?" "No?" "Ok, thank you."
Shoot. Ok, look up another one.
Matt's mom called another nearby hotel and got the same response – all full.
So then we decided to try Hotwire.
By this time, we were getting close to Chicago and were all antsy to just have a place to sleep that we didn't care much what or where the hotel was.
Hotwire hotel booked. Success!
We plugged the address into the GPS and took the exit toward the hotel.
We were greeted with the flashing of police lights as someone was arrested on the side of the road. Suddenly, we realized that unlike our hometown, big cities actually have safe parts and not-so-safe parts. We had NO idea what the area around our hotel was like.
We pulled up to our hotel, only to be followed into the parking lot by a police car. He must have run our plates and decided we didn't look too suspicious because he lingered a moment and then drove away.
We walked into the hotel lobby and got the keys to our room. The front desk attendant informed us that the elevator was broken so we would have to use the stairs.
After parking the car, we unloaded everything and trekked up to the room.
Now, I'm a frugal person to my core. I'm a Hensel, after all. I've stayed in CHEAP hotels, and I don't have very high expectations. I've been on backpacking trips with the only toilet being a hole in the ground.
But I'm being 100% truthful when I say that this was truly the worst hotel I've EVER stayed in.
It felt like we were on the set of an episode of CSI, and the forensic team could be investigating a murder in the next room.
The stains, the smells… I'm pregnant too, which made things ALL the more disgusting.
I am well aware that in most hotels, they never wash the comforters on the beds. Gross but common.
But most places, even the cheapest of the cheap, wash their sheets.
These might have been "washed", but they were NOT clean by any definition of the word.
My mother in law went down to ask for another towel, because there were 3 of us and 2 shower towels. The front desk handed her one and said "You're in luck, that's the last one."
The last clean towel in the WHOLE HOTEL?!
I slept fitfully, trying to keep the sheets and comforter away from my face and hair.
The only positive thing about the hotel was the absence of visible bed bugs, although we did feel a little itchy the next day. Probably mental, but still.
They claimed to have a continental breakfast which we decided to cautiously check out the next morning.
One glance at the food was enough to assure me I was better off eating a granola bar from my purse.
We packed the car and gratefully pulled out of the parking lot, all agreeing that it was the worst hotel we'd stayed in. Ever.
Thankfully, our reservations for the rest of the trip was at a nice, CLEAN hotel near the airport in Chicago. It had the comfiest beds ever, and a seriously amazing breakfast that we ate every morning.
It almost made up for the #worsthotelever.
I know that it's not Hotwire's fault we got a dud. I know many people have scored big by booking their hotel stays through Hotwire. We might try using it again in the future, and pay closer attention to the star-ratings they have.
#2 – My First Divvy Bike ride 
The concept of sharable bikes is becoming more popular in big cities all across the country. I know that they have something like it in Minneapolis and St. Paul.
We used Divvy bikes to make our transportation around downtown Chicago easier.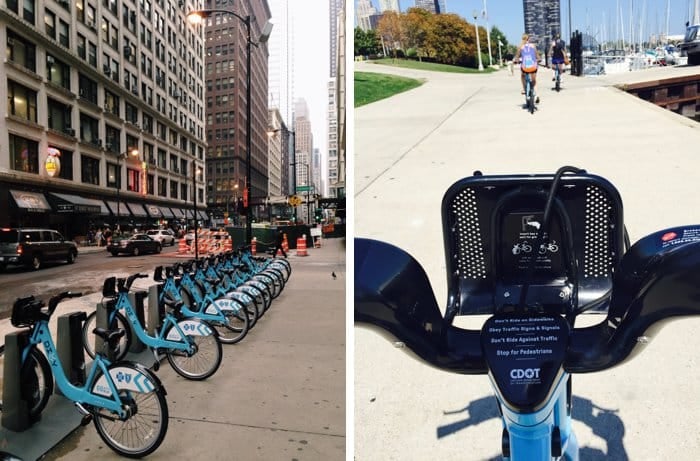 The concept is pretty neat, especially for tourists who want to go see the sights of Chicago, but don't to walk miles in between. 
The only downfalls are the 30 minute time limit per bike-checkout, and how CRAZY it is to bike in the middle of a big city.
I'm used to biking on a paved bike trail, with the only other people being walkers and runners.
While exciting, I also found biking in downtown Chicago absolutely terrifying. After deciding between riding in the bike lane between lanes of rush hour traffic or biking down the crowded sidewalk [against the Divvy rules but what I opted to do anyway], Matt's stepmom and I decided we were better off walking.
Some things, I'm just not cut out for!
Biking is much more fun and relaxing in less-busy places like the Riverwalk or lake front paths.
Still though, it was a memorable "first" for me.
#3 – My first Uber ride!
I had heard about Uber before; mostly from social media and TV shows.
To my knowledge, we don't have it in our little rural Minnesota town, or if we do – I've surely never used it.
Thanks to Matt's dad and his city-knowledge, after feeling like I was going to die on the bike, Matt's stepmom and I took my first Uber ride from the Navy Pier to Willis Tower.
I'm an introvert so I normally don't feel like chatting to strangers in public, but I was interested in the life of our Uber driver so I asked him all kinds of questions. He drives for Uber on Fridays and Saturdays if he doesn't have other plans, and works as a nurse the rest of the week. 
Later, we all piled into an UberXL ride to get back to our parking garage in the middle of a downpour.
I'd say I feel more cultured already, having had my first 2 Uber rides. 🙂
Whoever invented that concept is a genius, and I can see why the Taxi companies are disgruntled.
#4 – The Willis Tower Miracle
I'm going to write a separate blog post about the top 5 things to do in Chicago [according to us from our trip] and I'll talk more about the Willis Tower and our trip to the top in that post.
The weather on Friday, our day to explore, was not good. Rainy and foggy.
We decided to head to Willis Tower anyway because who knows when we'll be in Chicago again and this was our one opportunity to see it as a group, because Matt's dad and stepmom had a flight back to CA the next day.
When we walked into the Skydeck lobby, the girl informed us that there was 0% visibility from the top.
Awesome.
We decided to go up anyway. When we got up there, it was like the windows had been painted white. She wasn't kidding about the zero visibility.
We couldn't see a thing. 
We were looking at solid white clouds. A thunderstorm, actually.
We were all disappointed.
But then, suddenly we could see little lights way down below.
And then soon, the outlines of the buildings became visible.
God knew we'd come all this way, so He whipped away the fog and clouds and gave us the opportunity to view the city of Chicago from above.
And it was AWESOME!
More on our Willis Tower experience in the next post.
…
Matt didn't race as well as he had hoped, but we made the most of things anyway.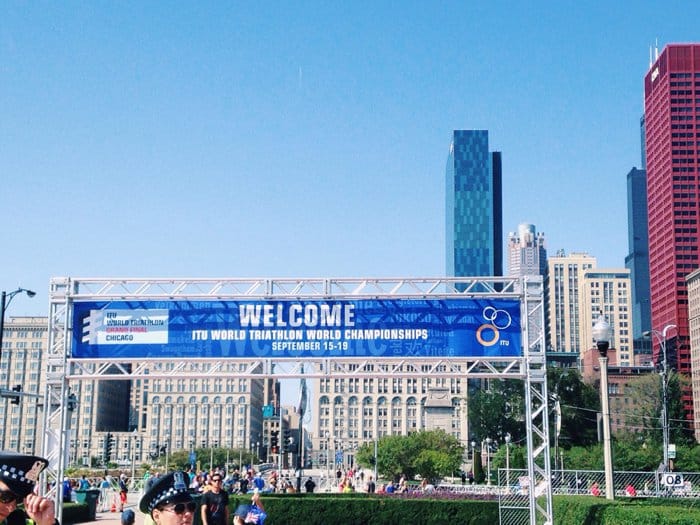 Chicago proved to be a great trip full of lots of photo chances and the rare opportunity for Matt to spend time with his mom, dad and stepmom all together.
We packed a lot of adventure and a ton of exploring into our short stay in the city; complete with the #worsthotelever, and my first Divvy and Uber rides.
By the end of the weekend though, we were all spent.
We were tired of the traffic, tired of restaurant food, and tired of living out of a suitcase.
We were ready to get home.
---
Stay tuned for the next post where I'll be sharing the Chicago attractions we saw and the food Matt devoured!
If you are planning a trip to Chicago and want to get a head start, here's a great Chicago guide book to help you along: