**These posts often contain affiliate links. Please see our disclosure policy for details.**
I am a goal-oriented person.
I love brainstorming, setting goals, tracking progress, and feeling accomplished. Being Type-A is part of it, I'm sure, but I think it goes beyond that.
I've set lots of goals over the last handful of years, especially involving my business and reading goals. I even created lists of X things to do before my next birthday several times.
On top of these yearly goals, I've also participated in the One Word challenge that's popular these days. The idea is to choose one word that will serve as your guide for the year.
In 2014, I chose Intentional. I was tired of the busyness and the constant feeling of rushing to the next thing. I wanted to be present and be intentional about how I was living my life.
As 2014 ended and 2015 dawned, I felt the call toward the word Surrender for 2015. I wanted to hand over the reigns of my life to God after trying to manhandle them myself for the previous years.
But as 2015 dawned with my continued mystery health problems, the word that stuck out to me morphed from Surrender to Trust. I needed to TRUST the Lord in 2015. I needed to trust that He knew why I was sick and when I would get better. I needed to trust that His plans were better than my own.
Now that another year has passed and a new one has dawned, I've chosen my word for 2016.
I prayed about it for awhile and no new words came to mind. Instead, the word that kept surfacing was 2015's original word: Surrender.
Using the same word I started with in 2015 seemed lame at first but really, who the heck cares?! The point of choosing a word is to find one that serves your life the best. Not to pick one that's trendy and looks good on social media. Who cares if it's a repeat?
The more I thought about it, the more convinced I am that Surrender really is the perfect fit for me in 2016.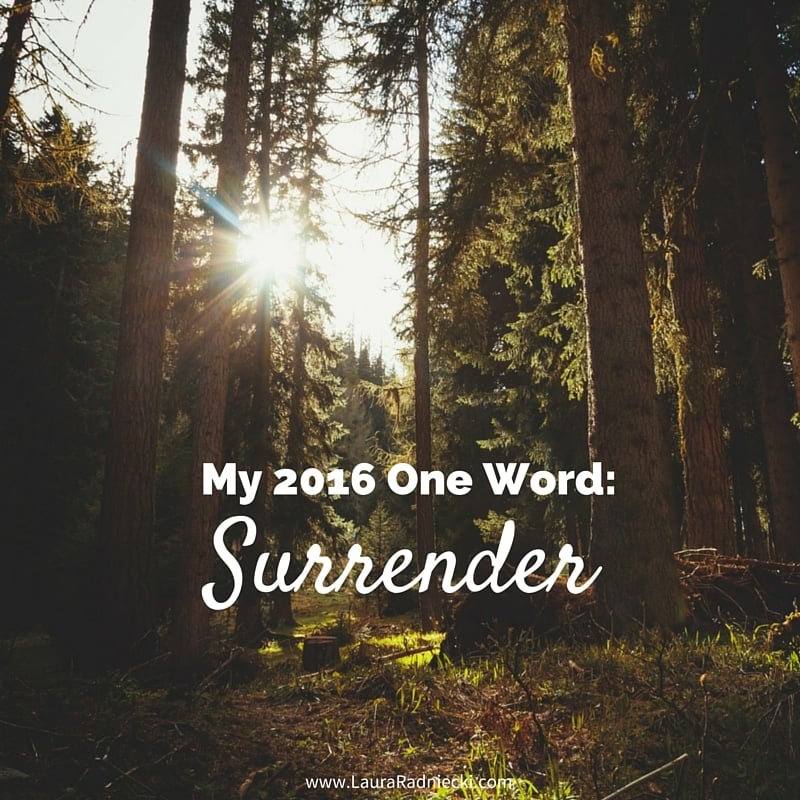 In 2016, I want to Surrender:
1. I want to surrender to God's will.
I want to let go of my unhelpful desire to control everything around me.
Contrary to what I'd like to believe sometimes, I don't need to always be in control of everything.
Even if I feel like I do.
I want to surrender to what God has in store for me this year.
I want to let go of my expectations and my desire to control everything. The root of my desire to control things is fear anyway, so I want to let go of the fear.
I want to surrender to God's will.
2. I want to surrender to Change.
By nature, I adapt slowly to change.
Instead of hating this about myself, or fighting it, I've come to accept it about myself. I wouldn't say I necessarily embrace it yet, but I am aware that I adapt slowly so I'm learning to be more patient with myself.
Because I don't love change, it is often hard for me. Hard to adapt, hard to allow, hard to accept.
I've been smack in the middle of one of the biggest changes of my life for the last 7 months: pregnancy. My body is changing in ways I've never known before, and I know that really, it's just the beginning.
I know that the biggest change of my life is just a few months away: my transition into motherhood.
Only God knows how that transition will go, and really, isn't that the case with all transitions?
My natural instinct is to fear all of the changes that are coming this year. Even though it's good change, it's still new and it's full of unknowns that can seem big and just plain scary.
How will I adapt to sleepless nights when I literally can't get out of bed before 8:30am right now?
How will Matt and I become parents without forgetting about Remy and seeing her as an annoying bark-machine rather than our first furry baby like we do now?
How will I know what to do with a little human to take care of? I haven't babysat in over 20 years, and I doubt I've changed a diaper or fed a baby in at least 13. 
How will I manage?!
That's what my mind and body want to say. That's what my natural instinct wants to say.
But instead of worrying about the How's and the What If's, I want to surrender to the change.
I know it's coming, and I know that no matter how much I can try to mentally prepare myself, nothing will really prepare me for what's to come. I don't doubt that it will be the hardest thing I've had to work through so far. But I also know that it will be the most rewarding experience too.
And really, the only way I will be able to survive and thrive through the changes that are ahead are by surrendering to my expectations and allowing change to come, and God to give me grace during this season.
I'm sure I'll have many times where I bawl out of frustration and want to tighten my controlling grip on life in a desperate effort to make sense of our new normal.
But for now, I want to surrender to the changes that await, and trust that with God's help, I will navigate these new waters.
3. I want to surrender to doing my best.
I like to do things well. I'm a perfectionist.
Getting an A- in school bothered me.
When I do something, I like to do it really well. [Except when I'm sewing. I am not a perfectionist when I'm sewing; it's a strange phenomenon really. I say "good enough" a lot when I sew.]
From what I have read and what I know about myself, I am in danger of wanting to be "perfect" at motherhood. Maybe not perfect, but wanting to do things "right." To make sure I'm not making too many mistakes.
Are all you mamas out there laughing at me yet?
I KNOW there's no such thing as being perfect at motherhood. Especially when you're a brand new mom and you're in the newborn phase.
Ok, there's no way to be perfect at motherhood, period. No matter what phase you're in.
I get this. Logically.
But I know that I will still fight the urge to make sure I'm doing things right. I will still fight the urge to be perfect. It goes back to control; I will still fight the urge to control the situation. Even when it's something that's impossible to be controlled.
So this year, what I really want, is to surrender to doing my best.
I've never been a mother before.
I've never given birth before.
I've never set aside my work life in order to focus my full attention on something else before.
I've never had a baby before and been in charge of caring for another human.
How could I possibly expect myself to be perfect at things I've never done before?
These are the truths I need to breathe to myself.
It's not about being perfect. It's about doing my best.
It's not about knowing it all. It's about doing my best.
It's not about never making any mistakes. It's about doing my best and seeking God in the process.
So this year, as I finish out the last months of this pregnancy and approach labor and delivery, I want to surrender to doing my best. To letting go of control and letting God take the reigns.
As the transition to motherhood approaches, I want to surrender to doing my best. To measuring my success only by whether I'm doing my best, and trusting God with the rest.
I want to surrender to less striving.
I want to surrender to more peace.
– – –
I know these are tall goals and I will fail many times over the course of this year. But surrender plays in here too.
Ultimately, I want to surrender to life and to God this year.
I want to give up expectations and control, and let God lead.
That is the focus of my 2016 year: Surrender.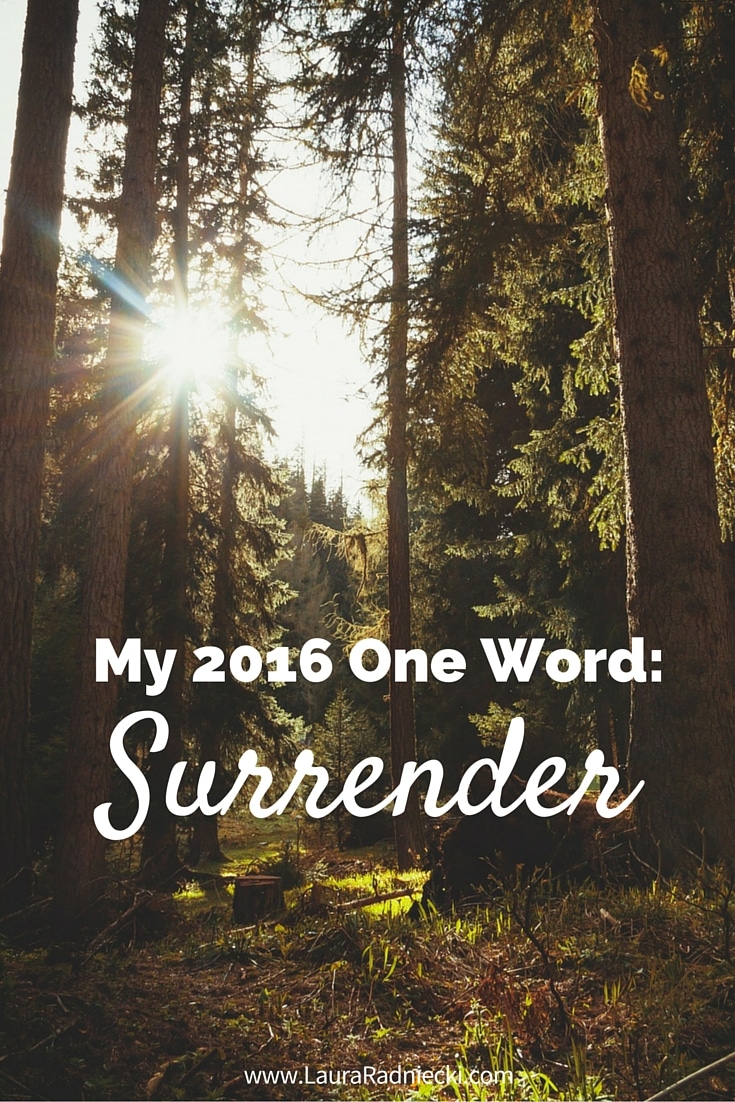 Have you picked a word for 2016? If you have, let's hear it!