**These posts often contain affiliate links. Please see our disclosure policy for details.**
Today, I was thinking about the seasons of my life. Time periods where I've been focused on different things.
The school years. The college years. The starting-a-business years. And now, the beginning of the motherhood years.
Sometimes, I look at the things I have accomplished in the past compared to my current day to day, and I feel like I'm not living up to my potential anymore.
Sometimes I look around at what my daily life looks like right now, and I think…
"This is it?"
I am in a new season of life right now. God has provided for us so I can stay home with Raleigh; something that's been our hope, but we didn't know if it would be our reality.
But still, sometimes, I look around and I feel like I'm missing out on something.
"I studied and worked so hard, and for what?"

Motherhood is Holy Ground
I was thinking about these feelings tonight as I was nursing Raleigh before bed, and I felt God speak to me.
I felt Him tell me, "Laura, this is Holy Ground."
This — rocking in a rocking chair we bought on Amazon, listening to rain on the sound machine, nursing my baby boy… THIS is holy ground.
This season of life isn't about studying hard or getting a degree. It isn't about hustling to build a business. It isn't about putting in long work hours and trying to make a name for myself.
This season of my life: this motherhood season and particularly this stay-at-home-motherhood season, is about pouring my energy into my family and my home.
And that is holy ground.
It's All Holy
I need to remember, this is all holy ground.
This house we call our home, with it's gravel driveway and lawn full of grass, moss and weeds. With it's unfinished basement and mailbox with peeling paint… This is holy ground.
Our kitchen, with the endless stream of dishes that need washing and putting away, the oven that hasn't been cleaned in years, the fridge with a scribbled grocery list on the door and leftovers, fruit and a zillion yogurts inside… This is holy ground.
My son's nursery, and the Amazon rocking chair with spit up stains on the seat. The crib with the teeth marks on the railings and the book shelf that continues to become more crowded as picture frames and knick knacks are added to the shelves. The dresser with the changing pad on top and the little reminder note I stuck to the wall during those hard, early days, telling myself that "The days are long but the years are short." … This is holy ground.
The seemingly mundane corners of my life in this season of motherhood; truly, this is holy ground.
Changing diapers. Restocking wipes and diaper pail liners. Washing, folding and putting away baby clothes.
Feeding. Burping. Putting Raleigh to sleep and praying he falls asleep fast and sleeps longer than 30 minutes.
Debating whether to use his nap time to clean, craft, work or nap. Naps winning out almost every time.
Falling asleep shortly before he wakes up again. Heaving a deep sigh as I drag my tired self out of bed to go get him.
Wondering how many days it's been since I showered last, and debating whether to get out of my sweats, only to put them back on in a few hours.
All of this. All of this is holy, sacred ground.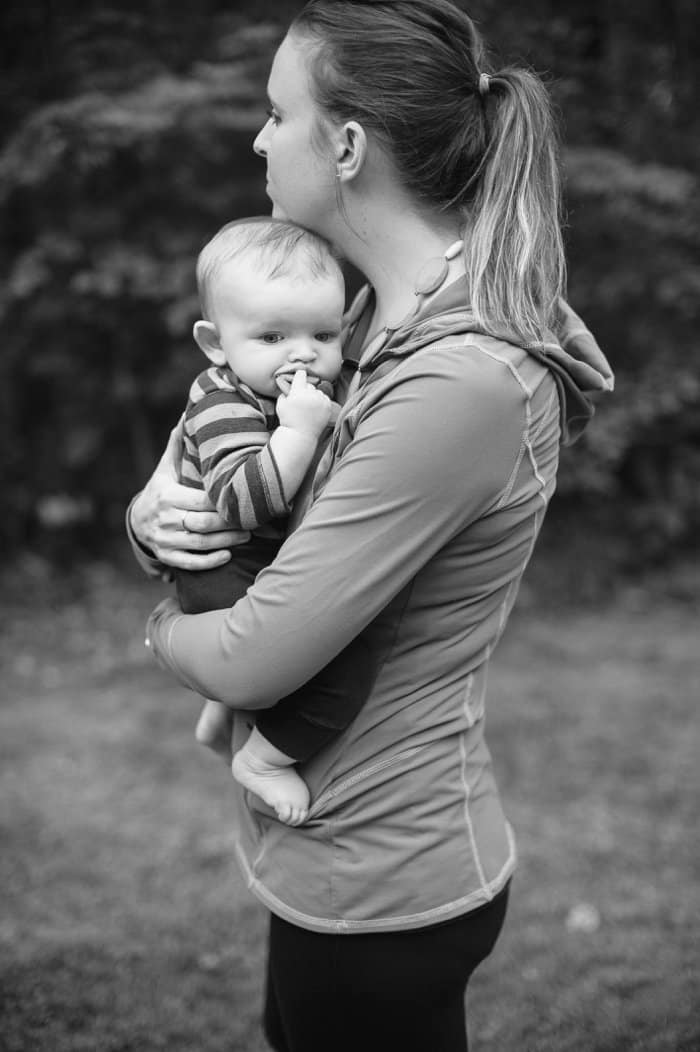 Motherhood Matters
Life might look different now than it used to.
Your priorities are different right now. Your focus has changed. Your routines are dramatically unlike those of your past, and your body might even look a lot different than it used to.
You might wonder what value you are contributing to the world, or feel like you aren't making a difference as you go about your days.
Maybe you look at those around you, particularly on social media, and feel inadequate and inferior. Like you're lagging behind in the race to be more and do more.
Maybe it feels like you are "just a mom."
The truth is this season, this motherhood season that can too easily feel all-consuming and utterly depleting, is filled with holy ground.
What you do as you raise your little people MATTERS.
What I do every day as I wake up and care for Raleigh matters.
Every diaper I change, every dish I wash, every time I sit in that rocker and feed my son… all of it matters.
It matters because motherhood, our children, our families and our homes are sacred, holy ground.
Seasons Change
The day will come when motherhood looks different for me.
I won't be changing diapers and nursing every few hours forever. I won't always be buckling Raleigh into a car seat or carrying a diaper bag. There will come a time when I wave and pray as Raleigh drives out of the driveway on his own instead of needing me to bring him places.
Motherhood is a constantly changing season of life and I know full well that there will come a time when the duties of my days stop being child-focused and my time becomes mine again.
There will be a time to hustle again. There will be time to pursue my business goals with fierce determination and a time commitment that I don't have access to right now. That time will come.
But right now, in the place where I'm standing as my baby boy sleeps in the next room and the hours tick by until the middle of the night feeding I know is coming, my focus is on my family.
My focus is on supporting and loving my husband well as he pursues his career goals with determination.
My focus is on raising our son well, as I parent alongside my husband.
My focus is on soaking up my baby boy as he literally changes before my eyes as the days pass by.
This is my job. This is my goal.
All of it matters because motherhood is holy ground.