**These posts often contain affiliate links. Please see our disclosure policy for details.**
Kids don't appear to change much day to day. But here are 5 childhood milestones that instantly make your baby seem older than they did moments before!
This post is sponsored by Nuby USA as part of their Parent Blogger program. I was sent the Nuby travel booster seat to use and review, but all opinions are my own.
One of the biggest enigmas about parenting is how your children can look the same day after day, with little changing from the previous day, but then you look at old photos and realize that your toddler was actually a baby just months before.
A baby changes into a toddler and then into a kid gradually with each passing day, largely while we parents are unaware it's even happening.
There's a lump in my throat even typing these words out.
Even though the changes mostly happen gradually, there are definite moments in the first few years when your baby all of a sudden looks older than they did 5 minutes before.
And if you're anything like me, these moments are significant enough to take your breath away, and remind you of the very real fact that your baby are actually growing up very fast.
(There's that lump in my throat, getting even bigger.)
5 Milestones that Instantly Make Your Baby Seem Older
1. Eating in a high chair.
The first time Raleigh sat in his high chair by himself, he looked laughably tiny. The chair seemed like it might swallow him whole! But there's something about seeing a little baby sitting up on their own, in a high chair, that makes them look instantly bigger.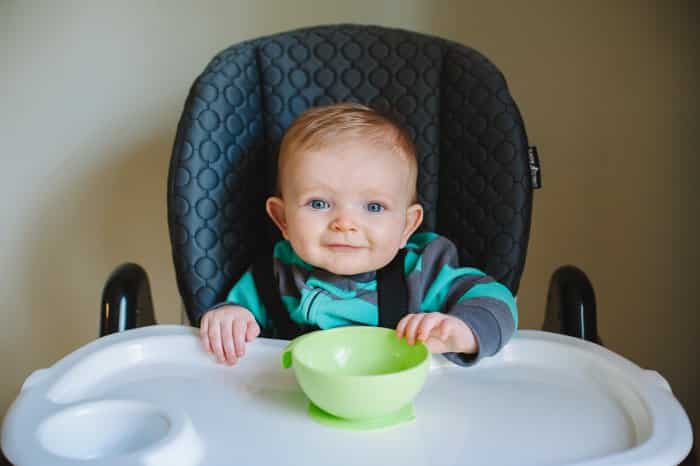 2. Drinking from a sippy cup instead of a bottle.
Babies either nurse or are fed from a bottle; it's what they do until they're old enough to start solid foods. And once solid foods are introduced, the nursing/bottle feeding continues. At some point, parents typically introduce a sippy cup to move away from a bottle.
I vividly remember Raleigh's first time drinking from a sippy cup. My husband gave him some water in a sippy cup on Raleigh's first Thanksgiving, when he was almost 8 months old. That simple act of watching my son drink from a sippy cup instead of a bottle or nursing literally took my breath away. I said, "Oh my gosh, he looks SO OLD!" And then I pretended to sob, but I was only half-kidding. My mama heart was very tender.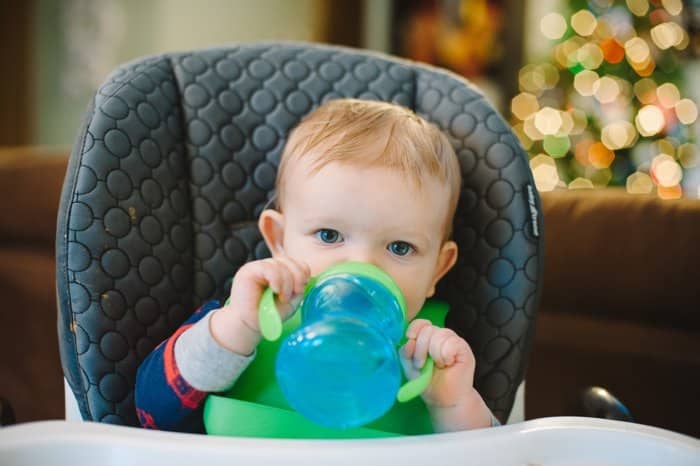 3. Sitting in the front of a shopping cart.
Raleigh's first time sitting in the front of a shopping cart was during a family outing to Costco. All of our previous shopping trips involved him staying in his infant car seat, in the cart.
Once again, seeing my baby sit up in the front of the cart like a big boy made him seem way older than he was just a few minutes before.
4. Using a booster seat at the table.
In recent months, we decided to have Raleigh try using a booster seat at our kitchen table, instead of his usual high chair. His high chair is super convenient because it's on wheels and can be moved wherever we want, but no matter how hard we tried, he still felt disconnected and far away from the table.
Nuby USA sent me their Easy Go Booster Seat to use and review, so we decided to put that on one of our kitchen chairs and see how Raleigh did on it.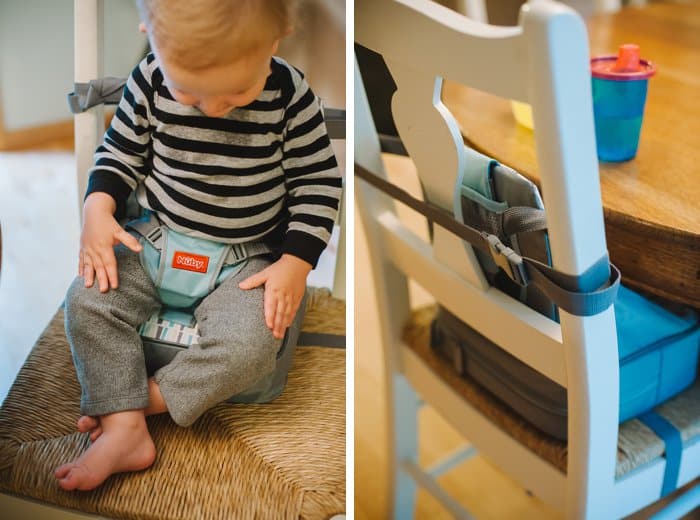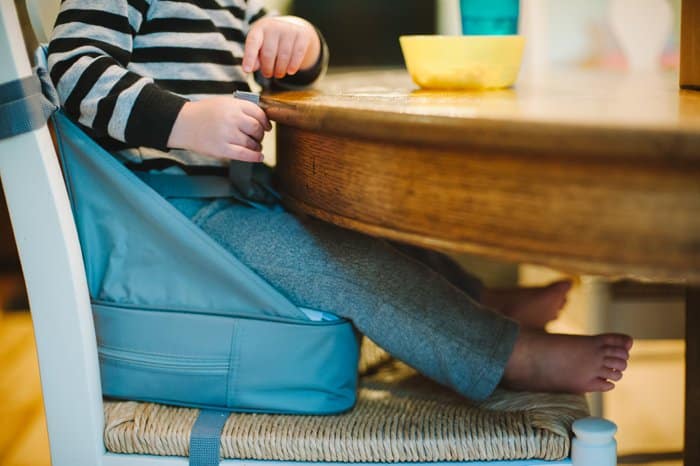 Just like the rest of the milestones I've mentioned, watching him eat his meal at the kitchen table on a regular chair, with the booster seat mostly hidden from view made him seem older in front of my eyes.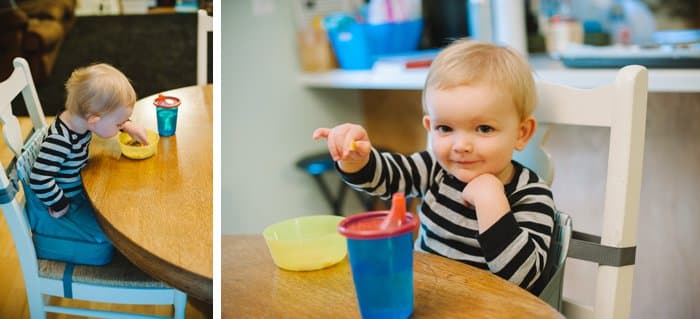 Even though it's designed for travel (and would be super convenient to take with on trips or to relatives' houses for holidays) we have continued to use it as our everyday booster seat for Raleigh at home. It fits perfectly on our dining room chairs, cleans easily with a wet, soapy rag, and is one of Raleigh's all time favorite things; he loves to hook the two buckles. (And then calls for help to unhook them.)
Even though he's been using the booster seat for a while now, I still find myself standing still and marveling at how grown up he looks as he sits at the table like a kid. That's not a baby at my table anymore; he's most definitely a little boy.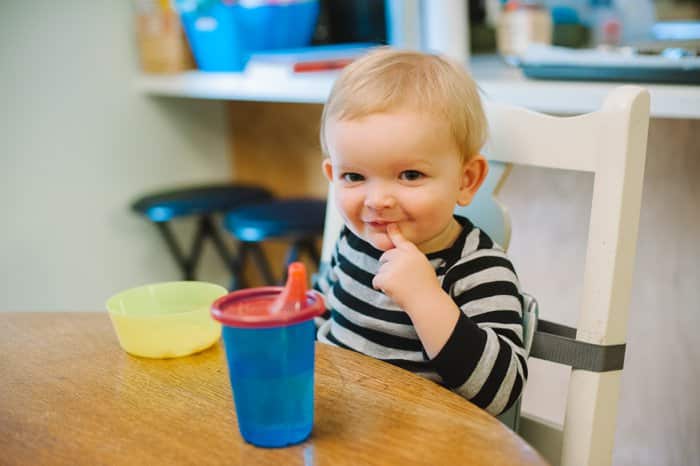 5. Turning their car seat around to face forward.
I can't speak to this one from personal experience yet, because Raleigh is still rear-facing in the car.
But I'm taking the liberty of including this in the list because I know that turning the car seat around and having your child face forward for the first time is an important milestone; one that seems to almost make them ready for kindergarten in mere minutes..
– – – – – –
Parenting is filled with weird dichotomies.
I know every parent has desperately longed for bedtime, only to find themselves scrolling through photos of their kids on their phone shortly afterwards because they miss them so much.
Another parenthood mystery is how a child can appear to be the same, day after day without much change, until old photos or videos are used as a reminder of what they used to be like.
Despite the seemingly slow changes, there are specific milestones in a child's early years that make them instantly seem older.
These milestones are everyday occurrences as an infant grows into a toddler.
Yet despite being normal milestones, they still hold the power to take a parent's breath away.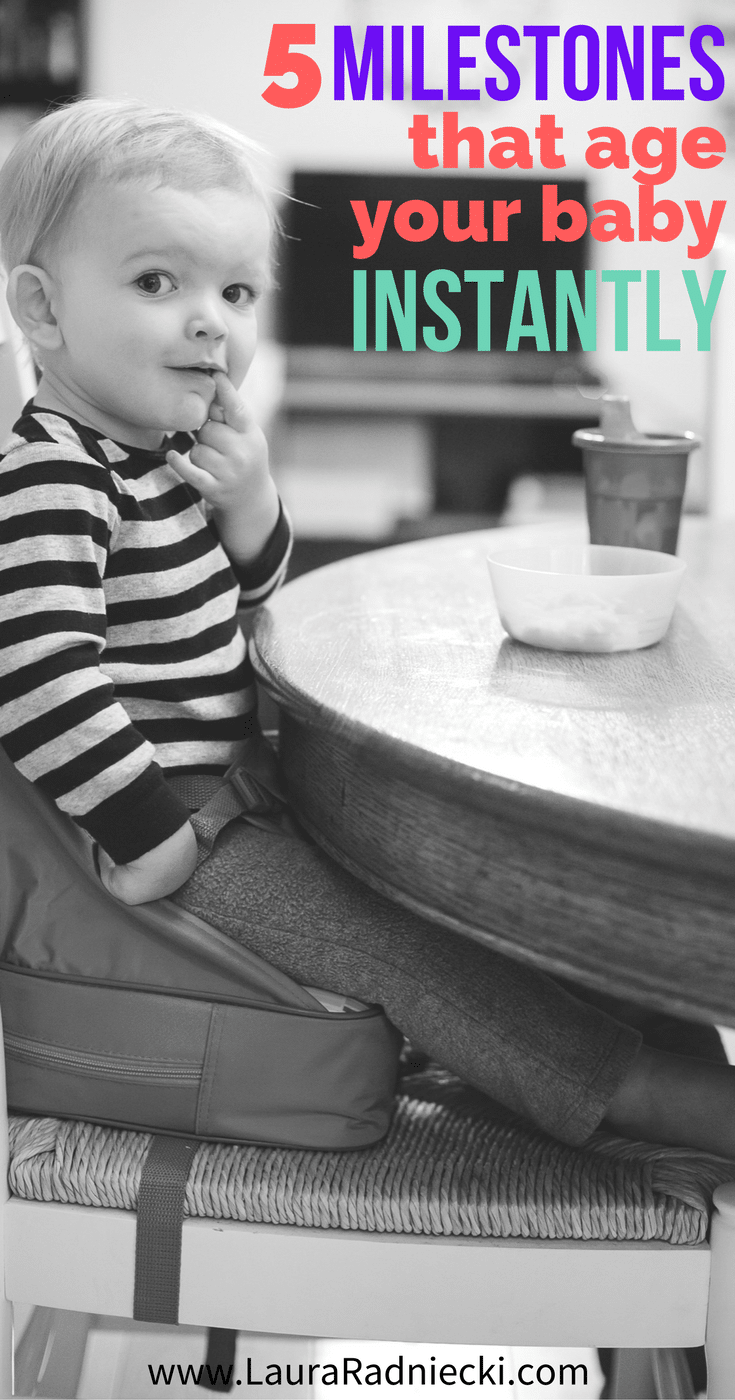 – If you liked this post, I would love if you would share it on Pinterest or Facebook. Thanks & xo! –