**These posts often contain affiliate links. Please see our disclosure policy for details.**
Good maternity clothes are key to feeling great during your pregnancy. Build a maternity capsule wardrobe with these pregnancy fashion must haves!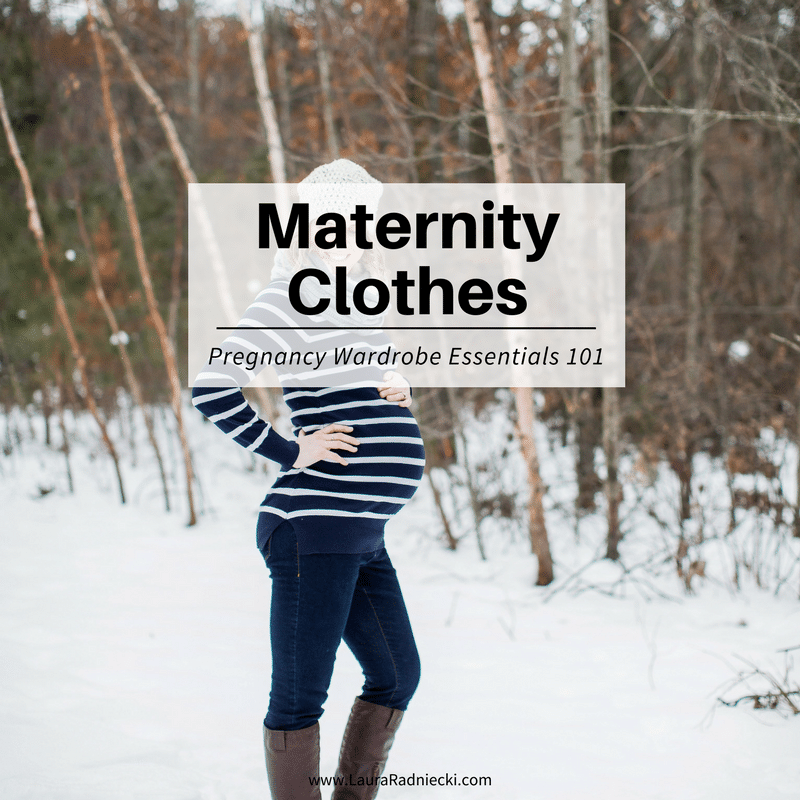 I'm a frugal person by nature.
I come by it honestly; it's in the genes as they say.
I like to save my money, and I love a good sale. Making large purchases can be difficult for me.
When I found out I was pregnant, my thoughts turned to my wardrobe. Clearly, my normal wardrobe would not carry me through my pregnancy. I needed to have clothes that would accommodate my growing body.
Initially, my view on maternity clothes was this:
"I don't want to spend much money on maternity clothes because I'll only be wearing them for a short time."
Sound familiar? It's a common viewpoint when considering maternity clothes.
It's true – you only wear them for the pregnancy, and maybe for a little while during the postpartum time, and maternity clothing can be expensive.
However, as time went on, my view on maternity wardrobes changed.
New Maternity Wardrobe Philosophy
Pregnancy is a time of extreme and fast changes.
Especially for someone like me who has looked relatively the same and has had a lot of the same clothes since high school and college; the changes that started happening early on in pregnancy were expected but shocking all the same.
Along with the body changes come A LOT of hormones and wild emotions, not to mention physical discomforts that can make the time a challenge.
It's true, nine months of pregnancy isn't that long in the grand scheme of your life.
But it can feel like a LONG time if you hate how your clothes make you and your newly changing body feel. It can feel like an eternity if you feel frumpy every time you get dressed in the morning and want to hide in your sweats at home instead of go out in public.
My new philosophy about pregnancy and maternity clothing is this:
Having a few well-chosen maternity staples that fit great and make you feel good will dramatically help you feel and look your best during a time filled with emotions, changes and extreme happiness as well as many challenges.
It's worth spending some money to feel good during your pregnancy.
Saving Money on Your Maternity Wardrobe
Keeping my new philosophy in mind, that doesn't mean you have to run out and buy an entire new maternity wardrobe right away.
There are ways to stretch your current clothes into the beginning of pregnancy, and ways to save money when building your staples.
#1 Maternity Wardrobe Money-Saving Tip
The first option to consider is borrowing maternity clothes from a friend.
This is a GREAT option if you have someone in your life who has them and doesn't need them right now.
A friend loaned me some of her maternity clothing early on and I've worn a handful of her pieces regularly throughout my entire pregnancy.
#2 Maternity Wardrobe Money-Saving Tip
Another option for keeping your maternity clothes costs down is to shop at thrift and consignment stores.
Many shops, especially higher end stores, will have well-organized, gently used maternity clothing for you to try on and choose from. Because pregnancy is only 9 months long and people usually don't have a dozen babies anymore, the clothing is especially gently used and often looks brand new.
My mom took me to a thrift store early on in my pregnancy and we bought a few things. They were my first maternity wardrobe pieces and helped me feel like it was all real!
MATERNITY CLOTHING SIZING TIP: 
I want to mention one thing about maternity clothing and sizing right now, that I wasn't aware of early on. It might be common knowledge to most but it wasn't to me, and I ended up wasting some money on clothing that I ended up not being able to wear.
Maternity clothing is made to be bought in your current clothing size, and it's designed to grow with your belly and body.
You DON'T need to buy an XL shirt if you normally wear a Medium. [Note to self.]
Especially in maternity tops, features like side ruching and extra material in the front are specifically included in the designs to accommodate growing bellies and allow you to wear the clothes the entire pregnancy.
I have an XL shirt in my closet that I bought, thinking that when I had a huge belly, I'd be able to fill it out. But my rib cage and arms etc never were able to fill it out and every time I tried it on, I looked like I was drowning. I haven't been able to wear it at all and likely never will.
#3 Maternity Wardrobe Money-Saving Tip
One other option when considering your choices for clothing during pregnancy is to buy larger sizes of regular clothes.
I know of many people who have worn non-maternity clothing during pregnancy, just bought in larger sizes.
I was able to do this a little bit in the early months of pregnancy, but it didn't last for me. Eventually, I needed to step into maternity-specific clothing. I think this works well for some body types and not as well for others.
For me, I needed maternity-specific clothing that was designed to accommodate my growing bump while everything else stayed [mostly] the same size.
But for those who can make larger regular clothes work for them, they are able to save money this way. Normal clothes are usually cheaper than maternity clothes, so you can keep your costs down this way.
First Trimester – Early Tricks
So you've found out you are pregnant – congratulations!
In the very early weeks, your body won't look noticeably pregnant yet, although you might be noticing changes already.
Even though it can take a while to develop a noticeable baby bump, physical changes start to happen pretty quickly.
Bloating can make your pants feel tight very early on, although it's not due to your tiny baby yet; it's usually water weight from hormonal changes.
And you might notice your bra feels tighter in the early days too.
So, what should you do in these early days in order to accommodate these changes?
Tip #1 – Wear Your Looser Clothing
In the early days when you start to notice a little bloat happening, you don't need to go out and buy maternity clothing right away.
Simply wearing the roomier, looser clothing in your closet can keep you feeling comfortable.
Tip #2 – Unbutton Your Pants
Usually, you will notice the tightness first in your waistband. At least, I did.
My pants started to feel uncomfortably snug well before I was ready for maternity jeans of any kind.
I used two tricks in the early days that allowed me to unbutton my pants and still be discrete about it.
#1 – Unbutton and wear a loose belt
What I did most often in the first trimester was to unbutton the top button on my pants, and then wear a belt but on the loosest hole.
This kept the undone button hidden, and helped make sure my pants didn't fall down. But the loose belt didn't squeeze me too tightly either.
#2 – The elastic hair-tie trick
This trick can help you get a little more life out of your regular pants, even after you get too big to wear your belts on the loosest setting.
Here is a tutorial of how to use a simply hair elastic or rubber band to make sure your pants stay up but add extra room.
Tip #3 – Wear a Size Up 
I mentioned this tip already, and how it works for some people but not others.
In the early stages when you have more of the pregnancy bloat, or maybe a small bump, but not a distinct bump yet, wearing clothing a size larger can be very effective.
For me, I had two pairs of jeans in my closet that were too big for me to wear on a normal basis. I honestly thought I had donated them during one of my frequent closet purges, but I was happily surprised when I discovered them in the early weeks of my pregnancy.
I was even more thrilled when I realized that the extra room was perfect for accommodating my early baby bump, giving me two pants to wear when I got too big for the tricks above to work anymore.
I was able to wear the two larger sized non-maternity jeans for at least a month or two before I needed to buy official maternity jeans.
Tip #4 – Use a Belly Band
There is a product you can buy, or you can make your own using a tutorial online, that is designed to cover your unbuttoned and unzipped regular jeans, allowing you to wear them during your pregnancy without fear of them falling down or showing something you don't want people to see.
It's called a belly band, and there are a few different brands out there.
The BellaBand is one of the most common. It can be bought online from Amazon, or my local Target carries them as well.
They come in different colors, and are made to look like the bottom of a tank top when you wear a shirt over them.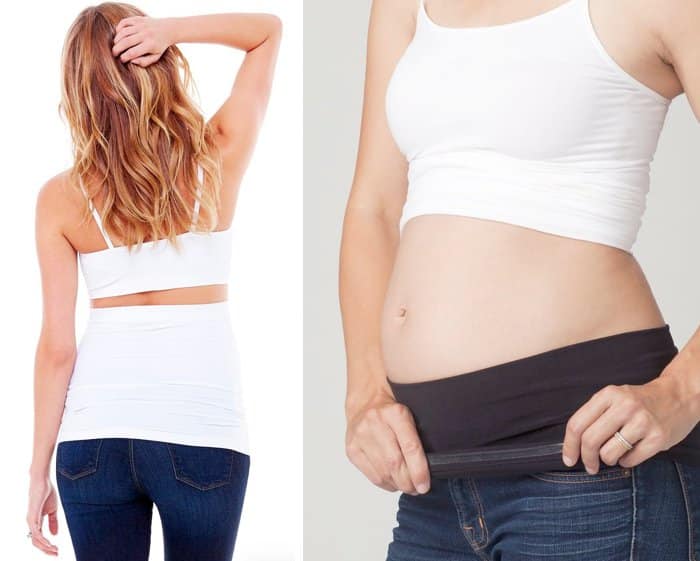 Personally, I tried to use and love the BellaBand, but I always felt like I was mooning the people behind me when I would sit down. I wasn't at all; it just felt breezy back there to me.
Because the bands are pretty cheap, I think they're worth a try. Many people love them and swear by them. It's worth figuring out if they'll work for you or not.
If they do work for you, they can allow you to wear your normal bottoms well into your pregnancy, and can also help you get back into your regular pants after delivery too, when you might be too small for maternity jeans but your regular pants are still a little too snug.
Maternity Pants
If you're like me, after a while, all those early tricks will not be enough to accommodate your growing belly.
When that time comes, it's time for maternity pants.
For the same of simplicity, I'm going to say "pants" but these are also available for leggings, shorts and skirts too. I was pregnant mostly in the fall/winter so I didn't buy any maternity warm-weather clothing.
Types of Maternity Pants:
There are several different styles of maternity pants to choose from.
This page from the Old Navy website shows the different options they sell, and explains a little about each.
#1 – Low Panel Maternity Jeans
I'm going to share my two favorite options for maternity jeans. Keep in mind that this is a huge personal preference, and it's well worth trying the options out for yourself.
This photo below is of a style known as low panel maternity jeans. It has a wide, elastic waistband that is made to sit below your belly.
In the middle stage of my pregnancy [up until about 30-31 weeks for me], these were my favorite pants.
I didn't like things touching my stomach too much early on because it sometimes made me feel nauseous or hot. I liked how this band sat below my belly and made me feel like I was wearing regular pants for the most part.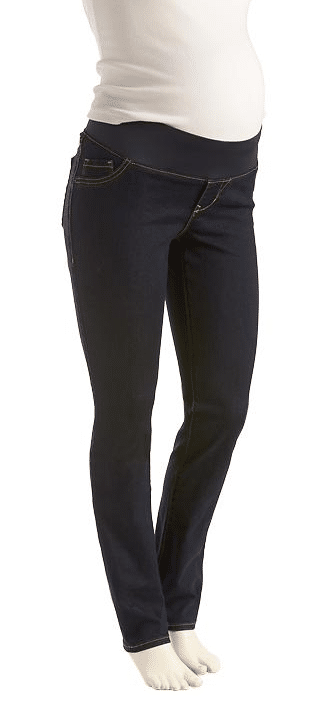 However, as my belly grew, a time came where that low band started to put too much pressure on my lower stomach when I wore them.
They started to hurt, actually.
And as my belly grew, some of my shirts started to get a little short, and the low band wasn't enough to keep my skin fully covered. Sometimes, I'd inadvertently flash some belly.
#2 – Full Panel Maternity Jeans
That's where full panel maternity jeans came in for me.
These pants aren't the cutest thing ever when you first see them. I laughed at the big elastic panel when I bought my first pair. They're very stereotypically "maternity."
But as my belly grew, I came to LOVE these full panel pants.
The band is meant to be worn just like the photo below; pulled up high over your belly. This allows the pants to stay up and in place, no matter how big your belly is.
The panel is soft and comfortable, and doesn't dig in anywhere. Once I passed the phase where they made me feel constricted and a little nauseous, the full panel didn't bother me at all anymore.
The other benefit is that the panel adds additional coverage of the belly to combat any shirts that might be getting a little short in late pregnancy. I am able to wear shirts without wondering if I'm going to accidentally expose my belly to someone in the store when I'm bending or reaching for something.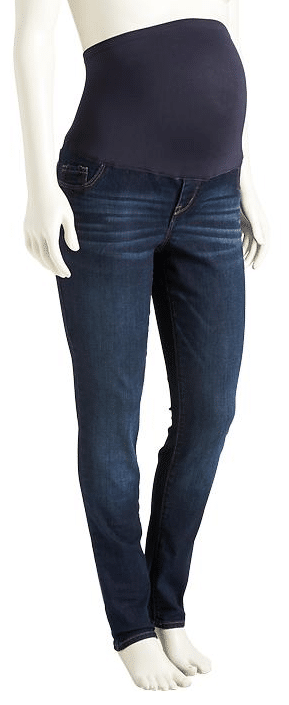 There are other options as well, but these were my two favorites.
I bought two pairs of low panel jeans and two pairs of full panel jeans, as well as one pair of full panel leggings and I've been alternating between them. I retired the low panels once they started to hurt, and have been wearing the full panel options exclusively now that I'm nearly due.
Try out the different options to see what you prefer. You might find you like one or the other right from the beginning, or you might be like me and need different options for different parts of your pregnancy.
Maternity Bras
For some people, the increased bra size common with pregnancy is annoying. For others, it's a bonus.
Either way, you will probably find yourself needing a larger bra to wear during pregnancy.
And if you plan to nurse, you might want to consider a nursing bra to make feeding more convenient.
I will admit that I'm extremely picky with how things fit. I don't know if I've always been this way or if pregnancy made me this way.
But I have bought and hated at least 2 bras from Target during my pregnancy.
I would buy one, try it for a few days and find something wrong with it. Too tight here. Pulls up here. Stabs me and is itchy here.
As I got further along, I started looking at nursing bra options as well, and finally, I ordered some bras from Amazon of all places. [I don't know why but ordering bras from Amazon seemed hilarious to me.]
I had read to avoid underwire in nursing bras, and I wanted something that would allow me some flexibility on sizing because I didn't know how big I really was or would get.
I have surprisingly found what are, in my humble opinion, the BEST BRAS EVER on Amazon. They come in a three pack of different colors, and are non-wire nursing bras.
I've been wearing them nonstop since I ordered them.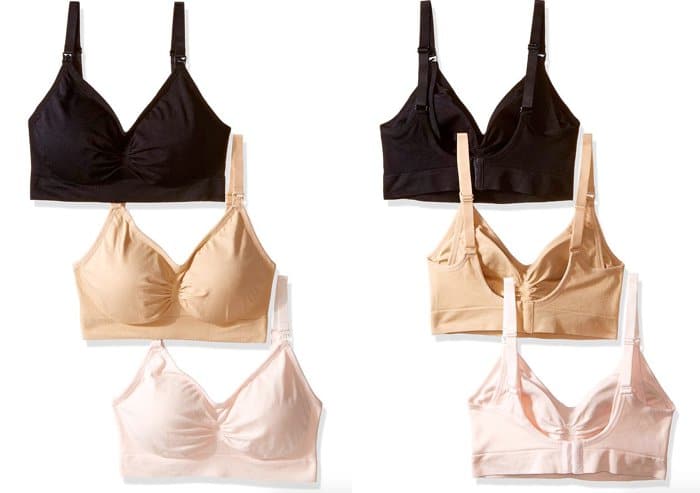 The other benefit of them, aside from being stretchy and extremely comfortable, is that they have removable cup pads in them.
For me, this is an added bonus because it helps camouflage the somewhat obvious signs of wearing nursing pads in your bra.
The three pack I bought are stretching with me as I complete these last few weeks of pregnancy, and I will be able to use the adjustable hooks in the back to tighten them up as my ribcage shrinks after delivery. If the ones I bought get too big in the weeks and months ahead, I'll happily buy another pack because they are really affordable too.
I'm sold!
Maternity Shirts
Now that we've covered some tricks to extend the life of your current wardrobe, and especially your regular bottoms, as well as taken a look at the different options for maternity pants [or shorts/skirts if you are pregnant in a warmer season], let's look at maternity tops.
There are TONS of styles and options of maternity tops.
Some are made to be drapey and flowy, and NOT cling to the body.
Others are made to stretch and cling to the body and show off your baby bump.
You can buy tank tops, t-shirts, long sleeved shirts and sweaters in all of these styles.
In order to create a versatile yet compact maternity wardrobe, I recommend buying a couple of options in whatever style you like best, and then accessorize to change their look.
My Favorite Maternity Shirts:
One of my all time favorite maternity shirts was a solid black, three-quarter length shirt with some stretch. It has ruched sides and fits tight to my body. It's a decently thick material without being too hot. [This is the first Minnesota winter where I haven't been freezing and needing 2-3 layers to stay warm.]
This shirt has been one of the core staples of my winter maternity wardrobe.
The added bonus, especially in the last few weeks when my full term belly has gotten BIG, is that the black is slimming. People always comment on how small I look when I wear this shirt. Not so true with some of the other pieces I have haha.
By accessorizing with jewelry or scarves, or adding a sweater or cardigan [that doesn't have to be maternity since it's not being buttoned or zipped], I can change the look of my outfit while still wearing the same base maternity piece.
Here were three different looks from our maternity photo session, using the same black maternity shirt as the base.
By itself with just a scarf: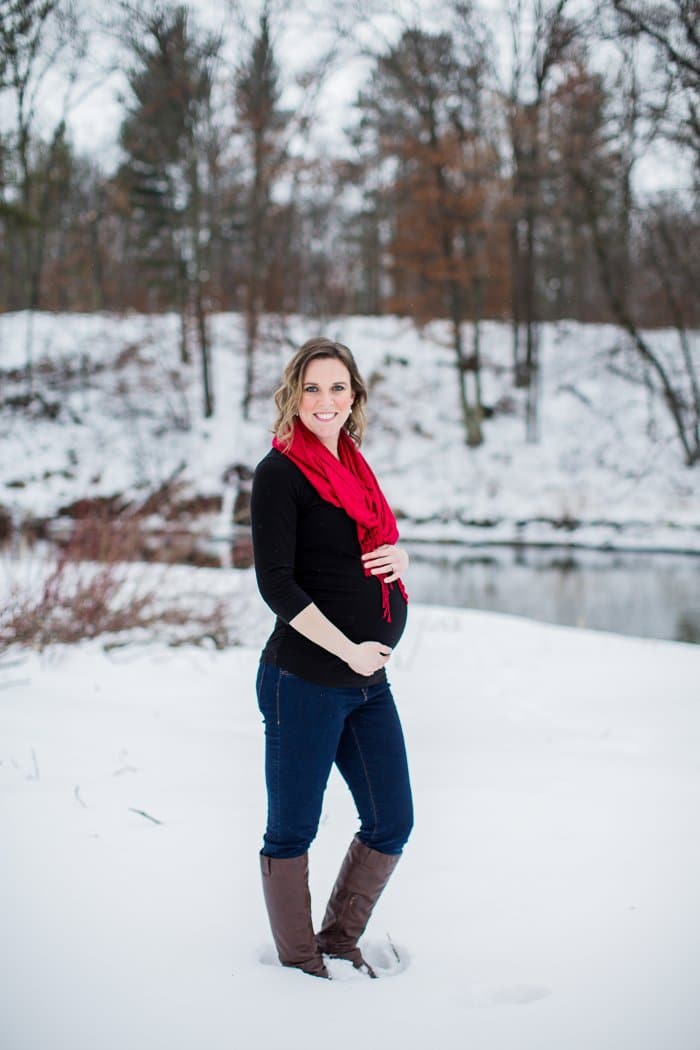 Layered with a lightweight non-maternity, loose sweater: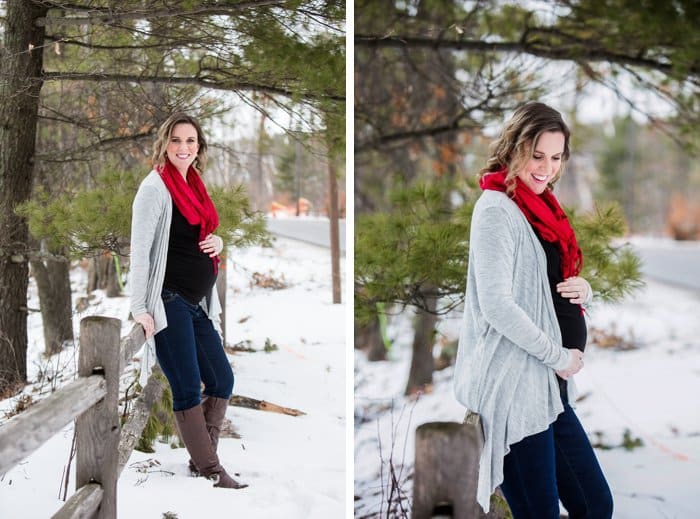 Layered with another lightweight, non-maternity, loose sweater and a different scarf: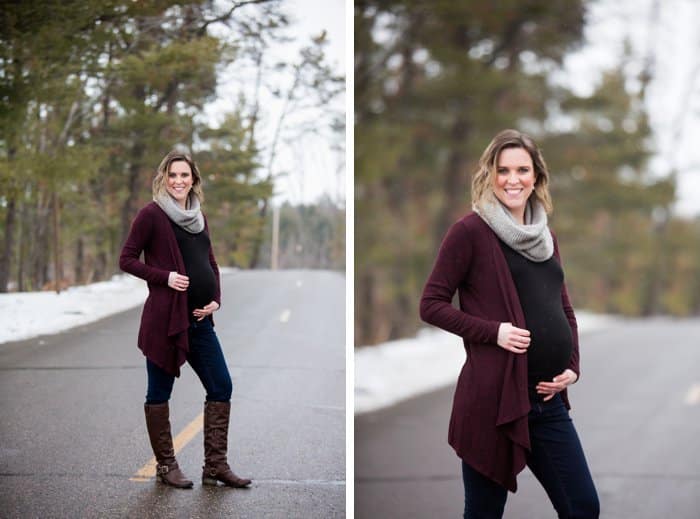 I was able to change the look of my outfit just by adding different non-maternity pieces and accessories to the same black maternity shirt.
I've worn this shirt at least once a week my entire pregnancy, but let's be honest – probably more often than that!
– – – – –
The next two shirts are my other favorites from this pregnancy.
They are actually the same shirt, in different colors. I bought them at Kohls in their tiny maternity section, and they were on sale at the time. Score!
They are similar in feel and style to the black shirt I talked about above, but they are striped and have decorative lace patches on the front of the shoulders.
I love the stripes, I love the lace, and I love the side ruching as well as the long length of the shirts.
They worked well when I had a small bump, and they continue to fit well on my full term belly too.
I have worn them both A LOT this pregnancy, as shown by the number of photos I have of me wearing them.
I wore the blue one on Thanksgiving: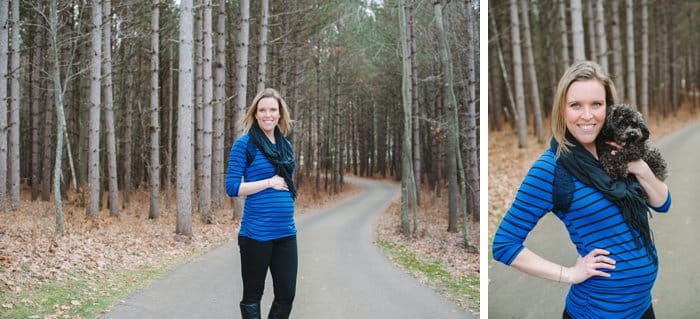 And I wore the cream one at Christmas: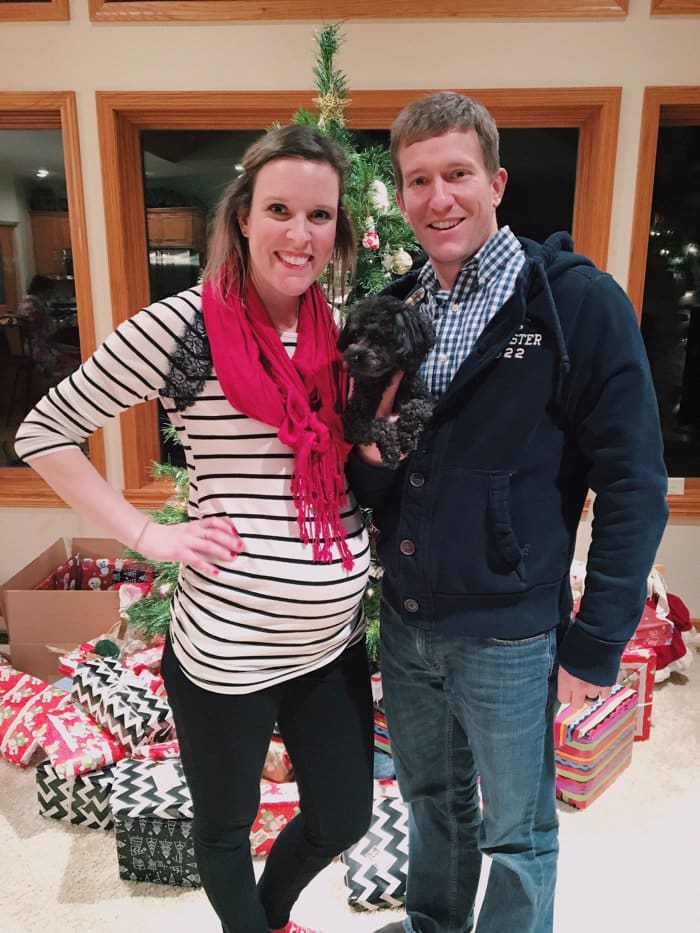 I also had a couple of sweaters that I wore and liked during this pregnancy as well. They were form-fitting and helped show off my bump. They were also very comfortable and no-fuss pieces too.
They also both happened to be pieces loaned to me by my friend, which was a bonus!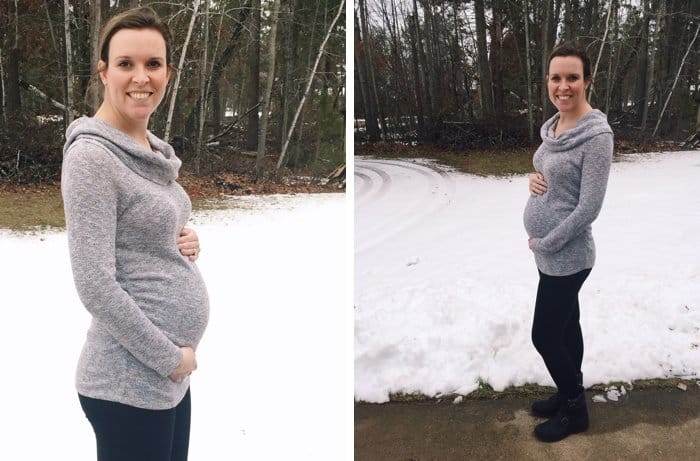 This next navy and white striped sweater was another of my all time favorite things I wore often during my pregnancy. I loved how it fit, and I loved how long it was. It made me feel good when I wore it.
I also loved the colors and actually incorporated some of that color pallet into our nursery.
I wore it for the other half of our maternity photo session because I love it so much!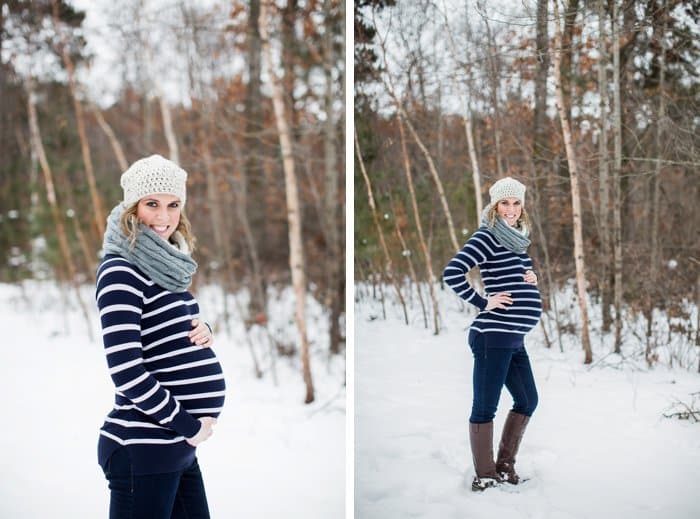 I just changed my hat to add a little variety in this next sequence of photos.
My new favorite color combination is navy and mustard now!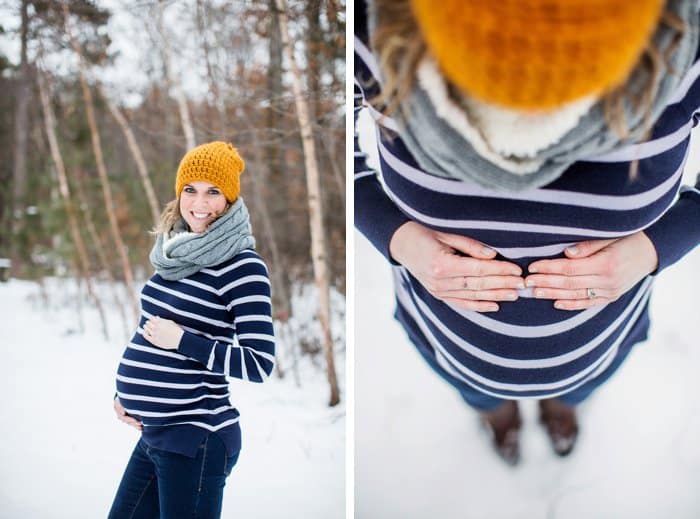 I am honestly going to miss wearing these shirts when I can go back to my pre-pregnancy wardrobe.
– – – – –
Like I mentioned before, there are lots of different styles of maternity tops, from fitted to flowy. Like most things, it's a personal preference as to what you prefer and what you feel most comfortable in.
For me, I much preferred wearing form-fitting tops during this pregnancy.
One reason was that every time I tried on something that fit looser, I felt bigger. Wearing form-fitting clothing helped me feel like I was defining my bump and still looking proportional in the rest of my body.
The second reason I loved form-fitting clothing this whole pregnancy is that there is no reason to suck in at all anymore! That might sound silly to some people, but this is the first time in my life that I haven't given a bit of thought to whether my abs were flat or not.
Instead, I've embraced my bump and have worn shirts that hugged it on purpose. It's been liberating and freeing, and also has helped me feel like I'm celebrating being pregnant too.
I was telling Matt how it'll be strange afterwards to go back to being aware of my midsection again, and how I probably will go back to favoring loose-fitting non-maternity tops again once my pregnancy is over.
For now, I've been loving these form-fitting tops that have allowed me to be clearly and unapologetically pregnant and proud of it.
Season Dependent
I mentioned before that I was pregnant during a Minnesota fall/winter, so my entire wardrobe consisted of pants [jeans and one pair of leggings] and tops.
Most of my tops were 3/4 sleeved shirts or long sleeved shirts, as well as a few sweaters, two black t-shirts and 2 tank tops that all served as base layering pieces.
I then accessorized them with non-maternity sweaters or cardigans, as well as jewelry and especially scarves. That's how I have incorporated some variety into my small maternity wardrobe.
If you are pregnant in a different season, or in another climate, you will most likely need less warm-weather clothing and more choices suitable for hot weather.
Dresses are a great warm-weather maternity option, and one that I will definitely add to my selection if my next pregnancy falls in the warmer months.
Where to Shop for Maternity Clothes
We've already touched on many of these options.
You might want to first consider looking at these options:
-Your friend's closet
-Thrift or Consignment stores
I live in a smaller town with limited shopping choices. In my town, the main places for maternity clothing were:
-Target
-Kohls
As I neared the middle of my pregnancy and the time when I needed to step more fully into maternity pants, I visited some stores in a larger city:
-Old Navy [not all have maternity sections so be sure to call ahead]
-Motherhood Maternity
I think there's a lot to be said for being able to try on maternity clothing, especially if it's your first pregnancy like this was mine. I didn't know how things fit and what I liked because I'd never worn maternity clothing before. That's why I was always a little hesitant to order online without knowing how things should and would fit.
However, now that I'm more familiar with maternity clothing, sizing, how things fit, and what I like, I would be much more apt to order online in the future. The stores listed above often have bigger selections online.
Another amazing option for maternity clothing online is called Pink Blush Maternity. They often have big sales and really cute things for all seasons. I will definitely be looking at and ordering from them if my next pregnancy spans a warmer season here in Minnesota.
The last place to consider is Amazon. Like I mentioned with the belly band and the bras, there are great things to be found there, and the reviews are always very helpful to me. Plus, they offer no-hassle returns which is a bonus when buying clothes online.
Maternity Clothes Must Haves
Each person will have a different comfort level in terms of how many pieces they feel they need in order to build a solid but minimal maternity wardrobe.
My fall/winter maternity wardrobe consisted mostly of these pieces:
For the bottoms:
2 larger sized non-maternity jeans I had in my closet already, that I wore until they got too tight
2 low panel maternity jeans, retired when my belly got too big and the bands started to hurt me
2 full panel maternity jeans, one black and one blue jeans
1 full panel leggings
For the tops:
2 maternity tank tops
2 maternity t-shirts
8-10 form-fitting maternity shirts in black and various colored stripes and solids
2 maternity sweaters
I layered and accessorized my tops with non-maternity sweaters and cardigans that didn't need to be buttoned, as well as scarves and jewelry to add interest.
I bought the three bras on Amazon that I LOVE, and those have been a blessing these last few months.
And that's pretty much it!
– – – – –
My wardrobe has been small and I am admittedly looking forward to wearing some of my old clothes again soon. I am looking forward to having more choices.
But I have loved what I have worn, and I have made the most of the small selection.
Having maternity options that make me feel pretty has gone a long way in helping me embrace and enjoy this pregnancy as well.
It truly is a magical time and should be viewed that way.
But it's also a time of dramatic changes and mixed emotions too.
If wearing a few great pieces of clothes can help you enjoy and appreciate being pregnant, I think that's an invaluable use of your money.
Happy Shopping for your maternity wardrobe essentials!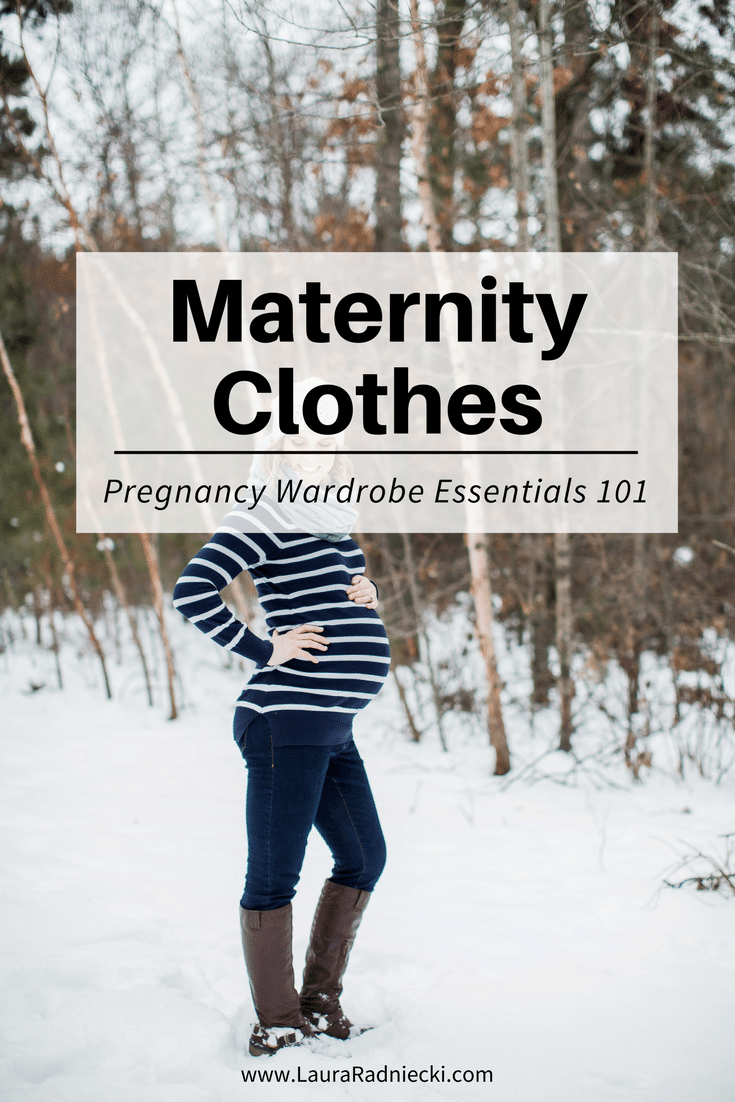 – If you liked this post, I would love if you would share it on Pinterest or Facebook. Thanks & xo! –