**These posts often contain affiliate links. Please see our disclosure policy for details.**
My book-reading goals for 2014 are:
Read 8 Business Books
Read 40 Personal Books
In March, I read 6 more books to add to my running total of 10.
Two of them were partial business, partial personal, so I'm counting all 6 as personal, fun books this month.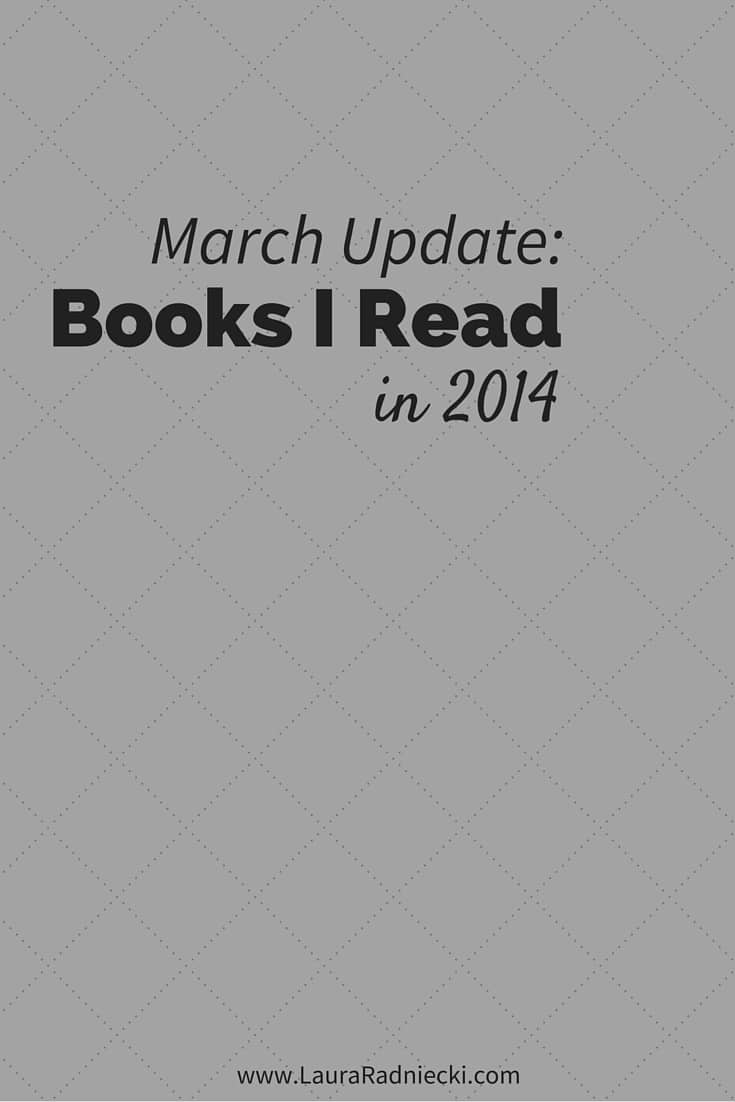 Ox-Team Days on the Oregon Trail by Ezra Meeker and Howard Driggs –
This was our Book Club book for the month. It was an ebook I read on my iPad, and it was written in the 1920's by Howard Driggs. Ezra Meeker was a pioneer who traveled from the midwest to Oregon on the Oregon Trail in the 1850's. In 1920, he was in his early 90's and he told his stories of the Oregon Trail to Howard Driggs and Driggs wrote them down and published them.
My experience and knowledge of the Oregon Trail is summed up from what I remember from playing the game on the computer in elementary school. [Jimmy dies of dysentary.] At first, this book was hard for me to read because it's really just Ezra talking through his memories and telling stories. Kind of scattered and rambling. But the more I read, the more fascinated I became.
Seeing the original Oregon Trail is now on my bucket list of things I want to do in my life!
This is a book that's been around a long time and I've always wanted to read it. I got it from a fellow book club member who was cleaning out her book shelves. Score!
We could have a huge, long discussion about The Secret, and I'm well aware that many people feel you can't be a Christian and believe in The Secret too. I don't feel that they are mutually exclusive. I really do believe in the power of attraction, and in the power of the mind, and I don't think that makes me love God less.
I'm fascinated by this book and by the movie on Netflix.
There is Nothing Wrong with You by Cheri Huber –
This book was a recommendation that I put on my amazon wish list and bought a while back. It's a very unique book and one that was a little hard for me to follow at times. But for people who have struggles with self-doubt, perfectionism, a high level of self-critique etc, it is a very valuable read.
Rising Tides by Nora Roberts –
This is book #2 in the Chesapeake Bay series by Nora Roberts that I started in February. This book was centered around Ethan, one of the Quinn brothers.
I LOVED it! I devoured it and read it quickly.
Inner Harbor by Nora Roberts –
Book #3 in the Chesapeake Bay series. This time, it's Phillip's story! Again – adored it!
I started to feel sad while I was reading this book, knowing I had only one more book in this Quinn Brothers series! I wanted it to go on forever.
Chesapeake Blue by Nora Roberts –
Book #4 in the Chesapeake Bay series, and this is Seth's story.
Good grief, I loved this quartet series SO MUCH. I want to buy them, and that's saying a lot because I don't buy books often. I don't reread books much. I want to reread these books. I feel like I know the Quinns, and we could be next door neighbors. So, so good.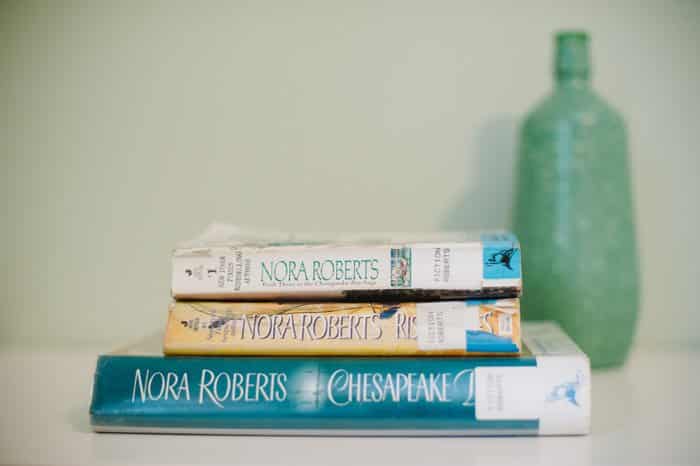 After adding these 6 books to my running total, I've now read 16 books this year:
Business Books – 3
Personal For Fun Books –13
Up next, I have Book #3 in the Divergent series, Allegiant, as well as another book from my friend, Ellen. I'm finishing up a business book about social media right now, and I'll move onto those fiction books.
Are there any Nora Roberts readers out there? Are all of her series as engaging and incredible as this Chesapeake Bay series and The Bride Quartet series which I loved too? Maybe that's her gift – writing books that suck in readers like me and make the characters feel like your BFFs.
Any other Nora Roberts books I simply must add to my list? I know she's written hundreds, so I'd love to hear your favorites!