**These posts often contain affiliate links. Please see our disclosure policy for details.**
This month, Babies R Us and Nuby are having a joint promotion called M is for Mealtime.
It focuses on all aspects of feeding for babies, toddlers and beyond, with the focus on making mealtime as easy and fun as possible.
Now that Raleigh is nearing a year old [what?!?!] and eats lots of table foods, our dinnertime routine is getting more fun by the week.
A New Dinnertime Routine
Before Raleigh was born, Matt and I ate dinner together on the couch 99.95% of the time. We've been doing this for the majority of our married life.
We always knew that once we had kids, we wanted to start having family dinners at the table. I have so many memories of family dinners growing up and I wanted my kids to have them too.
We didn't start meals at the table until Raleigh was old enough to be in the high chair, at the table with us. But once he was old enough for the high chair, we started to create a new habit.
Life is nuts right now, and with Raleigh's early bedtime schedule now that we worked through sleep training, Matt often isn't home yet when Raleigh and I eat dinner.
So when he is home, we make sure to eat together at the table, continuing to build a new habit that we hope will continue and become a cornerstone of Raleigh's childhood memories.
M is for Mealtime
As part of the Babies R Us and Nuby M is for Mealtime in March promotion, we are sharing a few of our favorite Nuby mealtime products today.
The first is the oval Miracle Mat which I talked about last week.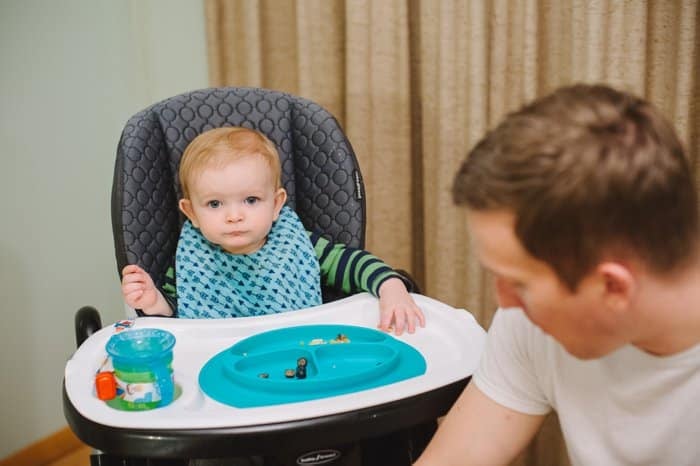 It is a non-skid, 100% silicone plate and placemat in one, and it's dishwasher safe and BPA free. I love that it has three food compartments because it encourages me to give Raleigh three different food options for each meal.
Babies R Us sells it here.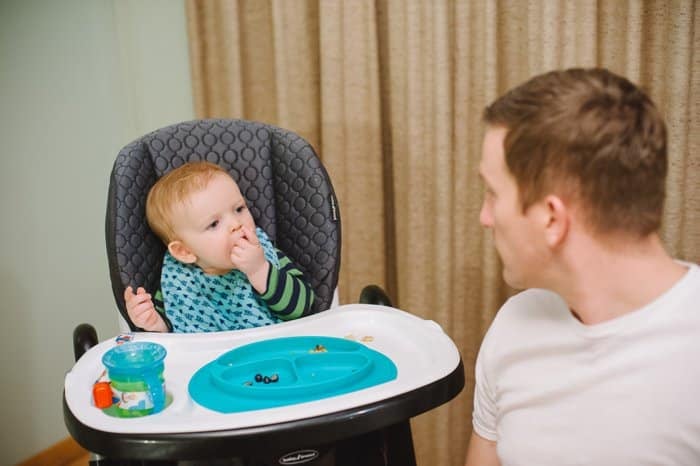 Next is the Nuby No Spill Twin Handle 360 Wonder Cup.
We have been using a variety of sippy cups with Raleigh over the past few months. Lately, he started to play a game where he would intentionally fill his mouth with water by biting the spout and then pull it out quick, letting all the water drain down his face.
We decided to try the Wonder Cup stage of our 6 Stage Bottle System from Nuby, and that seemed to work better for him.
This 360 Wonder Cup has twin handles which makes it a good middle option between a regular sippy cup with a spout and a Wonder Cup without any handles.
The pieces of the lid all come apart and are easy to clean. I have a dishwasher basket that goes on the top rack and lets me safely wash small parts like this.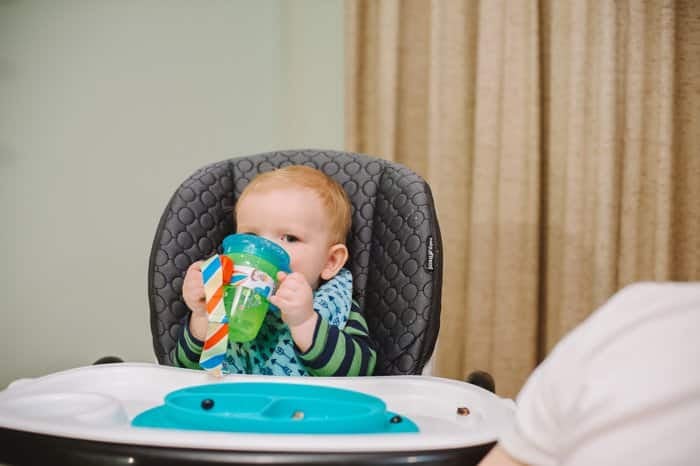 Besides letting water run out of his mouth, Raleigh's second favorite sippy cup hobby is throwing it on the wood floor. Over and over again.
He has already broke two cups with this hobby.
The solution to the dropped or thrown cup is the Nuby Keepeez Adjustable Cup Strap. 
It has a push-button adjustable lock that lets you tighten it up on any sized cup. The inside of the loop that touches the cup has a rubber-like material that helps it grip the cup.
The other end has a buckle that allows you to clip it to something.
My only complaint with this strap is that it isn't very long. I can't clip it to the frame of our high chair and still have enough slack for Raleigh to get the cup to his mouth. My solution is to clip it to the shoulder straps that are beneath his bib.
It's possible that other high chairs might have a place to clip it to that is closer to where the baby sits.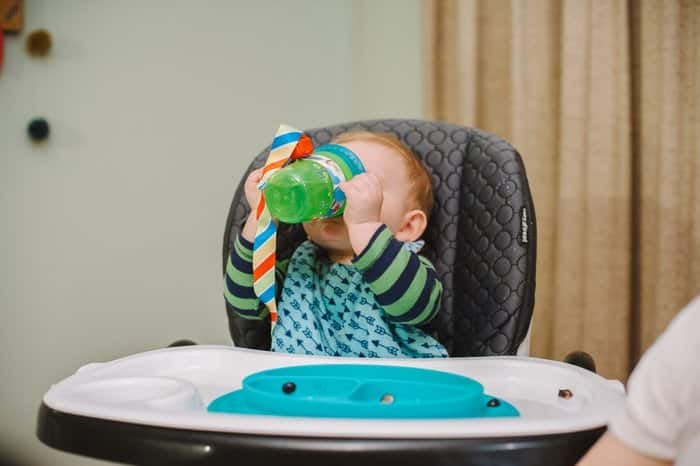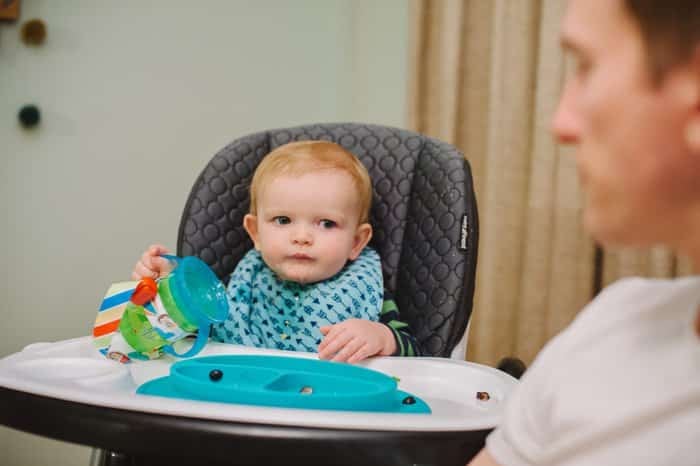 Raleigh's dessert was strawberries inside a Nuby Garden Fresh Nibbler. 
The concept of these Nibblers is awesome. It gives you a way to feed pieces of table food to your baby without having to worry about them choking.
We have several and have loved using them as a way to let Raleigh chew on apple chunks, or pieces of mango.
However, at this stage in Raleigh's development, he wants to pick things up and feed himself, so we ended up dumping the strawberries out onto his tray and letting him eat them that way.
But for younger babies, it's an awesome tool to have on hand, especially when they are first starting to eat pieces of table food.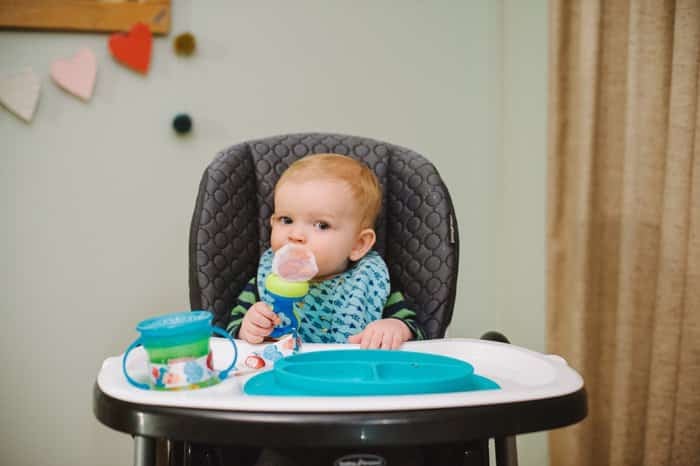 Several months ago, when I was using our other mesh feeder a lot, I tried to use it with bananas for Raleigh. It turned into a huge mess and never quite came clean.
I'm not sure if it's because those feeders were all one piece; you couldn't take them apart at all.
With this Nuby Garden Fresh Nibbler, the blue part unscrews from the green cap and the mesh part. Then, you can pop the mesh out of the green cap, so you are able to fully clean every nook and cranny. The downside to this is more pieces to keep track of, but the pro of being able to thoroughly clean it far outweighs the con.
It also comes with a clear cover so you could load it with fruit and take it with you as you go out.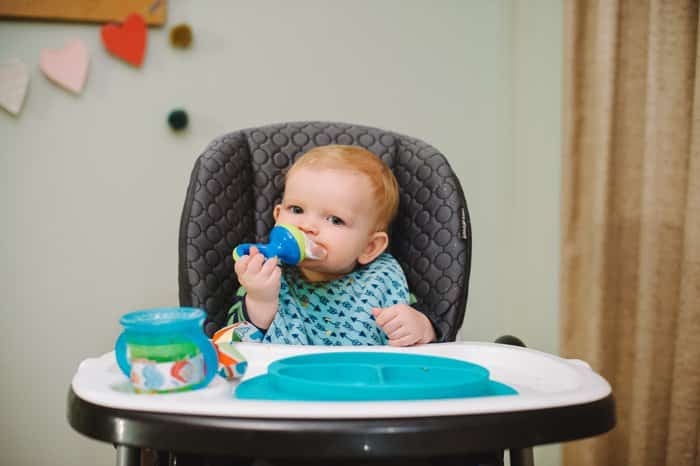 Raleigh, I hope you grow up enjoying and remembering fondly the family dinners we will have at the kitchen table together!
As part of the Nuby and Babies R Us M is for Mealtime in March campaign, Babies R Us is having sales on many of their mealtime products this month.
Buy More, Save More Sale! Great savings on Nuby infant & toddler feeding products at Babies R' Us stores & online. http://bit.ly/2mvCGgL
Buy 1 Get 10% off 
Buy 2 get 20% off 
Buy 3 or more get 30% off 
Sale includes bottles, cups, mealtime, bottle accessories, & bottle dish soap
Sale dates: 3/2-3/26.  Promotion details: http://bit.ly/2lNZmEJ
Win a Nuby Oval Miracle Mat
In honor of the Nuby and Babies R Us M is for Mealtime in March campaign, and because I'm obsessed with our oval Miracle Mat, I am giving one away over on Instagram! Come on over to enter to win one!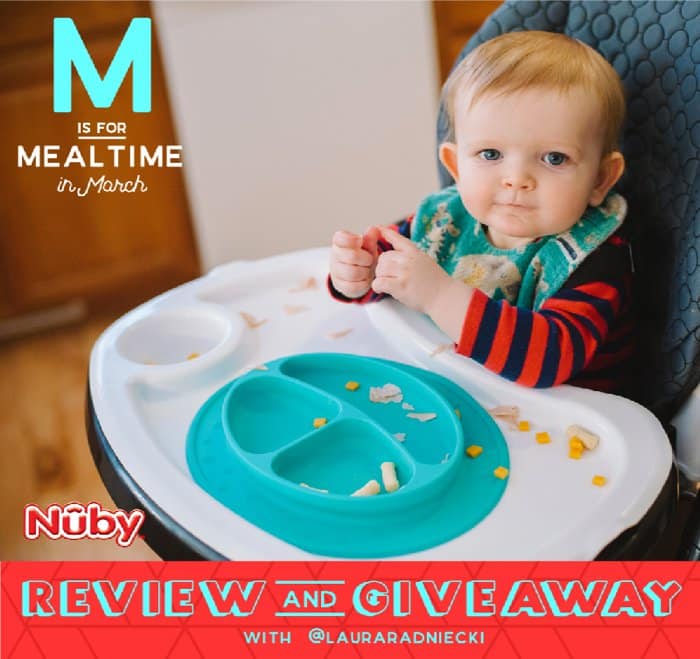 A big thank you to Nuby for providing these products to us to test and review!