**These posts often contain affiliate links. Please see our disclosure policy for details.**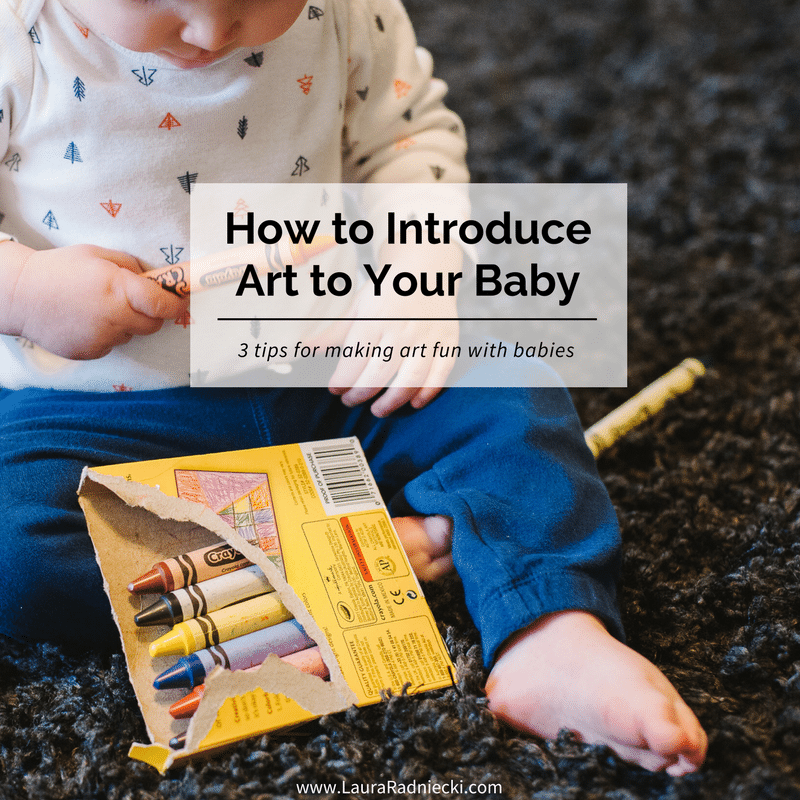 I have been creating things since I was little. Arts and crafts, writing stories, putting on plays – I have tried and loved it all.
So when I pictured having a baby and raising my child, art has always been part of my daydreams. I pictured us doing art projects together; making things just like I did with my dad.
I know not all kids end up interested in art. Maybe Raleigh won't enjoy making things.
However, I wanted to make sure I expose him to art while he is young, in hopes of possibly cultivating an interest in it.
I started wondering, how do you introduce art to a baby? When is the right time? How early is too early?
Through some trial and error, we have begun our introduction to the world of art with crayons and paper.
The following three tips can help babies become exposed to art in a low pressure, fun way, giving them the opportunity to experience and enjoy creating things.
How to Introduce Art to Your Baby | Art for Babies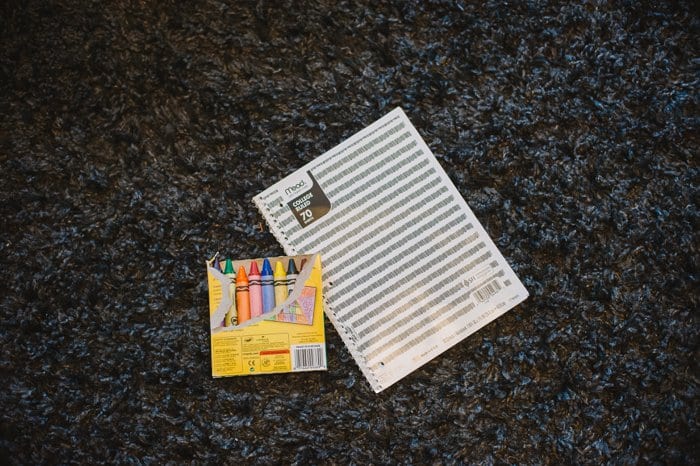 #1 – Lower Your Expectations
First, it's important that you lower your expectations.
This is the most important thing to remember when talking about babies and art.
I realize Pinterest is full of perfect artwork supposedly "made by babies." But the reality is if we expect perfect artwork from our babies, we will be sorely disappointed.
Heck, if I've learned anything from my own experiences with Pinterest projects, it's that if I expect perfection from myself, I'm usually sorely disappointed. [A good lesson to remember!]
I am Type A and I often battle perfectionist tendencies, so it's sometimes hard for me to lower my expectations.
When I first started introducing crayons and the concept of coloring to Raleigh, I had visions of papers with cute scribbles on them taped to the walls of my house.
Instead, the reality of our coloring sessions so far have mostly involved the crayons being used as drumsticks, and chew toys.
My instincts are to get frustrated and try to pressure him to make scribbles on paper. But then I remind myself to lower my expectations, and let him explore as he pleases. The scribbling will come.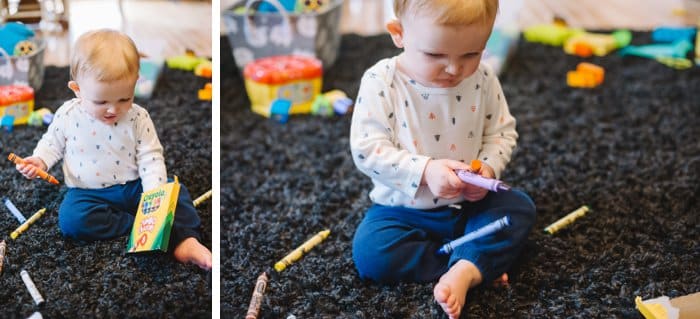 #2 – Practice Often
Second, provide plenty of opportunities for your baby to practice often.
The first few times I showed Raleigh our coloring supplies (Jumbo Crayola Crayons, and a spiral notebook) his main goal was to taste all of the crayons.
He quickly zeroed in on his favorite colors, purple and orange.
I drew lots pictures for him to show what coloring is. But all he wanted to do was taste the crayons, and use them as drumsticks.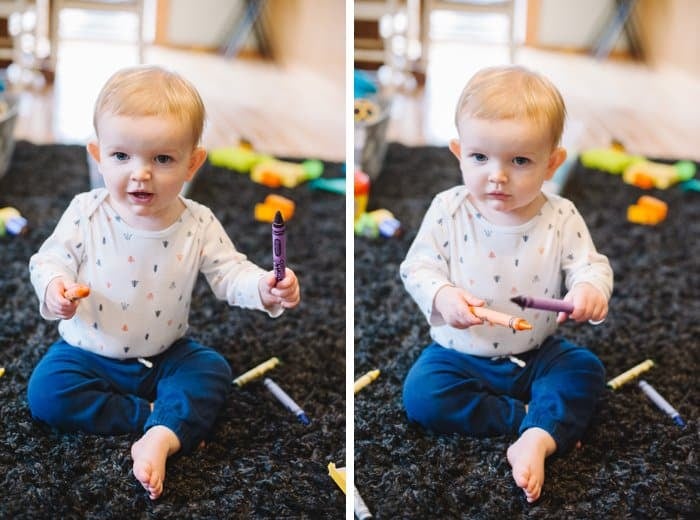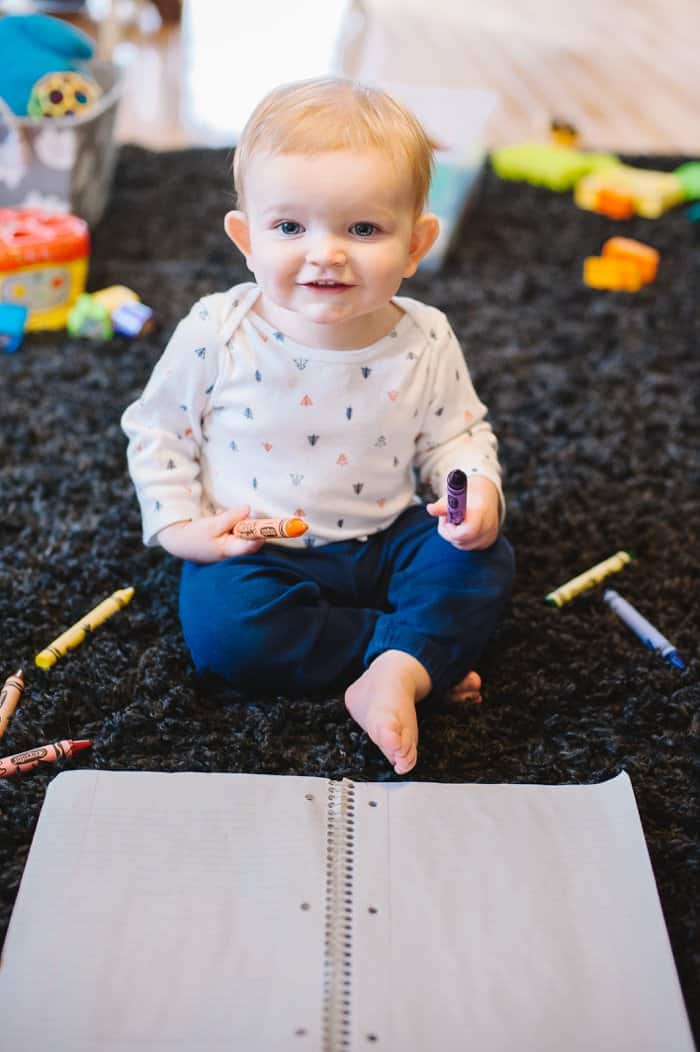 After many 3-5 minutes coloring sessions with the crayons and paper, Raleigh scribbled his first line in the notebook.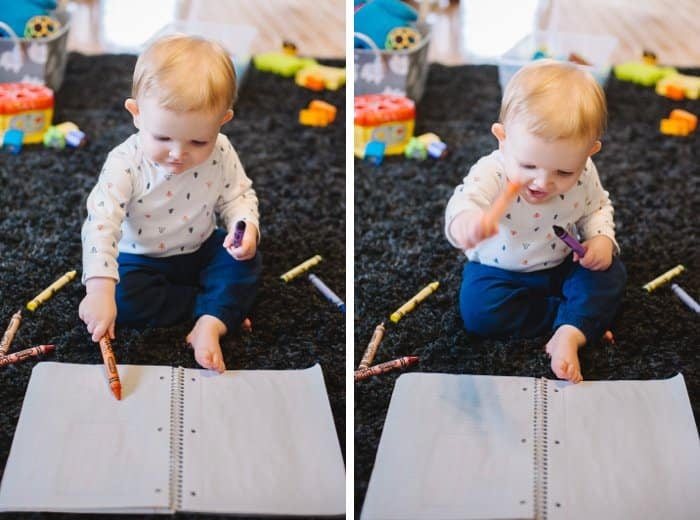 And then, he went back to using the crayon as a drumstick.
The more he is able to play with the crayons and watch me color with them, the more familiar with the concept of drawing and coloring he will become.
My job is to give him plenty of opportunities to practice.
#3 – Have Fun
Lastly, the whole point of art is to have fun, right?
Teaching a baby how to draw with crayons requires patience and perspective.
A framable masterpiece to hang in your living room likely won't be the result of your coloring sessions for awhile. And that's ok.
Keep trying. Let your baby know art is fun! Eventually, they will learn to put crayon to paper.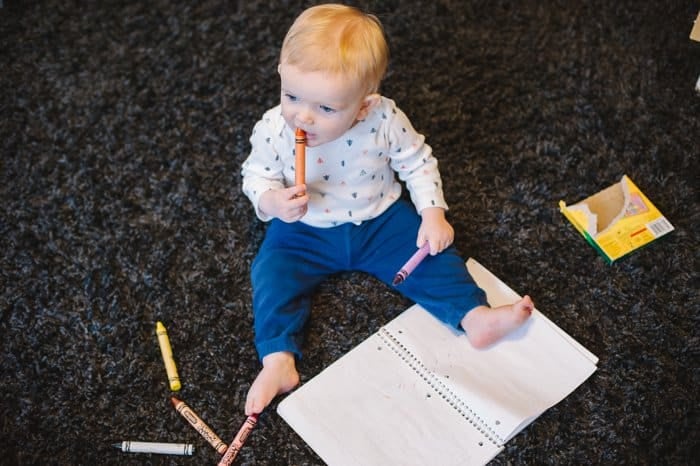 And when the crayons stop being interesting [3-5 minutes max in our case], put things away and move on to another activity.
Bring them out again another day.
– – – – – –
If you are a creative person who enjoys making things, it's normal to hope your baby learns to enjoy creating too.
By lowering your expectations, practicing often and having fun while doing it, you can introduce art to your baby in a low pressure way that makes it enjoyable for everyone!
And soon, you will have a cute scribble masterpiece to tape to your kitchen wall.
I can't wait for my first one.