**These posts often contain affiliate links. Please see our disclosure policy for details.**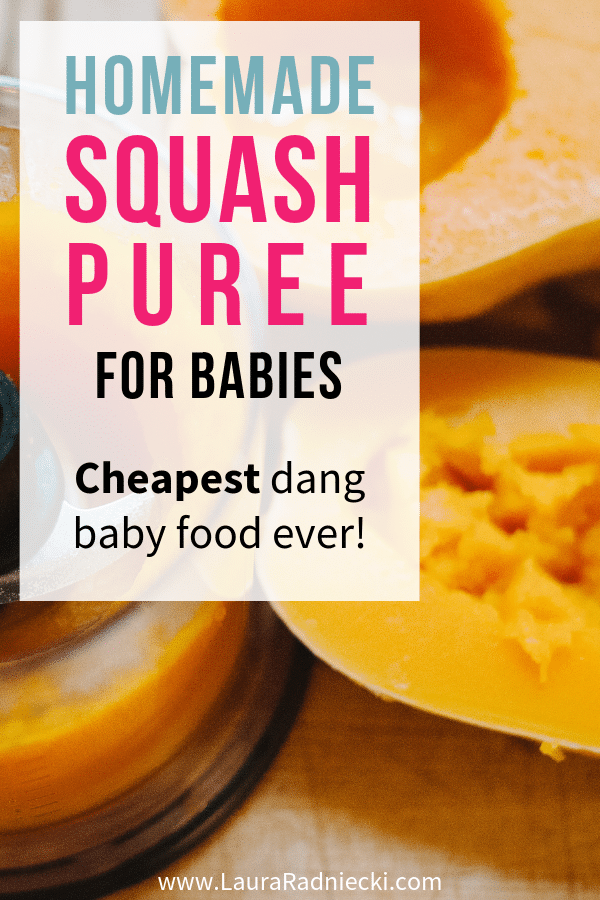 Making homemade baby food is surprisingly easy, fast and fun.
At least, it is to me. I typically don't love cooking, but I find it enjoyable and satisfying to make batches of homemade baby food.
Aside from sweet potatoes and prunes, pureed squash is one of Raleigh's all time favorites.
Making homemade squash puree is simple and easy, and it yields lots of servings, so it is affordable too!
How to Make Squash Puree
Step 1: Microwave whole squash for 2 minutes.
This makes it way easier to cut in half. Otherwise, the squash is really, really hard.
Step 2: Cut squash in half.

Step 3: Scoop out the seeds.

Step 4: Place squash cut-side down in a baking dish, and add 1-2 inches of water.

Step 5: Bake for 40 minutes in a 400 degree oven, or until the skin gets dark and puckered.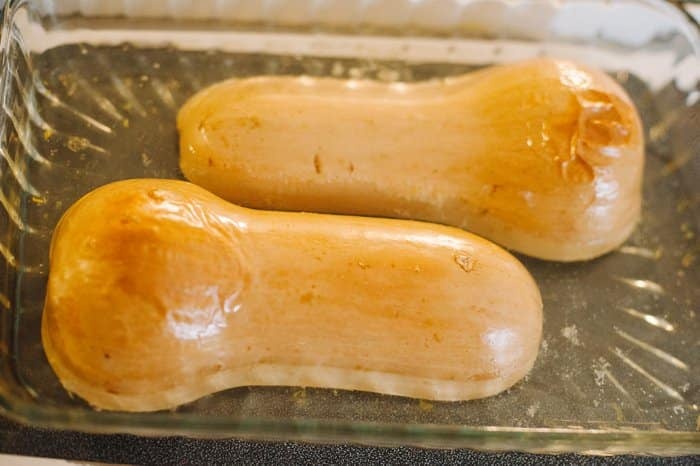 Step 6: Scoop soft squash into food processor or blender.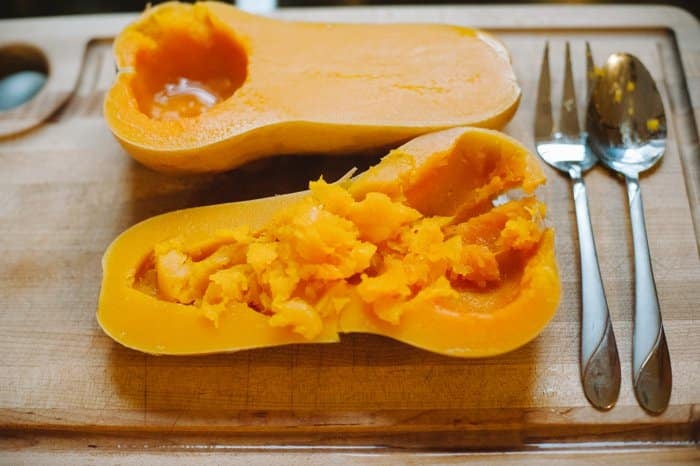 Step 7: Puree until smooth.
The inside of the squash will be very soft if it's been cooked long enough.
For older babies who can handle some texture, pureeing might not even be necessary. It is so soft after baking that it can be mashed with a fork.
However, for young babies, pureeing helps eliminate the stringy texture common to squash, and makes it easy to eat and swallow.
Also, because there is already so much water in the squash, I never needed to add additional liquid. If you prefer, you can add breastmilk, formula or water if you want to make your puree thinner.
Step 8: Freeze puree using freezer method of choice.
Any of the 6 common freezer methods will work with squash puree.

Step 9: Put frozen puree servings into freezer bags and label.

– – – – –
Pureed squash is a fantastic homemade baby food option, both in the early days when you are first introducing solids to your baby, and later when you might mix different foods together.
It's sweet, tasty, and very easy to make.
Have you made homemade squash puree before?