**These posts often contain affiliate links. Please see our disclosure policy for details.**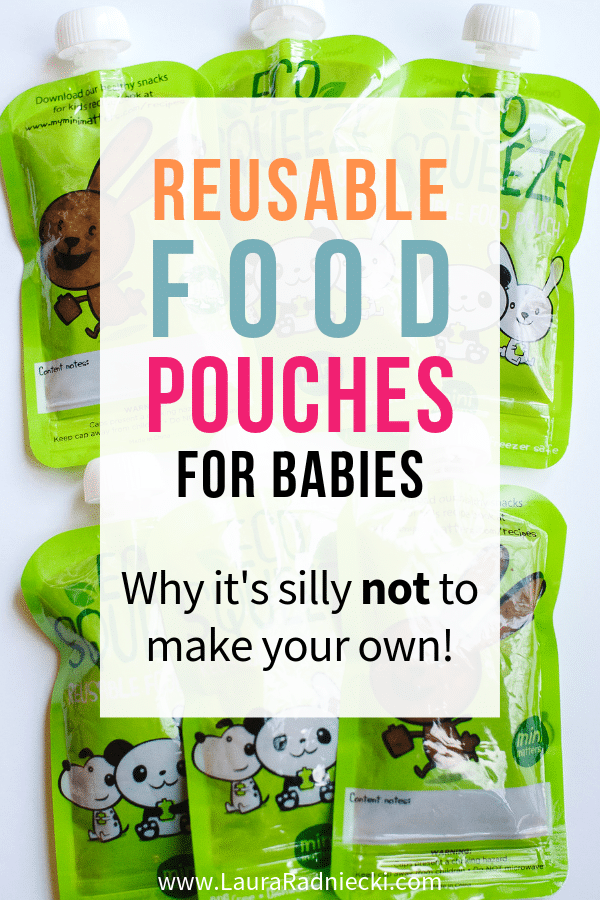 A walk through the baby food aisle reveals dozens of varieties of baby food pouches. Some are all fruit, some all veggies, and many a combination of the two. Not only are the pouches tasty, they are a convenient, portable way to feed babies and toddlers on the go.
The downside to buying single-use pouches at the store are:
They are expensive.
They are wasteful.
Sure, one pouch isn't that expensive, but what if your child eats one pouch a day? That could easily add $50 to your monthly grocery bill, just from baby food pouches alone. The pouches are also single use, so after they're empty, they get thrown away.
There is another option.
I've written about reusable food pouches before, as one of the options for storing homemade baby food.
Like their single-use, store-bought counterparts, reusable food pouches are convenient and portable. They are also an eco-friendly, economic option for feeding purees to babies and toddlers.
Reusable Food Pouches
Reusable food pouches come in sets with pouches and caps. The set I bought on Amazon had eight in the package.
The pouches are made of flexible plastic with a plastic spout at one end, and a double zipper [like a ziploc bag] at the other end.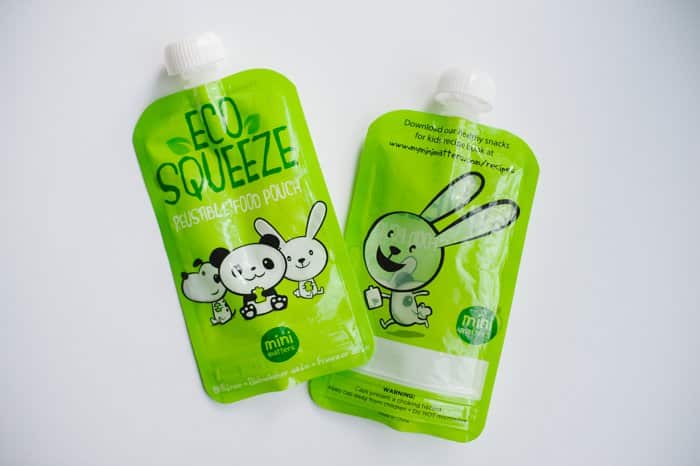 The double zipper allows the bags to be opened from the bottom so that purees and other soft foods like yogurt can be poured in and sealed up.
The zippered bottom also makes it easy to rinse out empty pouches so they can be cleaned before food has a chance to harden inside.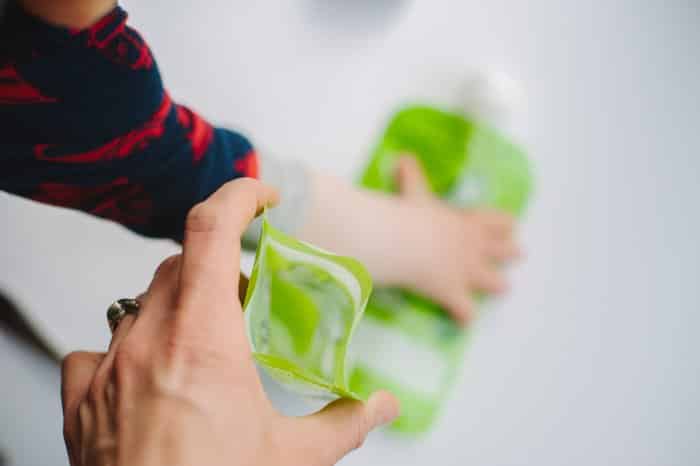 The pouches are freezer and dishwasher safe.
I was skeptical at first about putting them in the dishwasher because they are so light. They literally weigh nothing. I thought they might fly around the dishwasher and end up on the hot coils at the bottom and get ruined. But, I've been using my pouches for months now, and I wash them in the dishwasher after every use. I put them on the top rack, with the zipper part open and the spout pointing up, and I slide them onto one or two of the spikes to keep it upright and in place. I've never had a pouch move during a dishwasher cycle yet.
I have a small dishwasher basket that I put the caps in, so they don't get lost during the cycle.
How to Make Reusable Food Pouches with Homemade Baby Food
Since I began using reusable food pouches, I have primarily filled them with a mixture of store-bought unsweetened applesauce and homemade prune puree. I sometimes add pureed sweet potato too if I have some on hand.
The prune-applesauce combination is one that Raleigh seems to like, and it gives him good fiber for his digestion.
Step 1. Make the puree mixture.
I start by defrosting frozen homemade prune puree.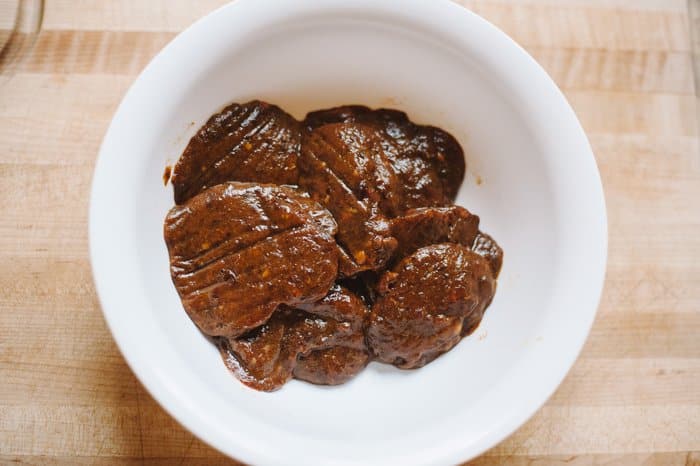 Then, I add unsweetened applesauce that I buy from the store. Even though I enjoy making my own homemade baby food, I am ok with cutting corners where I can.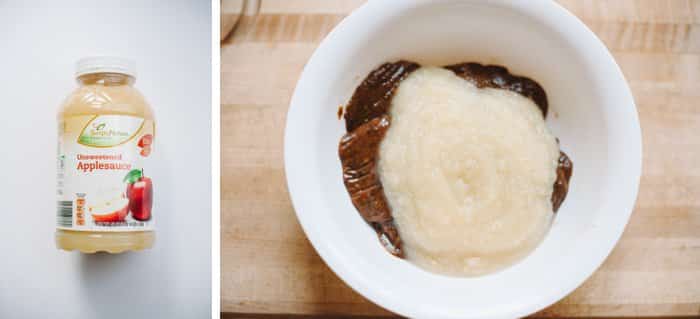 I know the mixture doesn't look the most appetizing, but according to Raleigh, it must taste better than it looks. I've tried it too and it's not bad!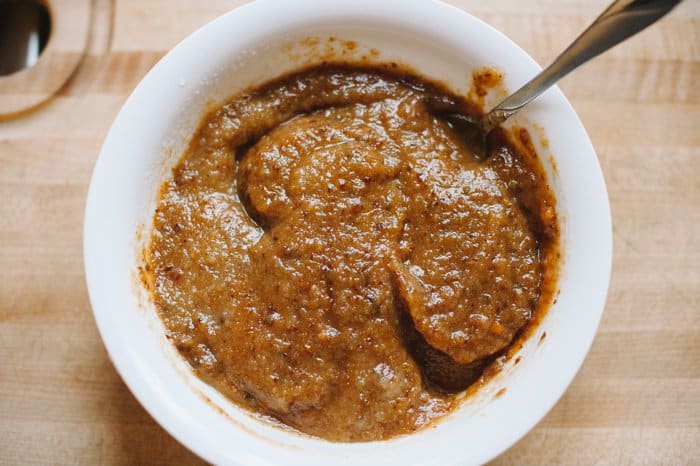 Step 2. Put cap on pouch, and unzip the bottom.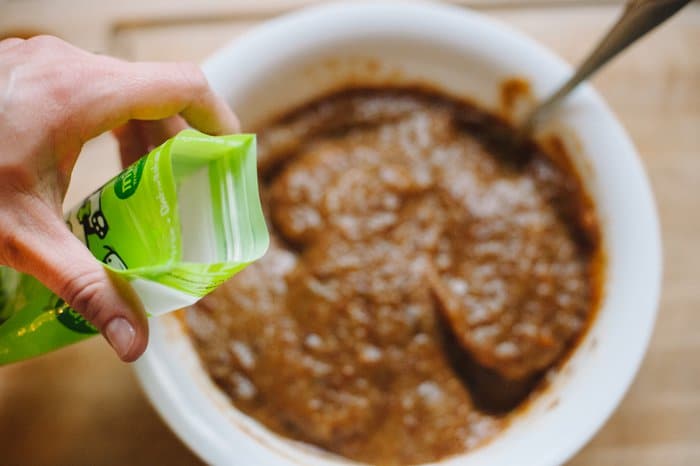 Step 3. Spoon puree mixture into the pouch.
I use a large spoon and take spoonfuls of puree and drop them into the pouch from the open bottom. It's a little messy and usually gets some in the zipper.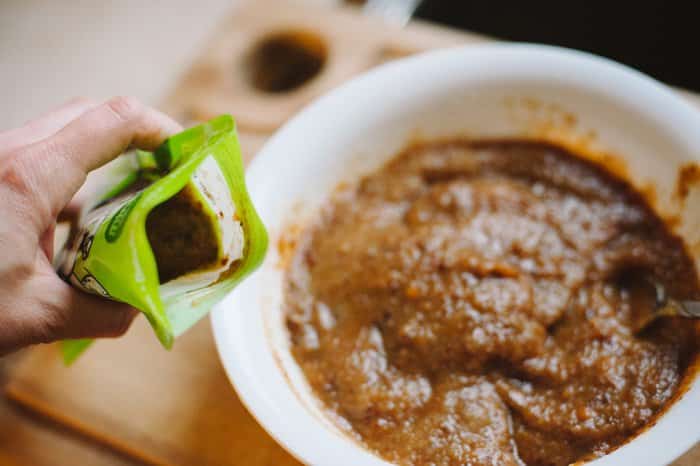 Once I've filled it fairly full, I wipe the zipper clean and then seal it up.
It takes a little experimenting to determine how full you can make them without the puree squirting out when you seal them up. I try to make them as full as I can because I want them to be as filling as possible for Raleigh.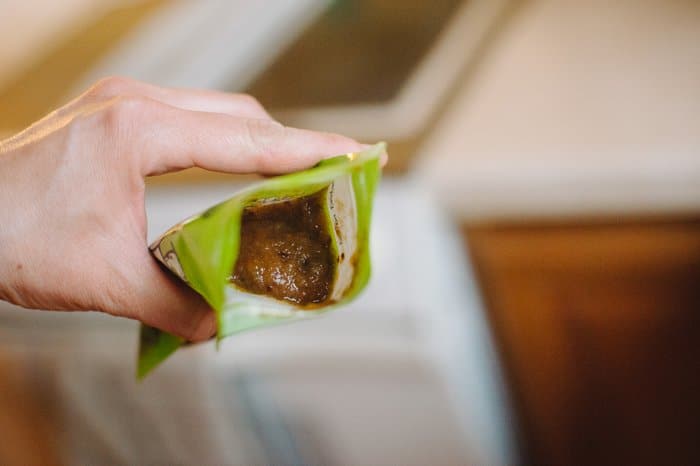 Step 4. Seal the bottom zipper and double check to make sure it's secure.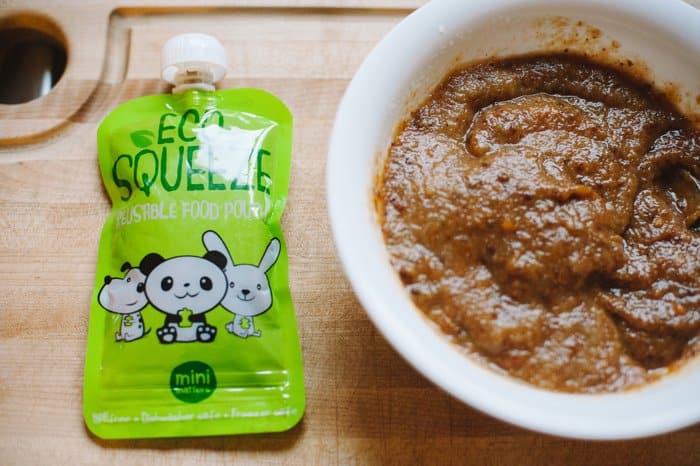 Step 5. Freeze, thaw and enjoy!
I typically freeze them all right away, and then take them out as needed for meals, snacks or on the go.
If they are frozen solid, they will thaw pretty slowly so they can be carried around for awhile in your bag without having to worry about them going bad.
If you need to thaw them fast, put the pouch in a bowl of warm water, or run it under warm water if you don't have access to a bowl, and they'll thaw quickly.
Then, just remove the cap and you're ready to feed your baby!
A note – the caps are definitely a choking hazard, and it says so specifically in a big warning on the back of the pouch. It can also be easy to misplace the caps so take extra care to not only keep them out of your baby's reach, but make sure you remember where you put them.
I do wish the caps were a bright color like some of the store-bought ones are. That would maybe help them be less likely to be misplaced.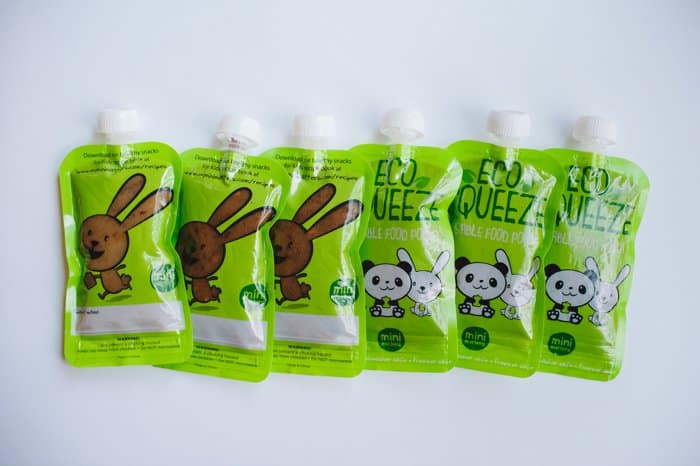 Once the pouches are empty, unzip the bottom zipper, make sure the cap is off, and run hot water through the open pouch.
This will remove any leftover food, and get them mostly clean and ready for the dishwasher. If you prefer not to put them in the dishwasher, a little soapy water and a good rinse would clean them well too.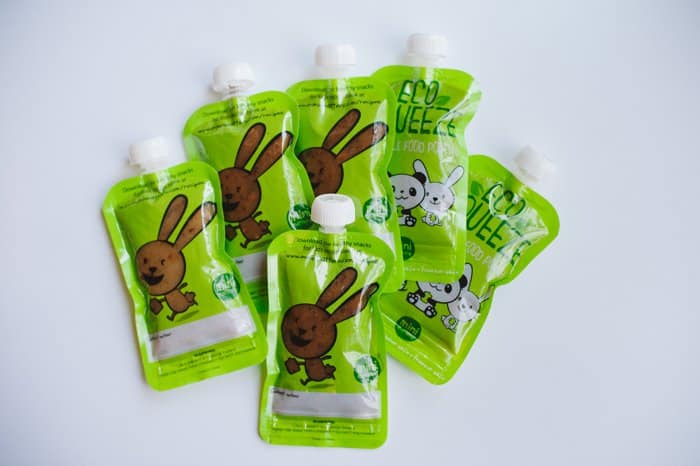 When Raleigh was younger, we would squirt the puree from the pouch into his mouth. Now that he's getting older, he is able to hold the pouch and suck most of the puree out on his own.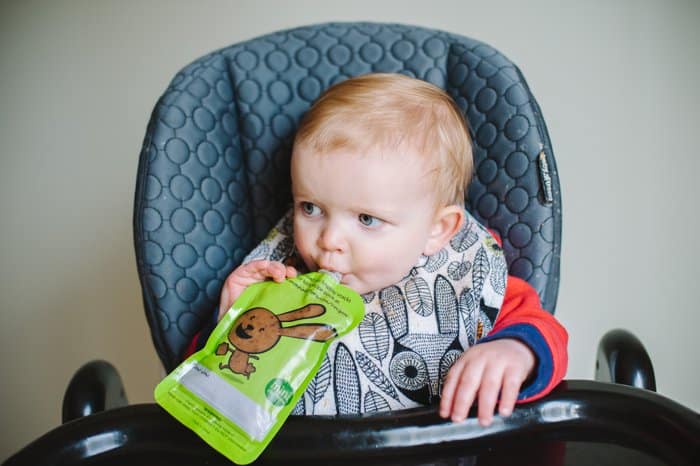 Every once in awhile, I'll have to push puree up from the bottom so he can continue sucking it out, because he doesn't yet know how to bring it to the top on his own. But that'll come.
With Raleigh getting older, he's getting more picky and feisty about what he wants to eat, and there's more food being thrown on the floor these days.
I love having homemade food pouches in the freezer to pull out if we are leaving the house or even if I just need an easy addition to a meal at home. It helps me know he's getting good nutrients and fiber, and that he's filling his belly because there's quite a bit of food in one of the pouches.
Plus, because the pouches are reusable, they are way more economical than the store-bought options. Not to mention better for the environment.
Lately I've begun putting greek yogurt into the pouches, which Raleigh goes nuts over. While not quite as affordable as making homemade puree and putting that in the pouches, I'm still able to give Raleigh healthy, convenient food pouches for a fraction of the cost of the store-bought varieties.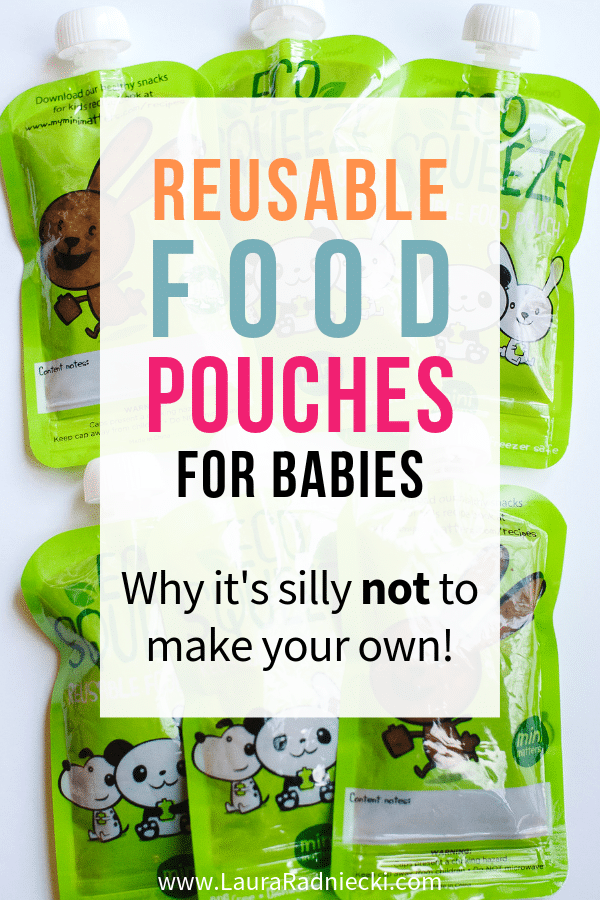 – If you liked this post, I would love if you would share it on Pinterest or Facebook. Thanks & xo! –