**These posts often contain affiliate links. Please see our disclosure policy for details.**
I am a creature of habit.
One way this manifests itself in my life is with my breakfasts – I will eat the same thing for months and months, get tired of it, and then find something new and eat that for months and months.
For awhile, it was plain bagels with cream cheese. Then, plain bagels with Nutella. Another time, toast with cinnamon and sugar. A different time, Gluten Free Chex Cereal.
The thing is, I LOVE carbs so much, so the majority of my breakfast would be made up of carbs. I would often find myself hungry again an hour later.
Matt told me the solution is protein, but I wasn't sure how to implement more protein into my breakfasts. I like my meal prep time to take literally 2 minutes max, so I'm not about to make an omelet or something like that in the morning. I need fast and easy.
My friend mentioned she had a recipe for homemade protein bars, so I told her I wanted to try them. I knew if Ellen made them, they were packed with nutrients and great for you. Her family typically eats dairy and gluten free.
I have since adapted the recipe a little bit so that it yields more bars as a result.
Meet an integral part of my well-balanced breakfast – The Homemade Protein Bar!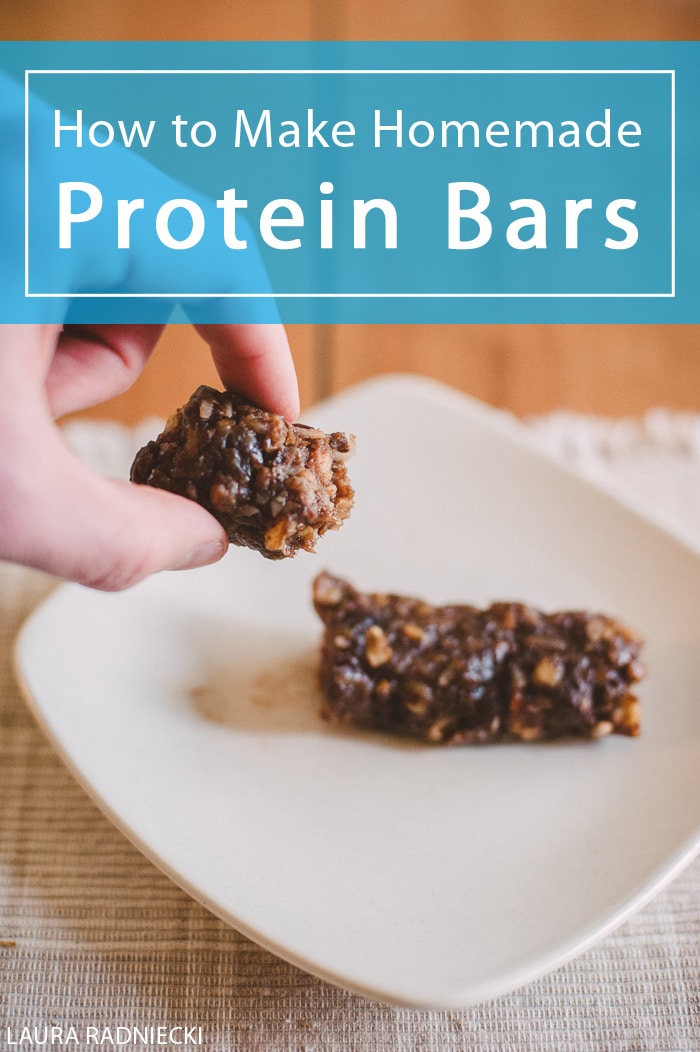 Ingredients to Make Homemade Protein Bars:
4 cups of nuts – almonds, walnuts, pecans [Your choice. I used all three.]
2 eggs
2 ripe bananas
1/2 tsp salt
1 tbsp vanilla
1/2 cup coconut oil
1/2 cup peanut butter
1/3 cup protein powder
1 cup coconut flakes
1/2 cup craisins
1/2 cup chocolate chips
Tin foil
Saran wrap
9×13 baking dish or 2-8×8 baking dishes
Depending on the ingredients you use, these can be gluten and dairy free if you use dairy free chocolate chips and protein powder.
Step 1: Preheat the oven to 325 degrees.
Step 2: Line the baking dish with tin foil.
You can use a 9×13 pan if you want large, thick protein bars. Or, you can use 2 8×8 baking dishes if you prefer thinner bars.
Ultimately, the size will depend on how big you cut them at the end.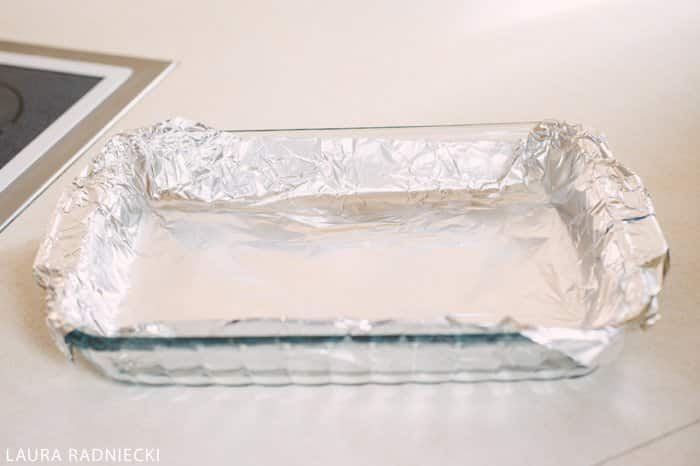 Step 3: Chop nuts and put in bowl.
You can use a food processor like I did, or use a knife and cutting board. You can also decide how fine you want them chopped.
Put the chopped nuts into a large bowl.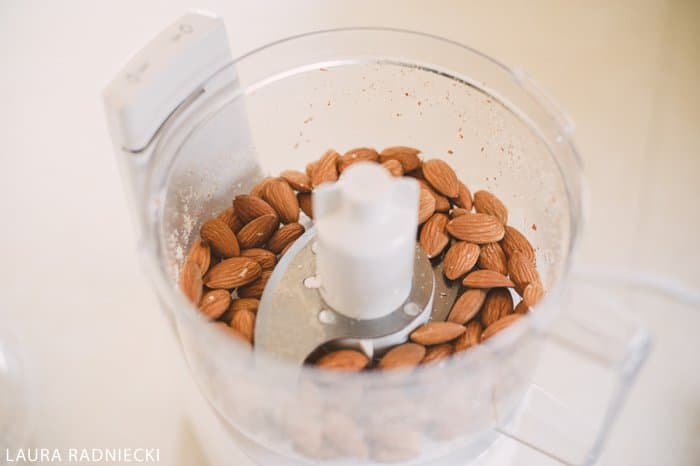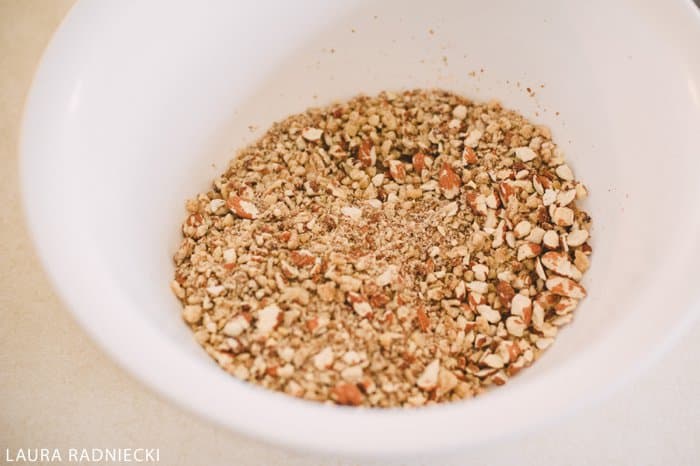 Step 4: Blend together eggs, banana, salt and vanilla.
Step 5: Add the blended mixture to the nuts, and stir.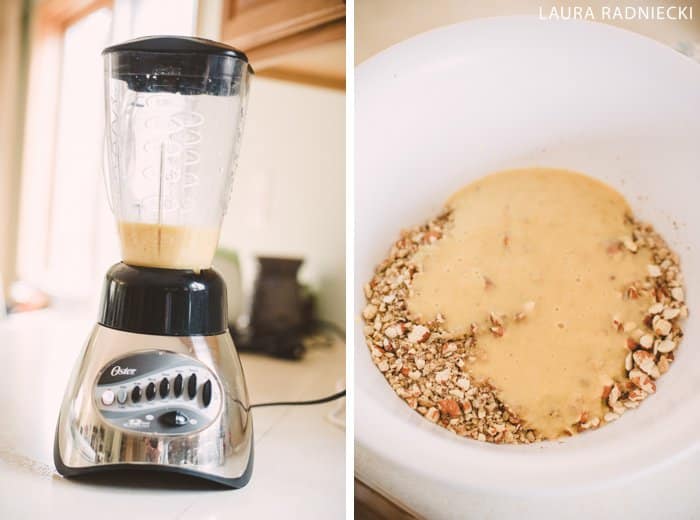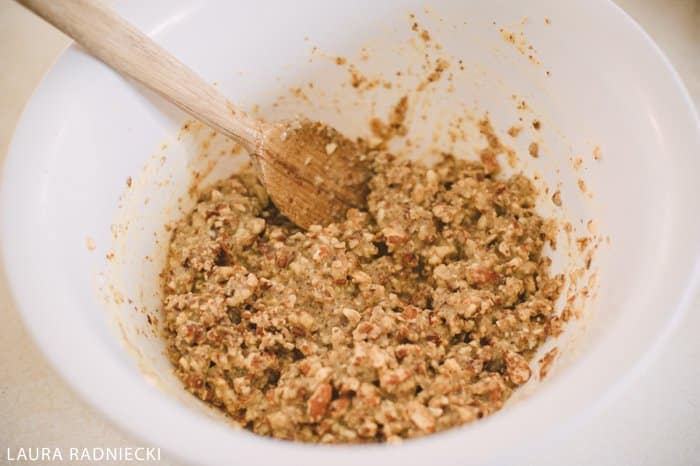 Step 6: Melt coconut oil and peanut butter in the microwave.
I try about 20 seconds at first, because it melts fast.
Mix together so it's all melted and combined.
Step 7: Add oil and PB to the nut mixture and stir.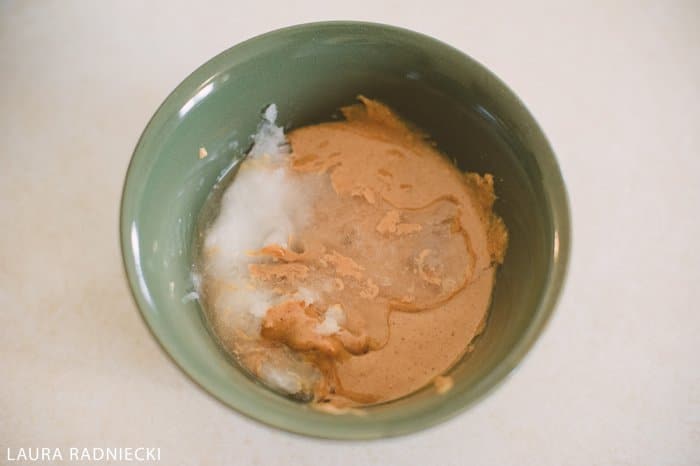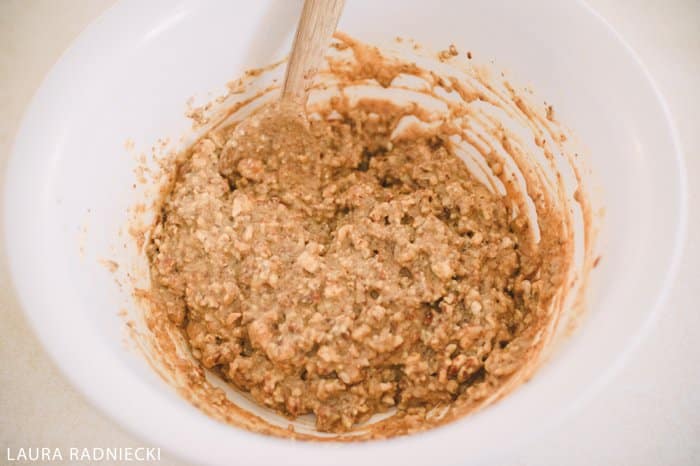 At this point, the mixture should appear pretty wet. We have lots of dry ingredients to add yet.
Step 8: Add protein powder.
I used chocolate protein powder. You can use any flavor you want.
I normally don't like chocolate flavored things like pudding, cake, ice cream etc. I wasn't sure I'd like the chocolate flavored protein powder in these. But with everything else that's in there, it just adds to the goodness!
Stir in protein powder until fully mixed.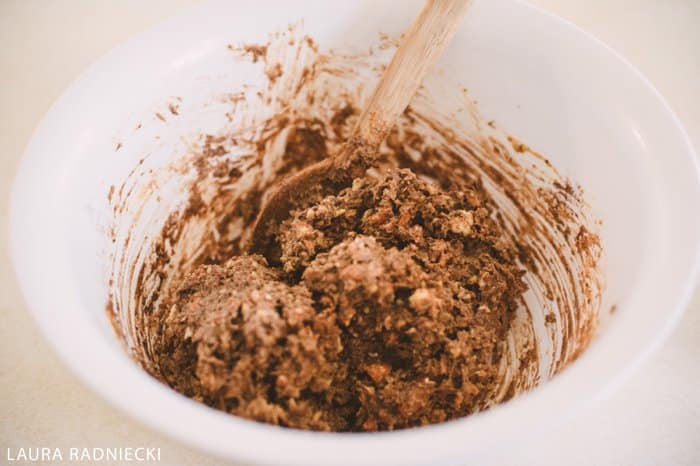 Step 9: Add in coconut flakes, craisins and chocolate chips.
Ellen's original recipe didn't include coconut flakes or craisins. Feel free to exclude them if you don't like them, or would prefer to eliminate the sweetness.
Matt and I like them because they add additional flavor as well as more substance to the bars.
Mix together until totally combined.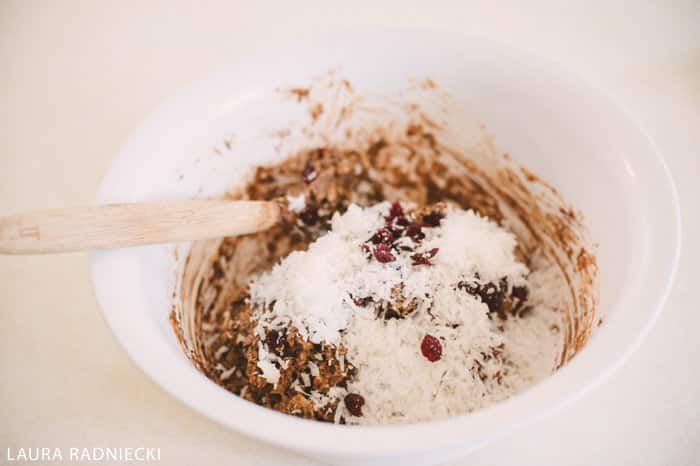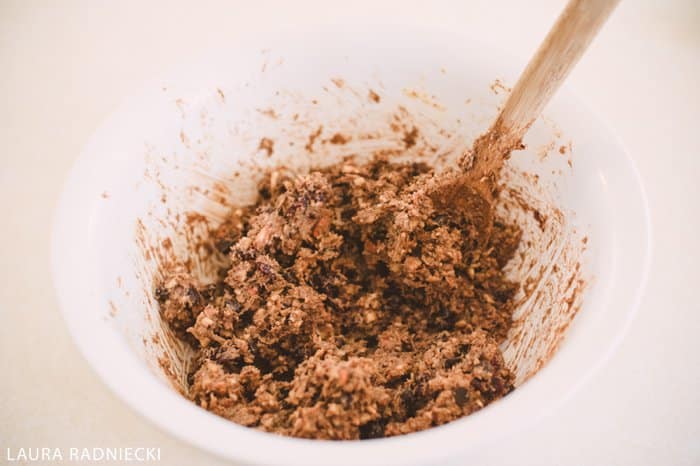 At this point, take a look at your mixture.
If it looks too dry, you can add more liquid by melting more coconut oil and peanut butter and adding that in.
If it's still too wet, add more protein powder or more chopped nuts.
Step 10: Press into foil-lined baking dish[es].
Use a spatula and press your mixture into the baking dish.
Take special note to flatten the center, pushing more mixture to the edges.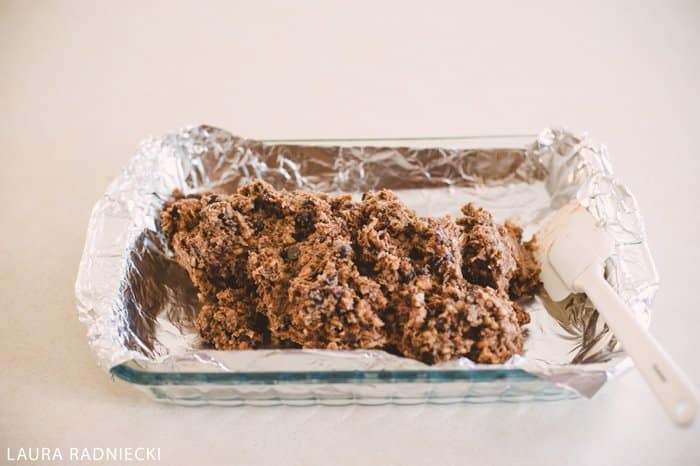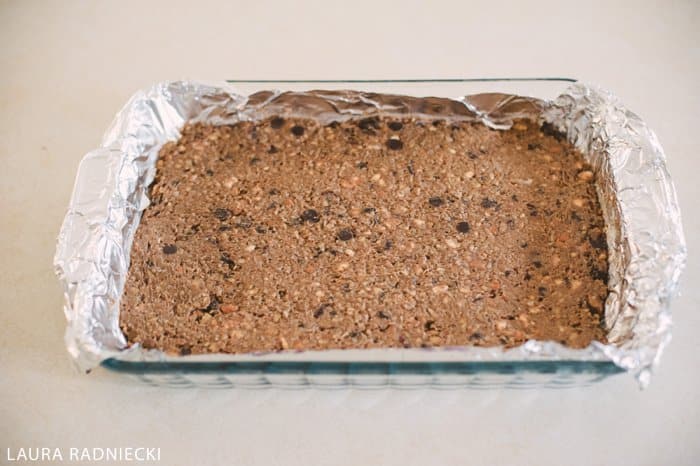 Step 11: Bake for 10 minutes in a 325 degree oven.
This is to cook the egg part of the mixture to make them safe. The bars will NOT harden much with cooking.
Step 12: Remove from oven, let cool.
Step 13: Take tinfoil out of pan, and cut bars into desired sizes.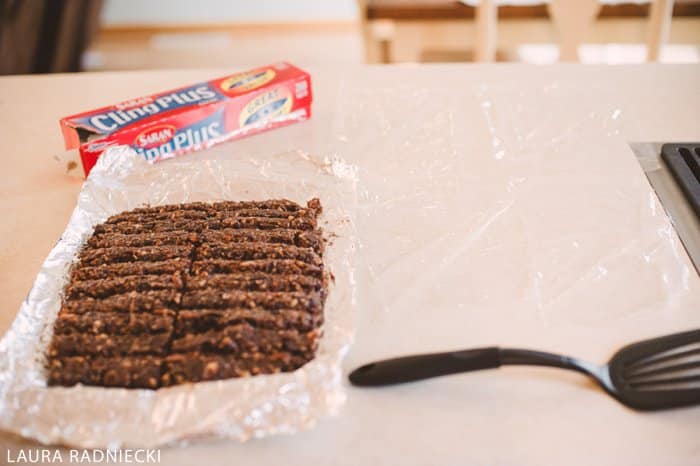 Step 14: Wrap individual bars in saran wrap.
This allows the bars to be used for quick snacks on the go, or as part of a mobile breakfast. It also keeps them from sticking together, which they would do if I stacked them into a tupperware dish.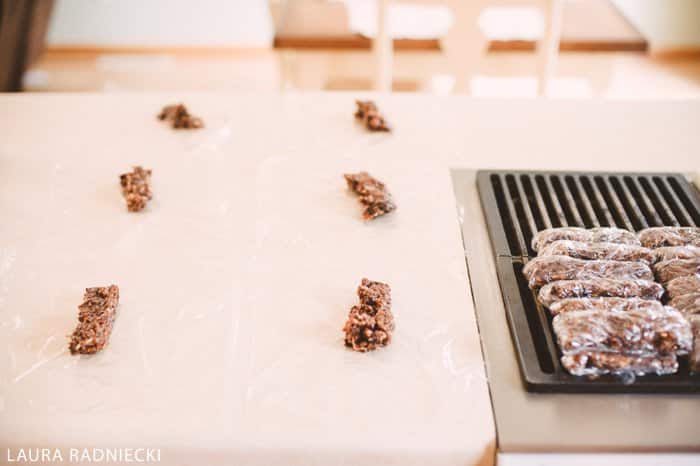 Step 15: Freeze and Enjoy!
You can keep them in the fridge, but we like them to be firm and cold.
Even though they're frozen, they're not rock-hard and are perfect for eating right out of the freezer.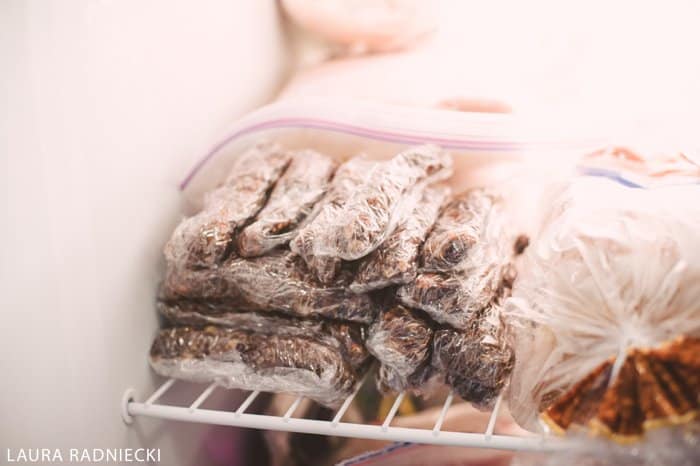 They make great pre-workout snacks for Matt. He says they aren't heavy in his belly.
I eat one as part of my breakfast and I really like them!
If there are additional ingredients you wanted to add, you could do that. Raisins, chia seeds?
The sky is the limit with these healthy homemade protein bars!
Do you have a trick for improving your breakfast and keeping you full longer? I'd love to hear it!