**These posts often contain affiliate links. Please see our disclosure policy for details.**
Last week, I wrote a post about the start of my journey making homemade baby food purees for my son Raleigh.
In that post, I mention several methods I used for freezing the carrot and sweet potato purees I made. I plan to write a comprehensive post detailing all the available methods for freezing baby food soon, but right now, I want to talk about the Nuby Garden Fresh Freezer Tray in particular.
I was given the Garden Fresh Freezer Tray to test, use and review as part of the Nuby Parent Blogger program. I have used it extensively this past month making and freezing carrots, sweet potatoes, squash, peas and bananas for my baby.
Nuby Garden Fresh Freezer Tray Review
The Nuby Garden Fresh Freezer Tray is made of flexible, non-stick, BPA-free plastic.
There are 9 compartments in the tray, each measuring 2 oz. This is roughly twice the size of a traditional ice cube tray which makes 1 oz cubes. As babies eat more, the larger volume comes in handy.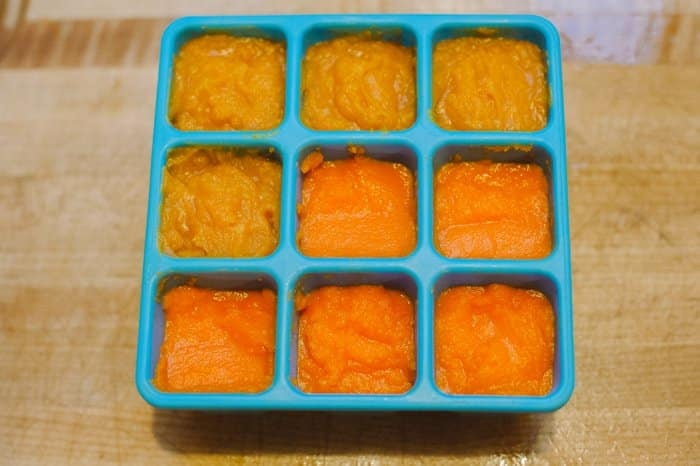 In order to preserve flavors and nutrients, the tray also comes with a lid. Both the tray and lid are freezer, dishwasher and microwave safe.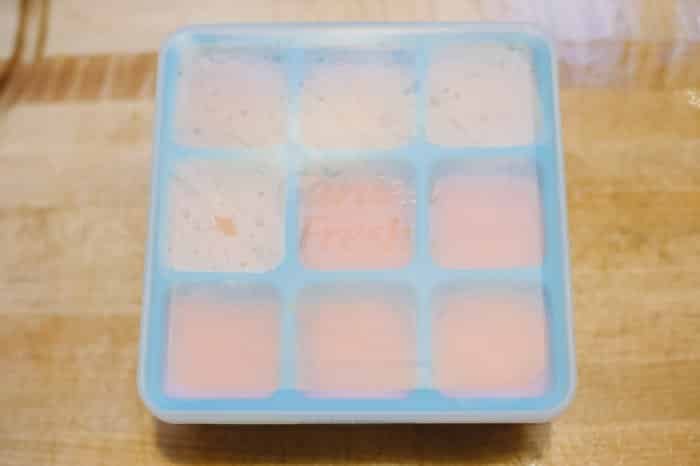 Nuby Freezer Tray Pros:
Large 2 oz compartments to freeze 9 servings at once.
Easy to pop out food and transfer to freezer bag.
Quick clean up in dishwasher.
Nuby Freezer Tray Cons:
Lid is very tough to get off when immediately removed from the freezer.
Food is difficult to pop out when immediately removed from the freezer too.
If you look at the Amazon reviews for this freezer tray, you'll see a lot of people talking about how hard it is to get the lid off once the food is frozen, and others mention how they had a hard time getting the food out of the cubes.
Trick for the lid — The first time I took this tray and lid out of the freezer, I tried to immediately take the lid off. I could not get it off and tried to pry it off with a knife like someone in the reviews did too. I discovered that if I let the tray sit on the counter for a minute or two, the lid warms up just a bit and it is MUCH easier to get off.
Trick for the food removal — Along those same lines; if you try to remove the frozen food immediately after taking it out of the freezer, you will have a hard time. Instead, I let it thaw for a couple minutes. If you're in a hurry, you can run warm water over the bottoms of the compartments. Then, if you push on the bottom of each compartment while holding it upside down, the cubes will pop out easily.

This post contains affiliate links. Please see my disclosure policy for more information.
The Nuby Garden Fresh Freezer Tray is available at Walmart and on Amazon here.
*If you're interested in this freezer tray, keep reading. From the generosity of Nuby, I'm giving one away below!
FEEDING MY BABY —
Since starting Raleigh on solids a few months ago, we have tried lots of different bowls.
Here are a few of our favorites:
IKEA Kalas Bowls Review
When we first started feeding Raleigh solids, these were the only kid bowls we had. They were impulse buys when we were shopping for a dresser last winter.
The problem with using these at that time though, was we were feeding Raleigh on our lap because he was too little for the high chair. One of our arms was busy holding him and keeping his hands away from the food and spoon, so we were scooping food and feeding him one-handed.
These small little bowls would scoot and slide all over the table while we were trying to feed him with one hand.
That's why the two bowls listed below came in.
However, now that Raleigh is old enough to eat in his high chair, these simple IKEA bowls are what we use the majority of the time when we're feeding him. They are cute, colorful, dishwasher safe and the perfect size for little meals of baby food.
IKEA Kalas Bowl Pros:
Come in a 6-pack
Bright, fun colors
Lightweight
Dishwasher and microwave safe
IKEA Kalas Bowl Con:
Slide around the table if you are feeding one-handed
Nuby Sure Grip Suction Bowl Review
When we were feeding Raleigh on our laps using only one hand, suction cup bowls ended up being a lifesaver for us!
The Nuby Sure Grip Suction Bowl is made of 100% silicone. It's BPA Free, pliable and dishwasher safe.

It also has a STRONG suction base. Seriously, if this bowl is stuck to a clean surface, it is not going anywhere unless the release lever is lifted up. It really sticks.
One-handed feeding is easy with the suction cup keeping this bowl in place. It also works perfect to keep the bowl on the high chair tray instead of crashing to the floor. I know that once Raleigh starts feeding himself, I'll be sticking the bowl to his tray and letting him grab food from it without fear it'll get flung to the floor in 5 seconds.
Even if it did crash to the floor, nothing is going to hurt the durable silicone.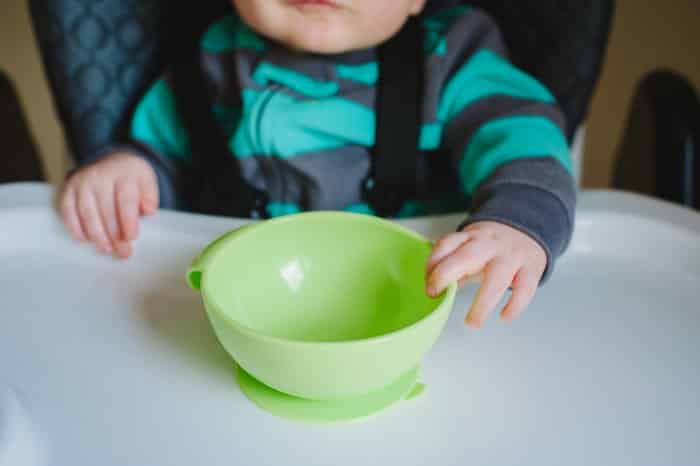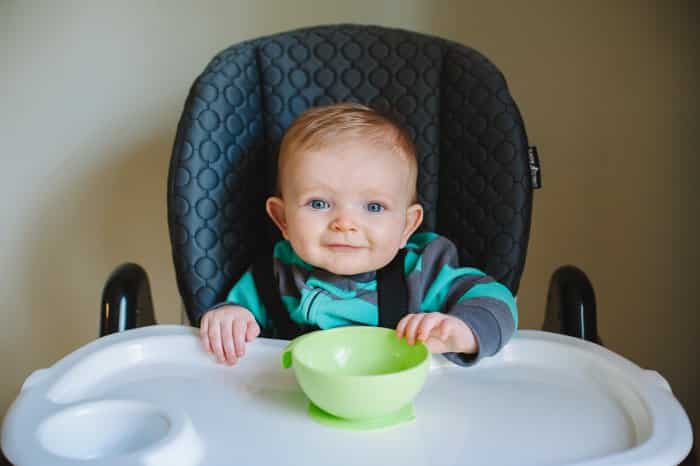 Nuby Sure Grip Suction Bowl Pros:
SUPER strong suction cup base
Made of flexible silicone
Dishwasher safe
Bright color makes it fun for kids
Nuby Sure Grip Suction Bowl Con:
No lid or spoon, so travel feeding requires additional items
The Nuby Sure Grip Suction Bowl is available at Babies R' Us.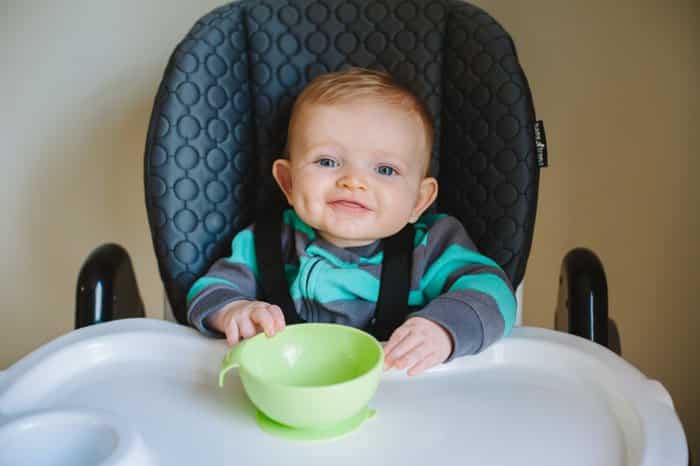 Nuby Easy Go Suction Bowl and Spoon Review
If you're looking for a bowl with a strong suction base, the Sure Grip Suction Bowl above is the one you want.
This Easy Go bowl from Nuby also has a suction cup base, but the base is a less flexible plastic material and it doesn't offer the same suction strength as the Sure Grip does. A baby might not be able to pull the Easy Go bowl from a highchair tray but I think a toddler definitely could.
We don't use the Easy Go bowl for it's suction though; we use it as a travel bowl.
Now that Raleigh is eating solids twice a day, there are times we need to bring food with us and feed him when we are not at home. Instead of bringing along a bowl, separate spoon, and baby food in a different container, the Easy Go Suction Bowl is everything in one.
For example, I took Raleigh to my parent's house so my mom could watch him while I worked on some projects with my dad. Before we left our house, I took a cube of sweet potatoes from the freezer and put it in the bowl, snapping on the lid. The lid has an included spoon, so the bowl went into the fridge at my parent's house and when it was time to eat, my mom popped the lid off, heated the food in the microwave, and fed Raleigh with the included spoon.
Plus, I gave the bowl with the lid on it to Raleigh as a chew toy the other week when we were driving back from the cities in an effort to keep him entertained after he was bored of all his toys. See, it's multi-functional!
Nuby Easy Go Suction Bowl and Spoon Pros:
Bowl includes lid and small plastic spoon
Dishwasher and microwave safe
Suction cup base offers moderate strength suction if surface is very clean
Nuby Easy Go Suction Bowl and Spoon Con:
Suction is easily broken if bowl is pulled on
The Nuby Easy Go Suction Bowl and Spoon can be found on Amazon.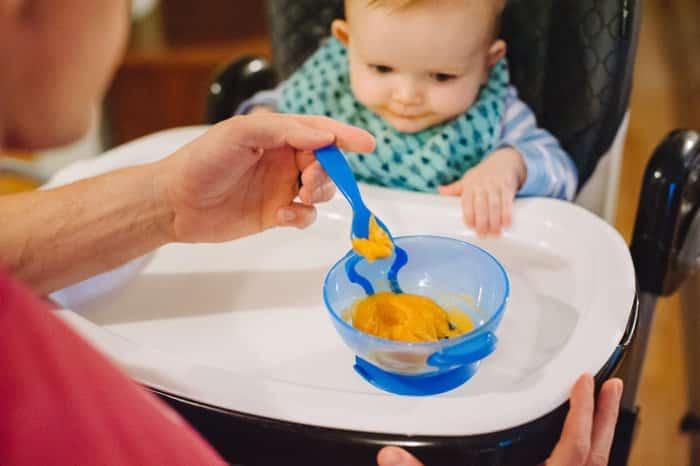 *Nuby provided me with some of these products for free in exchange for an honest review. All opinions are my own.*
You can find Nuby on social media at — Facebook / Twitter / Instagram / Pinterest
– – – – –

Win a Garden Fresh Freezer Tray!
Thanks to the generosity of Nuby, one lucky person is going to win their choice of a blue or green Garden Fresh Freezer Tray!
Enter to win below!
Giveaway will run from Tuesday 11.1.16 to 11:59pm CST on Friday 11.4.16. A winner will be randomly selected and notified on Monday, 11.7.16. US Residents only.