**These posts often contain affiliate links. Please see our disclosure policy for details.**
I wrote a post a few weeks ago about how the enemy wins when we quit praying.
The inspiration for that post came after seeing the movie "The War Room" and starting to read the book "FerVent: A Woman's Battle Plan for Serious, Specific and Strategic Prayer" by Priscilla Shirer.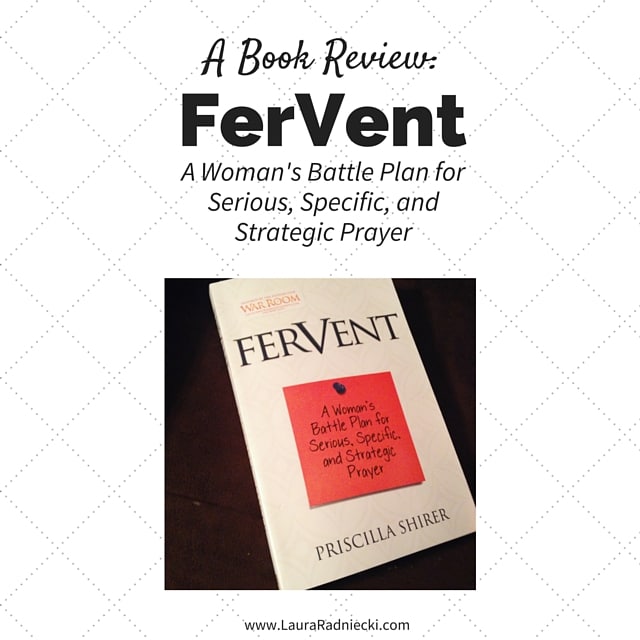 I was given a free copy of FerVent to read and review by B&H Publishing, not realizing at the time that it was written by the same woman who acted in the movie The War Room, and based on the same topic. I loved the movie, so I was thrilled when I started to dig into FerVent.
The idea behind the book is that we have an enemy who is very much alive and well, and intent on destroying us, our relationships and really, our lives.
Most of us feel the effects of the enemy, but we don't identify those negative things, those hardships as attacks from Satan. We think they're society's fault, or our husband's fault, or whatever we place the blame on.
FerVent explores the 10 main areas of our lives that the enemy attacks, and talks through how to create a plan of strategic prayer that deals with those unique areas.
I took notes right from the beginning, highlighting parts from page 2 on.
One of the parts that stuck out to me from the very beginning was on page 3 when she talks about us wanting to experience God's promises, have a fence of God's protection around us and wanting the devil to leave us alone.
She writes: "But none of that is going to happen – no matter how badly we may want it – as long as prayer remains an afterthought, a formality, a mindless mix of duty and manipulation, something we do but usually don't do, and rarely if ever do with any meaning and vitality, with confidence and clarity."
That sums up what prayer is sometimes reduced to for me, and gave me a kick in the pants right from the get-go.
That is the reason she talks about prayer needing to be something we do on purpose, with a written battle plan for "serious, specific, and strategic prayer."
The goal is that by the end of the book, you'll have written out 10+ prayers to hang on a board or tape to the wall in your own prayer closet or "war room" and you will get into the habit of praying regularly and with purpose.
I loved the whole book, and literally highlighted and scribbled notes to myself all the way through it. I know this is a book I will have to go back and reread, to digest all of the wisdom I found in the chapters.
The only suggestion I would make is that I think it would have been helpful to include an example of a prayer for each section, or at least for the first one or two, to help people who are brand new to prayer get started.
I know there's no "right" way to write your prayer, and the point is to make it unique to each of us. But I am a type-A person who would have greatly benefitted from reading a sample prayer, and then known what direction to go in to craft my own version of that prayer.
All in all, if you're looking for a book to jumpstart or further encourage your prayer life, I highly recommend the book! Even if you think your prayer life is fine, but you find yourself facing struggle after struggle without knowing really where all the resistance is coming from, I think you'd greatly benefit from it.
– – – – –
Thanks to the generosity of B&H Publishing, I have an extra copy of FerVent to give away to one of you!
You can enter the giveaway by completing any of the entries below. The giveaway will be open from Monday 11/2/15 through Thursday 11/5/15, and I'll randomly choose and announce the winner on Friday 11/6/15. I'll mail the book to you after that!
– – – – –
If you prefer to shop on Amazon, here's a link to where you can buy FerVent there.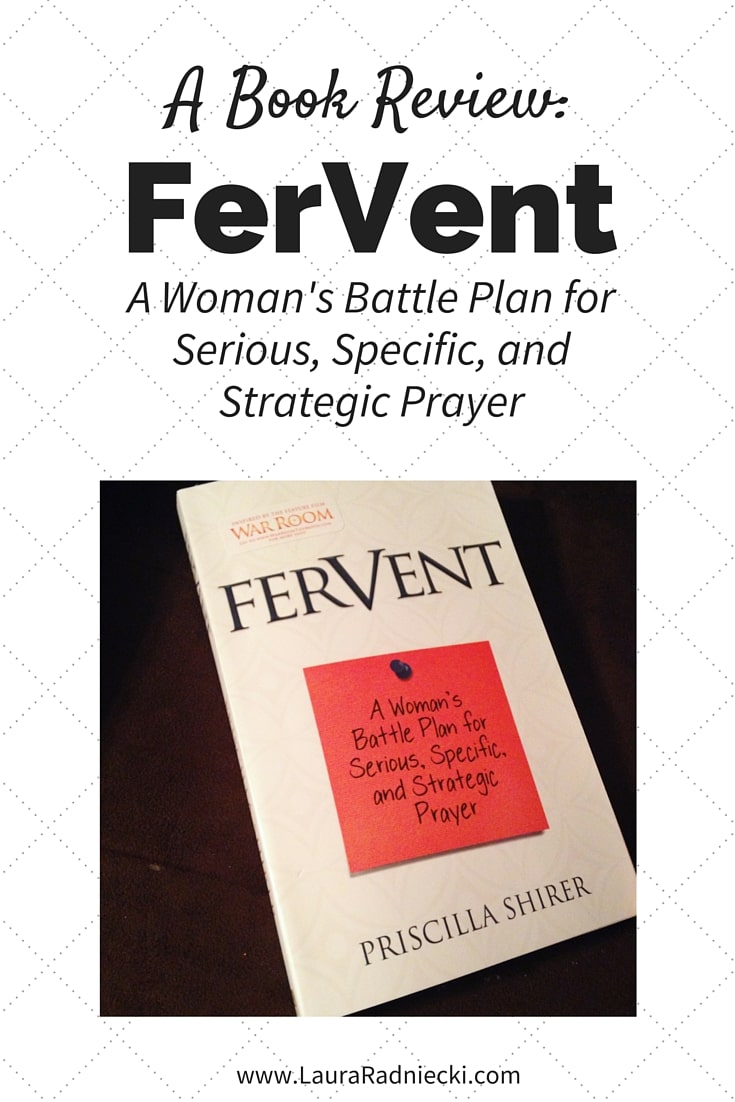 *I was given 2 free copies of FerVent from B&H Publishing, one to read and review myself, and one to giveaway to a reader. The views expressed in this review are my own, and I was not compensated in any additional ways for my review.*