**These posts often contain affiliate links. Please see our disclosure policy for details.**
Happy Friday! As I type this, the sun is shining brilliantly outside my window and the sky is almost neon blue. Remy is anxious to take a walk and explore, and I'm excited to breathe in more of the crisp fall air.
This week, I'm thankful for:
1. Fall
It's now officially Fall, and while I'm shocked to see September 26th when I look at the calendar, I'm loving the fall weather we've been having. It's been warmer than normal and NO ONE is complaining!
2. Colorful Fall Leaves
The leaves on the trees are GORGEOUS right now! Some of them still haven't turned yet which means we've still got some time to soak them in and appreciate them. We don't have many maples on our property but we do have at least one that turns bright red. As of right now, there are only a couple of leaves that have turned red; the rest are still green.
I like to think of the colorful leaves as God's paintings.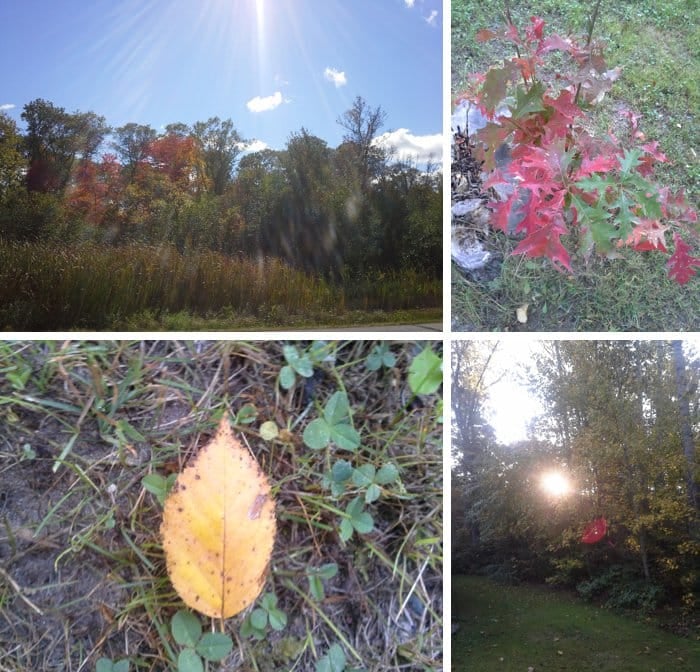 3. Our Annual Radniecki Camping Trip
Last week, Matt and I took Remy on a short 2-night camping trip to Crow Wing State Park. It's less than 20 minutes from home, but neither of us had camped there before so it was a brand new experience. It was almost completely empty with only one or two other campsites full in the whole campground, since we were there mid-week.
The first night, the temps got down into the 30's – SO COLD. The next day warmed up a lot and that night was much more comfortable. Then, we packed up quick on our last morning just in time to beat a big rain storm that moved through the area.
I intentionally left my DSLR camera at home and used my phone. I've got an ancient smartphone which explains the quality of all these images but I was leaving behind any pressure to take lots of pretty photos and just soak up being there with my family.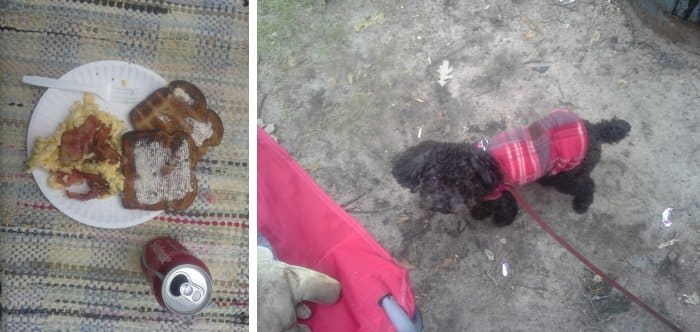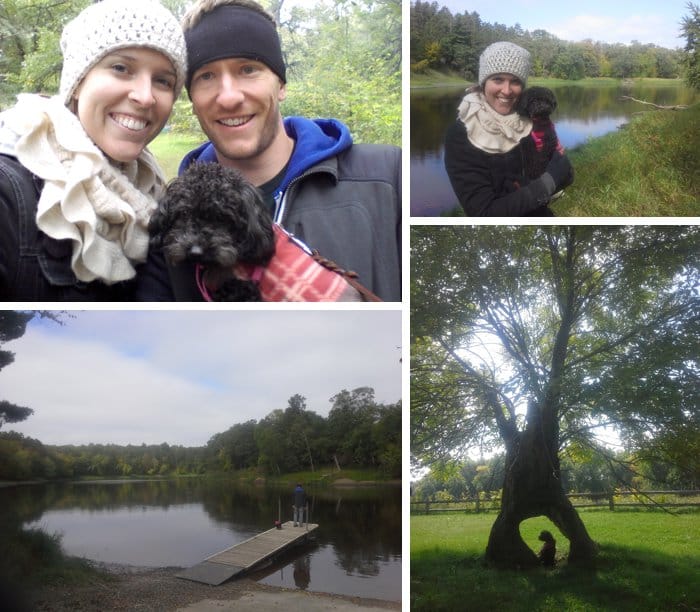 4. Library Book Sale
Yesterday, I went to the opening day of the local public library's book sale. I got there maybe 8 minutes after the doors opened and there was a line all the way out the front door! I should have expected it, but I was surprised actually. I never go Black Friday shopping, but to me, this felt like that. Except everyone is searching for their favorite books instead of fighting over TV's.
I'm planning to go again tomorrow for the $2 bag day – you can fill a whole bag with books for only $2! Even though I don't typically buy fiction books and rent them from the library instead, I can't pass up a deal like that! Plus, my sister wants to have a library in her house someday so I'll pass my books along to her to help fulfill her dream. 🙂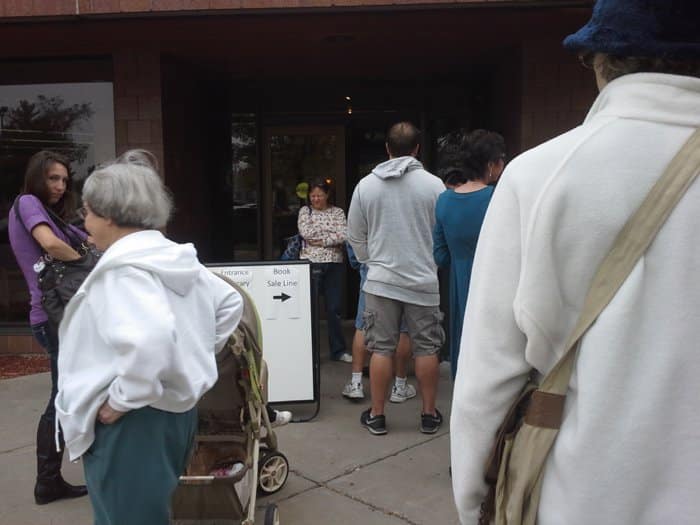 5. New Ideas and Projects
I've developed an entrepreneurial mind in the last handful of years, so I've almost always got a couple ideas circling around in my mind. It's both exciting and exhausting because often, I have trouble sleeping when I'm thinking about new ideas.
I've got a particular idea that's been planted and growing lately, and I'm having fun researching it and nurturing it. What it will amount to is unclear so far, but for now, I'm appreciating the process and loving the energy that comes with working through something new.
P.S. I know it's annoying when people are vague about ideas like that. Sorry to do that too, haha. If you're the praying type, I'd welcome prayers for this new idea. More info if/when it continues to evolve and become more concrete.
– – –
How are you today?
Have you been soaking up the leaves too? If so, I'd love to know – where is your favorite place to look at colorful leaves in the Brainerd area? You can leave a comment or email me at hello @ lauraradniecki.com [delete the spaces before sending the email]. I'd love to hear where your favorite spots for beautiful leaf drives are!
Have a great weekend!
xoxo,
Laura