**These posts often contain affiliate links. Please see our disclosure policy for details.**
Raleigh is almost 5 and a half months old, and just a few days ago, his second tooth broke through the gums. In retrospect, that explained the days of drool down to his belly button and the irritability no matter what he was doing.
[HOW did my baby already get old enough to have TEETH?!]
I reached out on Facebook to ask veteran mamas for their teething secrets and got lots of great tips and recommendations. Some that I was already familiar with and some that were new. Frozen wet washcloths, teething toys and tylenol were among the most frequently mentioned tips.
When the popular baby brand Nuby offered to send us some teething products to review, we jumped at the chance. Raleigh is their prime target market right now because EVERYTHING he touches goes right into his mouth.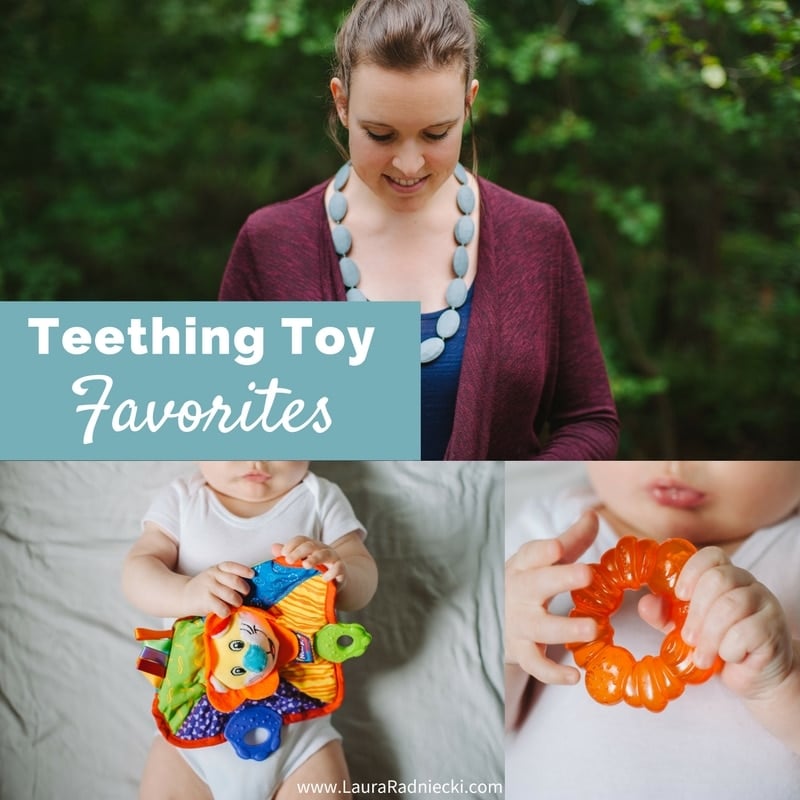 Nuby Teething Blankie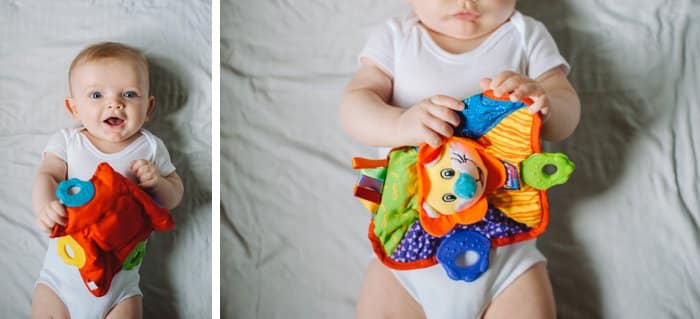 This is a combination toy – for teething and just for fun. It's small, brightly colored and has a cute lion's head on one side. There's a squeaker inside the lion's head and the blanket crinkles when it's moved. It also has four hard plastic parts on the sides with designated bumpy teething surfaces.
Raleigh is just getting to the stage where he thinks blankets [like the popular Taggie Blanket] are interesting.
He's been intrigued by this Teething Blankie, but so far, it's mostly been to hold and look at instead of put in his mouth and chew on.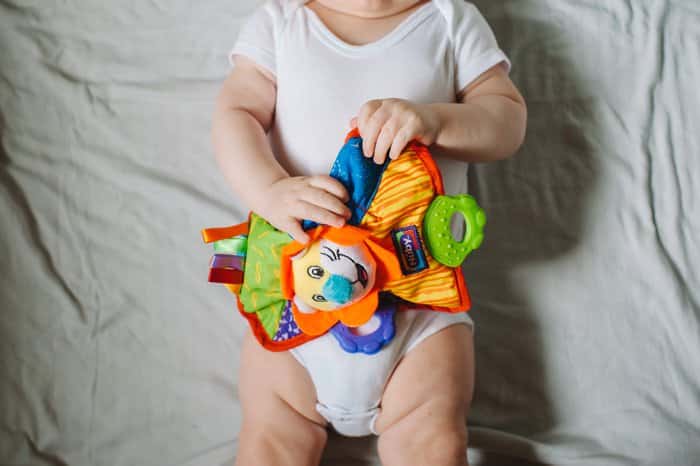 I think he'll continue to discover it as he plays with it more, and if he's anything like some friends of ours, he will love chewing on the plastic parts to help those sore gums.
The Nuby Teething Blankie is available at Walmart and Amazon.
Nuby kool Soother Teethers
These are the classic teething toys that most everyone has seen and used before.

They are BPA-free teethers that are filled with water. This allows them to be put in the fridge or the freezer for a bit to chill so they can numb sore baby gums.
Some of the similar teethers I've seen like this are a lot bigger. These are the perfect size for small baby hands and for fitting in Raleigh's mouth.

They come in a 3 pack and are different shapes. I think the green triangle is Raleigh's favorite because the points are easy to stick in his mouth to chew on.


I love that they come in a multi pack because it's great to have one in the living room, one in the diaper bag and one in his room. I'm tempted to get a second pack so I can always have one within reach.

These kool Soother Geometric Teethers are sold at Kmart and ToysRUs.
Nuby Teething Trends Oval Necklace
Of all the teething toys we've tried so far, this necklace is the clear winner in Raleigh's book.
It's like a magnet to him, I swear. He can't keep his hands [and mouth!] off of it.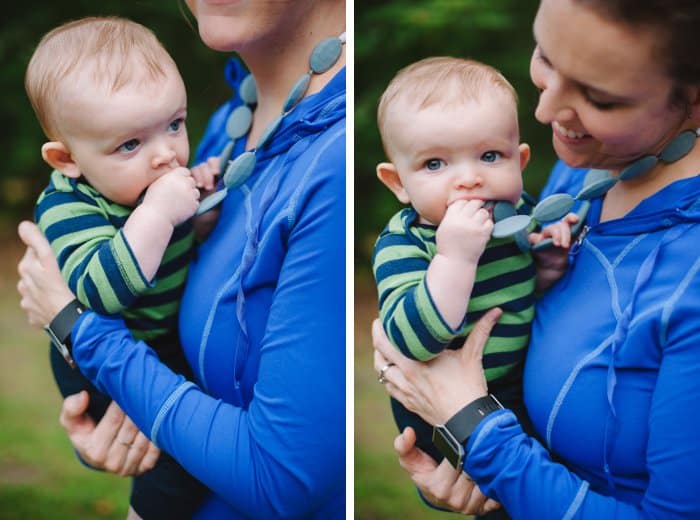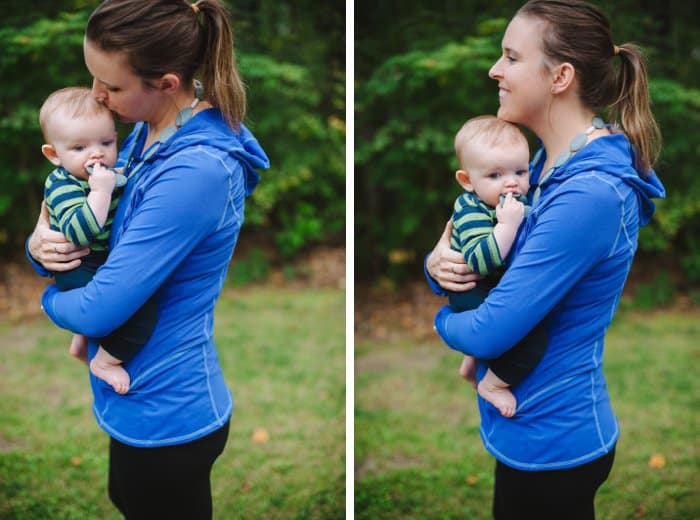 Teething necklaces are popular right now, and I made a few with wooden beads during my nesting craft craze.
This necklace is made of BPA-free, soft silicone, and is true to the company's word of being "fashion with a purpose."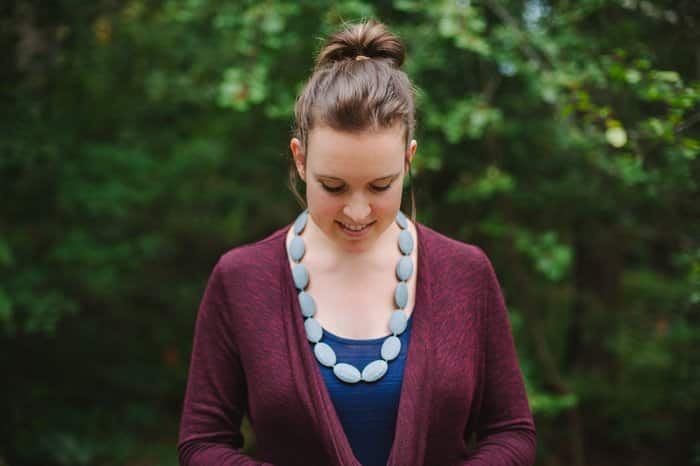 My wardrobe is super limited right now. Between needing nursing-friendly clothes and not fitting into my regular clothes yet, I am only able to wear the few pieces I've bought for this postpartum season. It's not too often that I feel very stylish and cute. [Not complaining really; it's all worth it!]
But I've been feeling lately like I wish I could accessorize to at least spice up my outfits a little. Raleigh has entered the pulling-on-everything stage with a vengeance so any jewelry I wear is fair game for him to pull AND chew on.
That's why I was so excited about this necklace. I love the look of it and if it held up to it's promise of being baby friendly and ideal for teething mouths to chew on, it would give me something safe to wear during this current season of life.
I LOVE IT.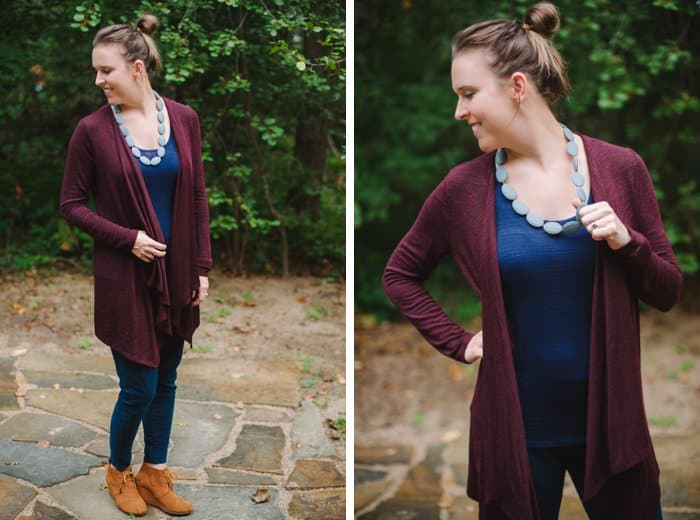 [Let's be honest, this is the most dressed up I'd been in 6+ months, except for last Sunday at Raleigh's baptism. If I'm going to be photographed for the internet, I had to put in a little more effort haha!]
It's light, sturdy and comfortable to wear. It can be washed either in warm, soapy water or in the top rack of the dishwasher which is a huge bonus because of the amount of drool pouring over it on a daily basis. And I think it's so cute!
There are four colors available: white, gray, teal and deep purple. This is the gray option.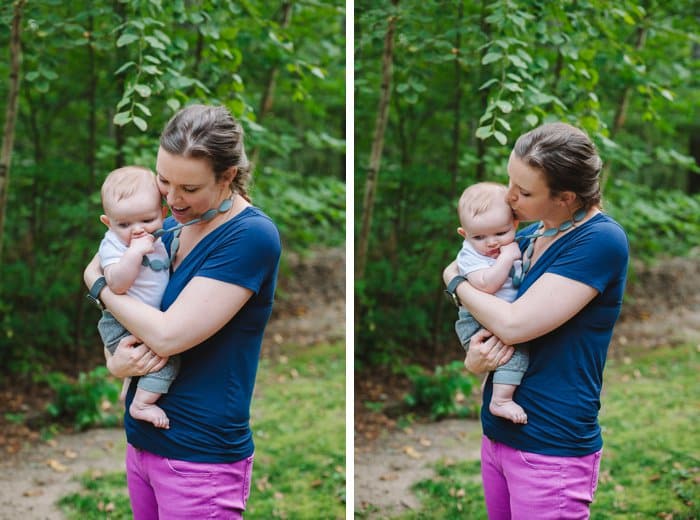 I'm already wanting the teal one too!
Raleigh is a wild man when he nurses sometimes; arms windmilling around and scratching me repeatedly. This necklace is also the perfect distraction for him while nursing. It gives him something to hold on to and turn over in his hands, and saves my skin from his fingernails.
The necklace is neutral enough to go with a wide range of clothes and styles too, from casual to formal and even workout gear.
We're both sold!

These Teething Trends Necklaces are available at Walmart and ToysRUs.
– – – – –
I'm having a little bit of a hard time accepting that Raleigh is getting so old so fast.
I know, I know – it's so cliche to say that. But it's true! The first two months crept by at a snail's pace but these last three have flown by faster than any other period of my life before this. And I know time is only going to keep passing faster and faster as he grows up.
My daily goal is to be as present as I possibly can and really pay attention to what he's doing now. He learns things overnight so I'm trying to soak it all up!
I love you, baby boy!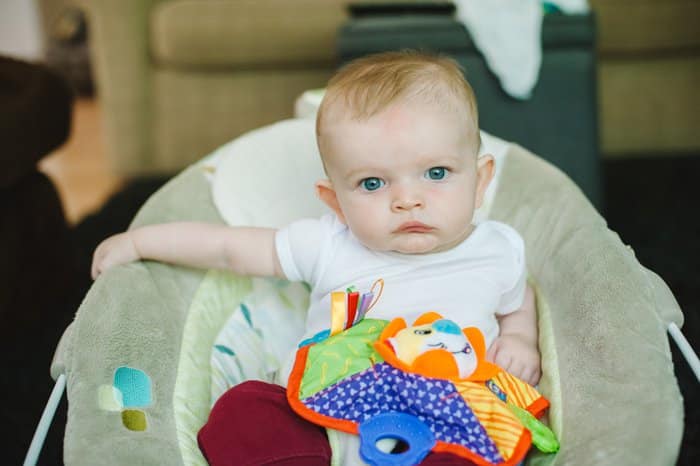 *Nuby provided me with these products for free in exchange for an honest review. All opinions are my own.*
You can find Nuby on social media at — Facebook / Twitter / Instagram / Pinterest