**These posts often contain affiliate links. Please see our disclosure policy for details.**
One of the perks of being a blogger is getting the opportunity to test out a variety of different products for the purpose of reviewing them on my blog.
I love being a part of the B&H Publishing Group's blogger team, receiving and reviewing faith-based books like Fervent and Anchored: Finding Hope in the Unexpected.
I've also loved being a Nuby Parent Blogger, and have had so much fun putting a variety of Nuby products to the test, like their teething toys, baby food tray, and bottle to cup kit.
When I received an email about reviewing a CiPU diaper bag, I first looked them up on Amazon to see what type of bag it was and what it looked like. My first impression was a positive one, so I agreed to test and share my thoughts on the bag in a blog review.
I tried out several different diaper bags last spring, and ended up using a regular tote bag from Target for the summer, fall and early winter. I loved my bag, but Minnesota winter is not nice to a cream, canvas tote bag. The dirty slush that gets tracked everywhere started to stain my bag, so I knew I had to use something different for the winter.
The opportunity to review this new diaper bag came at the perfect time.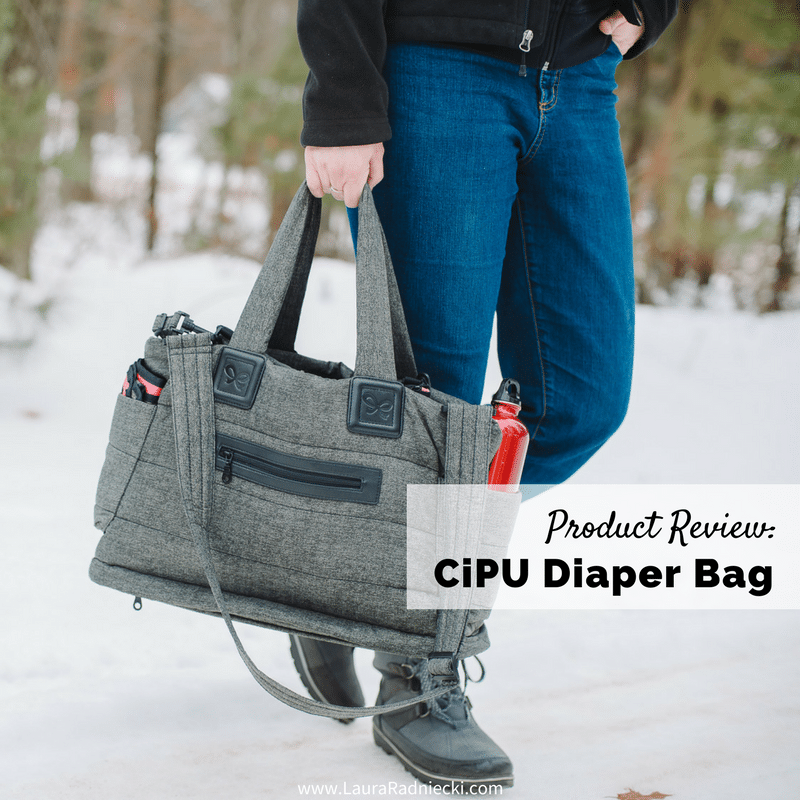 CiPU Diaper Bags
CiPU is a diaper bag brand from Taiwan.
I thought the name was a clever play on motherhood, like "see poo"… because as mamas, we do see poo a lot!
But CiPU [pronounced shee-poo] has significant meaning in Chinese; Ci means "happiness" and PU means "store."
Their slogan is "Happy Mom. Happy Life." They sell diaper bags in two styles; tote style bags as well as backpacks, and their diaper bags are for sale on their website and on Amazon.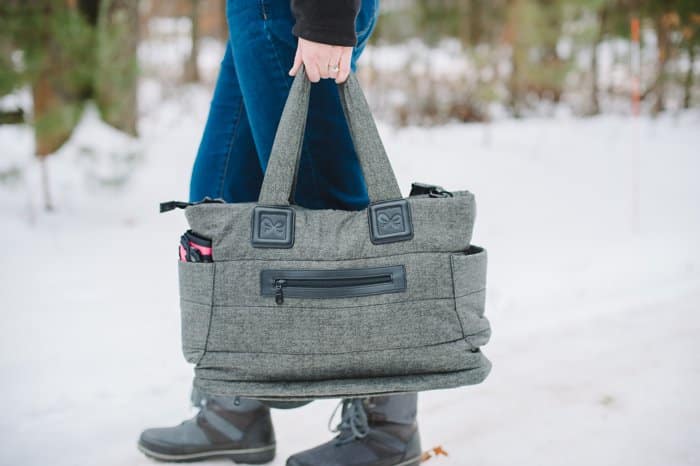 CiPU Diaper Bag Review – Tote Bag Style
Initially, I was somewhat skeptical about how I would feel about their tote style diaper bag.
The photos on Amazon made me wonder about the feel of the material, and I wondered if it might feel plastic-like and cheap.
I think it's fair to say I'm pretty picky when it comes to diaper bags; if I'm going to carry something everywhere with me, I want to really like it.
So, I figured I'd give the bag a try for the sake of the review, and if I didn't like it, I could go back to one of my other ones.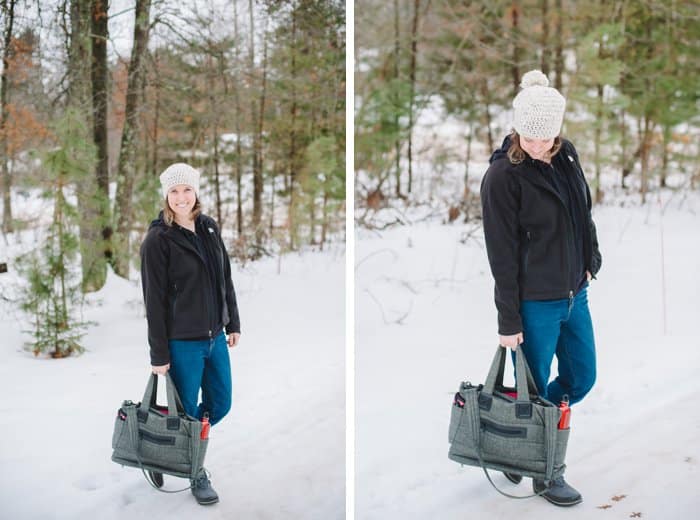 First Impressions:
The box arrived quickly, and I opened it up.
Right away, I liked the look of the bag. The heather gray color is neutral and sleek. I think it looks better in real life than in any of the photos online; it's a richer, gray hue in person. Some of the photos online made it look almost brown-tinted, which it is not.
One touch to the bag squashed any reservations I had about the material. It might look plastic-like and cheap in the photos, but it's very pliable and soft in person. It's actually a strange material almost; it's light and airy, soft and almost silky and yet surprisingly durable. It's water-repellant, which is crucial with babies, and the material hides stains well, and can be wiped down easily with a wet rag.
The other benefit of the material is that the bag is amazingly light. That's one of the features they highlight, and they are telling the truth.
The bag is huge, but it's very light. Considering how much stuff I pack in it, having the bag itself be so light is a plus.
It has two arm straps as well as a detachable cross body strap which I leave on all the time. I sometimes carry the bag on my arm and sometimes on my shoulder, so I like having constant access to both.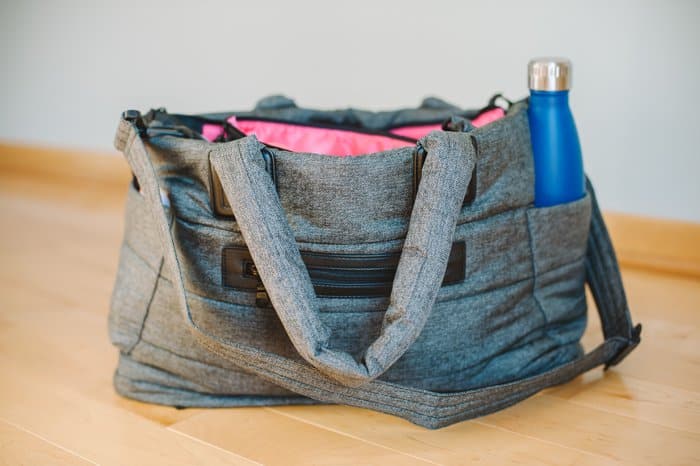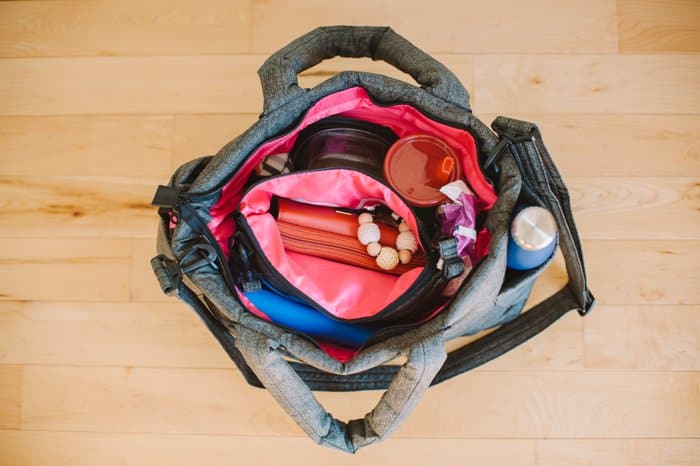 Storage:
The bag has 13 different pockets and compartments. This sounds like overkill at first, but I filled them up in 30 seconds flat.
My favorite ones are the water bottle pockets on the end, and the zipper pocket on the outside. I had the revolutionary [not really] idea to put my chapstick and hand sanitizer in there, because those are two of the things I access the most. I love being able to get to my chapstick without having to rummage around inside the bag.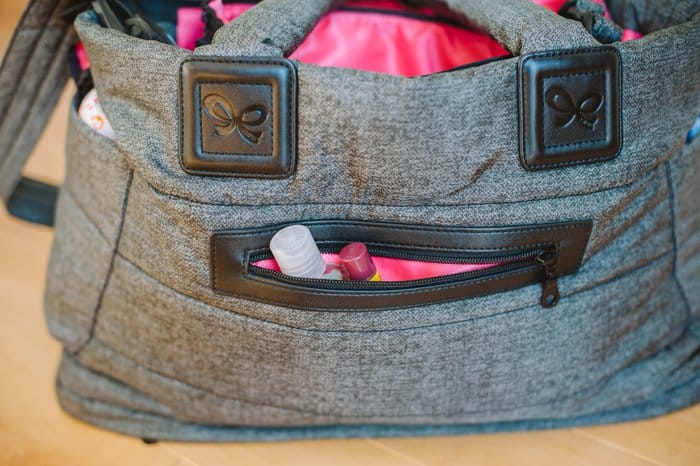 The bag comes with a diaper changing pad which is awesome. I roll it up and put it in the water bottle pocket on the other end of the bag.
The other feature I think is great is the hidden pocket along the bottom of the bag. It can be used for valuables like your wallet etc, or as yet another general storage space. I think it makes the perfect place to put soiled clothes when those inevitable blow outs happen; safe, away from the rest of your stuff.
The bag has a zipper along the top of it, but I am just like the mom in the commercial that packs the entire nursery when going out with her first baby. I have too much stuff in it so I can't zip it closed. That is in no way a fault of the bag though; it's simply my packrat tendencies, and wanting to be prepared "just in case!"
Accessories:
I knew from the Amazon listing that there were a handful of accessories that came with this diaper bag. But I didn't realize just how many there would be!
The tote bag comes with:
Diaper changing pad
Detachable cross body shoulder strap
Removable shoulder pad for the shoulder strap
Single pocket clutch
Double pocket clutch with detachable purse strap
2 stroller hooks
Key chain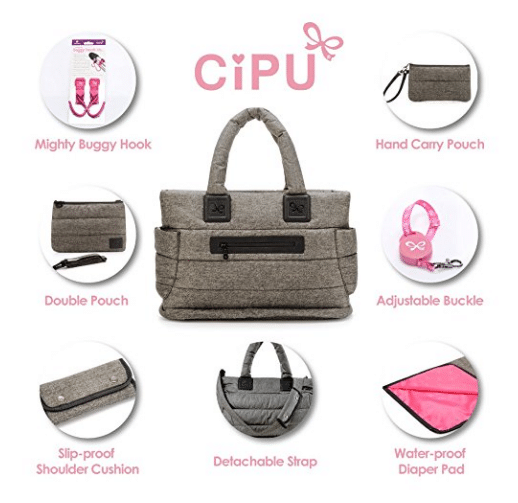 Stroller Hooks:
The stroller hooks are a neat feature that lets you attach the bag to the handle of a shopping cart or to your stroller. The hooks velcro around the handle and loop into plastic tabs on the bag. The bag hangs within easy reach and doesn't take up room inside your shopping cart.
The only downside I have found to hanging your bag like this is when you pack your bag too full/make it too heavy, and then use the hooks on a streamlined stroller like a jogging stroller where the weight is already toward the back. This makes the stroller inclined to tip backwards. Matt and I used these hooks with our jogger stroller and you could feel how it pulled the stroller backwards and made the front wheel want to come off the ground.
I don't think it would be as tip-prone with a normal everyday 4-wheeled stroller. And it surely wouldn't be an issue at all with a shopping cart.
Double Pocket Clutch:
Since Raleigh was born and I started carrying a diaper bag, I migrated all of my regular purse-stuff into a large clutch I made.
I would carry the clutch in my diaper bag so that I had my wallet, keys, checkbook etc with me when I was out and about, and if I had to leave the diaper bag with Matt or one of the grandmas, I could easily take my clutch with me while leaving the baby things in the diaper bag.
The downside was that my clutch didn't have any type of strap on it. I had to hold it in my hand or under my arm all the time. This got annoying fast.
So, when I was looking at the accessories that came with the CiPU tote bag, I immediately noticed the double pocket clutch with a detachable shoulder strap. It solved the carrying issue I had with my handmade clutch!
I am now using that as my purse. I keep my wallet, keys, phone, pens etc in it, and have the option of attaching the shoulder strap if I want to leave the diaper bag behind and carry the clutch as my only bag.
This is the main reason why I can't zip the diaper bag closed. Carrying this full clutch inside the bag fills up the space in the middle. But that's ok with me; I'm fine with leaving it unzipped. The double pocket clutch is such an appreciated bonus to me!

Pros, Cons and The Final Verdict:
CiPU Diaper Bag – Tote Bag Pros:
Large size and lightweight construction
Soft, pliable, water resistant material
Classy, neutral gray exterior
13 pockets and compartments
Arm handles and cross body shoulder strap
All of the accessories included
CiPU Diaper Bag – Tote Bag Cons:
Bright pink interior – One of the only things I'm not crazy about with the bag and accessories is the hot pink interior. It is too vivid and bright for my taste. I would much rather see something neutral like a light gray.
Tendency to lean – Because the bag is soft and pliable, and depending on how you distribute the weight inside, the bag sometimes has a tendency to lean to one side when it's sitting on a flat surface. I found this leaning/tipping problem to be worse when I packed the hidden bottom compartment full, which made the bottom of the bag bulge a little bit. When I set the bag down, it had a tendency to tip to one side and sometimes even tip over. When the bottom compartment is less full, the bottom remains flatter which keeps it more stable. Also, if you distribute the weight inside somewhat evenly, then the tipping less of an issue.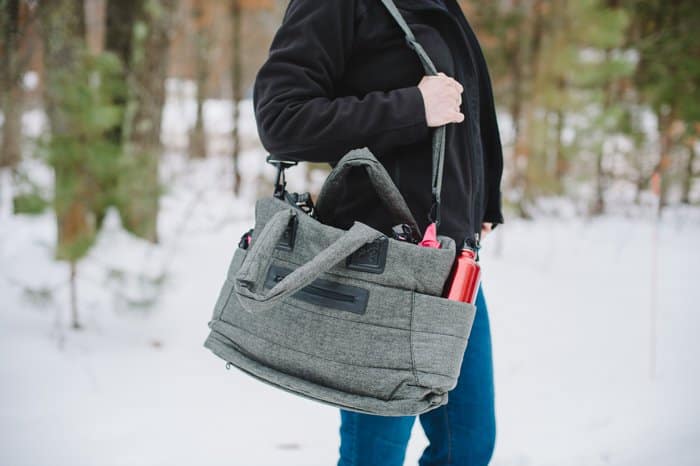 A note about the price:
I am frugal.
Some have called me stingy or cheap. I prefer thrifty or money-conscious. I think long and hard before making big purchases and sometimes have a hard time parting with our hard earned money. It's hereditary, I think.
There was a time in my life when I would have laughed hysterically at the thought of owning a bag of any kind that cost more than $30. Then, I researched, debated, took a deep breath, and bought my first Kelly Moore camera bag back in 2010. That was honestly a really hard thing for me to do.
But I used that camera bag every single day for over a year, and in 2011, I decided to buy another Kelly Moore bag. It's now 2017 and I am STILL using those two camera bags regularly. They have obvious wear and tear from the hundreds of hours of shooting with them, but they are still going strong. I think it's safe to say I've MORE than got my money's worth out of them.
So my perspective on spending money on frequently used things is changing.
I still think twice, three times, maybe even ten times before making a big purchase. But I know that it really is an investment sometimes.
The CiPU diaper bag retails on Amazon for just under $160.
That is a hefty price tag for a bag for a lot of people, me included.
And yet, when you consider how much use a good diaper bag gets, it too is an investment.
I feel blessed that I didn't have to purchase this bag myself; it was given to me to review. But after extensively testing and using it, I can confidently say I believe the CiPU bag and accessories are worth their price tag.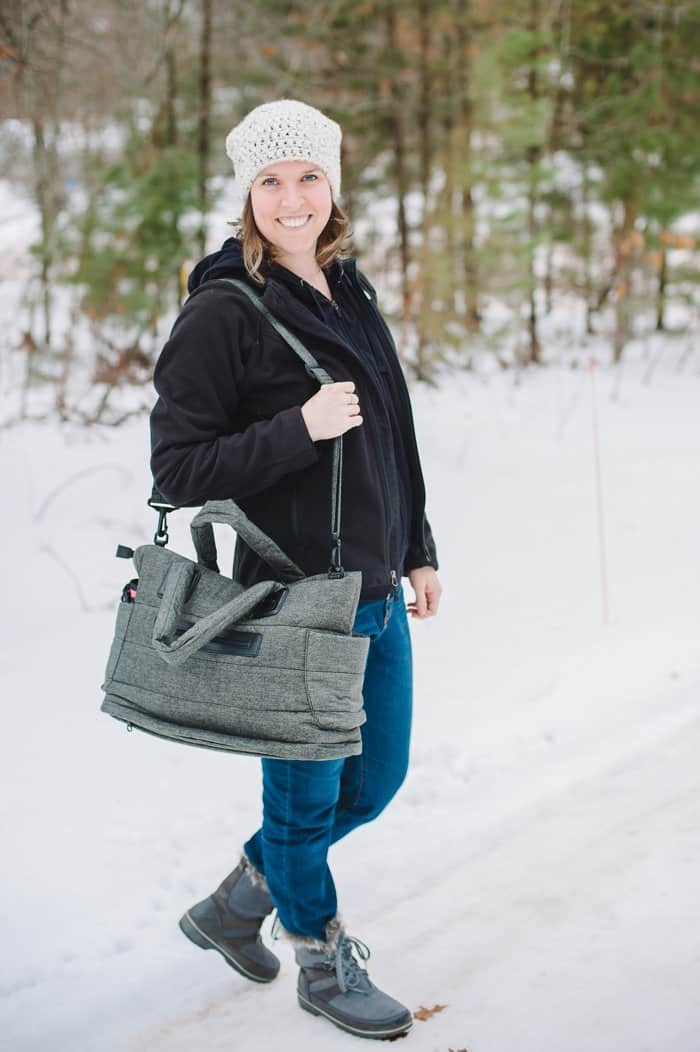 – – – – –
I have been using the CiPU tote diaper bag every day since I received it.
I have packed and repacked it several times, deciding how I like to arrange things and what is a necessity for this stage of baby raising.
It's come with me on all of my errands, play dates, doctors appointments, and the like, and it's seen it's fair share of snow, slush and salt from our Minnesota winter so far. It looks fresh out of the box after nearly two months of constant daily wear and tear.
I have no plans to stop using it.
Once spring rolls around, I may change back to my cream canvas tote to welcome the warmer temps for the summer. But come fall, it will be back to this bag.
My CiPU bag is here to stay!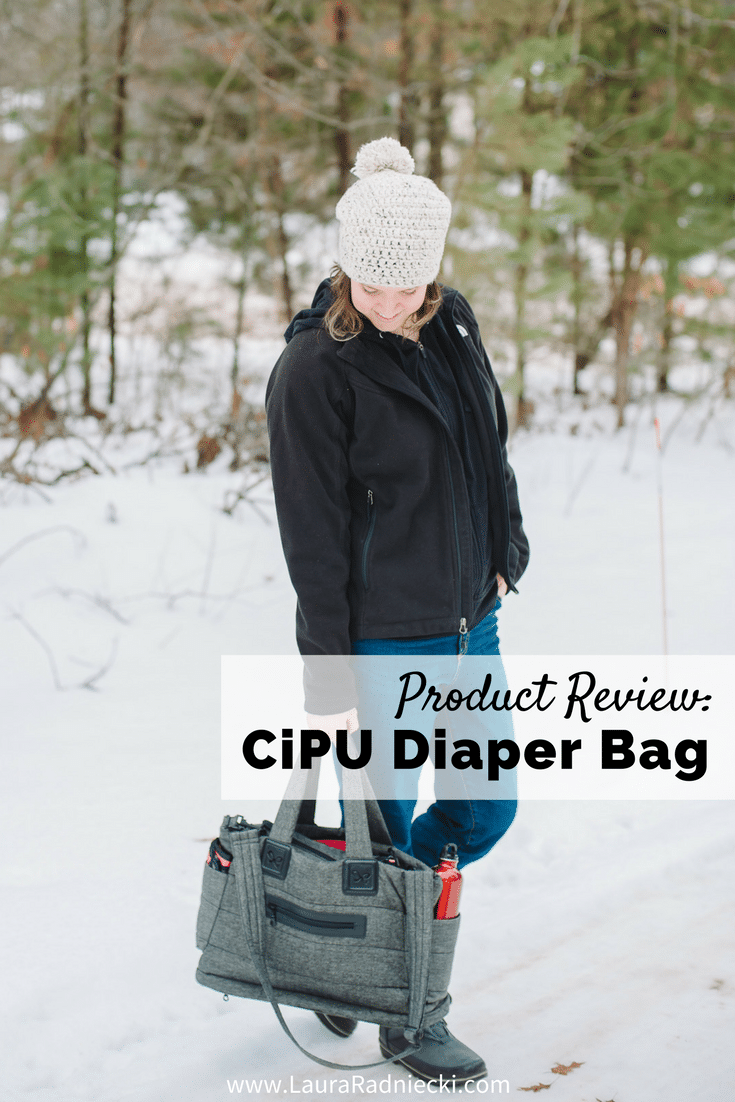 This post contains affiliate links. Please see my disclosure policy for more information. I received the tote style diaper bag for free from CiPU to test and review. All thoughts and opinions are honest and my own.