**These posts often contain affiliate links. Please see our disclosure policy for details.**
A while ago, I read a blog post written by a popular photographer in which she made a comment that got me thinking.
She said something to the effect of you have to be a "people person" to be a successful wedding photographer.
I wholeheartedly believe she meant well with this comment, and in many ways, I agree with her. But I also think that the comment can be interpreted the wrong way, and cause some people, particularly introverts, to second-guess their ability to succeed in wedding [or portrait] photography.
I've written multiple posts already about being an introvert, and about the misconceptions people have about introverts and some of the struggles we face. I've read and LOVED Susan Cain's widely popular book "Quiet", which is probably what led to me analyze the comment in the first place.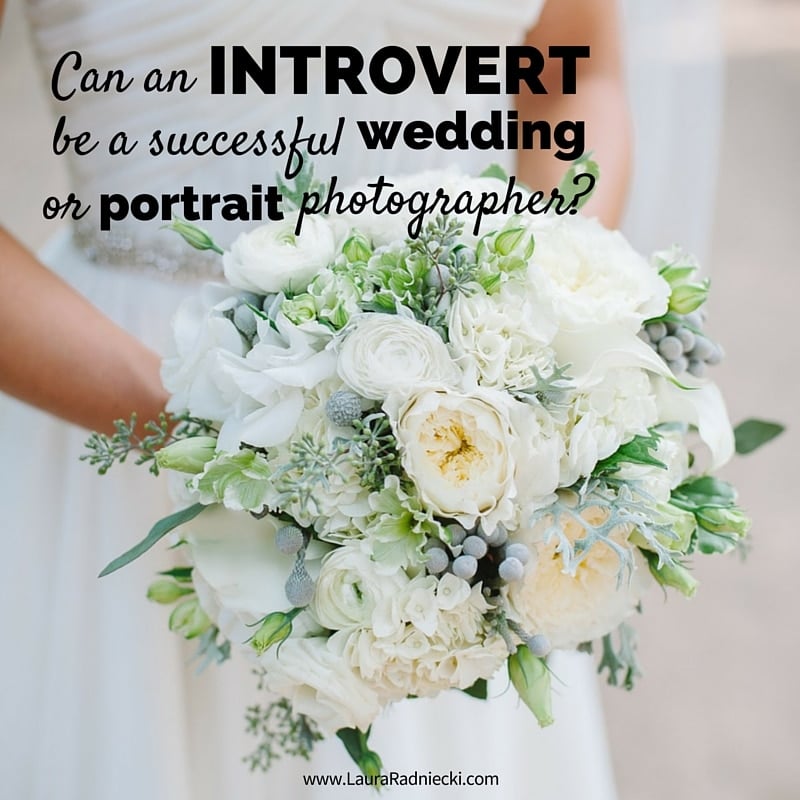 A couple things I want to talk about… The first thing to consider is what exactly is a People Person?
The Extrovert Ideal
Susan Cain's whole first part of the book is about what she calls the Extrovert Ideal. Summed up, it's basically the fact that for the last 110 years, our culture has applauded outgoing, charming extroverts. It's become the way we want our children to be, and the mark of "successful people".
We are drawn to people who can fire us up, capture our attention and do this all while hardly breaking a sweat while talking to a crowd of thousands.
Oftentimes, this is what people mean when they refer to a "people person." Someone who loves to be around other people, loves engaging with people, and quite often loves to be in the limelight.
While these characteristics are great in many areas of life, the downside of this Extrovert Ideal is that it makes those of us who are less outgoing, less gregarious and less spotlight-seeking feel inferior.
That's why the comment bothered me. Because the undertone, whether intentional or not, implies that someone who isn't a "People Person" can't be a successful people photographer.
Basically, if you're a more reserved introvert, you should learn to like photographing food, buildings and mountains, because you're not going to succeed with people.
I disagree.
The difference between a "People Person" and appreciating people:
I am not sure what the other photographer's personal definition of "People Person" is.
But I want to make sure that introverted photographers out there know that you can have a heart that is determined to serve people without being what society calls a "People Person".
If you are interested in people's stories and you have a desire to photograph and tell those stories, you have the potential to be a successful people photographer.
Even if you're quiet.
Even if you're an introvert.
Even if your armpits sweat any time you have two or more people looking at you. [Guilty as charged.]
If you have it on your heart to capture images of people's stories, that's the most important thing.
Can Introverts make successful wedding and portrait photographers?
This answer is a resounding YES.
I know several portrait and wedding photographers [myself included] who love documenting people's stories and who do so in line with their introverted personalities.
That said, the main issue that prompted the other photographer's post and comment was about directing clients and engaging with them while shooting.
Unless your photography approach is completely photo journalistic, all portrait and wedding photographers need to be able to interact and lead their clients. Most people aren't models and they don't know what they're supposed to be doing during a shoot.
So yes, even introverts need to be able to develop their posing and directing skills to be able to move their couples into various poses during a session, and do so in a happy, fun way that keeps the clients comfortable and at ease.
This can be daunting for anyone, but especially an introvert.
If you aren't able to master this skill of direction, that's when you would either need to run your business with a completely photojournalistic approach in which you're a fly on the wall and don't pose your clients at all, or maybe find a different photography niche that suits you better.
– – –
But if you truly do enjoy photographing people and you want to document people's stories, there are ways to increase your skills for directing and posing clients.
1. Practice, practice, practice.
Just like many things in life, the more you practice posing people, the better you'll get at it. You will begin to form a routine and you'll learn what works for YOU and what doesn't. You'll begin to hone your skills.
2. Master 3-4 poses.
It's a great idea to learn a couple of your favorite poses and make sure that you practice and memorize them until you can visualize them in your sleep.
This will allow you to have a few tricks up your sleeve as a starting point for when you are posing and leading your clients.
You can always build off of them, or maybe you'll be inspired to try something new when you start shooting.
But by having a few key poses up your sleeve, you'll be ready in case you're feeling less than fully confident.
3. Prepare.
One way to set yourself up for success is to pre-scout your area.
This helps you become familiar with your shooting options, and minimizes wedding day surprises.
Of course there are variables that come into play like the weather on the day of the session, but being familiar with your shooting area helps remove some of the unknowns.
4. Make Lists.
Another tip is to make a list of photos you need to take.
I'm not talking the huge list of the thousands of shots you should take during a wedding day.
But a list of the family formals you want to make sure you take is a great idea, and a way for you to free your mind from having to memorize them.
You could also create yourself a small cheat sheet for bride and groom portraits or the wedding party to have in case your brain freezes up under pressure.
If you're an introvert that really wants to be a successful people photographer, these tips can help you develop your skills and help you lead your clients with confidence.
– – –
I agree with the photographer's sentiment that if you don't like people, you might not be the best people photographer. If you truly couldn't care less if you are photographing a piece of cheesecake or a bride and groom, then you probably aren't interested in people's stories and don't genuinely want to capture the best possible images that you can for them.
If that is the case, the world needs other types of photographers besides people photographers. You'll better serve yourself and your clients by finding the niche of photography that you are passionate about.
However, even if you're a reserved introvert, and even if you don't consider yourself a "People Person" by popular definition, this doesn't mean that you'll fail at photographing people.
That's the main reason I wanted to write this post.
There are Introverted Photographers AND Introverted Clients:
If you have it on your heart to photograph people, you can do it even if you're an introvert through and through. In fact, by staying true to who you are rather than trying to be someone that you're not, you will actually attract your ideal clients to you.
There are many couples who aren't loud and outgoing. A loud, outgoing photographer might not be the best fit for them.
But you, the introverted photographer who has a softer way of speaking, and who instructs and poses with a milder touch; you might be the perfect fit for them.
Only by staying true to yourself will you be able to connect with the right clients, which will bless BOTH you and them in the long run.
– – –
If you are an introvert and you dream of being a successful photographer, YOU CAN DO THIS.
Through practice and preparation, you too can masterfully lead your clients and capture photographs that they'll cherish forever. All while staying true to and being proud of who you are, rather than being angry or embarrassed about being an introvert.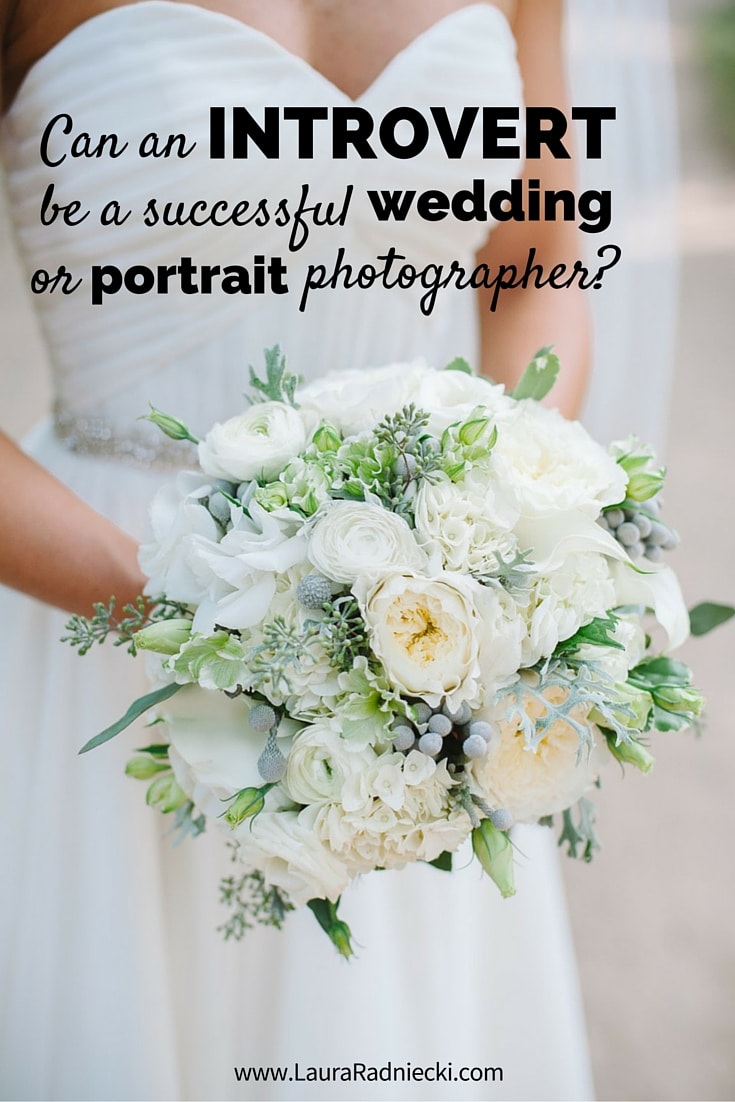 – – –
P.S. If you're an introvert and you find yourself feeling guilty about it or wishing you were different, I HIGHLY recommend you read Quiet by Susan Cain. I believe it has the power to change how our society views introverts. At the very least, it will help you realize that you're not broken. In fact, you have huge value and many unique strengths, just the way you are.
P.P.S. I also wrote about How to Avoid Burnout, especially if you're an introverted photographer in another blog post. You can find that post here.