**These posts often contain affiliate links. Please see our disclosure policy for details.**
This week, I'm thankful for:
1. Camping Trips
Last weekend, Matt and I went camping with my parents on the south side of Mille Lacs Lake.
We stayed at Father Hennepin State Park, which is right on the shores of Mille Lacs. My family had gone there years ago, but I don't remember it much.
I love that it's only an hour from home, so the trip to and from is nice and short. I strongly dislike packing up and just wanting to get home, only to have hours and hours of driving ahead of you yet.
Aside from heavy rain and thunderstorms during our first night there, we had beautiful weather the whole weekend!
We went out on the boat, Matt and I went on a quick bike ride to break in the new [to me] bike he bought for me last week, and we had delicious meals of bacon, eggs, pancakes, burgers, brats, and my favorite – Tin Foil Dinners.
The crowd favorite activity during our camping weekend was unanimously geocaching! Which brings me to…
2. Geocaching
Matt and I went camping at a campground close to Father Hennepin last fall, and that was our first experience with geocaching. I think we saw a sign in the office that mentioned it, so we looked it up, downloaded the app and found 2 caches during our trip.
We hadn't done much since then, until we entered the campground office this trip, and saw the same signs again.
So, Matt booted up the app, checked to see if there were any caches nearby and much to our surprise, there were DOZENS of caches around the state park and in the nearby towns.
We spent much of the next three days walking along trails, climbing into the woods, and searching for treasure.
If you have no clue what I'm talking about, check out the Geocaching website for more info. It's basically a big international scavenger hunt. There are caches [little containers, usually with a piece of paper to write your name/date when you find it, and sometimes little trinkets, inside] all over the world. There are over 2.5 MILLION caches hidden around the world.
We're hooked.
#geocachingnerdalert
– – –
Here's a photo of us, after we found the cache at the "Welcome to Wahkon" sign.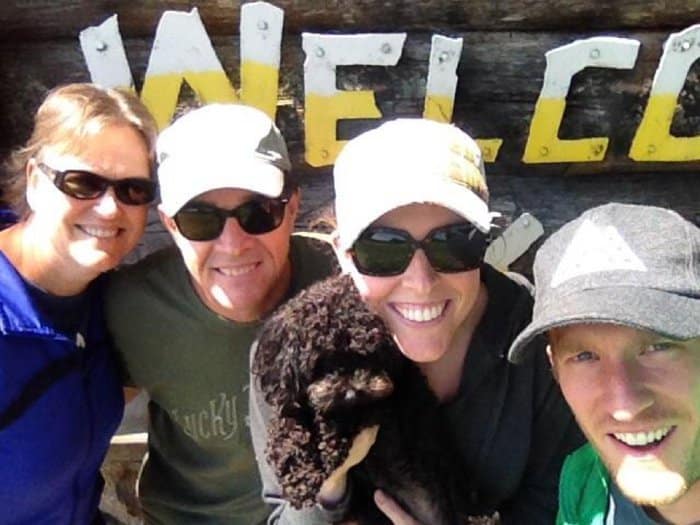 I anticipate we'll be doing lots more geocaching in the future – especially since my parents liked it as much as we did.
Hopefully this camping tradition will become an annual thing!
P.S. HUGE thanks to my in-laws for borrowing us their pop up camper. The trip was infinitely more enjoyable being up off the ground during the heavy rains. You're the best!!!
– – –
What are you grateful for today?
xo, Laura