**These posts often contain affiliate links. Please see our disclosure policy for details.**
Instructions on how to brush your baby's teeth; when to start brushing baby teeth and gums, and what kind of toothbrush and toothpaste to use.
When we got Remy, the vet told us that as a toy breed, she is predisposed to having tooth and gum problems. They recommended we make brushing her teeth a part of our daily routine.
We failed miserably at that, and have only brushed her teeth a total of 3 or 4 times in nearly 4 years.
Now with a baby in the house and baby teeth poking through Raleigh's gums, we were determined to do a better job with the baby than the dog.
It is recommended to incorporate brushing your baby's teeth into their bedtime routine as early as possible. This gives them the best chance of getting used to it so they continue the habit as they get older.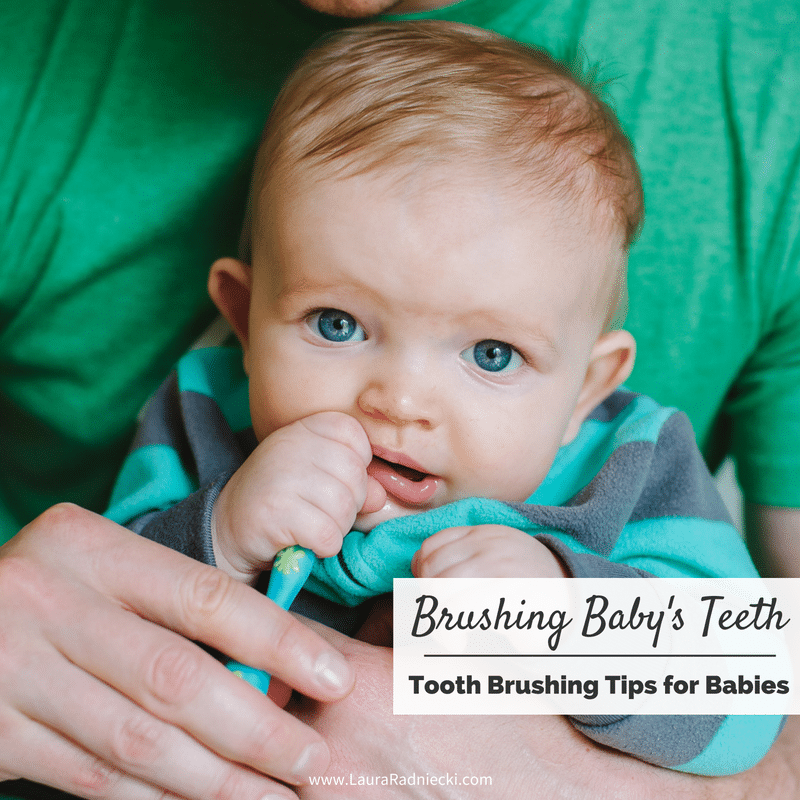 How to Brush Your Baby's Teeth:
Step 1: Pick a Baby Toothbrush
As part of the Nuby parent blogger program, I received the Nuby 4 Stage Oral Care System Set to test and review.
The type of toothbrush your baby needs varies depending on their age and teething progression. That's one of the reasons why I like the Oral Care Set.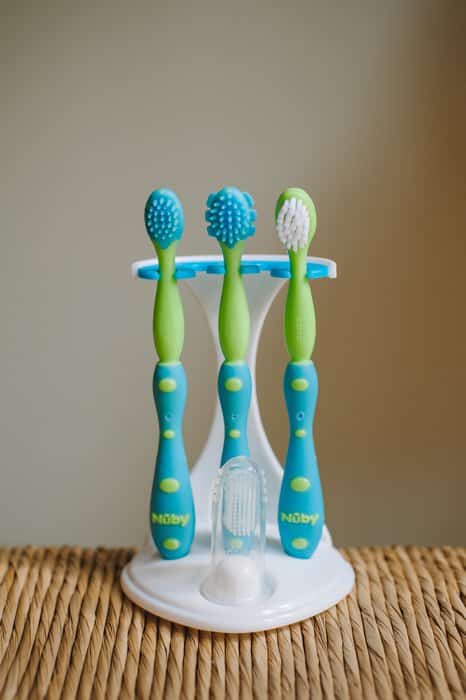 It includes a full set of toothbrushes for birth to 3+ years of age. One of them is a silicone fingertip brush for newborn gums that slips on the parent's finger. Then there are three different brushes for increasing ages and teeth maturity to use as the baby grows.
Everything you need, all in one set – one and done.
Step 2: Pick a Baby Toothpaste
We recently had our 6 month well child visit, and in that appointment, our pediatrician talked with us about brushing Raleigh's teeth.
[I know opinions and recommendations vary widely among doctors, so this is in no way me telling you what to do. I'm simply sharing information we were given. Just so we're clear about that haha.]
Our pediatrician told us that he recommends people use regular fluoridated toothpaste instead of the fluoride-free varieties. He said to use a rice-grain sized smear of toothpaste and it's ok for Raleigh to swallow it because it's such a small amount. The fluoride will offer his teeth protection and he won't be harmed by the amount he ingests.
He also said that regular adult toothpastes are usually too strongly flavored for babies, so he recommended using something like the Tom's of Maine brand toothpaste. He said they have gentler flavors that babies tolerate better.
However, I know that there are differing opinions about whether babies should use a fluoridated toothpaste since they will be ingesting it.
Some parents feel safer using something natural and fluoride-free.
The toothpaste I tested from Nuby is a great alternative for parents who want to take a more holistic approach.  
It is called the Nuby All Natural Baby Tooth & Gum Cleaner. It's fluoride free, safe to swallow and Vanilla Milk flavored to make it easily tolerated by babies.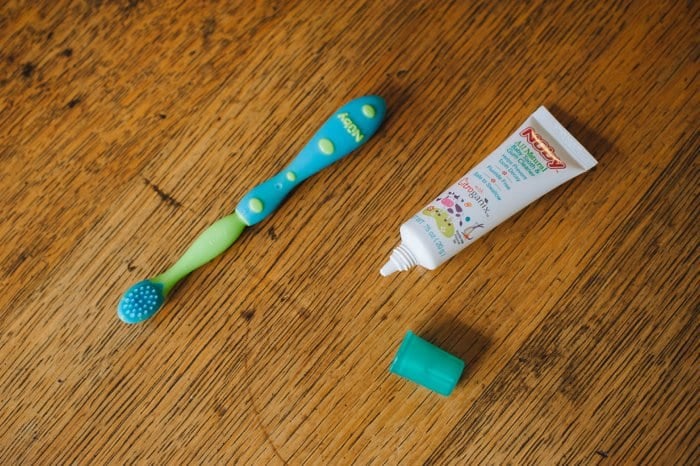 Step 3: Introduce the Toothbrush to Your Baby
If you start brushing your newborn's gums, there is no need for this step. Your baby won't want to look at and grab the toothbrush like an older baby will.
However, for babies like Raleigh who are interested in and want to grab EVERYTHING, this is the introduction phase.
We held the toothbrush out in front of him and let him grab hold of it. He immediately put it into his mouth and took a taste.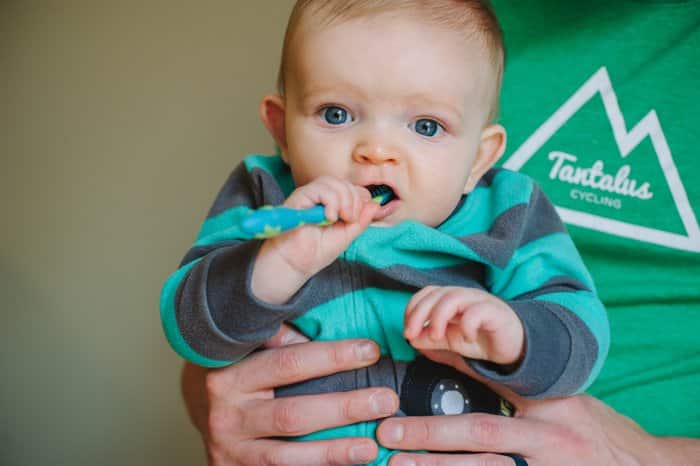 He does this investigative method which goes like this: look at it, put it in mouth for a quick taste, look at it, put it in mouth for a quick taste, look at it… repeat a hundred times. It's hilarious.
We let him explore the toothbrush for a while [with close supervision so he didn't stick it too far into his mouth of course] before we moved to actually brushing his teeth and gums.

Step 4: Put Toothpaste on the Toothbrush
Once your baby has had adequate time to play with the toothbrush, it's time to get brushing!
Put a little bit of toothpaste on the toothbrush.
If you are using fluoridated toothpaste, the recommended amount is a "rice-grain sized smear." If you are using a fluoride-free option, the size is probably less crucial but I would still go with the same amount. A little dab is plenty at this early stage.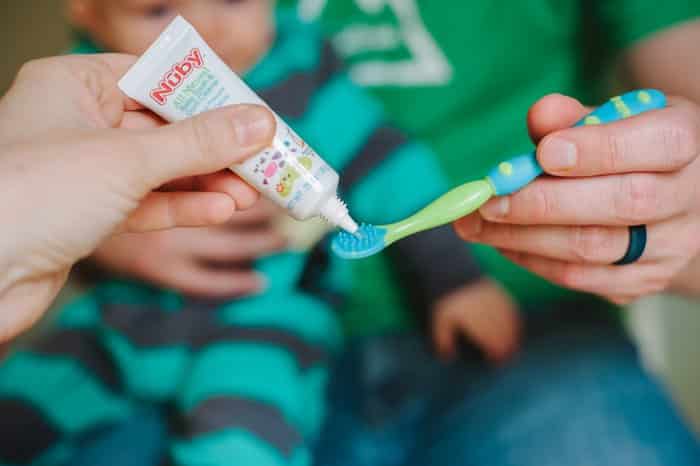 Our pediatrician told us that once Raleigh has learned to spit out the toothpaste and no longer swallows it, that's when we should increase the amount we use to the size of a pea.
Step 5: Brush Your Baby's Teeth and Gums
Now, brush your baby's teeth and/or gums.
Initially, we had to kind of manhandle Raleigh into letting us actually rub the toothbrush along his teeth and gums. He wanted to grab and hold the toothbrush and it was tough to move it around in a purposeful way.
But the more we did it, the better he became at letting us actually rub it around on his teeth and gums. I'm actually surprised by how well he tolerates it now.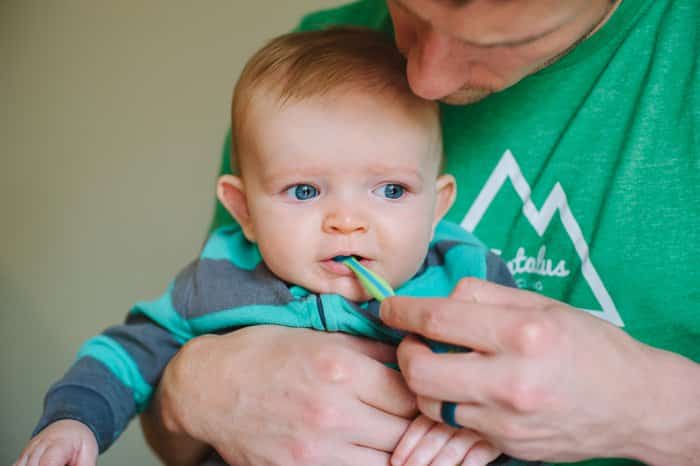 We have done it with him sitting on our lap, and also with him laying on the towel after bath time. It seems to work better with him laying down because we can see what we are doing easier, but either one is fine.
A few quick swipes back and forth on all surfaces of the bottom and top gums and any teeth they have, and it's done!
Step 6: Repeat Daily and Build a Habit
The point of brushing your baby's gums and teeth as early as possible is to establish a habit that becomes a non-negotiable part of your baby's routine.
They are less likely to protest because it's part of what they've always done.
When they become old enough to notice what you are doing and want to imitate you, they will love having their own toothbrush like mom and dad too.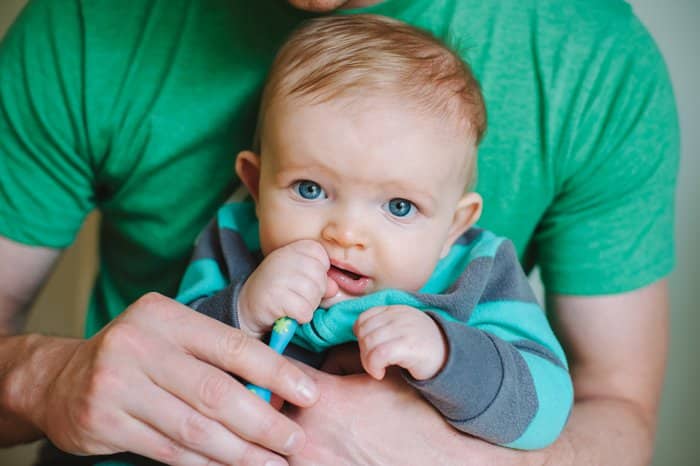 A big thanks to Nuby for giving these to us to test and review.
You can find both products at Amazon: the Nuby 4 Stage Oral Care System Set and the All Natural Baby Tooth & Gum Cleaner [this comes with a newborn silicone fingertip gum massager as a bonus].
Nuby offers a ton of awesome baby and kid products and can be found around the web at these places: Facebook / Twitter / Instagram / Pinterest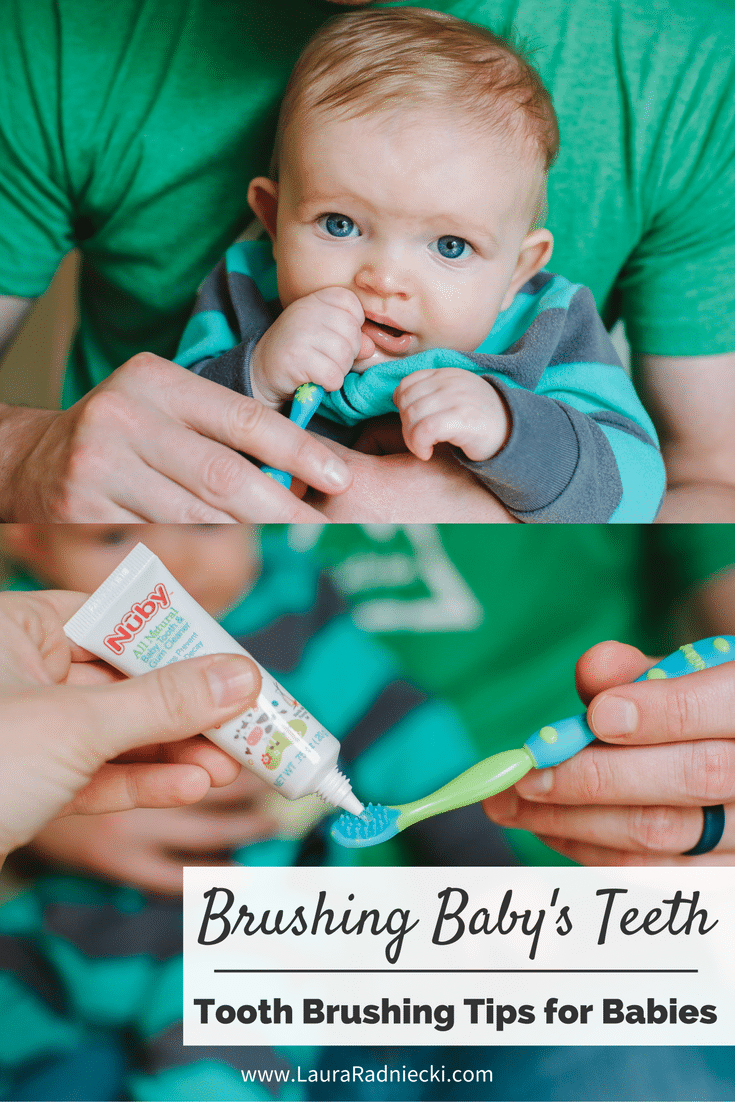 – If you liked this post, I would love if you would share it on Pinterest or Facebook. Thanks & xo! –