**These posts often contain affiliate links. Please see our disclosure policy for details.**
A cheap and easy way to store breastmilk in the freezer; use an empty 12 pack of pop box! A breastmilk storage idea for the freezer to keep your milk supply organized!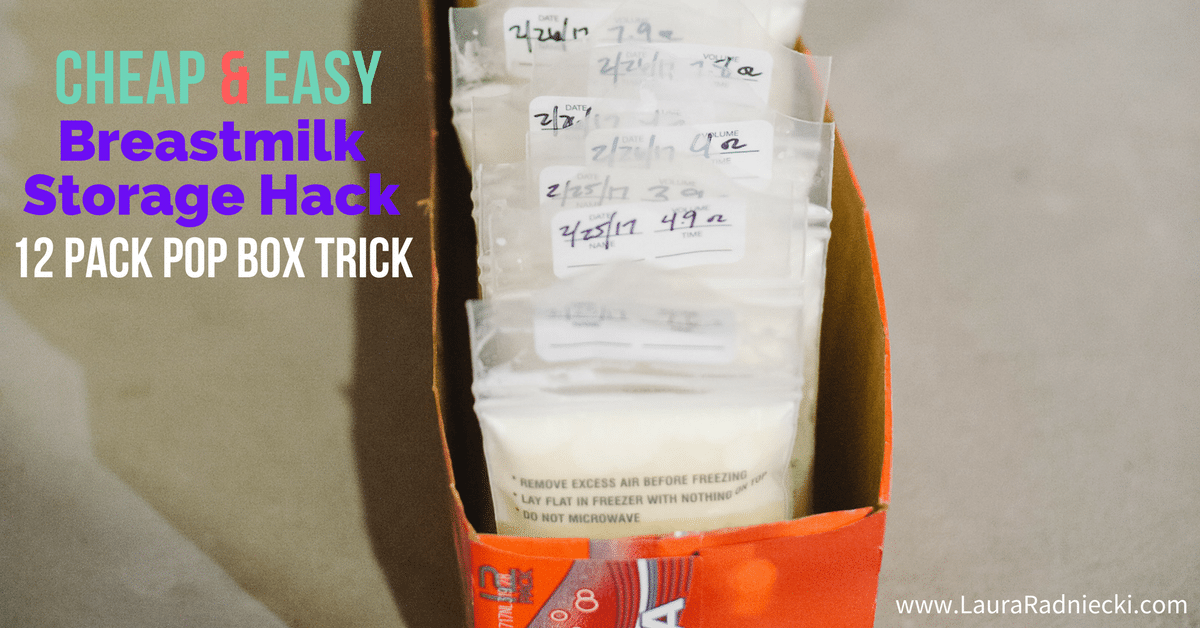 For moms who incorporate pumping into their breastfeeding routine, it's often only a matter of time before their freezer supply begins to accumulate.
If you're a nursing mother with a generous milk supply, it might not take long before you're running out of storage space in your freezer.
There are many different freezer breastmilk storage ideas. However, as a nursing and pumping mom with a prolific supply, my favorite method of freezing and storing breastmilk in my freezer was to use empty 12 pack boxes of pop.
The 12 Pack Pop Box Trick for Storing Breastmilk in the Freezer
My mom was the one who first suggested this method to me after reading about it online.
We are avid pop drinkers in our family (we prefer pop over coffee) so there is no shortage of 12 pack boxes.
After freezing and storing breastmilk in haphazard ways in my early nursing days, this method proved to be a way to minimize space, stay organized, and make sure I used the oldest breastmilk in my freezer supply first.
Step 1. Freeze Breastmilk in Plastic Storage Bags Laying Flat
This is the first step in this simple storage process for breastmilk.
Pour pumped breastmilk into labeled milk storage bags (it's easiest to label them BEFORE you add the milk). Make sure you date them because this will allow you to use your oldest milk first. I only filled out the date and ounces because the other parts weren't significant to me since Raleigh didn't go to daycare.
Squeeze as much air out as you can, zip the top and double-check to make sure it's secure, and lay flat in the freezer to freeze completely.
(My favorite breastmilk storage bags were the Up & Up brand from Target as shown below, but online reviews say that they've since redesigned them and they're now thinner and leak more than the old design. That is a huge bummer! If you want to shop of Amazon, the Lansinoh brand breastmilk bags are popular, and the Bonafide Baby brand has good reviews.)

Step 2. Cut the Top Off of  a 12 pack Pop Box
Take an empty box that used to hold 12 cans of pop, and use scissors to cut the top off.
Step 3. Place Frozen Bags of Milk Upright in the Box, in Order.
Place the oldest dated bag at the front of the box, and then add the next bag behind it.
Continue adding bags until the whole box is filled; oldest in the front and newest in the back.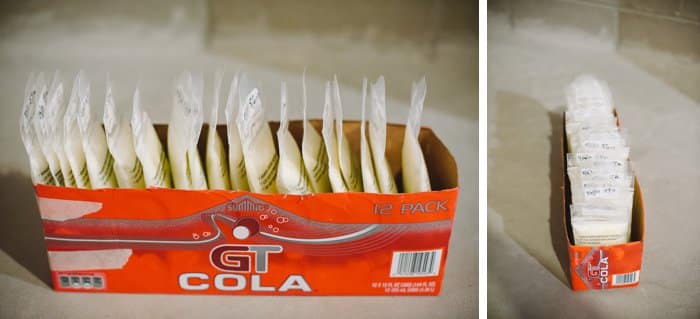 I was able to add a few additional milk bags to the sides to maximize the amount of bags I fit into each pop box.
Step 4. Place Boxes Side by Side in Freezer.
The boxes can now be placed in your freezer, keeping the milk bags upright and in order by date.
When you're ready to use the breastmilk, simply take the first bag from the front since that will be the oldest bag, and feed your baby!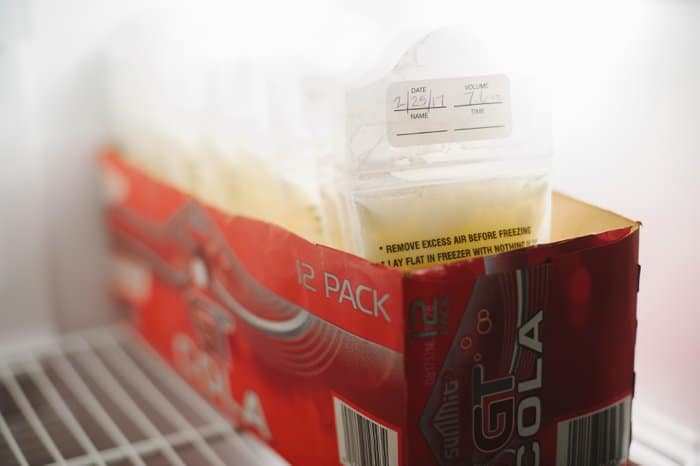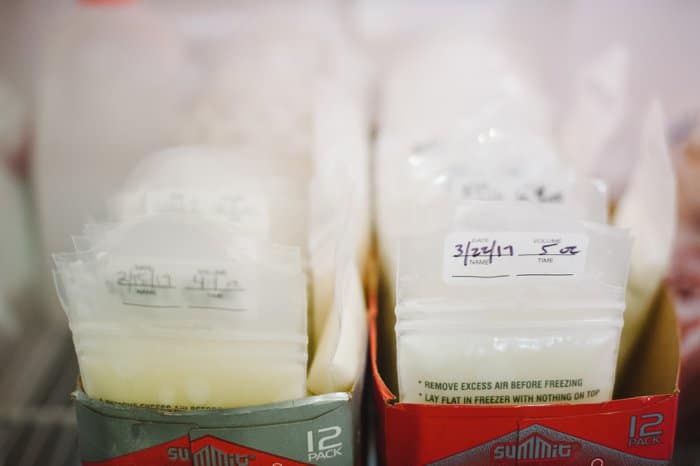 Most of motherhood feels unorganized and chaotic.
Breastfeeding is a struggle for many, and if you're blessed with a growing freezer stash, it makes sense to find a storage method that keeps things organized and easily available.
The 12 pack of pop box trick for storing breastmilk bags is an easy, quick, effective and CHEAP way to keep your freezer stash under control.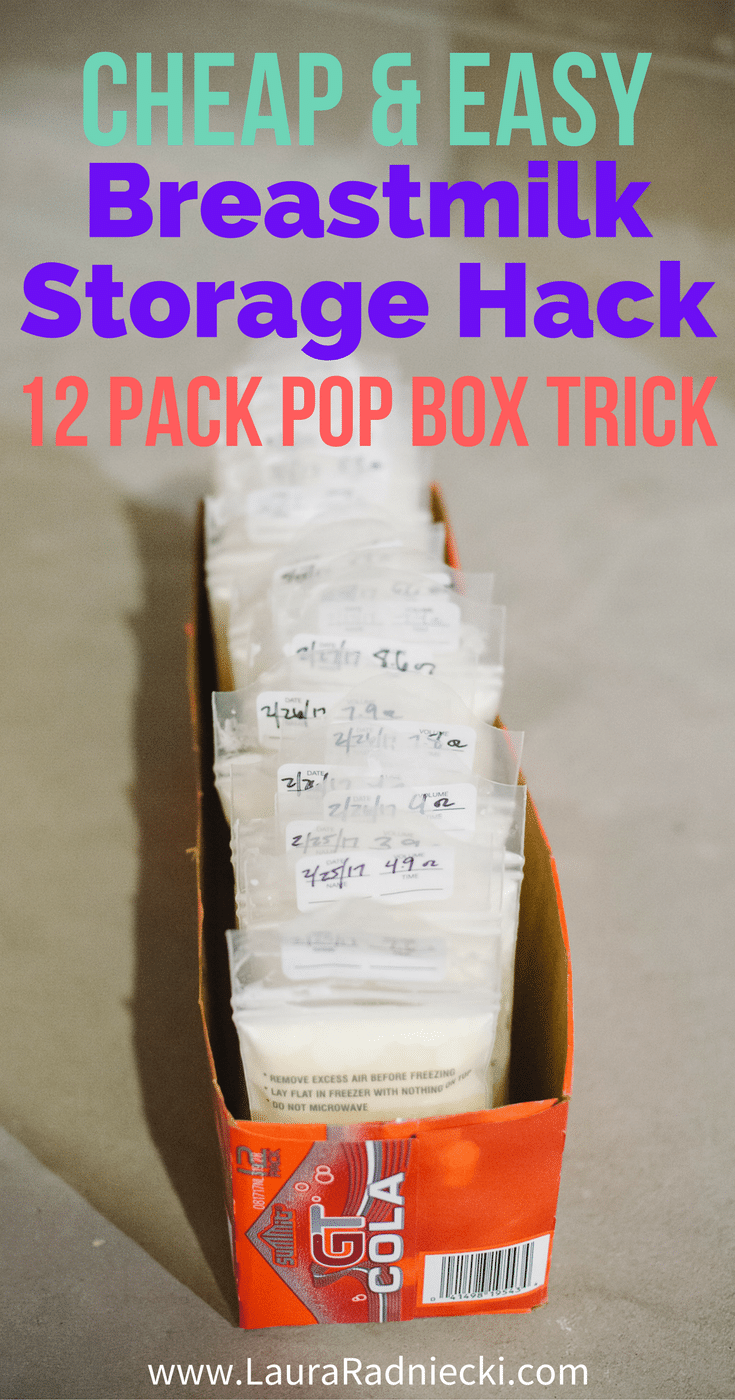 – If you liked this post, I would love if you would share it on Pinterest or Facebook. Thanks & xo! –