**These posts often contain affiliate links. Please see our disclosure policy for details.**
**I am writing this post on the day I am 39 weeks, 6 days pregnant. Tomorrow is our Due Date. Using the awesome technology of scheduling blog posts, this won't go live until next week, when I would be/will be nearly 41 weeks. At this point, I don't know when baby boy will decide to arrive, so I'm planning ahead. All that to say: when this post goes live, he may or may not be here. It'll be a surprise!**
– – – – –
Our house currently has three bedrooms in it.
Matt and I have the master bedroom, one of the rooms is my home office for my photography business, and for the last three and a half years, the third bedroom has been a guest room.
When we found out we were pregnant, we knew that the guest room would ultimately be transformed into the baby's room since it's right across the hallway from our room.
Over the last few months, we have slowly changed what was once the guest room into a nursery for our baby boy.
We sold the furniture on Craigslist, moved the guest bed down into the basement, and registered for and/or bought what we needed for the nursery.
And now, as we are days away from meeting our baby boy, the nursery is as complete and ready as it can be without him in it.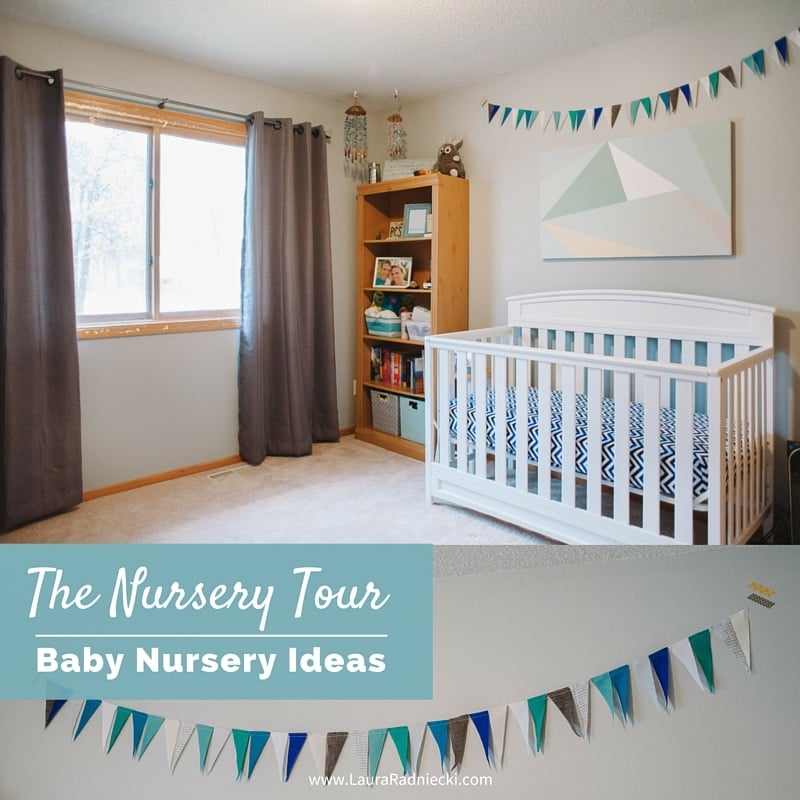 Baby Boy Radniecki's Nursery Tour
The room is a fairly large one, with one big window that looks out into our front yard.
We're coming to the end of a Minnesota winter which is why there's still plastic on the window. Trying to keep the chill out!
Matt and I mapped out several possible layouts for the room, and ultimately decided on what we figured would be best to maximize the space. We will see over time if this is the best layout, or if we need to switch things up at some point.
We registered for a white crib from Target. We also decided to keep the book case that had been in the guest room, and use it to house baby things to keep things organized.
It's hard to tell from the photos [mixed white balance and all that] but the paint color in the room is a subtle blue/gray color. That's what we painted the guest room when we first bought the house, and we decided it was the perfect neutral color for the nursery. No re-painting needed!
We also added dark gray blackout shades to our gift registry at Target, and they will be very useful in keeping things dark when baby is sleeping.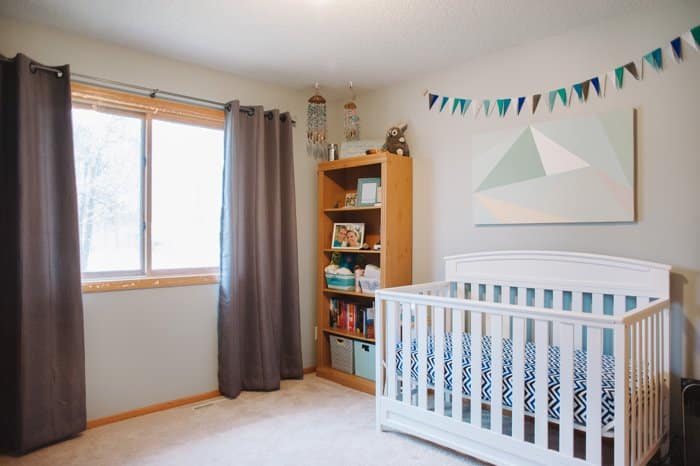 If you're standing by the bookcase, looking back toward the door, this next photo is the other side of the room.
The dresser is from IKEA, and it was exactly what we were looking for. It's the perfect middle size; big enough to allow for a changing pad and basket on the top, but small enough to fit along the wall and not take up too much room. It will also be the perfect size to transition into a kid's dresser when he grows older.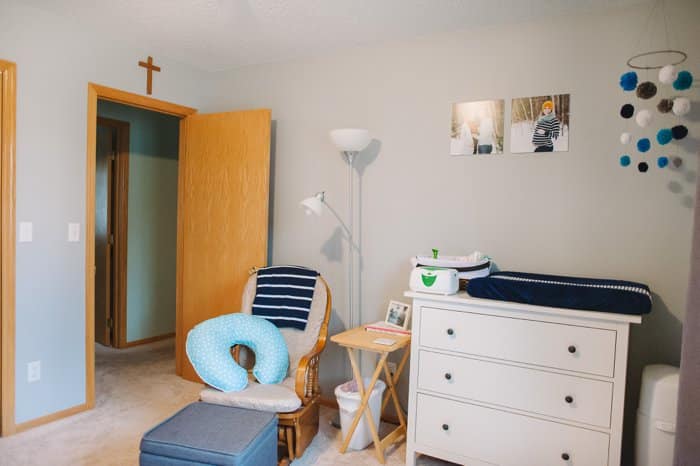 My parents gave us a rocking chair that belonged to my grandparents. It had green polkadot cushions so I used some fabric that I had in my stash and quickly sewed a slipcover for the two cushions.
In time, we may decide to buy a new glider and matching footstool but we thought it would be perfect to use this repurposed one while we're deciding what we like, and how much we will use it.
I anticipate middle of the night feedings in this chair, and I'm definitely a midnight snacker. I wanted to have some place to keep a few granola bars etc for when I'm snuggled in nursing, and don't want to get up.
I decided to experiment and whipped up a snack caddy that fits alongside the edge of my rocker. For not having a pattern and trying to translate what was in my head into reality, it turned out pretty much how I envisioned. I get a chuckle out of the mishaps I had in making it.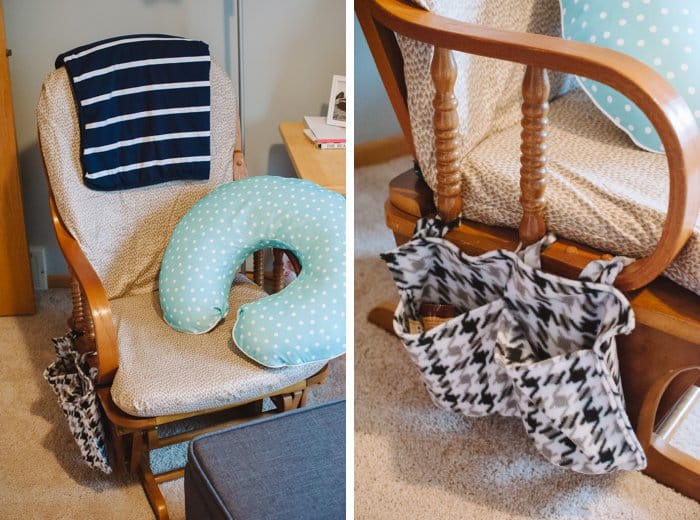 Instead of buying a side table, I used a TV tray we had in the basement to add surface space next to the rocker.
I've got my favorite copy of Mother Goose ready for reading to the boy. That book has been read cover to cover probably thousands of times by my dad to me during my childhood. So much so that both covers are long gone. My dad still remembers a lot of the nursery rhymes by heart, and I still remember that my favorite was Jack Sprat, on page 47.
I also printed up some of my favorite maternity photos. These are square photos on a white matboard backing. I used command strips to attach them to the wall.
Once we have our newborn session, I will print out two of my favorites and put them below the two maternity photos to complete the look.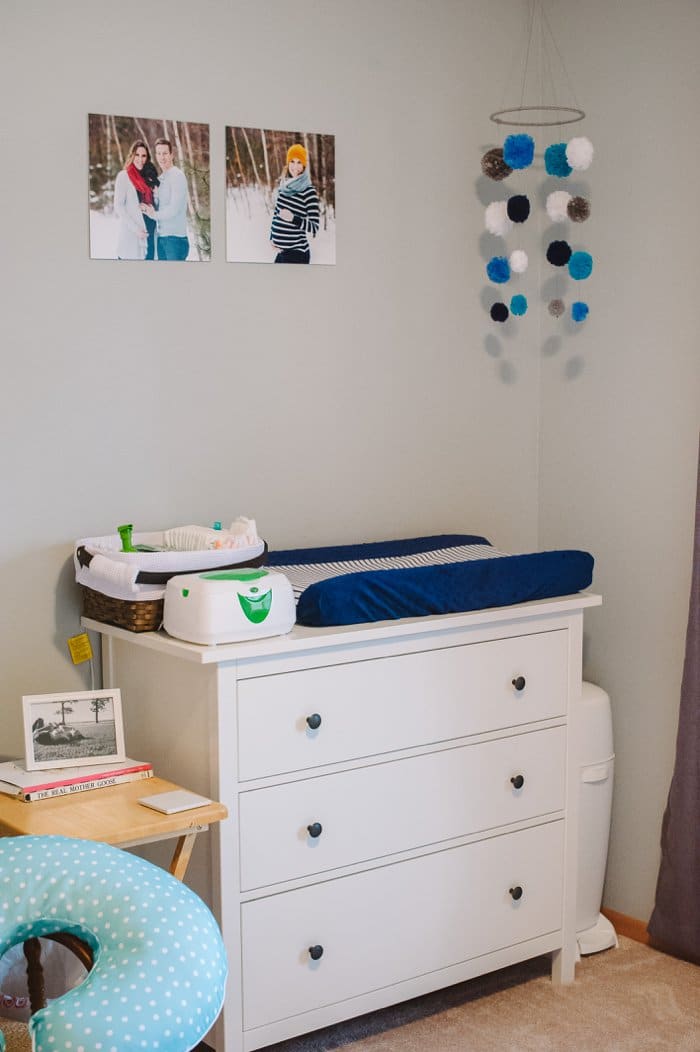 One night while watching movies, I decided to use some of the craft supplies I had and create a pom-pom mobile. At first, I wanted to see if I could simply figure out how to make it and what it would look like, and once I was finished, I decided to add it to the decor in the nursery.
I decided to put it above the changing table to give baby boy something to look at during diaper changes.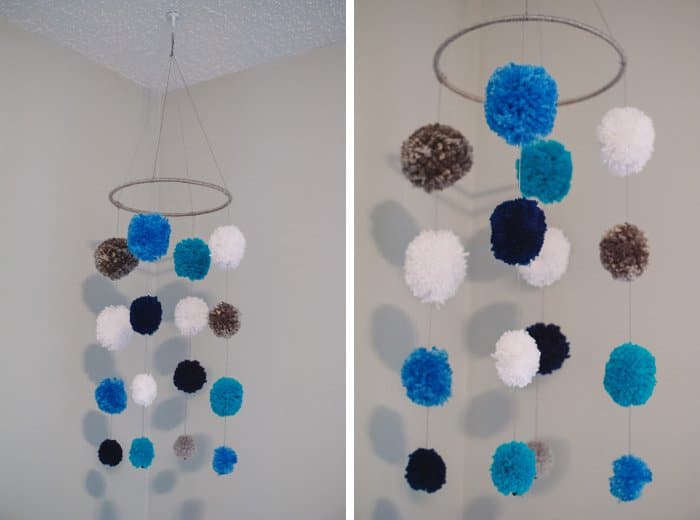 I have had these next two shell mobiles since I was young. I bought them during spring break trips to Florida; likely at the flea market we visited with my grandparents.
I know the one is a bit girly with the pink and purple shells mixed in, but we decided to keep them both up for now. Since the overarching theme of the nursery is beachy/nautical, they still fit well enough to stay. Plus, they are significant to me and I love seeing them up there.
The "May you always have a shell in your pocket and sand in your shoes" sign is one of my most treasured decor pieces in my whole house. I picked it up on our cross country road trip back in 2009 after falling in love with it immediately. I love the colors, the sentiment and the carefree, peaceful, beach-inspired feeling I get when I look at it. It's the inspiration for the entire nursery, and our whole house, really.

The rest of the book case holds a few other treasures including the Hawaii license plate we saved from our car once we moved back to Minnesota and one of Matt's model cars from his childhood.
There are also bins of books, stuffed animals and a few toys, as well as a shelf of our books that I'm working on making space for elsewhere in the house. That will free up space for more bins and toys as he gets older.
We decided to go with simple bedding that follows the blue/neutral color scheme.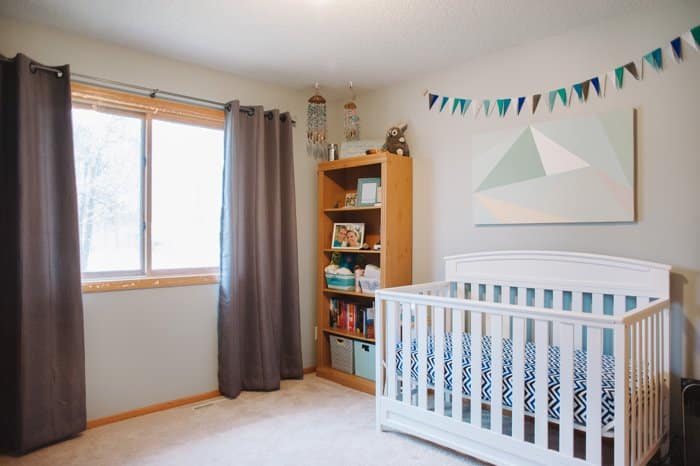 A few months ago, I was reading an issue of DIY magazine when I saw an article about how they made a geometric wall canvas like the one above the crib. I was immediately intrigued by it.
I knew I wanted some kind of statement art piece to hang above the crib, and I didn't know if I wanted to use a photo/canvas of us [that would likely become outdated quickly as baby grows so fast in the early months.] 
I had seen beautiful wall art pieces while surfing Instagram like world maps on reclaimed rustic wood, but every piece was at least several hundred dollars. I didn't know what I wanted, so I didn't want to rush into anything.
This geometric art piece turned out to be exactly what I was looking for to fill the space.
I outlined how I made the art piece in my 36 week pregnancy update here.
I love the soothing beach-inspired colors, and the geometric triangle design. I think it's the perfect piece to hang above the crib, and it's neutral enough not to make me sick of it fast.
Most recently, I decided to sew up a quick fabric scrap banner to hang above the crib as well.
I'd seen these made too, and I wanted to see if I could figure out how to make one myself. I loved the finished product so much, I knew it would be the perfect final addition to the nursery.
I may end up tying loops in the thread ends of the banner and attaching them around small nails, rather than using washi tape to fix it to the wall. I was mostly using the tape at first to make sure I liked it before making it permanent.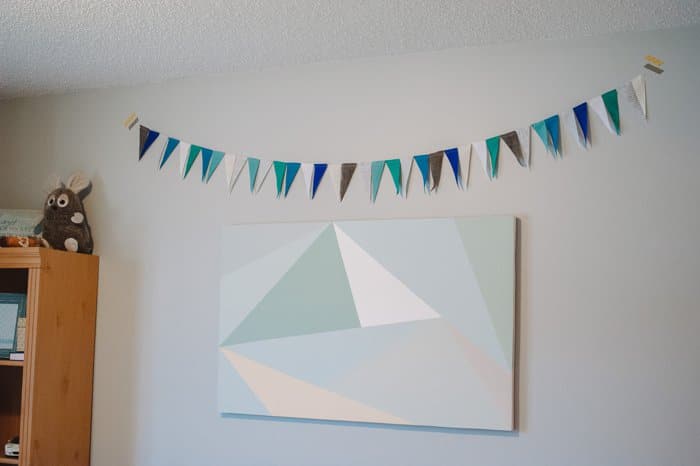 The room has a decently large closet which is a great feature.
We decided to add a cubed shelving unit for storage into the bottom of the closet. This one is from Menards. If I had to buy one over again, I would get one with larger cubes either from Target or IKEA. Some of the baskets we have fit a little too snug because of variations in either the shelf or the baskets. It would be better if there were more room for things to slide freely.
But for now, this works fine and we used our 11% back Menards rebate mailer to buy it. Win-win!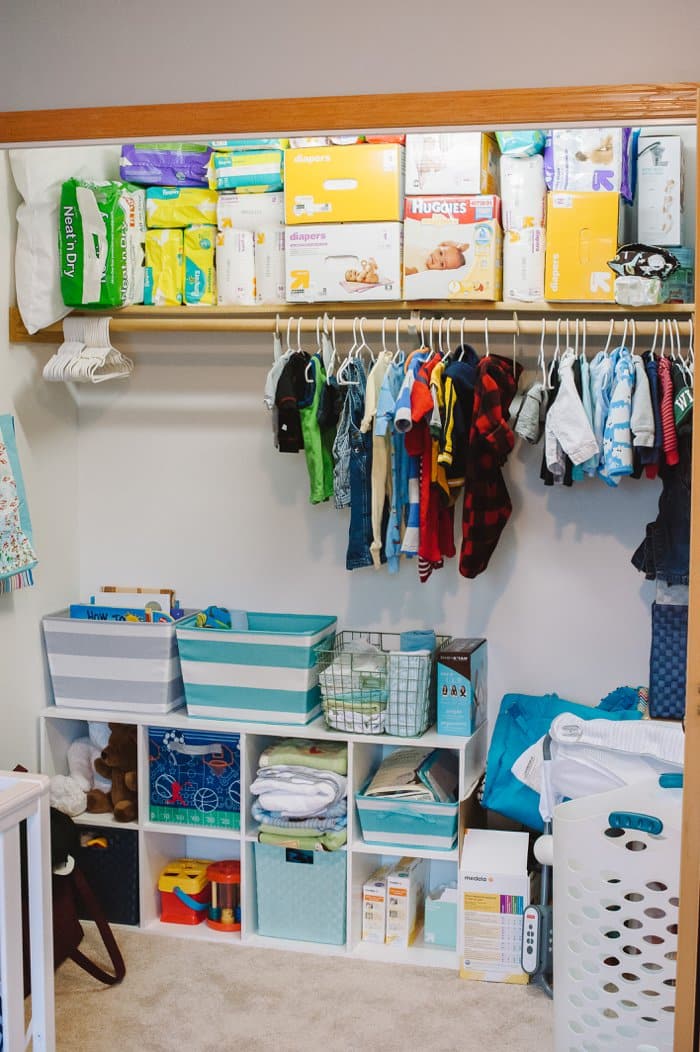 I realize the diaper stash is a little less than aesthetically pleasing but let's be real – those diapers are a HUGE blessing to us as we wait to bring our baby home.
When Matt and I were completing our baby registry at Target, we ended up talking with a new mom in the aisles who was picking up a few things with her 3 week old baby and husband. We talked about baby must-haves and lots of other helpful tips and advice, but the most interesting thing she mentioned was how she had a Diaper Raffle at her baby shower.
I had never heard of a Diaper Raffle before.
She said that they included information about the Diaper Raffle in the invitations to her baby shower: everyone who brought a pack of diapers would be entered into a drawing for a gift card. 
The result was people bringing a range of diaper sizes and brands to the shower, in addition to their gifts, and this girl left having an amazingly helpful stash of diapers that will carry her well into the newborn months and beyond.
Matt texted my mom and his mom about the idea, and they decided to include it at our two showers. We bought $25 Target gift cards as the main prizes, and I included zippered pouches I made as well as a few other goodies as part of the raffle prizes.
I didn't know how many diapers we would receive because I thought it might be a new idea to most. But as our huge diaper stash shows, people were SO generous in the Diaper Raffle, in addition to the gifts they brought us from our registry. We now have a range of diapers from newborn through 3's, and I'm just plain thankful.
Baby Clothes Organization
I am Type A, so it's not surprising that I tried to bring order into the mess of baby clothes in the nursery.
A lot of the clothes went into the dresser, but I decided to hang some of the outfits up too. I'm sure a lot of this will get easier for me as I become more familiar with baby sizing and with the clothes we own, but for now – I can't remember what outfits are what size without looking at the tags. I have no real experience with baby clothes yet so I'm in new territory.
I decided to separate the clothes into sections with labels to make it clear what sizes each were. It should make things easier when deciding what to dress him in. We have a lot more clothing that will need to be hung in sizes 6+ months, so I'll be filling up the closet more as baby boy grows.

For the dresser, we bought divider bins from IKEA to separate the space in the drawers.
The top drawer has a variety of bibs and hats mostly, as well as burp cloths and space for a stash of diapers once we figure out how big baby will be and what size he needs once he's here.
A quick note on the burp cloths you see there. I can't speak from personal experience yet as I haven't used them, but a friend told me that they registered for a pack of cloth diaper liners and used those as burp cloths. They are cheap and big, as well as absorbent. That's what these are, bought on Amazon. I think the idea makes sense so we'll see how well they work once baby is here and we put them to use.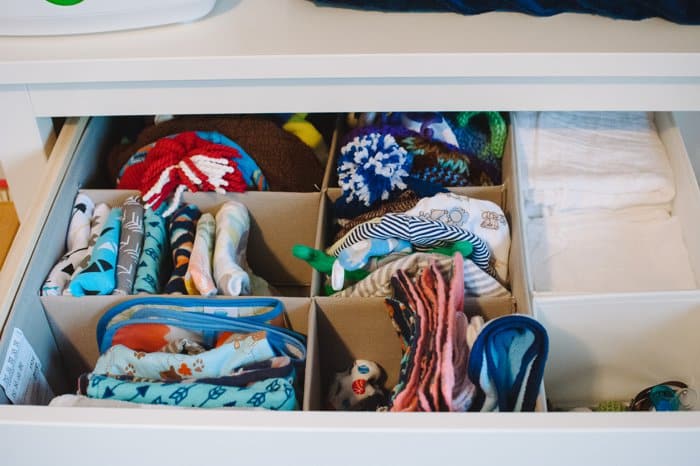 Because baby clothes and sizing are new territory for me, I needed a way to keep the sleepers and onesies organized as well.
I decided to create dividers for the drawer boxes that specified the sizes. Sleepers in this drawer, along with sleep sacks and baby socks etc.

Pants, short and long sleeved onesies, baby shoes, and spare crib sheets etc in this drawer.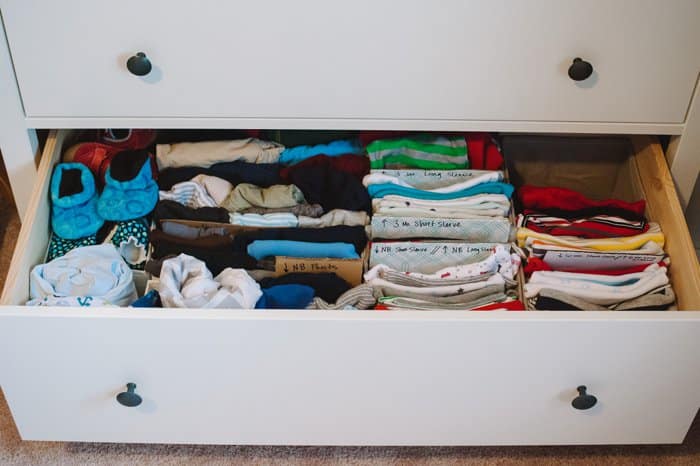 I am not sure how organized things will stay once baby is here and we're doing laundry like crazy. But until I get familiar with what clothing we own and can start to recognize different outfits, I need something to keep things organized and separate.
I told Matt he needs to make sure he follows the signs and doesn't mess up my method. 🙂
This type of folding is borrowed from the popular book The Life-Changing Method of Tidying Up. Instead of stacking things one on top of the other so you can only see what's on top and forget what's beneath it, you stack things so you can see each piece.
I started doing this in my own drawers with some of my t-shirts, shorts and workout pants and it's amazing the difference it makes! Otherwise, I really only wore what was on top, and in my line of sight.
– – – – –
I'm sure we will make changes to the nursery once baby arrives in order to maximize it's functionality.
We will also reorganize the closet once the diaper stash diminishes, and as I bring up more clothing from the larger-sizes bins in the basement.
The room makes me feel happy and at peace. Because we're anxiously waiting on baby [as I'm writing this anyway, but we'll see when you're reading it – he could be here by then!], looking at the room is filled with anticipation and the unknown as well.
We are standing on the edge of what will be one of our greatest adventures.
We can't wait to meet you, baby boy!