**These posts often contain affiliate links. Please see our disclosure policy for details.**
My book reading goals for 2014 are:
Read 8 Business Books
Read 40 Personal Books
As of the end of March, my totals for 2014 were 16 books read so far:
Business Books – 3
Personal, For Fun Books – 13
This month, I read 5 more books: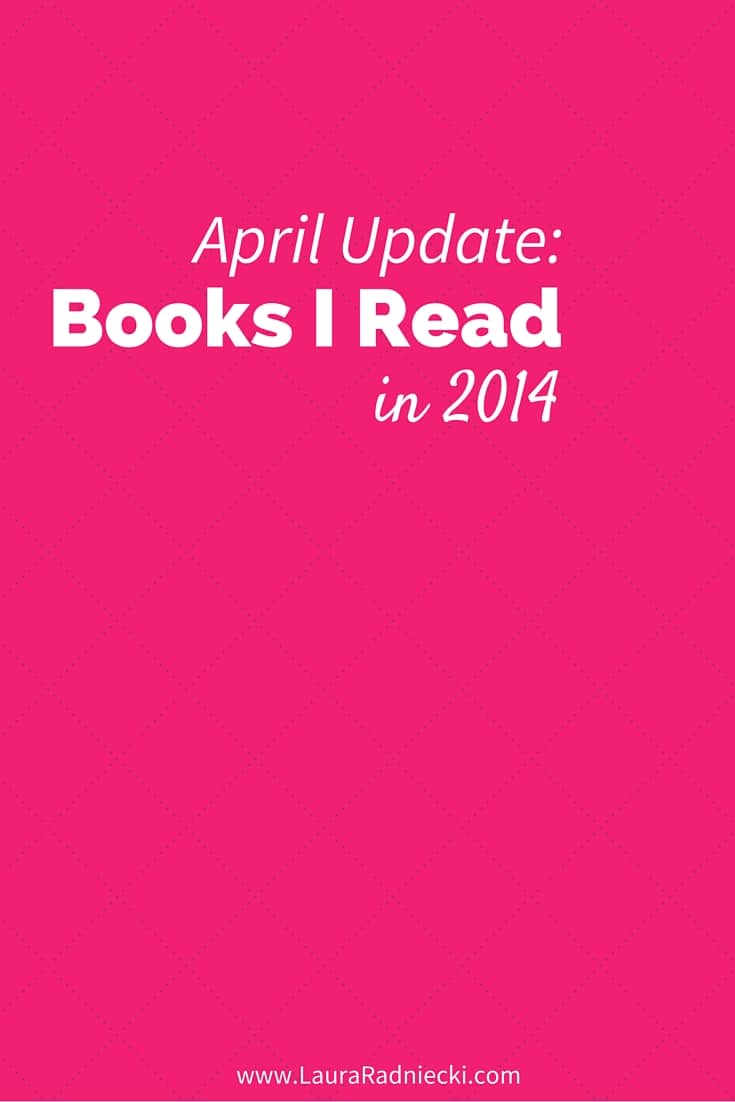 Jab, Jab, Jab, Right Hook by Gary Vaynerchuk – [Business Book]
This is a business book, dedicated to storytelling in an effective way via social media. I LOVED this book.
Some of the information I already knew, but I learned a few invaluable tidbits, especially about Twitter which was pretty foreign to me before.
As I'm working on my social media marketing in the days since reading this book, I find myself thinking about the points he made a lot.
A must-read for anyone promoting themselves or a business via any sort of social media.
This was our April Book Club pick. I was a little hesitant because I have never read a witch book before, and I really am not a fan of fantasy. I could never get into Harry Potter, I've never read Twilight or any other books in the fantasy genre.
But that's the whole point of book club – to read things you never would have chosen on your own. So, I gave it a go.
I LOVED this book too!! It's part of a trilogy, and now I am adding the rest of the books to my Must-Read list too. Maybe I'll become a fantasy reader yet?
Book three in the Divergent series.
If you've read it, chances are you know what I want to say about it…
I'm a Happy Ending kind of girl [cliche maybe, but I do love me a happy ending in books, movies and real life!] and let's just say I wasn't left with warm and fuzzy feelings…
I'm glad I read it and finished the series. But I want to write my own ending.
Made for More by Curtis Martin –
This was a book gifted to all the families of our church this Christmas. It was an interesting read, because I don't have all that much knowledge about Jesus's life and the Bible… I've read the Bible all the way through once and I've gone to church my whole life, but I've never taken a theology  class and so I don't have a very deep knowledge of Jesus's life.
I learned a lot just by reading this short book.
The 7 Habits of Highly Effective Teens by Sean Covey – [Business/Self Help Book]
My mom [a middle school/junior high school counselor] gave me this book back in 1998 when I was 13 years old.
I read it then, highlighting and jotting notes in the margin. I remember enjoying it back then, and writing out my personal Mission Statement and putting it up on my wall with Fun Tac.
I saw it on my book shelf and thought I'd read it again. It's obviously directed at teens; especially younger teens. I think it's a fantastic book for teens though!
It made me even more excited to read Stephen Covey's 7 Habits of Highly Effective People, the iconic classic that Sean [Stephen's son] based this book on.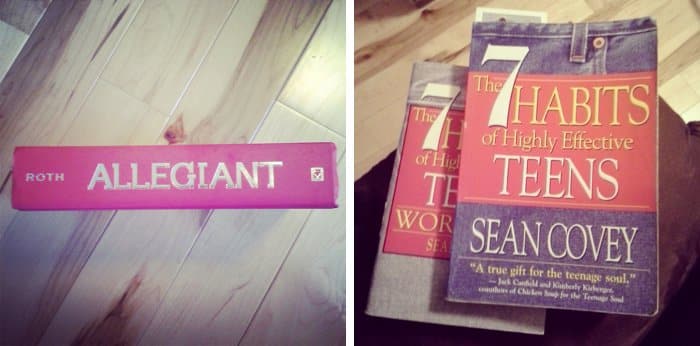 – – –
My new totals for 2014 are 21 total books read:
Business Books – 5
Personal, For Fun Books – 16
Right now, I'm reading The Hangman's Daughter which is our May pick for Book Club, and I have a few business books I can't wait to read!
What are you reading this month?