**These posts often contain affiliate links. Please see our disclosure policy for details.**
For me, the early days of pregnancy were tinted with a worry in the back of my mind about miscarrying the baby.
So many people I know have suffered miscarriages; I think the statistic is something like 1/4 of pregnancies will be lost to miscarriage.
As the weeks passed by and the risk of miscarriage decreased, new worries replaced those in my mind: worries of preterm labor and delivering my baby too early came instead.
I'd venture to say that most of us know of someone, maybe many people, who have delivered premature babies, and the stories of the uphill battle of those early weeks in the NICU are well known. They are terrifying and volatile.
Each week that passed seemed to bring with it more reassurance that IF my baby were to be born now, he would probably be ok. But the worry was more a shadow in the back corner of my mind because I never really thought it would happen to me.
[I'm 34.5 weeks pregnant as I type this, and I'm so thankful for each week I've been able to carry this baby safely inside of me.]
Anchored: Finding Hope in the Unexpected
For Kayla Aimee though, those worries became a reality when she delivered her first born daughter at 25 weeks. Her daughter Scarlette weighed 1 pound 8.6 ounches.
Kayla Aimee has written this book, Anchored: Finding Hope in the Unexpected to share their story of that early delivery and the 156 days that followed in the NICU as her daughter fought for her life, and Kayla fought hopelessness, despair, the breakdown of her faith and her marriage, and ultimately found hope and grace in the process.
Read more about Anchored: Finding Hope in the Unexpected by B&H Publishing
I read a lot of books, and I usually enjoy most of them.
Sometimes though, there comes a book that reaches deep into my soul and affects me on a heart level.
This was one of those books.
Kayla Aimee is a brilliant writer. She too is a blogger, and her writing style is one laced with beauty and humor. I laughed throughout the book, sometimes just paragraphs before I'd be wiping away tears. Her story is undeniably one filled with sadness, grief and tribulation, and it hurt my heart to read about it.
But the way she manages to tell it so eloquently, and at the same time weave humor throughout the story; that's magic.
That is talent.
I feel lucky to have been given a glimpse into that private and vulnerable time in Kayla, her husband and her daughter's life. To see a little bit of what it is like to sit next to that isolette day after day and stare through the plastic box at a tiny baby, strung with tubes and wires, who is simply fighting to live.
While I pray I never have to endure the same trials she did, I am thankful for the glimpse into what that experience was like for them.
It was an eye-opening, humbling, and grace-filled journey reading the book.
– – – – –
This book is for everyone.
It may be the healing story that people who have weathered NICU stays need in order to find peace and perspective, or maybe even the hope-filled story for someone going through that right now.
Maybe it's the book that provides empathy and understanding for someone who knows a premature baby and family navigating those waters.
Or maybe it's for everyone else who thankfully hasn't been directly affected by a premature baby or a NICU stay, but have found themselves praying for those who have.
This is a book I'm going to hang on to.
It affected me deeply.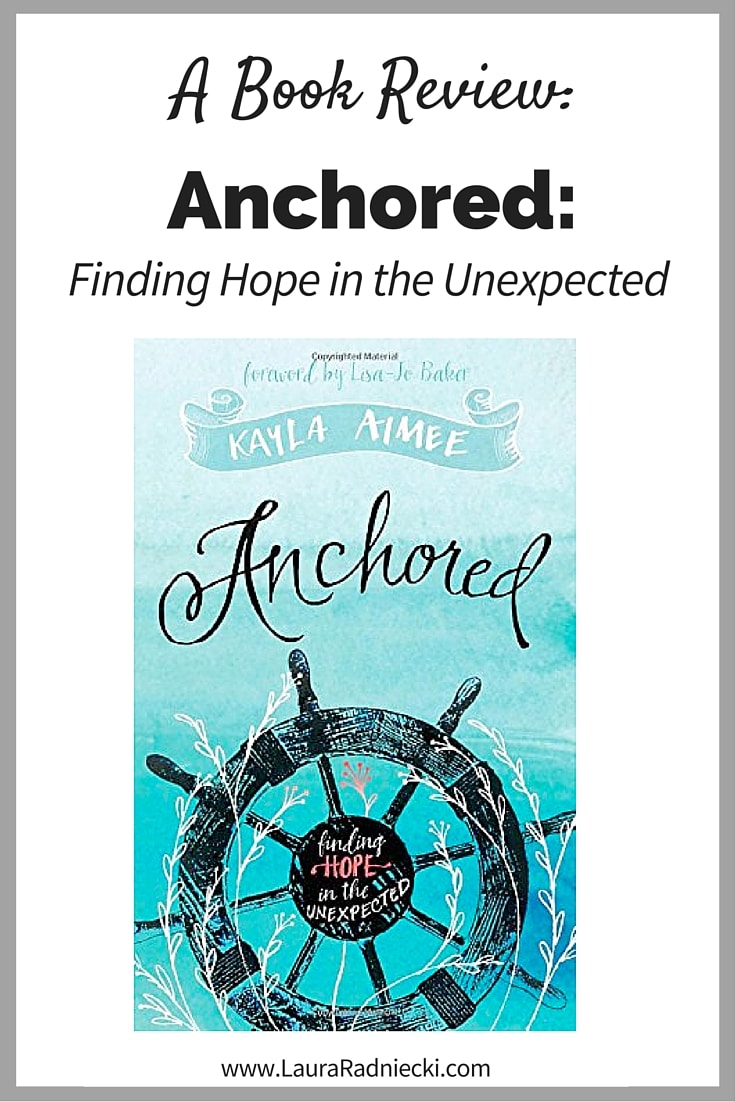 Find Anchored: Finding Hope in the Unexpected on Amazon
*I was given a complimentary copy of this book to review through a blogger collaboration with B&H Publishing. All opinions are my own.*